Exclusive Interview with a Potential Presidential Candidate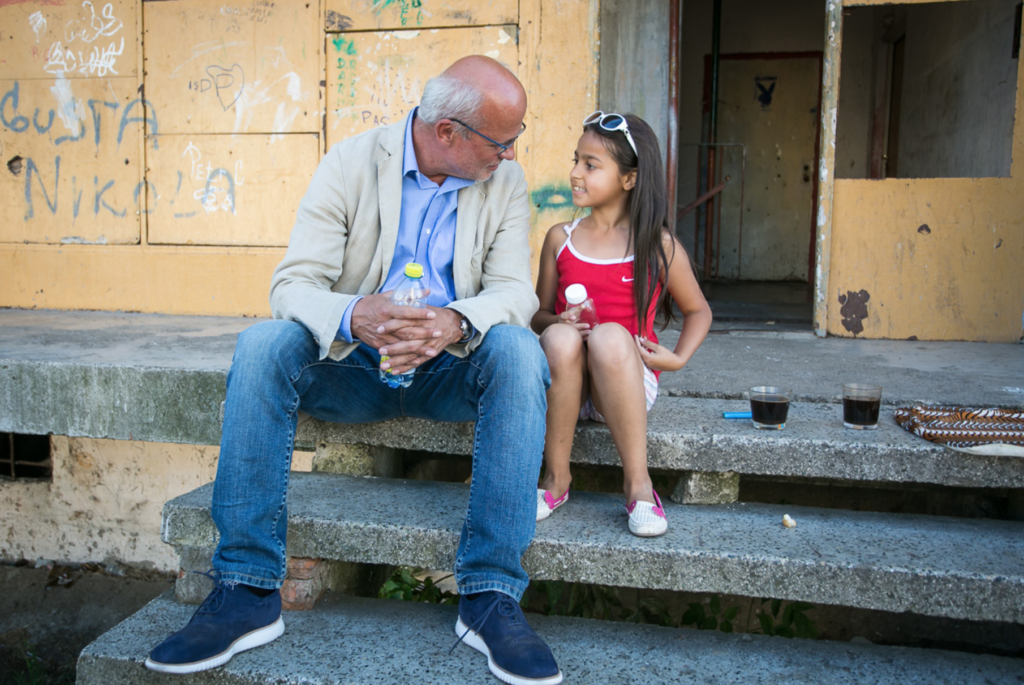 The Czech and Slovak Leaders Magazine is proud to feature the first English interview with Mr. Michal Horáček after he announced in early November his decision to run for the office of the President in 2018.
Mr. Horáček is a Czech entrepreneur, lyricist, poet, writer, journalist and producer. From 2007 until 2010, he was a Chairman of the Czech Academy of Popular Music.
His life journey is quite remarkable. During the communist regime, he was a blue collar worker, but he started to be actively engaged in horse betting. His articles for English and American newspapers got him a journalistic scholarship and a study opportunity at the Macalester College in 1984.
In 1989, he founded, together with Michael Kocáb, a civic initiative MOST (Bridge) the aim of which was to mediate negotiations between communist power and independent bodies. In November 1989, the initiative brought together then communist minister Adamec and Václav Havel, as a representative of the Civic Forum. Horáček's diary "How the Ice Broke"? (Jak pukaly ledy) became a sought-after firsthand account of 13 days of power transfer and breakdown of communist regime.
In 1990, together with his colleagues, he founded a Fortuna betting company. This company eventually established subsidiaries in Slovakia and Poland, and has become a multibillion turnover business. In 2004, Horáček sold the companies and stepped down as a Chairman of the Board.
Since 2005, he has been engaging in publishing, music and poetry projects. In 2011, he received his PhD in anthropology.
I personally met Horáček while studying at the Institute of Humanistic Studies. Although he drove a brand-new car and was dressed according to the latest fashion, he always came to classes on time and well prepared. He never acted superior and I enjoyed working with him translating sociological texts of Anthony Giddens. To my request for an interview, he responded quickly.
With regards to the presidential campaign, he declared that he will not accept any money to fund his campaign and he has established a transparent bank account. Neither does he wish to use any spokespersons or intermediaries. He made all documents regarding taxes and health public.
Meet the man whose motto is:
"I believe that every one of us needs respect: from other members of our community, and all the more so from the head of state. If we all respect each other, we will achieve a lot. In fact, I mostly believe in the following: We are capable of achieving much more…
Mr. Horáček, for over a year, you have been talking about your decision to become a presidential candidate. Then, in early November, you have confirmed your candidacy. Was there any particular decisive moment?
There was no particular moment, rather I see convergence of several various moments. Particularly those that have contributed to an increasingly unclear geopolitical position of the Czech Republic rather than as a reliable, self-confident and inspirational ally within NATO and the EU. Should I mention one particular moment, then it was the sub-servient declaration of the four highest state representatives of the Czech Republic towards China.
While your success and expertise in business is clear, your opponents often mention your little experience with regards to the foreign policy. How, in your opinion, is the Czech Republic perceived abroad now and how would you desire it to be perceived during your presidential mandate?
According to the Czech constitutional system, the president is not the one who articulates foreign policy. However, I would like to mention that even Václav Havel had no relevant experience until he became president.  Current Slovak president Mr. Andrej Kiska also lacked this experience and US president-elect Donald Trump is in the same position. As I have not been engaged in top politics, naturally, I cannot have the experience. However, I have got a diploma from American Studies at Macalester College in the US. I read and speak English, Russian and Italian. I have travelled in a rather non-tourist manner all over the world from Alaska to New Zealand, from Peru to Cambodia and I spent a lot of time in Africa.
I wish and I will do my best for the Czech Republic to become a transparent ally in the areas of foreign policy. The country that holds the interests of allies above the interest of those who are not our allies. And I wish the Czech Republic to return to being a reliable and trustworthy defender of universal human rights.
How do you perceive leadership as a topic and where do you see inspirational leaders in the Czech Republic, in Europe and in the world?
I find the topic of leadership an important issue for anyone who wishes to run for any top political position. By leadership I understand formulation of strong visions and their transmission in real politics, as well as the ability to persuade citizens to understand these visions and accepting them.
Speaking about leaders in today's world, I consider inspiring the following types of political personalities: Canadian Prime Minister Justine Trudeau, Slovak president Andrej Kiska and Czech politician Petr Gazdík.
Leader is shaped by not only moments of success but also and perhaps foremost by overcoming difficult moments. Which difficult moments would you single out? 
Being 64 years old, I have faced many difficult moments during my life journey. To mention a few: being imprisoned in the Ruzyně prison; ten years working as a warehouseman and a worker; pressure from the Czech Secret Police and my refusal to collaborate; establishing and running the Bridge (Most) initiative that brought representatives from independent initiatives and the communist government to a negotiation table; difficult moments while establishing companies outside of the Czech Republic (in Slovakia and Poland); ambiguous acceptance of art works that I cared about in public space; as well as  many personal situations, such as divorcing my wife of many years and a mother of our children.
As a diversity and leadership expert, I would like to ask you how you perceive issues concerning women, such as quotas, gender pay gap or low representation of women both in CEO positions and in top politics.
I consider the unequal position of women and men one of my key topics. I have included it in my "Candidate Programme". I am not a proponent of quotas, as I believe they are principally offensive towards women. I definitely want to make sure that the pay gap and also pension schemes differences are not 18% lower for women, and I want to increase the number of current seven per cent women representation on board of directors in companies listed on the Prague Stock Exchange. I am certain that no society can afford to marginalise the majority of population (since there are 104 women to 100 men ratio in the Czech population) and so to miss the creativity, working attitude and ideas that bring added value.
What can people do in order to support you?
At first, they need to become familiar with my Programme. It is available at www.michalhoracek.cz and can be downloaded as a pdf. Then, they should come and join me in an open debate whenever I come to their town or village. I have already visited 180 such places and will continue to do so. And only then they can decide whether they want to help make my candidacy relevant, for example, by organising a collection of signatures on petition sheets.
There is a brief manual on my website. Involvement and help of each individual is important and precious to me, and I thank for any support. So far, more than 1,500 people have applied and others continue to sign up.
What are your final words to Czech and Slovak Leaders readers?
Take advantage of the opportunity of a direct presidential election that you successfully took back from career politicians.
Use your choice to make sure that your head of state is not prioritising particular interests from his/her previous career and is not marginalizing interests of those who have different opinions.  Demand a president, who is able to figure out what is beneficial for the Czech Republic, who has a vision and it is a long-term one. A president who would be non-partisan, or to be precise, who is not affiliated to any political party, but defends interests of all citizens without exceptions vigorously and consistently.
By Linda Štucbartová
NOTE: Due to time constraints, the interview was conducted remotely.