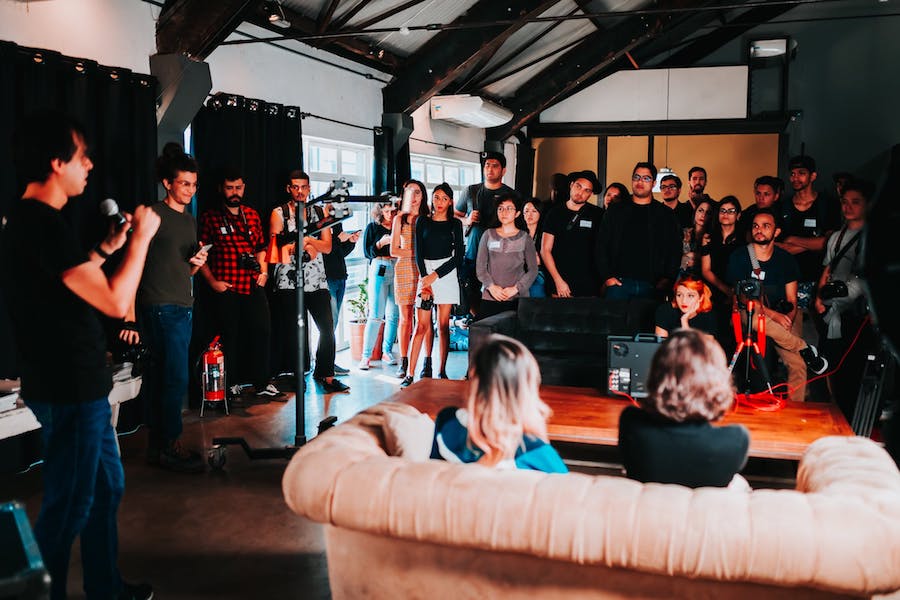 There is often a pressure to attend from the workplace. Sometimes friends peer pressure you into attending. These are both relevant and sound reasons to attend, since we all need earn money.
I urge you to take notes today during my lecture. Why should you do that, you might ask? Because our memory does not retain all that many facts as we assume. I believe that our retention of a lecture is approximately 6 days, if no notes were taken. I, also, urge you to review your notes within 24-48 hours. And if you find that they no longer make sense, please don't hesitate to contact me for clarification.
There are no dumb questions and I encourage you to ask away. As in lean philosophy, there is a problem if there are "No Problems". In Lean terminology, "pulling the Andon (rope)" is the necessary step when you have a problem.
From my own personal experience, I often attended networking events, but failed to see any purpose in going before I had in fact started my own company. But as the kharmic saying goes, you do get what you give. And after perfecting my elevator speech, I often truly enjoy networking events to the utmost.
You may be asking yourself, what can this young looking American woman teach me? I have probably been to more networking events than you have been to. I have over a decade of work experience under my belt and there were many times that I attended two events per evening (after working my standard day). My work experience ranges from being an Auditor, Financial Accountant, Government Contractor, Budget Analyst, and Financial Consolidations expert. These jobs are driven by individuals, who tend to be introverts. I, however, am an extrovert who loves people.
What other thing did these jobs have in common? They were not sales positions and I was not asked to attend networking events in order to get a bonus or other compensation.
But I did join a volunteer organization that my boss was in charge of. Why did I join? To be honest, I actually lacked a boyfriend at the time, so I had plenty of time after work.
Our time is our most scarce resource, and I ask you to consider what motivated you to spend your free time at my lecture? I hope it will exceed your expectations despite my youthful appearance.
First, I will do a deep dive into why networking is important for anyone. And I will conclude with "how" to effectively communicate and excel at networking.
Due to the fact that I didn't need to earn a living by attending networking events, I would often listen to others pitch their company. This was probably the most important thing I did: to listen. I could go home and analyze what people did correctly and incorrectly to sell their product or service. After several months of meeting sales people, I became more active in volunteering my time at the physical events. In this manner, I made new, and much deeper, friendships. And the cherry on the top was that I got invited to the most prestigious events: gala nights. I had the opportunity to enjoy dinner and dancing with my boss, his wife, and several other partners bosses. No one at my small firm had the courage to join and roll up their sleeves and volunteer at my level. I felt proud of myself, and my boss was enthralled with my active volunteerism.
We have to ask the most important question again: why do we bother going to networking events?
I would argue that we all have hidden agendas as to our attendance. These motivations can be hidden or they can be masked, but it is critical for you to know what your own personal hidden motivation may be. They can be logical and very realistic, such as my boss is requiring me to attend. But they could be similar to my original reason to start attending regular networking events in 2005: I had extra free time and wanted to join a new community that might result in finding a boyfriend. How do I suggest unveiling your hidden agenda? You do not need to reveal your agenda to anyone. But I often found success when I became friendly with the organizers of events. They knew who was attending their event and often could introduce me to the right person.
About five years ago, I formed my own company and this resulted in a new approach when I attended events. I perfected an elevator pitch by having to introduce myself over and over. But when I started attending networking events over a decade ago, I was actually very shy. Just saying "Hi" was my go to-to "Ice Breaker" to facilitate conversation. Today, I have a composed elevator pitch about my entrepreneurial ventures. As you can see, there is the potential of a steep learning curve.
Why do I highly recommend attending a wide range of events? You will have new opportunities to talk about yourself and, thereby, will perfect your elevator pitch. I do believe that our time is a very valuable and scarce resource. I also realize that heading to the gym or seeing your significant other can be more fun than attending networking event. But I also strongly urge you to try a wide range of networking events to see which community fits best for you.
I also suggest researching the speaker using both online searches and social media postings. In addition, I highly urge you to experiment with the type of clothes you wear. You might be surprised, buy I believe that overdressing is never a bad idea. You only get to make one first impression, so use it wisely.
How should you network? When you walk into the event, start by asking the person next to you a question, such as "Hi. Where do you work?". And when checking in, say Hi to the person and ask them what they do. You might be surprised, and meet the Director because of a shortage of volunteer staff. And a president wears many hats because their objective is to get things done. And they're not afraid of anything, so they are the first to roll up their sleeves and help. I remember vividly the times when I shared my hidden agenda and elevator pitch with the organizers of the event and they came through for me by suggesting the key individuals to talk to. It saved me time during the networking, and almost generated a years worth of income.
I again urge you to think deeply about why you attend events, and what you honestly expect to get from them. If you realize that your networking is not yielding results, then I suggest changing the type of networking events. Keep moving. Life is like a playing Frisbee, where you need to keep moving in order to catch it.
——————————————————————
Nicole is an American expat living in Prague since 2017. Before coming to Prague, she worked and lived in Washington DC. She attended the prestigious university of Georgetown University, where she received a business degree and economics minor. She worked as an auditor and consultant for approximately 10 years and worked at Danaher Corporation in the Financial Consolidations department, which is one of the top five largest corporations in the Washington DC area with 20 Billion Dollars in Revenues. In her free time she enjoys running, swimming, skiing and reading.