Medieval churches, cobblestoned streets, and endless olive groves: head to these small European towns to discover a country's soul.
A few winters ago, my family and I checked into a restored 17th-century estate in the tiny town of Lower Monferrato, in Piedmont, Italy. Our bay window looked out onto rolling hills covered in grapevines and, far, far in the landscape, the snow-topped Alps. No cars passed the cypress-dotted landscape; each morning we sat down in total tranquility to a breakfast of fresh-baked bread, soft cheeses, and blood orange juice. The experience was one that many modern travelers are searching for: a few nights hidden away in a European village, experiencing the traditional culture and soul of a destination.
What is the allure of these small towns with their meandering streets, lunch-only cafés, and intimate shops? "Perhaps it is the scaled-down size, the greater ease of catching a shopkeeper's eye, the colorful flowers hanging in a window," says Travel + Leisure A-List travel agent Marjorie Shaw of Insiders Italy, a Rome-based agency. Writer David Farley agrees: "In a time of creeping globalization, villages offer a look into the past as well as a clearer sense of the country or region, including its food."
So for your next European getaway, take a detour to a tiny town. Ullastret, in Spain's Baix Empordà, is a notable Slow Food mecca: at the four-room Hotel El Fort, owner Lola Puig serves locally grown vegetables, homemade bread, and organic goat's cheese on a lantern-lit terrace that overlooks a field of mulberry trees.
Further off the beaten path, in Arild, Sweden, the artist Lars Vilks built Nimis, a public art installation with a maze of 300-foot aboveground tunnels and a 45-foot-high climbing tower. The fishing village itself is just a two-hour drive and ferry ride from Copenhagen.
This type of experience can fulfill many expectations. According to writer Sylvie Bigar, who researched these secret places to come up with the best ones, "A tiny town offers adventure, novelty, beauty, as well as a sense of history. Knowing that some of these gems have been there for so long and have not been 'discovered' yet calms the spirit and brings a sense of peace."
The charm of Ticino, the Italian-speaking canton of southern Switzerland, is the not-quite-here, not-quite-there, lost-in-time feel of the place. To fully appreciate it, drive north 35 miles from the popular lake resort towns of Ascona and Locarno and find the turnoff for Giornico, a stone relic of 14th-century Europe hiding off the main road. Descend into the valley and arrive at a trickling little river crossed by two arching stone bridges. The family-run restaurants of the region are called grotte. The best, Grotto dei due Ponti, serves dishes like spezzatino (meat ragoût) with polenta and tart local Merlot.
How to Get There: From the lake resorts, drive north 50 minutes on the A13 and N2.
Where to Stay: There are no hotels in Giornico, so stay in nearby Ascona at the pink Hotel Giardino (doubles from $400).
Where to Eat: Grotto dei due Ponti has a shaded terrace that overlooks the river.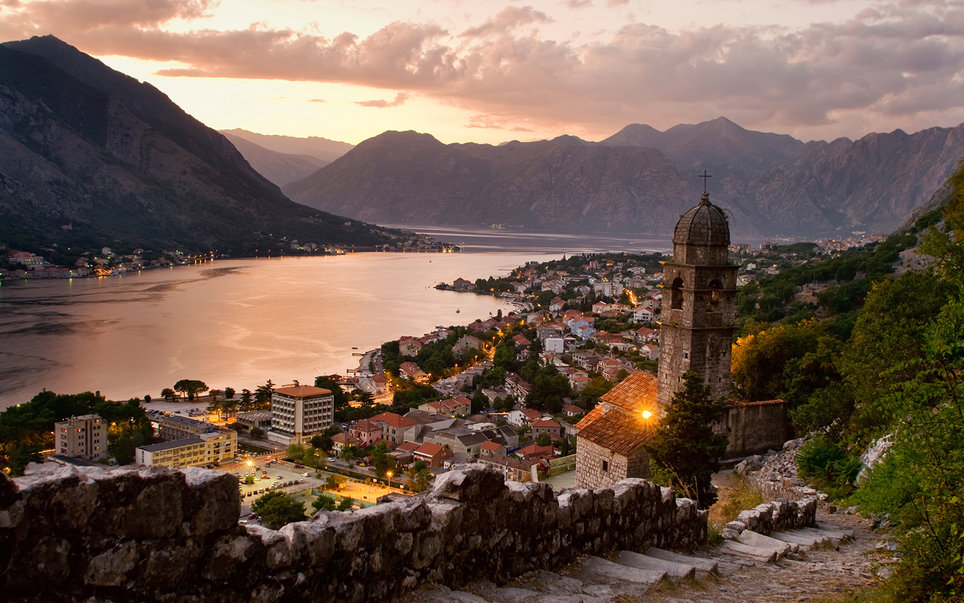 In the fall, a mist settles into the hills surrounding the bay of Kotor, so thick you can hardly see the blood-orange trees in front of you. That hasn't stopped the tide of wealthy Europeans: British expats are selling real estate, Russians are buying farmhouses in the hills, and the dark-haired, green-eyed people of the black mountains (how Montenegro gets its name) have opened restaurants to introduce visitors to the tastes of Montenegrin stewed meat. Beaches are not yet overrun, but this wild side of the Dalmatian Coast won't stay undeveloped for long.
How to Get There: Kotor is 50 miles from Podgorica, the capital.
Where to Stay: Palazzo Radomiri (doubles from $143) was built from Croatian stone.
Where to Eat: Stari Mlini, on a mountain stream.
Visit T+L's European Travel Guide for more European vacation inspiration.