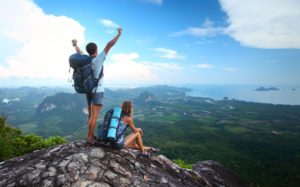 Whether you have the money to vacation like a rock star or not, traveling is all about the experience. And while there are plenty of travelers out there who can afford blow-out vacations (we're looking at you, Chrissy Teigen and Pippa Middleton), some of the most seasoned explorers know you can have a life-changing experience without draining your savings account.
Here are a few tips from the professionals on how to get the most value — from dollars saved to experience points earned — out of your vacation.
Find out where the locals eat.
That stylish restaurant/lounge in your lobby may be calling your name, but Christina Pedroni, senior vice president of Liberty Travel, recommends always venturing outside of your hotel if you're looking to save money. Dining off-site, she noted, also adds an air of authenticity to a vacation.
"One of my best tips for customers is to speak to hotel staff and find out what their favorite local restaurants are," she told Travel + Leisure. "I have received some of the best recommendations from hotel bartenders. Finding that local gem gets you an amazing meal without the premium hotel restaurant prices."
Spend happy hour wisely.
While five-star accommodations may not be in the budget for a long vacation, you can still dabble in luxury by visiting an upscale venue around cocktail hour time, advises actor-turned-travel writer Andrew McCarthy.
"If staying in an apartment or cheap hotel, I'll slip into the fanciest hotel around at cocktail hour and order a $20 sparking water and have a great time basking in how the other half lives, and eating the free pretzels and chips — then I'm always glad to leave and get back to the real people," he told T+L.
Read more here.