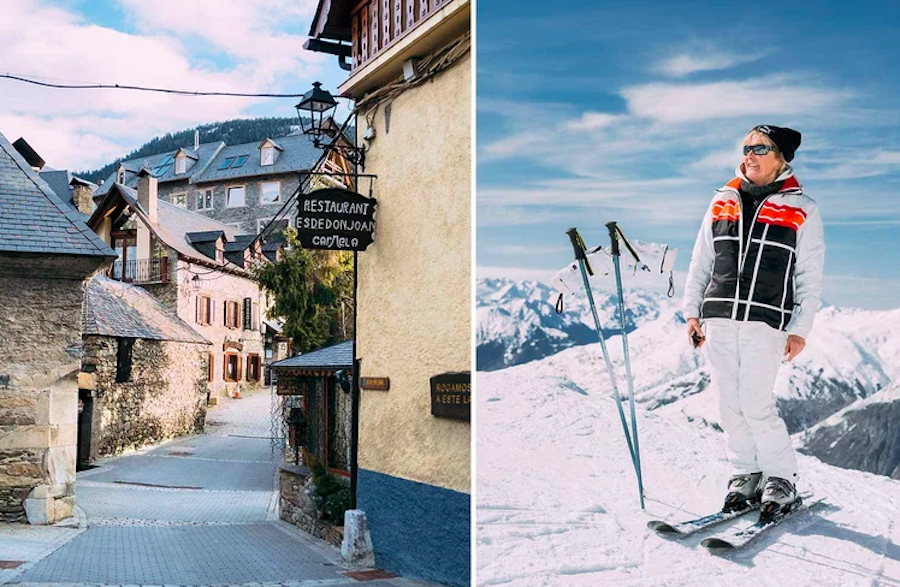 —and the food and wine are every bit as good as you'd expect. If champagne breakfasts and hearty dinners in mountain villages sound like your scene, you may want to consider the Spanish Pyrenees for your next ski trip. There Tom Robbins discovers first-rate cuisine and a distinct, beguiling blend of cultures—both traditional and modern.
For an hour or more,  we had been descending through a forest of black pine and fir, following a stream we could hear but not see. The snow lay deep, smothering the creek and turning tree stumps into giant white mushrooms. There were bears in these woods, said my guide, a young Spaniard named Peru Ortiz de Zarate, and bearded vultures that crunch on the bones of dead mountain goats. But we were making far too much noise to risk meeting these animals, laughing as we pushed past the trees that grabbed at our rucksacks and ski poles.
Finally, as if pulling back a theater curtain, Ortiz de Zarate parted two branches to reveal our destination. Ahead was a clearing in the forest, where a wooden bridge straddled a burbling stream swelled by melting snow. Beyond it, looking like something from a fairy tale, lay a deserted hamlet named Montgarri — a place of pilgrimage since the 12th century and once a key staging post for travelers crossing the Pyrenees between Spain and France. Today just two buildings remain, cocooned in silence and slow time: a 16th-century church with rough stone walls and a dilapidated spire, and the former rectory alongside it.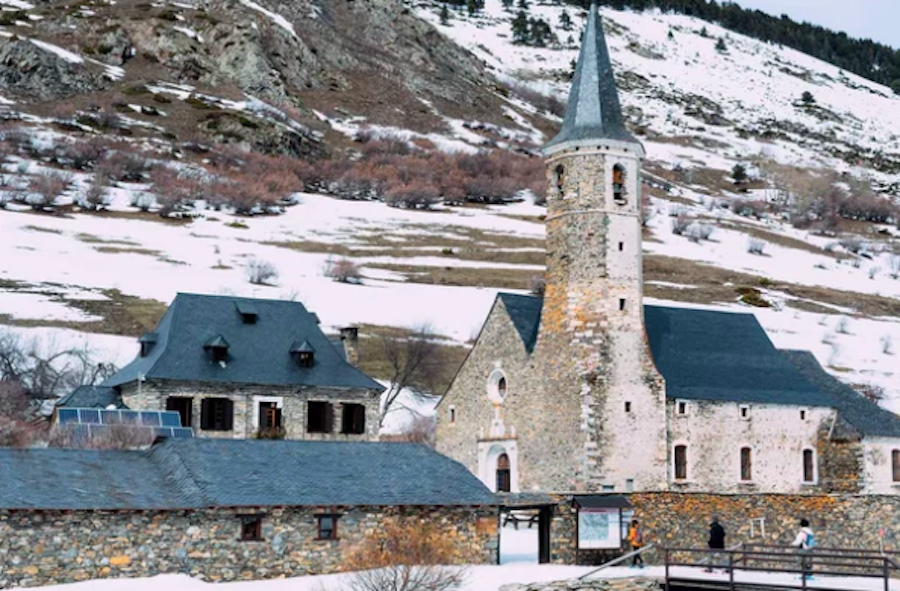 Our heavy-booted footsteps rang out as we crossed the cobblestoned courtyard, swept clear of snow. Inside the rectory — now converted into a refuge for climbers and skiers — a Spanish pointer dozed beside the glowing logs of an open fire. A waiter brought us olives and glasses of cold beer, then raked the embers and fixed a grill above them, throwing on some vast beef ribs for a lunch that would last until 4 p.m. Afterward we drank patxaran, a rose-colored liqueur made with sloes and flavored with cinnamon. We walked over to the empty church so I could light a candle, then hurried out to catch the last ride back to the ski resort — a snowmobile that pulled us along on our skis. Hanging tipsily from the rope as we climbed a track through the darkening forest, I smiled into my scarf, happily exhausted by the most memorable day's skiing I'd had in years.
If the joy of travel is threatened by the homogenization of global culture — the fact that today's Insta-ready hotels, restaurants, and stores can look the same, whether they're in Brooklyn or Bangkok — then skiing is particularly challenged. As much as we love the sensations of the sport, most ski trips have an inherent similarity, no matter where in the world they take place. Days pass in the familiar routine of going up lifts and down pistes. Evenings are spent surrounded by the usual mountain clichés: antlers and antique skis, glühwein and fondue.
Read the rest.