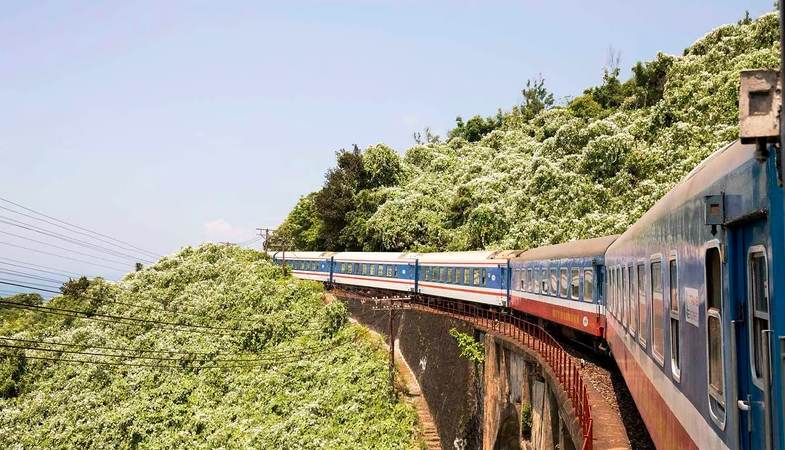 In college, I studied American history. The Vietnam War is an integral part of that story, and it has always been a prominent event in my mind.
My parents got married in 1969, and while my dad didn't fight in Vietnam, both he and my mom protested the conflict here in the States. When I was about 10 years old, in 1986, they took me on a six-week trip to Asia. It felt like we traveled everywhere — China, Burma (now Myanmar), Malaysia — but we didn't go to Vietnam because it hadn't opened up yet.
I've traveled a lot at this point in my life, and I've long felt a specific pull toward that missing experience. Through reading history and literature, I'd developed these ideas of what the North and the South were like, how they were distinct because of the way they'd been governed and developed. In many ways, the most tangible connection they shared was the North-South Railway, a 1,072-mile network built by the French during colonial rule that stretched from Hanoi to Saigon (now Ho Chi Minh City). Rebuilding this infrastructure, which was originally constructed in 1936 but bombed and nearly decimated during the next 40 years of war, became a signature project for the postwar government, which managed to repair thousands of tunnels, bridges, and stations in less than two years.
The railway's reopening in 1976 symbolized the country's coming back together — hence its nickname, the Reunification Express. The more I researched, the more I felt like the train was the most cohesive, immersive way to experience a wide swath of the country. I convinced my high school friend Tess to tag along as my "assistant." We'd traveled by rail through Europe together in our twenties, but hadn't had the chance to spend much time together since.
See the rest here.