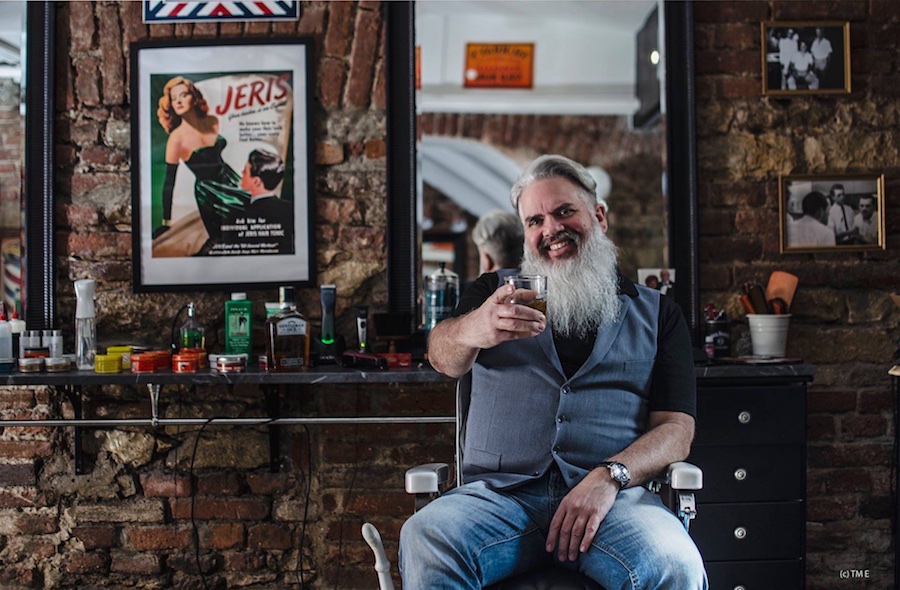 Kraig's family has a long history of barbering beginning with his grandfather back in 1914. He grew up around his grandfather's and father's barbershops in Kentucky training with them from an early age, then completing his training at some of the world ́s top hair styling academies.
Before moving to Prague, Kraig worked with his brother at their Atlanta location. Starting a new life and a new barber shop in Prague, Kraig is as passionate about barbering now as he was when he began over 40 years ago.
Kraig is featured in magazines and on TV in both the Czech Republic and Germany including a TV documentary about his life in Prague and has been recognized as one of the Europe ́s top barbers by Barbers Quarterly magazine.
The Czech Republic is full of opportunity and, in my humble opinion, it's the new "land of opportunity ", a title historically held by the USA. I didn't move from the US because of any negative views I may have held, rather I moved to the Czech Republic because of the lifestyle and opportunity available here.
Opportunities that would have been more difficult or possibly out of reach in the US are much more achievable here. I'm embarrassed to say that I still don't speak Czech and that does present some barriers but it doesn't mean we can't find ways around these barriers. For example, over the last 5 years I have been hosting videos and TV. Now, I did not have experience in this previously but the videos were a success and it led to projects with Ceska Televize and Stream.cz. Having no real language skills, I was able to make the right contacts and find the right angle to where it not only made sense to use a native English speaker to host the shows but it was the positive because it made it more unique. I'm constantly refining my brand. I'm known as the American Barber in Prague. My background and heritage has been my core business and image although I have consistently branched out of this into promoting classic men's lifestyle. One of the ways I have done this is forming a cooperation with Jack Daniels. It would have been difficult for me to get a meeting with JD in the US and negotiating with them would have been much more intimidating. Here, I was able to obtain the initial contact and then when I was asked how I thought we might be able to cooperate, I explained how it made sense to use me. I'm American but I'm also a southerner. I grew up just a few hours away from the Jack Daniels distillery. I have quite a bit of knowledge in regards to bourbon and Jack Daniels. My clientele is the same demographic that they are targeting and I'm in the media both here in the Czech Republic and Germany. Then I went on to explain various ways we could cooperate, one of which was for them to make me a Jack Daniels ambassador. From this, they paid to build a Gentleman Jack bar in my barbershop and provided me with whiskey. The other thing they provided me with, by making me an ambassador, is the brand association that is of great value when I'm negotiating other partnerships. This has led to many cooperations in both the hair industry and lifestyle brands like Indian motorcycles.
The Czech Republic is a small country and Prague is a big village. Instead of 6 degrees of separation it's more like 2. I find the Czech people very open, friendly and approachable. Whether it be a shop keeper or a former president I introduce myself and many friendships have been formed in this way. Not everything is about business. Gaining new friends has its own value but the more you widen your circle the more opportunities you will come in contact with. If we keep our eyes open and listen, the potential opportunities will present themselves because this truly is a "land of opportunity".
By Kraig Casebier