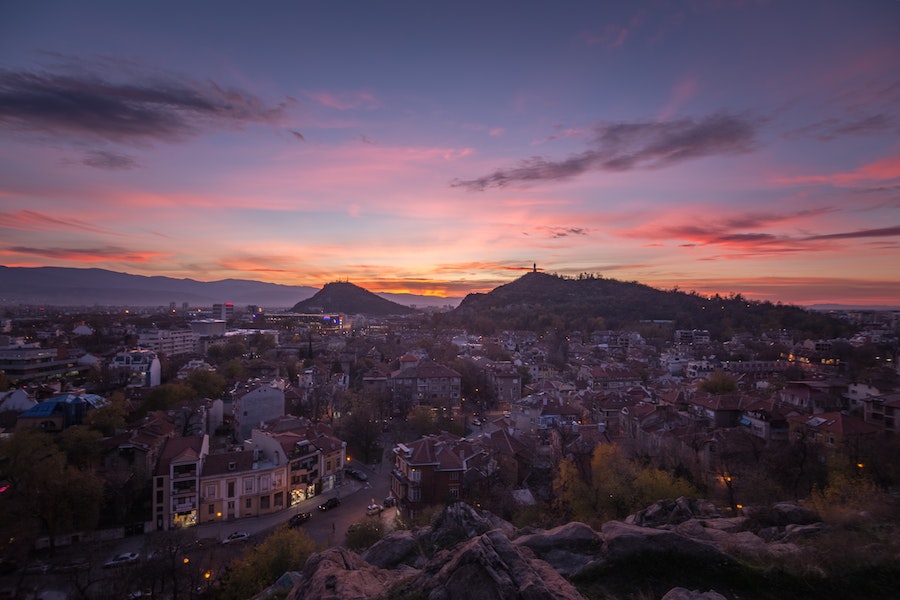 The International Institute for Middle-East and Balkan Studies (IFIMES) in Ljubljana, Slovenia, regularly analyses events in the Middle East and the Balkans. Macedonian historian, journalist and publicist Dejan Azeski has analysed recent events in Bulgaria in view of the local and European Parliament elections scheduled for 26 May 2019. His analysis entitled "May 2019 elections in Bulgaria: A litmus test for the country's political future" is published here in full.
Although there are two more years till regular parliamentary elections in Bulgaria, many believe that their result will (mainly) depend on the forthcoming local election scheduled for 26 May 2019, which will take place along with the European Parliament elections. In about three months Bulgaria ¬– an important EU and NATO member – will not only get its new political structures but also set its geopolitical orientation. Therefore the forthcoming elections in Bulgaria will represent the litmus test for the country's political future.
Regardless of whether the ruling conservative party GERB led by the incumbent Prime Minister Boyko Borissov remains in power or is succeeded by the left-wing opposition Bulgarian Socialist Party (BSP), the country will remain a pro-Western oriented NATO member. The elections will decide only the degree of its pro-Western orientation: whether it will be ultrapro-Western like Poland, moderately pro-Western like Slovenia or rather neutral like Slovakia? Anyhow, none of the possible scenarios will take Bulgaria on the Hungarian path – the scenario which Europe fears the most.
GERB is losing power, but is still the strongest party
In the past few months Bulgarian ruling party GERB has undergone serious problems and scandals that have undermined its political rating. Fake Bulgarian (European) passports for Turkish and Macedonian citizens, corruption scandals, clashes among the ruling coalition and sharp criticism from Bulgarian President Rumen Radev represent only some of the problems faced by GERB.
The existing situation in the political scene may have serious implications for European Parliament election where the citizens (mostly) vote for the political party and not for individuals.
First surveys and forecasts have shown that GERB has only a slight advantage, which makes the forthcoming elections one of the most uncertain in Bulgaria.
However, Borissov's GERB still has some strong trumps. If it loses the European Parliament election (which is highly unlikely), the incumbent Prime Minister has sound grounds to hope for a convincing victory at the local election which will be held at the same time.
Also in the past GERB and its leader Borissov built their power by gaining popularity in small cities and towns and devoted less attention to European Parliament elections.
Having performed hundreds of "small" projects for their citizens, Mayors of Varna, Burgas, Blagoevgrad, Stara Zagora, Plovdiv and even Sofia have practically secured themselves victories at next elections.
According to analysts' estimates it would take a miracle for Borissov and GERB to be defeated in any of those Bulgarian key cities.
Moreover, GERB is known to enter the election race in Bulgarian rural areas with a head start.
That is why GERB and Borissov are expected to regain strong position in May 2019 elections, which will be an excellent starting point for the new victory at 2021 Parliamentary elections.
Bulgarian left-wing still anti-NATO sentiment
Korneliya Ninova leads Bulgarian Socialist Party (BSP) which is the largest opposition party in the country.
Ever since she gained the leadership on 8 May 2016 she has been m good political actions which have strengthened her rating at Borissov's detriment. Increasing corruption among the ruling party and several scandals have only contributed to her rise.
Her greatest success so far has been the victory at November 2016 presidential election when Rumen Radev, who ran as an independent candidate with BSP's support, defeated GERB's candidate.
If Ninova continues with her current political rhetorics and dynamics in the next two years, she will gain sufficient political strength to become a serious candidate for winning the 2021 parliamentary elections.
However, there is a seemingly small problem, which may turn into a big obstacle. Namely, General Leonid Reshetnikov, the former high-ranked official and intelligence agent of Soviet secret service, has been regarded as the grey eminence of Bulgarian public scene for more than 30 years. It is believed that he controls several important media in the country and that his tentacles reach every pore of social life.
More and more often Korneliya Ninova is brought in connection with General Reshetnikov as his political ally, which may represent a recipe for defeat at the forthcoming elections. When the majority of Bulgarian media intensify the campaign in which Ninova is represented as a threat to the country's pro-Western orientation, she will definitely lose the affection of domestic voters and the European states.
Ninova has already given grounds for that: she supported the defeated military pilot of the Warsaw Pact (who flew MIG-21 and MIG-29), showing a very restrained position towards NATO.
It should also be noted that President Rumen Radev blocked the procurement of American F-16 fighter jets for Bulgarian aviation. He has only recently authorised their procurement after having tried every other possible variant of F-16, such as the Swedish Gripen, the French Mirage and even the modernised Russian MIG-29. Moreover, under Radev's command, Bulgarian soldiers participating in the official NATO exercise last year refused to shoot at targets marked with the Russian flag. Korneliya Ninova expressed no position on either of the two incidents, while her closest advisors and colleagues publicly or secretly supported President Radev and Bulgarian soldiers.
Another problem is the very influential chief of the President's office Ivo Hristov. He has been marked as pro-French and anti-British, which is regarded in Bulgaria as pro-Russian orientation. His mere presence in the presidential palace in Sofia causes uneasiness, even though Hristov has not made any significant statements on this issue so far.
Nevertheless, all this may be mere speculation, coincidence or a cheap PR stunt by the ruling GERB against the opposition party.
The fact is that both Radev and Ninova always publicly declare their loyalty to the EU and NATO. Thus, no major changes are to be expected even if BSP takes over the government – Bulgaria will remain a loyal NATO and EU member.
Bulgaria will not become the new Hungary (which is a thorn in the West's side) or the new Slovakia which has been increasingly promoting neutrality. However, it may become the new Slovenia which has principled positions towards every country, which is in fact not a bad position at all.
The key question: What will happen with Borissov's political career?
Finally, we have come to the topmost political figure in Bulgaria for the past 15 years who is regarded by many as the knight saviour of Bulgaria – the incumbent Prime Minister Boyko Borissov.
Most of all he will be remembered by his feats from the period before he was Prime Minister: as the Secretary General of the Ministry of Interior he literally saved Bulgaria from the jaws of mafia. With his unconventional methods he dealt with organised crime which represented Bulgaria's greatest evil. It should be noted that Borissov is the first Bulgarian politician since 1990 to win the fight against corruption, which enabled him to be elected as Mayor of Sofia and later as Prime Minister of Bulgaria.
Borissov was not only a "good cop". He has also proven to be an excellent party leader and an excellent prime minister both in terms of internal and foreign affairs. Both the US and the EU, or more precisely their leaders do not hide the fact that they regard him as their best partner in the whole Balkans. A lot of credit for these achievements go to Borissov's unofficial advisor, Bulgarian heir to the throne and former Prime Minister Simeon Saxe-Coburg-Gotha, who is believed by many to pull the strings in Bulgarian foreign politics, but since he pulls them towards the West this keeps satisfied both Brussels and Washington.
However, Borissov is not faultless – his circles have blemished his reputation. Long years in power have brought ever bigger deals and commissions. Certain individuals have become billionaires not only in Bulgaria but also at the regional level. Thus Borissov is considered to be involved in the deal concluded with the Czech energy company which took over the district heating system in Sofia. This turned into a classical Bulgarian story when his opponents and the media from Sofia claimed (without proof) that through that company Borissov was connected with Russian President Vladimir Putin and was blackmailed into doing certain favours for Kremlin.
Thus it is claimed that Borissov intentionally supported Tsetska Tsacheva as presidential candidate although she had the lowest rating and was regarded as the only possible competitor whom Rumen Radev would have been able to defeat.
Whether this is true or not is of no interest to anyone in Sofia and in Brussels. What is important is that the story has been launched and that Borissov is now burdened with suspicion in terms of corruption and his political actions, which has undermined his rating. As a result the Bulgarian public is no longer talking about Borissov as the election winner but about his political future.
The analysts who are familiar with Bulgarian political scene have envisaged three possible scenarios:
1. Borissov wins the May 2019 election and during the period until 2021 parliamentary election he ensures a peaceful transfer of power within his party (as Angela Merkel did in Germany), of course in collusion with the US and the EU. According to this scenario Borissov would be succeeded by the incumbent Minister of Finance Vladislav Goranov. Being a former student from London he will surely continue Bulgaria's pro-Western orientation. This scenario also leaves the possibility for early parliamentary election in the second half of this year.
2. Borissov and GERB lose both local and European Parliament elections. In this case Borissov will clearly resign, but it is not sure whether Vladimir Goranov will be the only successor. Other potential candidates are Minister of Foreign Affairs Ekaterina Zakharieva, the incumbent Deputy Prime Minister Tomislav Donchev and former Minister of the Interior Rumyana Bachvarova who is also regarded as a highly influential person. An important role in this scenario will be played by Tsvetan Tsvetanov, who is one of the key officials and a highly trusted member of GERB. Whichever of the above candidates Tsvetanov chooses, they are all pro-Western and pro-British oriented.
3. Borissov refuses to give up the leadership of his party and of the state. Although not very probable, this scenario would be possible if the west (due to internal conflicts which have been aggravating since Donald Trump's election) supported different candidates for Borissov's successor and failed to reach a common position on that issue. This scenario would be followed by a long and painstaking transition process, which – for Bulgaria's sake – it would be better to avoid.

By Dejan Azeski