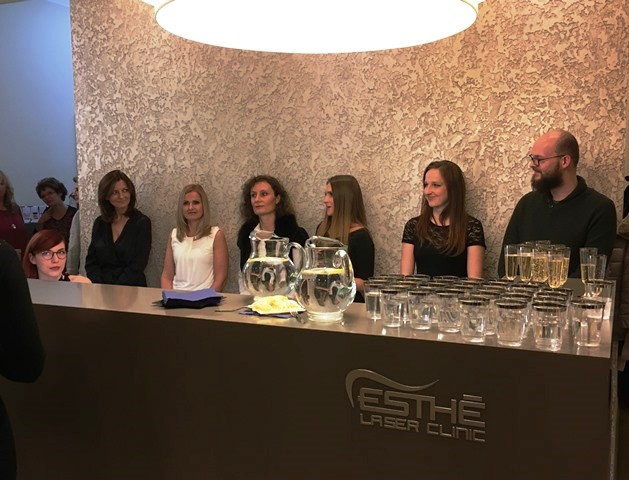 Cílem listopadového mimoklubového setkání Cosmopolitan Executive Helas Ladies Club byla laserová klinika Esthé, která se téměř 20 let se specializujeme na zákroky v oblasti laserové a estetické medicíny.
Během návštěvy pražské Esthé Laser Clinic jsme se dozvěděli více o možnostech omlazení pleti pomocí laserové a korektivní dermatologie. V prestižním lékařském pracovišti Esthé Laser Clinic je lékařům k dispozici to nejkvalitnější vybavení tak, aby mohli pro různé zákroky používat takový laser, který je pro ně nejvhodnější. Mezi ně patří mimo jiné laser V-Beam používaný pro omlazování pleti, Alexandritový laser slouží k odstraňování například pigmentových skvrn či mateřských znamének, laser SMOOTHBEAM využívaný k léčbě akné, nebo epilační laser Candela GentleLase.
Kde se setkává šmrnc první republiky se světem moderních technologií a energických ženských osobností? Dámský klub Cosmopolitan Executive Helas Ladies Club již 18 let podporuje, inspiruje a sdružuje ženy s aktivním přístupem k životu. Klubová setkání přinášejí vždy odbornou a společenskou část, spojují zábavu a osobní rozvoj – to vše v tom nejpříjemnějším, vstřícném a inspirujícím prostředí. Členky se setkávají se známými osobnostmi českého společenského života, stejně tak s profesionály z nejrůznějších oborů, kteří by mohli zaujmout všestrannou a aktivní ženu, ať už její věk začíná dvojkou nebo osmičkou.