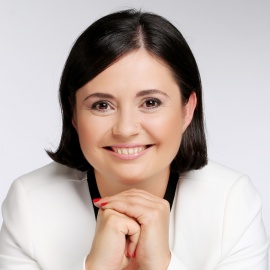 Cristina Muntean is a consultant, trainer, mentor and coach who specializes in personal branding, strategic communications, emotional and systemic intelligence for leadership. A former journalist with more than 12 years of experience in the Czech, Romanian and international media, she founded Media Education CEE,a PR advisory and training agency in Prague in May 2010. Her clients are executive level managers and entrepreneurs with Top 100 companies in the Czech Republic and Central and Eastern Europe. Cristina is also an internationally certified trainer and coach with the Enneagram, a complex system of personal development, and a facilitator of systemic dynamics in organizations. She provides services in English, Czech, French and Romanian, her mother tongue. Cristina can be reached at +420 776 574 925 or at cm@cristinamuntean.com.
Let me tell you a story of madness, of a dream and of a bunch of people who made it possible. Let me embark you on a journey that took less than a year, but it felt like a lifetime. Let me tell you a story of pioneering, of fabulous people who are, ultimately and everywhere, at the heart of everything – and of leadership, personal and systemic alike. Let me tell you the story of an endeavor that changed my life this year.
Earlier this year in January I was catching my breath. A month before, in December, I had just published my first book You, the Brand – Personal Branding for Career Growth, in Czech, and the reverberations of this step were still hitting me while shaping my focus and my priorities for this year. As I was listening to the market, I was already dreaming of the next logical step. Then it stroke me: what if I tried to organize the first ever online conference in the Czech Republic dedicated to strategic communications and personal branding?
I admit, I am not the first to have come up with the idea of an online summit. In the United States Jessica Dibb has been organizing the Enneagram Global Summit for a few years already. In the Netherlands Jennifer Campbell had just started this January the Systemic Leadership online summit. These two ladies were my main sources of inspiration and I am grateful to be a part of their communities. Yet, in the conditions of the Czech market this felt like a crazy idea. But what have I got to lose, I asked myself? So I started to talk about the possible new project with my customers and others ready to listen.
People's reactions warmed my heart. They saw the potential in my idea and encouraged me to take the next steps. And so I did.
People first
The first step I took was to map my resources and assemble a solid team. I knew that, if I wanted to succeed with this project, I needed to surround myself with brilliance. From the graphic designer Pavla Rathouská, who has been responsible for my visuals for years, to Oskar Čorič, my astute web designer and to the unique Ančí Chytilová, whose soothing voice and approach brings up the best in people in front of the camera, the team started to take contours. We booked the Summit logo and jingle; we met for the first time together on June the 4th. We gave ourselves a cutthroat deadline: the conference would go online on Sunday, October the 6th, at 18.00. And then we went to work.
In the ecosystem: navigating stakeholder complexity
In the next step we drafted the raw content of the Summit. We invited 30 speakers to share their thoughts on communications in three different streams: personal branding for career growth, career transition and success in entrepreneurship. Some of the most impactful names on the Czech market (their full overview is available on our website www.personalbrandingsummit.cz) agreed to be interviewed for the Summit. We then spent the whole summer preparing and conducting the interviews. At the end of August we moved into post-production. We created 30 video teasers available freely on YouTube, 30 short interview versions available to the people registered online in the Personal Branding Summit 2019 community free of charge and – mainly – 30 full versions of the interviews. For our paid users we've also created a wide range of bonuses and benefits such as downloading the interview audio recordings and PDF, 9 bonus videos and 4 infographics helping people looking to refresh their personal communications, and an e-book – In the Presence of Greatness – also available for download.
When I took a step back in September to review our stakeholders, I realized we were operating on at least 9 fronts embracing more than 500 people: me and my team; our guest speakers (30 people); their own VIP guests invited to the conference (30 people); our project partners, including ČSOB and its newly opened Campus, who graciously put their space at our disposal for video shooting; various associations and media partners; our ambassadors (15 people) and – last but obviously not least – our customers with whom we communicated nonstop on all possible channels included in a hefty integrated communications model, and who had three different profiles (career growth within companies, career transition and entrepreneurial success). If I had ever wanted to feel how complexity looks like, well – this was my chance. And I lived it at full.
Technology and human touch
Another thing that made this project so thrilling was its mixed technological and human potential. As the Summit took place online, people could access its content from everywhere in the world; the only precondition was to speak Czech and have access to Wi-Fi. Participants also didn't have to be afraid about missing on anything – all the Summit content is available even after the conference end, so people can get back to it anytime they want. While the technological advantages of the conference were clear, we were also painstakingly aware of a potential backlash. In the Czech Republic only 4% of people work remotely, compared to 13% for example in the Netherlands. While the digital experience is powerful, it can never fully replace the thrill of face-to-face networking, good food and the like. But this was never out intention. What we wanted to achieve was to create an alternative, complementary experience allowing people to access valuable content online. That's why we counterbalanced this potential technological dryness with communications as intimate as possible. We created a closed group on Facebook where people could ask their questions live and we were personally available in real time for all customer enquiries. We did everything to bring the best of technology and human touch together.
On co-creation and leadership
Last but not least, the thing that touched my heart the most throughout this experience was the atmosphere of co-creation in our team. We all pulled together and we made it by the deadline with outstanding results. If you imagine collaboration like a line of people holding hands, looking and moving in the same direction, co- creation is something much bigger. It is the equivalent of standing in a circle, acutely aware of your own role and the roles, place and qualities of the others, and of pouring your very best into the middle of the circle while watching in awe how something new emerges miraculously from the energies of everyone involved. For me this was perhaps the most marvelous experience and one of the greatest gifts of this pioneering endeavor: to discover the miracle that we can create when we come together as one, connected by a vision that what we do makes sense and serves ourselves and our entire ecosystem.
By the time you are reading these lines the Personal Branding Summit 2019 is probably over. Yet, this project that seemed like a mad idea earlier this year is still out there, open to be discovered and explored. An online space for insights, information and inspiration, it stretched my boundaries and it also brought me a deep sense of trust in the possibilities of the future. For this is the reward of pioneering and leadership: to dare, to stretch, to bring resources together and to create endless sources of value for the many people. With this at heart I can already say: what a marvelous year!
By Cristina Muntean