Numerous companies created around January 1993, when the Czech Republic became an independent state, celebrated 25 years of existence in 2017 or will celebrate it this year. Many such companies were founded by – then – young and enthusiastic entrepreneurs who wanted to take full advantage of democracy, freedom and the seemingly infinite rainbow of possibilities that a fledgling market economy was set to offer. A quarter of a century later, the same founders are now a blessing or a curse for their companies – depending on how emotionally mature they've become during the last 25 years.
Two stories, one common denominator
I was recently talking with one such founder. Let's call him Roman. Tremendously smart, he launched his IT company immediately after the Velvet Revolution. Like any good, reliable entrepreneur who wants to guarantee to the world that he means what he says, he gave the company his name. The company grew; even during the economic crisis of 2009 – 2012 it fared so well that it gained a hunger to expand. Roman managed to attract a large investor; then he went shopping. From an initially small company, the business grew to become a collection of companies spread in five geographies. All these companies had also their founders and a wide variety of personalized names. This is when Roman hit a crossroad. He had to make a decision: should he insist on keeping the original name of the company he founded – his own name – and thus potentially hinder business growth? Or would he give up his name, make peace with the company destiny – including a new general branded name – and move on with a different mindset? He took the second road. Five years later, we were sitting at a table in a sunny Prague restaurant. "It was one of the toughest – and one of the best – decisions I've ever made. I sold myself in the good sense of the term. This made me humbler, more insightful, more reasonable. It was tough but, looking back, it was the right thing to do."
The second story has a similar beginning. The founder, a people developer, came in touch with a unique system of personal development very early in the '90s that he decided to promote in the Czech Republic. Even though the system was universal, the founder decided to name the company after himself. Business grew, particularly in the golden years of 2002-2008 when multinational corporations were placing massive amounts of money in people development. As time went by, the work became more repetitive and the founder got bored. His own life path seemed to have a different direction than business management. Over time the company wasn't able to create a functioning team of trainers or a solid network of alumni. Frustrated by what might have been perceived as indecisiveness and a lack of perspective for their own growth, numerous trainers decided to leave the company. The alumni, future trainers themselves, initially looked up to the company. Soon however they would plunge into confusion and frustration themselves. It seemed as if everyone was looking up to the founder and expecting him to make a decision that would put the company out of its misery. None came. The founder decided to transfer the company internally within his family; at the same time the business would continue under his name. Most probably it will take the offspring years, if ever, to step out of the shadow of the founding father. At the same time. the army of trainers the company put on the market for 25 years, keep looking on in awe how a company training leadership cannot seem to handle its own journey – into the future or into dissolution.
"I am more than my Channel"
From a similar realm I was recently coaching a visual entrepreneur who was about to set up her YouTube channel and was concerned about the feedback she might receive. "I care about it so much. That's why I'm afraid that I might take things a bit personally. I'm scared that the feedback will hurt me and I won't have the strength to move beyond my feelings and actually integrate the good criticism the channel will receive," she said. Now you must admit – working with a client with this level of emotional self-awareness is already pure delight. Moving through her inner landscape we reached a milestone when I suggested that she look at two objects that were totally overlapping: her YouTube Channel and her Life. As I slowly split the two objects, her eyes followed Life. The more I was separating the two, the more emotional she became about the deep connection she felt with Life. "I am more than my Channel," she exclaimed. "If I keep remembering this, I will never take business personally!"
This is probably the best piece of advice I heard from an entrepreneur for himself in a long time. It is also most probably the realization that hit Roman, the hero of our first story, and what held him psychologically during the difficult transition from being the name carrier of a successful company to managing a generally branded business group. It is also a decision that lurks ahead on the journey of many a Czech entrepreneur. With more and more company founders hitting retirement age, a systemic perspective on how to run family businesses in order to leave behind a legacy to be proud of will be vital both for the companies and for their founders. Part of such a peaceful exit might be the change in the name of the company. When such a decision makes business sense, Reason must win over Ego. While companies always remain connected to their founders through the energy of the beginnings and the vision placed initially in the company, we all need to make peace with the fact that companies are living systems that should be entitled to leave the family nest and meet their destiny on the free market.
Making the right decision about the name of a company, particularly when it overlaps with the name of the founder, is tough. On the one hand, having a personal brand in the company name speaks of responsibility and tradition; it has been proven that such companies bring in more revenues and customer stability over time. On the other hand, sometimes a company needs a different path in order to make it into the future. What we need to remember is that a company is bigger than its founder; we might be those who brought the company to life, but if we want our "child" to outlive us we need to be able to make the right decisions at the right moment. For that all Ego must be put aside. In business and personal branding this is a precondition for leaving behind a sustainable legacy – and for enjoying a fulfilled retirement where we can look back with pride.
---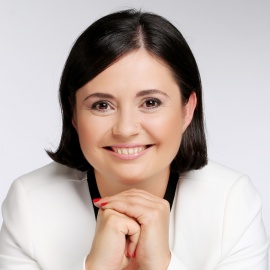 Cristina Muntean is a consultant, trainer, mentor and coach who specializes in personal branding, strategic communications and emotional intelligence for leadership. A former journalist with more than 12 years of experience in the Czech, Romanian and international media, she founded Media Education CEE, a PR advisory and training agency in Prague in May 2010. Her clients are executive level entrepreneurs and managers with Top100 companies in the Czech Republic and Central and Eastern Europe. Cristina is also an internationally certified trainer and coach with the Enneagram, a complex system of personal development, and a facilitator of systemic dynamics in business organizations. She provides her services in English, Czech, French and Romanian, her mother tongue. Cristina can be reached at +420 776 574 925 or at cm@cristinamuntean.com.