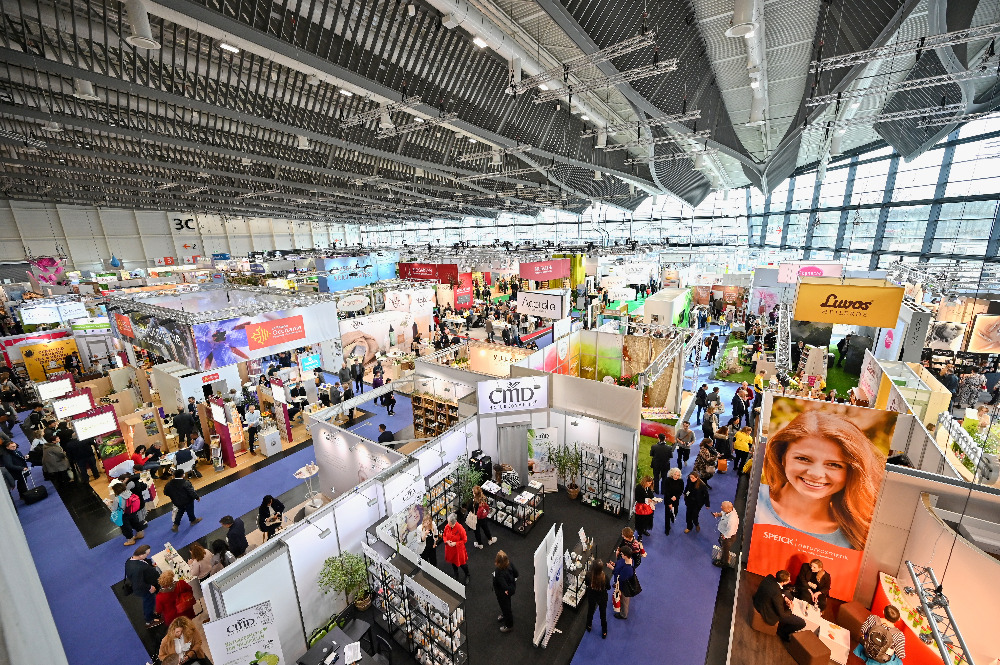 The largest European trade fair for organic food and natural cosmetics took place in Nuremberg in the traditional February term completely digitally. A total of 1,442 exhibitors from 82 countries presented news from the organic world to 13,800 trade visitors from 136 countries. Simultaneously with the international fair of organic food BIOFACH eSPECIAL, the international fair of natural cosmetics VIVANESS eSPECIAL took place.
The fair presented a wide range of organic products from fresh food, through frozen food, bakery and confectionery products, beverages, raw food. After Germany with 365 exhibitors, the main exhibiting countries were Italy (176), France (70), the Netherlands and Spain (52), Belgium (48), Austria (39). Czech companies had a significant participation (18). There were 1341 exhibitors at Biofach and 102 at Vivaness. During the three-day event, which was divided between the Congress, exhibitor presentations and round tables, 775 conferences and lectures were organized. Participants exchanged 400,000 chats and met through 10,000 video conferences. "The BIOFACH / VIVANESS 2021 eSPECIAL program confirms the strong needs on the international sector to interact, network and have a place to meet. The fair is a place for meetings and mutual communication on an emotional and personal level, as well as a platform for business and knowledge. We´re pleased that this year's digital format offered a pandemic-compatible alternative and especially that all the stakeholders accepted it so well! At the same time, we're already fired up about next year. This year we said, 'Let's e-meet before we re-meet,' and now we're particularly keen to be able to meet up again in person."commented Petra Wolf, a member of the board of Nürnberg Messe.
The BIOFACH / VIVANESS eSPECIAL Congress, with more than 9,000 participants, is the largest international knowledge and networking platform in the industry. Future market and strategy issues were discussed, learning from each other and passing on knowledge at the congress. The congress is organized by IFOAM – Organics International, the international patron of BIOFACH World, and BÖLW (German Federation of Organic Food Producers), a national institutional sponsor, in cooperation with BIOFACH. The International Federation of Organic Agriculture Movements The worldwide umbrella organization for the organic farming movement, it has almost 800 branches in 117 countries. The central theme of this year's congress "Shaping transformation. Stronger and Together "discusses how food turnover can progress even better through the cooperation of different transformation movements. Louise Luttikholt, Executive Director of IFOAM – Organics International, said: "The bio movement is in good company today, which supports the transformation process. Given our enormous challenges, from species extinction to the climate crisis and research into plant breeding, we must not allow the things that have separated us to prevent the transition to an agricultural and food system that is suitable for future generations. That is why it is important that our various movements get to know and strengthen each other. Policy-makers can no longer deny the need and also the possibilities, of a truly sustainable future. The presentation "The German Organic Market: Facts, Figures, Analysis 2021" reached a record number of 700 participants. One of the main topics with 550 participants was "Safe sustainability of packaging: current requirements, trends and challenges for the future". At the VIVANESS congress, the main topics were "Monitor of the Natural and Organic Cosmetics Industry 2020: Data, Facts and Forecasts" and "Beauty Briefing – Global Trends and Beauty Inspiration." Both events were attended by more than 350 participants and more than 200 registered for the STADTLANDBIO digital congress, which took place in parallel with the BIOFACH / VIVANESS eSPECIAL conference. The congress focused on the EU "farm to fork" strategy, a creating healthier foods. The goal is to increase the share of organic farming in the EU to 25% by 2030. The congress participants discussed the opportunities and benefits that the strategy offers at city, community and district level, as well as how better cooperation at EU and municipal level can be achieved. The congress was aimed at decision-makers and experts in organizations and companies.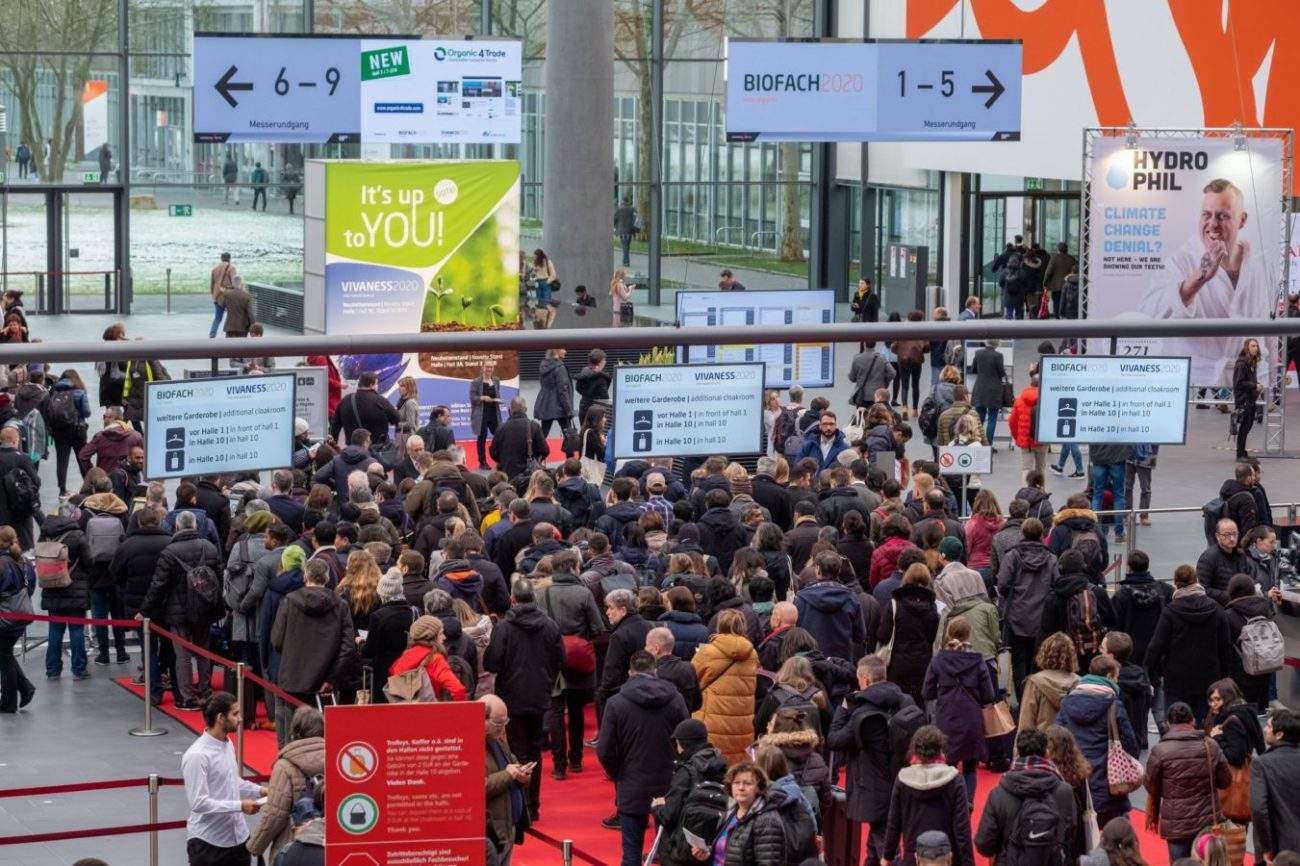 Trends and awards for new products
Trends at the BIOFACH trade fair in 2021 were "plant products", "low-sugar and sugar-free products", "foods with other benefits", "sustainability and social responsibility" and "waterless beauty" on VIVANESS "my time & comfort, safe beauty / strengthening health beauty / economy". As part of the News & Trends block, visitors again voted for the best new product in seven categories this year. In total, they had a choice of more than 500 products, six categories were dominated by German companies. Two digital trend tours have proven to be very popular, with more than 540 and 280 inspired listeners. In the fresh food category, Beetgold, a new company founded in 2019, won with whole vegetable-based Tortilla carrot. Kissybio received the award for frozen products for hazelnut ice bar. In the food, cooking and baking category, Davert, which was founded in 1984, was successful with red lentil rice, Food, snacks and sweets were dominated by Lubs with marzipan and choco-mango balls. The Bauck, which has been on the market for more than 50 years, won award for other food products. Focusing on gluten-free products, the new state-of-the-art mill was built in 2011. Oat Crunchy Chocolate was awarded. The Biobaula from Bruckműhle near Munich attracted attention with its Eco Detergent Tabs in the non-food products category. The only Austrian company Sonnentor, which has had a subsidiary in Čejkovice in South Moravia since 1992, interrupted the dominance of German companies. They received the award in the category of drinks for Dandelion Root roasted Fake coffee organic. The new products were also awarded at Vivaness eSPECIAL. It competed in seven categories, German companies won in five and companies from Lithuania won in two. In face care, Wasserneutral Reusable make-up removal pads won. In body care, 4people who care with Solid hand cream was the best. Nada and her Zero Waste Shower Gel & Shampoo controlled the hair care. Hello simple Dish soap was awarded in the drugstore category. Among the wellness products, the best was Mint and Lemongrass Sauna Peeling Cream. The Lithuanian company Mádara won in the category of decorative cosmetics with Velvet Wear Matte Cream Lipstick. The Feminine Lubricant OMG – Yes! from the Lithuanian company UAB Biokosmetikos was the best in the special cosmetics category. For the twelfth time, the MUNDUS VINI BIOFACH competition was held, open exclusively to certified organic wines from around the world. As in previous years, the Tuscan Fattoria La Vialla impressed with its outstanding wines and was named by the international jury Organic Winery of the Year for the seventh time in a row. Fattoria uses organic and biodynamic methods to cultivate 1,400 hectares of land (with the largest Demeter certified surface area in Europe) and produces its own wine, extra virgin olive oil, cheese,etc. At Biofach, their 13 wines were awarded a gold medal and 7 silver. The best sweet wine was Vin Santo "Occhio di Pernice" Riserva DOC 2012 and the best red wine Cortona Syrah Riserva DOC 2017. The jury of experts awarded a total of 199 organic wines with gold and silver medals. In addition, 11 special awards were given to the best organic wines in their category. In addition to the main European wine-growing countries of Germany, Italy, Spain and France, wines from Argentina, Chile and South Africa took part in the competition. With 62 awards, Spanish organic wines achieved the best overall result, closely followed by organic wines from Italy with 57 awards. The quartet of the best wines was complemented by 35 organic wines from France and 31 organic wines from Germany. Five organic wines from Austria and Portugal and two organic wines from Chile and South Africa also received awards this year,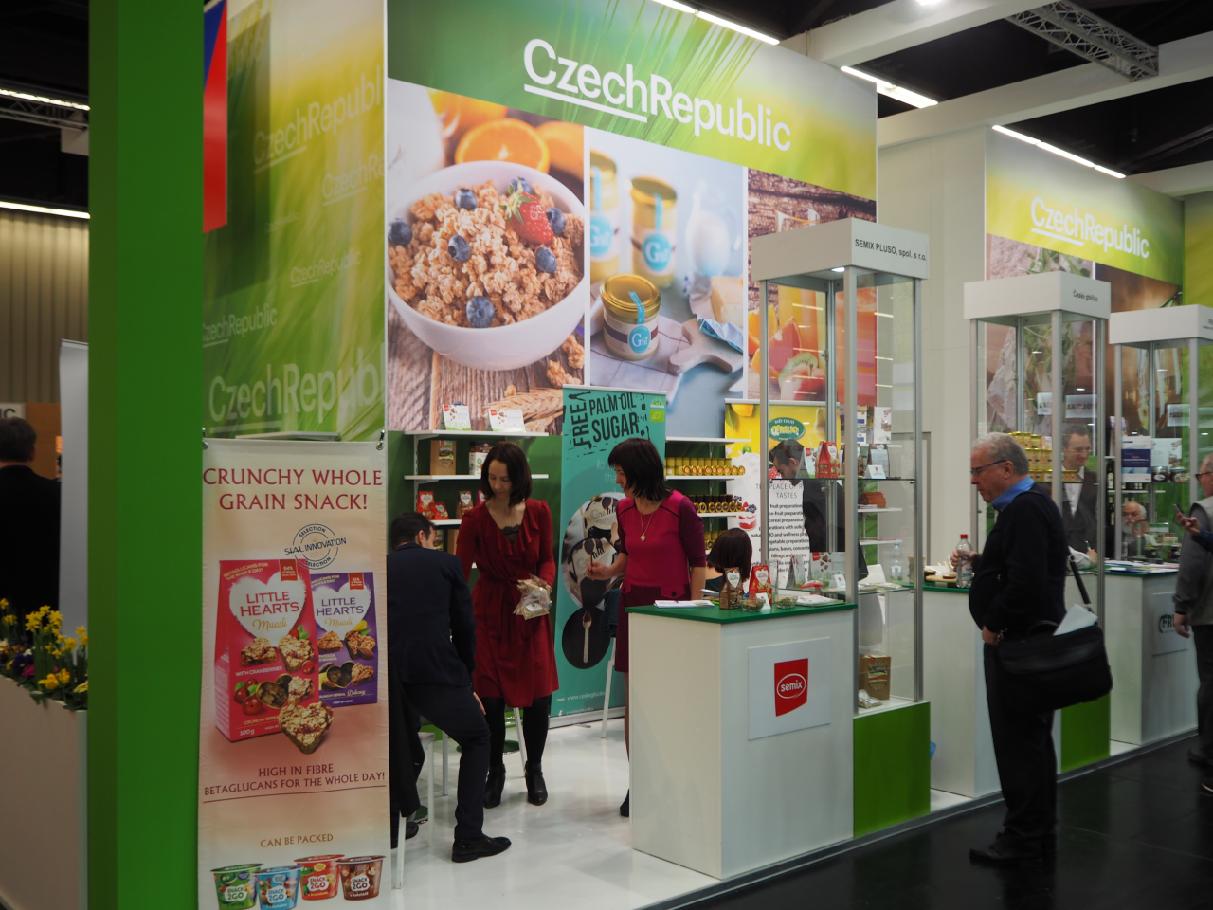 Czech Republic on Biofach
This year, 17 Czech companies and the Ministry of Agriculture took part in the fair for the fourteenth time. Many companies participate regularly, this year due to Covid the participation was smaller, as well as at the entire fair. List of Czech participants: Amylon, Cereabar, České ghíčko, COOC Food sro, Koláčkova pekárna, COUNTRY LIFE sro Deva Nutrition as, DMHERMES Trade sro, EXTRUDO Bečice, Health Link sro, I love Hummus sro, King Food Bohemia sro, KR REAL sro, Ministry of Agriculture, Pet Farm Family sro, SVETLIK GREEN VILLAGE SRO, Wild & Coco sro, Zelená Země sro, Rawvolution sro.
Czech organic agriculture
At the end of 2019, 4690 farms (almost every tenth agricultural enterprise in the Czech Republic) managed ecologically in the Czech Republic on a total area of 541 thousand ha, which represents a 15% share of cultivated agricultural land. Roughly one tenth of the area is in transition and represents the potential for growth of ecological areas in the coming years. At present, organic farmers manage more than 444 thousand ha of permanent grassland, 91 thousand ha of arable land and 6 thousand ha of areas of permanent cultures, especially orchards and vineyards. In 2019, the average size of an organic farm in the Czech Republic was 115 ha (conventional 75 ha), in the EU we have on average the third largest organic farms.
Market and consumption of organic food
At the end of 2019, 825 organic food producers were registered in the Czech Republic. In the course of 2019, 133 entities were newly registered, and 58, on the contrary, terminated their activities. Of the total turnover of organic food production in 2018 in the amount of approximately CZK 4,233 million, CZK 2,117 million, i.e. 50%, was used on the Czech market. Exports of organic food from the Czech Republic are constantly growing and go mainly to EU countries. The average annual consumption per capita increased to CZK 416 and the share of organic food in the total consumption of food and beverages reached 1.6% (the EU average was 76 euros, i.e. 3.7%). Danish and Swiss consumers spent the most money on organic food (both € 312 per capita in 2018).
Information on organic food
PRO-BIO LEAGUE consumer branch PRO-BIO of the Association of Organic Farmers PRO-BIO Šumperk with nationwide scope is focused on the promotion and education of organic food and organic farming system among the consumer public. For more information, visit www.lovime.bio.
Note: The BIOFACH / VIVANESS eSPECIAL program is still available! After February 24, 2021, only active communication functions will be deactivated. The platform will remain in place for another six months as a source of information and all live videos will be available on request. The next year of the BIOFACH and VIVANESS trade fairs will be February 15 – February 18, 2022.
Jaromír Hampl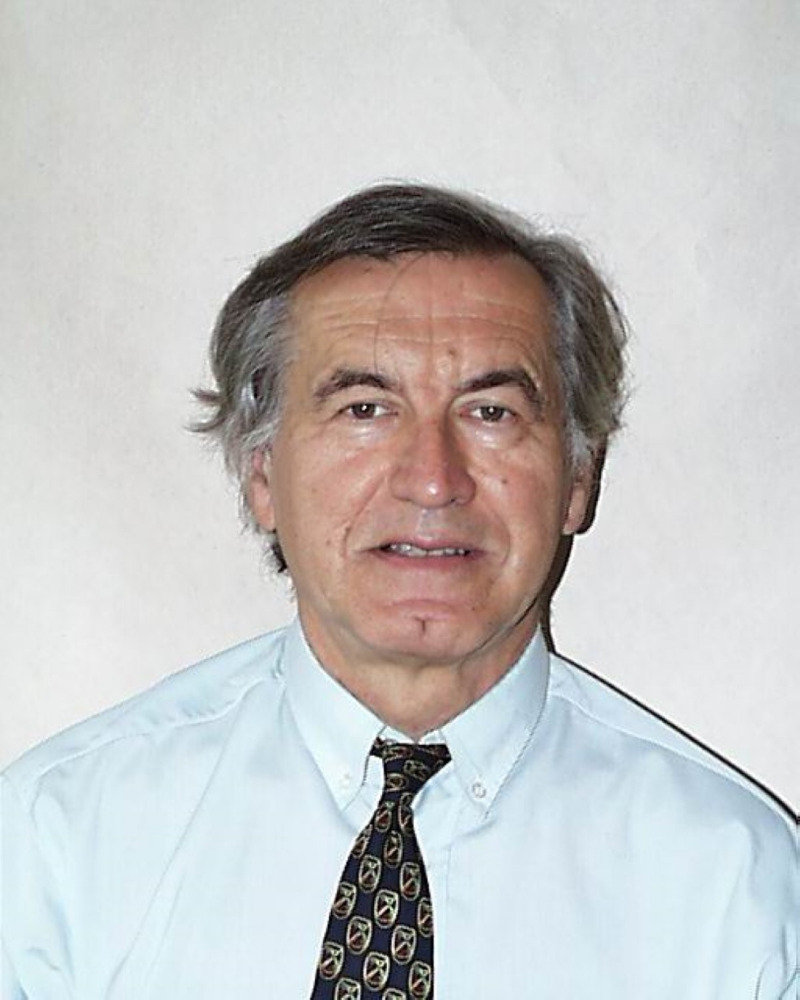 Photos: NürnbergMesse