1922 – 2020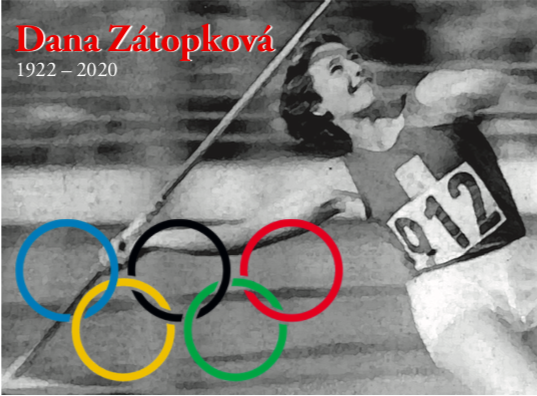 A legend of Czech athletics, loved by the nation for her achievements as well as character, joined sports heaven this March at the blessed age of 97. Dana Zátopková was a great Czech javelin thrower and wife of the famous runner Emil Zátopek, who himself was a four-time Olympic champion. Due to the restrictions caused by the current pandemic, the public was excluded from the funeral ceremony, one more reason to pay our humble tribute to this outstanding personality by remembering her in our magazine.
Dana Zátopková won the gold medal for javelin at the 1952 Helsinki Olympic Games and the silver medal eight years later at the Rome Olympics. She was the European champion in 1954 and 1958. She also set a world record in 1958 when she was 35, making her the oldest woman to break one in an outdoor athletics event. She first met her future husband Emil at a stadium in the Central Bohemian town of Příbram and they quickly fell in love marrying a few months later in October 1948.
Czechoslovakia won seven medals at the Olympic Games in Helsinki in 1952. Four of them were won by Dana and Emil Zátopek. Dana's Olympic victory came minutes after she took the medal her husband had just received for luck. By the time they returned home, they were a world-renowned sports couple. It is quite interesting that they were born the same day, month and year.
After 16 years of competing at the top level, Dana Zátopková retired in 1962, focusing instead on training upcoming athletes at home, while also being a member of the International Association of Athletics Federa- tions, the governing body for athletic sports. When the district of Troja in Prague, where she lived, was badly hit by the floods, she was fully engaged in organizing relief for the community.
As the president of the Czech Olympic Committee, Jiří Kejval put it, "Mrs. Dana not only was a great athlete but primarily a great person. She was a role model for several generations of Olympians. We all feel very sad that she is not with us anymore".