"Please, help me return the synagogue to Bratislava!"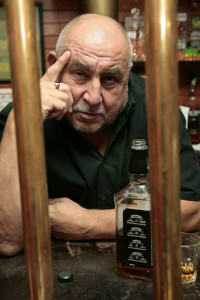 In 1969, the well-known Slovak actor Andrej Hryc, was a second-year student at the Department of Acting at the Academy of Performing Arts in Bratislava. His role model, the beloved Slovak actor, ass.prof.Ladislav Chudík, who had admitted him to his class two years before that, was already being punished for having defected in August 68 to Austria, which the incoming "normalization" communist establishment used to ban him from media appearances, as well as from teaching at the Academy.
On Saturday morning of April 12, 1969, Andy Hryc was walking along the derelict Židovská Street (Jewish Street) in Bratislava to the Hall of Performing Arts in Kapitulská Street, for regular on-stage acting lesson, when his attention was caught by an unusual image on the Rybné (Fish) Square. An excavator was attacking with its heavy bucket the magnificent building of the Jewish Neologist Synagogue from the late 19th century and smashing its left tower, a home to a Slovak Television studio until only a few weeks before. As well as more than 300 other houses in this area,  the Jewish Synagogue also presented an "obstacle" for architects of the new Bratislava landmark – the Bridge of the Slovak National Uprising that forever destroyed, cut off the area below the castle and separated it from the rest of the Bratislava's Old Town. All wars that raged through the city combined did not cause as much irreparable historical damage to the Slovak capital, as this Communist urbanistic crime.
Hryc sat down on a stone, with tears of furious helplessness streaming down his disbelieving face, and did not go to school on that day. He spent the following weekend sitting in front of the Baroque House of the Good Shepherd, watching this unprecedented demolition. On Monday, the synagogue was gone. And, it was as if no one noticed anything, as if nothing had happened.
Sitting across from me, sipping coffee, is the founder of legendary Radio Twist, a popular Slovak actor and director, Seychelles' Honorary Consul in the Slovak Republic – Andrej Hryc.
Andy, at a recent press conference, you introduced to the Slovak public a project which stunned Bratislava with its exceptionality.
Since I live nearby, I walk very often across the former Fish, today's Rudnay Square. It is where my son Hugo took his first steps and where my two grandsons are running around today. I witnessed the demolition of an exceptional monument – the Jewish Neologist Synagogue in Bratislava, which had stood here at the base of the Catholic Gothic cathedral opposite the Orthodox St. Nicholas Church and which was slowly turning into a pile of bricks. For years it was a symbol of our city's religious tolerance and even though I am not Jewish, I miss it very much to this day. I was able to overcome many of my life's problems by remembering those unfortunate people who ended up in the Holocaust's gas chambers. Compared to their suffering and tragedy, all my life's problems always looked like a fun fair. For more than 40 years I've been carrying the memory of this event and one day in the evening, when I returned home, it occurred to me whether it would be possible to rebuild that interesting yellow house built in a Moorish style, where in the late 1960s in the Slovak television studio, located there at the time, I appeared in my first television production, the name of which I don't remember unfortunately. I began thinking about it and then talking to people who are close to me.
With my friend Karol Kállay, one of the leading Slovak architects, we found in archives of the city of Bratislava the original plans by architect Dezso Milch from 1893. We took the tape measure and went to survey the Rudnay Square. When we discovered that there is enough space to build a 100% replica of the synagogue, the idea got real contours.
What followed?
I presented this idea of mine to several close friends: sculptor Juraj Čutek, professor of economics, former Vice-chancellor of the University of Economics in Bratislava Juraj Stern and world-renowned neurologist Paľo Traubner – the outcome of our discussions was the founding of a civic association.
What is the mission of your association?
The association's name is "We'll bring the Synagogue back to Bratislava". It has a single objective – to return to Bratislava the symbol of religious tolerance, so much needed in these days. I admit that this is a high aspiration, but I like challenges. Our association does not want to build a place of Jewish worship. The synagogue will serve the people of Bratislava and the general public as a multifunctional cultural facility and at the same time it will be a permanent reminder of the "disappearance" of one of Bratislava's communities. It will be a Holocaust memorial. The names of all seven thousand Jewish citizens, who were deported from our city to the concentration camp, will be engraved in the marble wall of the "old-new" Synagogue, to commemorate, at least symbolically, their return to Bratislava, as a reminder of the absurdity of the persecution of people of a different race, ethnic origin and religion or political affiliation. I believe that we will achieve our objective.
What is the timetable of your plan, and what is its budget?
We would like to complete our project over the next four years. We have two years to raise the necessary funds. Our budget estimate is five million Euros.
Where do you want to find funding for such an ambitious project?
The Ministry of the Interior of the Slovak Republic granted us a permit to conduct a public collection. Our initiative was sponsored by all Slovak telecom operators, by organising telephone number 875 for donations via SMS, costing one Euro. We obtained patronage of the Mayor of Bratislava Mr. Ivo Nesrovnal and the Embassy of Israel. Of course, I'm not naive to think that we will be able to raise the full amount this way only. We count on support from the state, public funds, various sponsors and we will also approach international foundations and trusts. Every form of help is welcomed. Please, join me and help return the Synagogue to Bratislava!
I believe that your initiative will soon receive a positive reaction from people who appreciate this noble story of a symbolic return of the Holocaust victims to their home town and that they will desire to take part in this effort. 
I am deeply convinced of this; after all, for centuries Bratislava had, until the WWII, a very strong Jewish community that made significant contribution to the development of this city. Bratislava was home to perhaps the most famous Jewish school, founded by notable Rabbi Moses Schreiber, known in the world as Moshe Sofer or ChatamSofer.  Sofer is buried in Bratislava and in 2002 his crypt at the Old Jewish Cemetery was renovated, serving since as a ritual and pilgrimage place of worship for Jews travelling from around the world to pay their respects. The ChatamSofer Mausoleum is less than 500 m from the original place where we want to rebuild the Synagogue.
Does this mean that this new initiative pushes your acting and artistic ambitions aside?
Certainly not. On the contrary. All participants are donating their time and expertise working for the association. All funds raised are dedicated exclusively towards construction of the synagogue. Therefore I cannot give up my artistic activities, since the pension, to maintain a proper standard of living hmm, somehow is not enough. Despite the fact that I am approaching 70, I cannot complain about lack of acting work. I'm constantly busy in the Czech Republic, as well as Slovakia. In Prague, I'm appearing in a theatre; at home I am currently shooting a new series for TV JOJ, called the Zoo and preparing for a major new film opportunity in the upcoming project of my daughter Wanda, who is the producer and co-author of a long feature Slovak film called the LINE, a story unfolding on the Slovak – Ukrainian border about smuggling flourishing in all its forms and local authorities looking the other way. A young policeman with peculiar methods arrives there, with a secret mission to convict the real culprits – his police colleagues. I look forward very much to working with leading Slovak actors, such as Emilia Vašáryová,  Zuzana Fialová, Alexander Barta, Dano Fisher, Eugen Libezňuk or Milan Ondrík. The movie's story is highly topical, the script is excellent and I believe that the result will be remarkable….
Well, it seems that "the apple does not fall far from the tree"….. I said goodbye to a man full of energy and determination, who for one moment does not accept even one percent of a possibility that this most unique and ambitious project would not go ahead. His whole life, artistic career, his influence and last but not least his diplomatic contacts convince me that in about four years Bratislava will be greeting every traveller from Vienna and elsewhere with a majestic view of a newly rebuilt unique monument.
---
I am saying good-bye to Andy with feelings of humility, reverence and deep respect for the victims of the Holocaust, whose names remind us of "memento mori" and thanks to his determination I am already looking forward to the skyline of Bratislava which will be completed and highlighted by the synagogue and its majesty.  I promise to Andy that I will do my best for the synagogue to return it back to the site from which it was uprooted. Will you, dear readers, join us and help in our effort to bring the synagogue back to Bratislava?
by Eva Anderová