Czech Radio – "93 Year Young Wise Lady Ready for the Best Years to Come"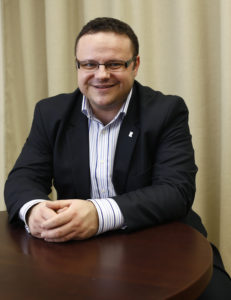 The very fact that Mr. René Zavoral was appointed at the age of 39 as Director General of Czech Radio made several headlines. However, Mr. Zavoral has had a remarkable career. He studied at the Faculty of Social Sciences at Charles University in Prague. Already during his studies, he was an advisor to one of the Chairmen of the Senate. His career in Czech Radio started in 2001, only shortly interrupted by him changing a public sector for a private one and assuming a position in corporate communication at Komerční banka. He returned to Czech Radio as Head of Department of Communication and External Relations; in 2013 he was Deputy General Director for Programme and Broadcasting.
Mr. Zavoral, you have been appointed to the position of Czech Radio's Director General on January 21, 2016. Czech Radio is an institution that has played a significant role in both Czechoslovak and Czech Republic's history. It has been enjoying a high degree of credibility, not only amongst its listeners but in the overall society. Nevertheless, do you feel slight nostalgia and even a burden that you are leading an institution that reached the heights of its fame and played the most significant role already in the past?
Quite the contrary. I truly believe that the best moments for Czech Radio are still ahead. We do not stand still, we are continuously working on the development of our programme, the quality of broadcasting as well as technologies applied. We represent a modern service that is interested in current trends, particularly working with multiple media.
Of course, we follow the history and tradition that is quite rare and unprecedented in comparisons to other institutions in the Czech Republic. Czech Radio has been serving its listeners for 93 years and has been present during various moments, co-creating the modern history of Czechoslovakia – be it the Prague uprising in early May 1945 or 1968 broadcasts regarding the entry of Warsaw Pact armies.
It is only natural to feel respect and certain nostalgia towards the institution such as Czech Radio. It is also translated into the commitment to fulfil its role as a public service. It should be a media to help public orientate in today's complicated world, to bring objective information, culture, to educate and entertain at the same time.
The famous BBC is always presented as a model example of public media services. However, is it a relevant example considering the size and the budget of the Czech Republic? And where else can one look for an inspiration?
BBC certainly represents a great example as far as public services are concerned, but to a certain extent an example that is unattainable. In the European context the comparison to BBC is very frequent and popular, and the Czech Republic is no exception. It is necessary to point out that the position of BBC in the world of the media is unprecedented. BBC is exceeding other public media services with regards not only to its size, but also its budget and the possibilities of programme offering.
Referring to all of the above, I am not saying that we should not be inspired by BBC, quite the contrary. We are in close touch and we follow its stations, formats and approach and we are capable to learn and get inspired. We are a member of the European Broadcasting Unit that also presents a great possibility for the exchange of experience with other broadcasters. In the middle of April, we launched project Generation What with the aim to map attitudes of young people. Several public media from European countries participated in this project at the same time.
You have mentioned that Czech Radio is a partner and a guide. How do you see the trend of "agenda setting" that is not only to inform and reflect what is happening but by presenting certain issues to contribute to the elevated debate on particular topics? Gender, diversity, ageism, sustainable development are already topics quite present, what are other emerging topics do you see or you would like to be addressed more? 
The task of Czech Radio as a public service provider is to describe events from all possible points of view, offer to listeners various opinions, facts, not avoiding controversial issues. We want to be a service that presents different impulses and so stimulates asking questions and thinking about current and debated issues. Therefore, we already follow the topics mentioned. Minorities represent another topic that we also follow very closely – not only with regards to national definition, but also in terms of cultural or social one.
However, the main part of the programme is focused on everyday events, both at home and abroad. The agenda of news is the one that needs to meet the challenge starting from a range of issues to be covered to the objective point of view of being presented. I personally feel that the work of our editors has not been easy for some time.
The migration crisis has been one item on the agenda that will be echoing through the society for a very long time. And not to mention how difficult it is to cover conflicts, such as Ukrainian crises, the war in Syria or terrorist attacks.
My ambition is for Czech Radio to pay attention to all issues important for a broadly defined Czech society and to maintain its credibility, independence and balance.
In your interviews about your vision, you have mentioned new technologies, digitalisation, use of mobile applications. Which other trends do you regard crucial?
It has been a long-term strategy of Czech Radio to follow the trends in new technologies. Our aim is to offer to listeners a suitable distributional mix of options of broadcasting that will provide a stable and secure service, will expand and improve the programme of Czech Radio, including our services.
We are ready as far as digitalisation is concerned; however, the legislative framework that would enable the development of DAB broadcasting is missing. Nevertheless, we pay attention to the possibility of digital broadcasting, since it represents secure and stable broadcasting which might be important during crises. At the same time it enables the development of accompanying services, such as pictures or text files.
Having said that, with the same attention we take care of analogue broadcasting, since it still represents a very suitable platform. Furthermore, we have to develop a mobile application, be ready for high-speed internet or even the possibility of the so-called "hybrid radios", which is a topic rarely discussed in the Czech Republic.
What is the current programme offering of Czech Radio for foreigners living in the Czech Republic or to Czech citizens living abroad?
We offer topical programmes in one of four nationwide full service format stations and also foreign broadcasting of our Radio Prague station. The service of this station includes comprehensive coverage of news and debates of everything important that is going on in the Czech Republic in all three dimensions – political, economic and cultural one. Radio Prague broadcasts in Czech, English, German, French, Spanish and Russians. Its target group includes foreigners living in the Czech Republic, the Czechs living abroad, diplomats, journalists and representatives of international institutions.
You are a father of four children. How do you manage work-life balance?
Work is important for me, but family is even more important. I believe that I am very good at separating work from my family life, but it is sometimes very difficult. The first weeks after I was appointed General Director were quite challenging. Spending time with my family naturally means for me relaxation from stress and duties. We like to travel and discover new places, both in the Czech Republic and abroad. I am looking forward to spring and summer coming and I hope I will be able to enjoy more free time.
What are your final words for Czech and Slovak Leaders Magazine?
Well, if they already do not belong among our listeners, I would like to invite them to become part of our "Radio family", to check out our programmes and to find a programme and relation that would interest them. I believe that our wide programme offering caters for everyone's taste – news and music on "Radiožurnál", expert commentary on public affairs on "Plus", cultivated entertainment on "Dvojka", cultural events on "Vltava" and "Radio Wave" or "Radio Junior" for our young listeners. I should not forget our regional stations and our special digital projects such as "D-dur" and "Jazz".
To the readers who happen to be our listeners, thank you for your support and loyalty. Czech Radio works every day to offer the best broadcast, to be a modern radio and to bring to the public quality information, education and culture.
---
Did You Know?
Czech Radio is the only public radio service in the Czech Republic.
In addition to its main four nationwide full service format stations, Czech Radio also offers four special stations focusing on news and current affairs, classical music, popularisation of science and applied technical sciences and broadcasting to young audience. Each of the 14 regions in the Czech Republic has also its own regional service. Furthermore, Czech Radio broadcasts abroad in six languages including Czech service for compatriots living abroad.
Czech Radio belongs to the oldest and most prestigious radio services in the world.
Its public broadcast started in May 1923, at that time it was the second broadcast service on the entire European continent. It took form of improvised broadcasts from a tent located at the Prague Kbely military airport.
The current Czech Radio building located in Prague Vinohrady neighbourhood dates back to 1933 when the Czechoslovak Radio was regarded the most advanced media outlet in Europe.
The frequent visits of Thomas Garrigue Masaryk seemingly anticipated the fact that historical events would take place in the very Radio building.
By Linda Štucbartová