"We in Vodafone walk the talk in regards to diversity."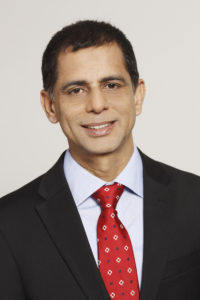 Mr. Sharma, Vodafone is known as a company promoting women and diversity in general.  How is this attitude influenced by your experience, being the only Indian in the company and often with regards to diversity, being the only male in the panel discussion to address such issue?
In Vodafone we believe that by being diverse and inclusive we will attract and retain the best talent in to Vodafone and make the best choices for our customers and shareholders. Everyone has a role to play in ensuring people at Vodafone can be at their best irrespective of their Gender, Race, Religion, Belief, Disability, Age, Sexual Orientation or Gender Identity. Personally I very much believe in benefits of diversity – based on my own experience – diverse teams are more creative and productive.
Your company is regarded as a challenger to status quo and other companies monitor your activities and implement them later as a proven practice.  What are your top three "easy and quick wins" to support diversity at the workplace?
I am glad that Vodofone is perceived as a company that sets trends in diversity area. Talking about Diversity without concreate actions doesn't have any impact. In Vodafone we make sure that every statement is supported by clear action.
In terms of Gender diversity I am a big promoter of our global maternity policy – enabling our female colleagues to work part time and get full salary. This helps our colleagues to better manage work-life balance and continue with their carrier. Many companies are lacking women in senior leadership role, I believe creating the right conditions for them will help women to grow and they won't have to choose between carrier and a family.
In terms of LGBT diversity, based on a recent research, only 10% of companies focus on LGBT issues and engagement and they provide tailor made support/benefits. In Vodafone for example, among other benefits, we give LGBT employees a day off for the registration.
How do you see the diversity as an issue in the Czech Republic?  The Czech Republic currently ranks on the 81st place out of 145 countries surveyed according to the World Economic Forum.
I was surprised to hear about a pay gap in the Czech Republic – women earn 21% less than men in the same roles. I am happy about the fact that in Vodafone we treat people equally, there are no differences in salaries. We have to realize that women play many roles – at work, at home. It is very important to create and offer and support for women.
In Vodafone, you are famous for "walk the talk on diversity".  You introduced full compensation for part-time working women coming sooner from parental leave, you support parental leave for both women and men, you held every year diversity week to celebrate diversity in all aspects – gender, age, nationalities and others.  With regard to technology, you make sure your technology and mobile applications help to victims of domestic violence.  What are other trends that you will be introducing?
Our Diversity focus is on Gender, LGBT, Disability and Age and are constantly looking at needs of our people. As the population in Czech and Europe is aging, we will soon introduce programs addressing this.
Regarding technology: communication networks underpin every aspect of a modern society, enabling people to stay in touch with family and friends, access information and increase their understanding of the world around them while accessing services that can improve health and wellbeing, enhancing skills and increasing prosperity for the population as a whole. We believe that our technology can have a transformational impact on society – a belief shared by the Vodafone Foundation who's Connecting for Good strategy is focused on using our technology to tackle some of the most challenging social issues in the world. Our Foundation in the Czech Republic has already offered to the community of people with disabilities powerful ICT solutions: a smartphone for visually impaired people BlindShell, a transcription system Transkript for people with audition impairment, a reading trainer for kids with dyslexia Včelka and our last winner of the Vodafone Foundation Laboratory R-ITAREPS aims to help people with schizophrenia via ICT App to monitor their wellbeing and stay integrated in their communities.
By Linda Štucbartová
Photo: Archive