"LET'S LEARN all our lives"
An outstanding expert, Mr. Domenico finished his studies by obtaining a doctorate in the field of political science from one of Italy's leading universities. He's successful in the many areas to which he devotes himself in his career, in politics and international relations, in private enterprise, and last but not least in consulting and education. He speaks fluent Italian, Spanish, French, Portuguese and English.
Hello, Domenico. Thank you for your time, so precious in these strange times. Please, will you tell our readers what brought you to Prague?
Initially, I was trying to decide between Prague and Berlin. In the end Prague won, because it's magical and dynamic, and has a deep human dimension. The city is very stimulating. There's no room for boredom here; everyone can find what they're looking for, whether it's culture, sport, job opportunities or a social life. Prague is a very lively city. I struggled with the Czech language for a long time, but now, after eight years, I understand it relatively well, even though spoken Czech is still a challenge for me.
Do you feel that Italy's image has changed due to the Covid-19 pandemic? Has life in your native country changed?
Everyday life in Italy has been turned upside down, but the perception of Italy and Italians abroad has also changed unavoidably; the first clear signal comes from observation of the tourism and transport sectors. International flights to Italian destinations are empty, and hotels are abandoned. In other words, it's a catastrophe.
Italian is the language of opera, art, cinema, fashion… can you tell us more about the courses you teach?
Since childhood, I've enjoyed listening and communicating. I was also always a team player, which predetermined my future profession. Thanks to many years' experience working with politicians and business people, I decided to focus on the development of professional communication skills in companies and offices, establishment of business connections, self- presentation, and effective collaboration in a multicultural environment.
I can say that I really like teaching; I do this work with a passion. For teachers, a love of their mother tongue is definitely important. Its grammar, vocabulary, spelling and lexical peculiarities make Italian a true symbol of our culture. But in a foreign country, you come to understand that that's not enough. The basis of a lecturer's work is a desire to share their knowledge, and to pass it on to their students in any effective form. Many years of experience with various training methods in the area of "Soft Skills" brought my colleague Jana Frischmannová and I to the idea of team-led multicultural communication courses, which prove in practice the well-known theory that, in communication, a WORD has a total value of only 7%, while the rest is the work of paraverbal ("vocal" is not used in technical terminology) and non-verbal communication. We discovered that many people more or less know that non-verbal communication is important, but paraverbal communication, or vocal means and techniques, and vocal expression culture are, wrongly, completely neglected in the Czech Republic. The voice, with all of its attributes, forms 38% of direct communication. That's why we focused on it!
One of our last projects is the"Communication and Work with Voice" training, specially developed for the Communication and Marketing Department of the Municipal Authority of the Capital City of Prague. Our team of lecturers is truly multicultural; among others, the Polish specialist Sonia Sramek- Karcz has a place in it. Our common means of communication is Italian, and its free translation into Czech. Believe it or not, it works! Regardless of innate disposition, communication and other soft skills can be learned, and "I can do anything I put my mind to" applies here. When we leave our defensive positions and open up to new possibilities, not only will we and the people around us experience relief, but we also begin to understand one another; we're on the same wavelength. Our courses are very successful, popular and experiential. They involve not only lectures, but also intensive practical training. We prepared a custom "Leading a Multicultural Scientific Team" programme for the Rectorate of Charles University, and we also prepare tailored courses for commercial companies.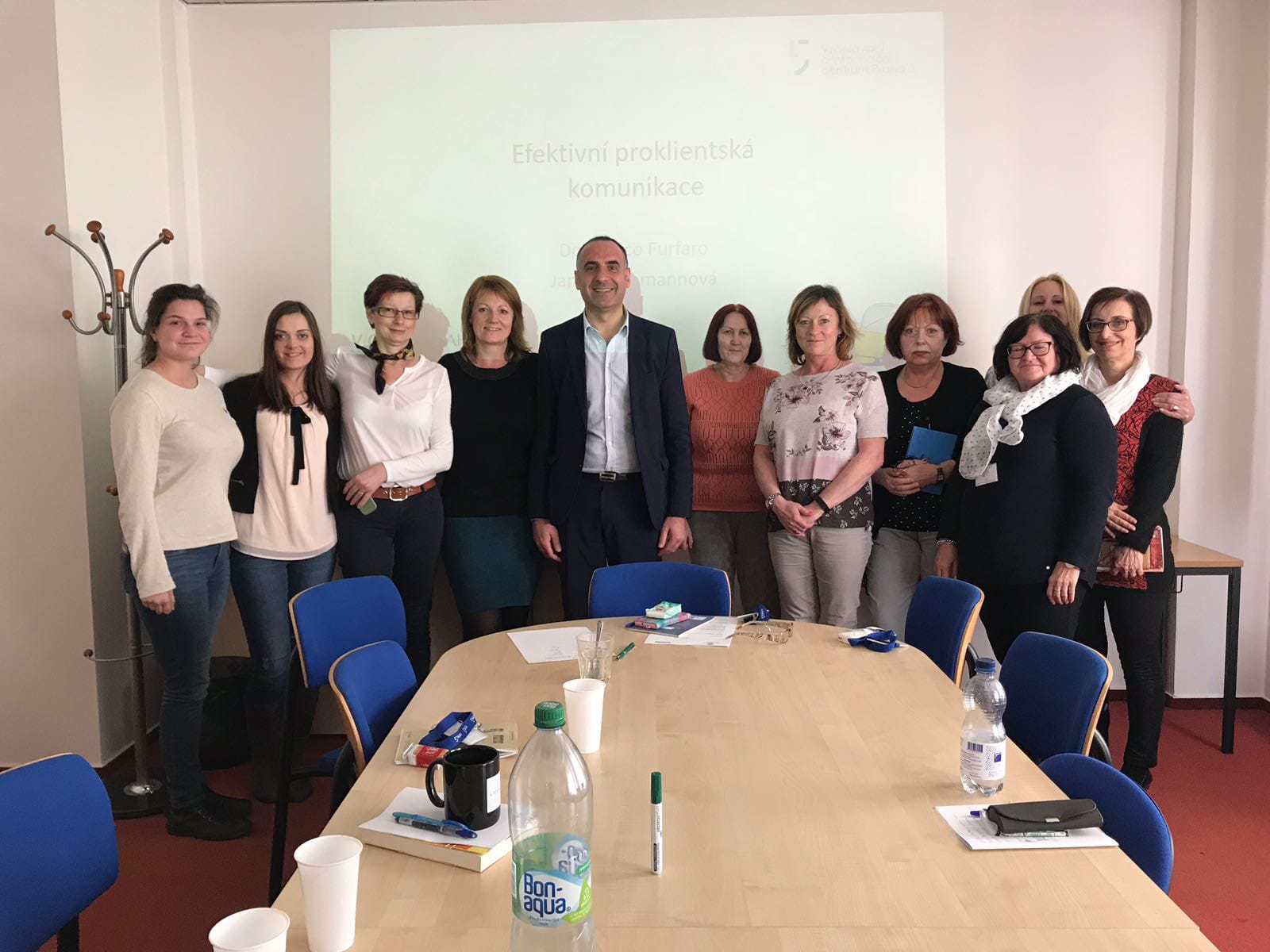 I often ask about "known-unknown". What are the facts that Czechs should know about Italians, and Italians should know about Czechs?
You can always recognise an Italian by the way they gesture, by the way they get annoyed, because Italians always express their feelings immediately, they always communicate with each other. Italians are sunny, in the sense that they're cheerful from the moment they wake up in the morning, they make friends quickly, they can immediately communicate with everyone, they're very socially-oriented… an Italian can be compared to music "allegro, allegro, allegro" (easily cheerful, lives with ease). Czechs are more closed and less social than us Italians, but their friendships are deeper and stronger, and last longer. I've heard that a Czech who boards a train looks for an empty compartment where they won't be disturbed, while an Italian goes to an open wagon and looks for company. I think that's pretty apt.
What aspects of the Italian lifestyle do you miss in Prague?
The Italian lifestyle is admired around the world; we're open, expansive and cheerful people. We Italians love holidays and anniversaries in the company of our families, friends and acquaintances, and we're lovers of our food and good wine. Italians like to talk; for us, conversation is almost an art form. They say that habit is an iron shirt, which is why it's difficult to transfer and incorporate other customs somewhere; it needs time and patience. I think that lately Czechs have been opening up quite a lot, and abandoning their prejudices and stereotypes. In general, I think that we can all inspire each other about what we enjoy.
Is there something you'd like to say to the readers of Czech and Slovak Leaders Magazine?
Dear Czechs and Slovaks, your countries are beautiful and their potential great. Don't forget that which makes us different from others is a gift, and the way in which we can offer it to the world is crucial. Yes, the WAY; not the product, but the service provided with it, that's added value. We return where we're welcomed, where we feel good. The more you learn to offer, the more you will reap. In conclusion, I'd like to say something that applies for all of us: we must constantly adapt to new conditions, take in everything that's happening around us, keep our eyes and ears open. Let's learn all our lives, and be creative, innovative and open to change; only that way can we move forward.
By CL
Photo By: Jitka Tomečková