"It all begins in your mind"
Edita Randová is a Czech mezzosoprano. She has held concerts on every continent, taken part in major music festivals and performed at the famous Carnegie Hall. She has represented the Czech Republic and its music through tours in Australia, China and Brazil, always under the auspices of the Ministry of Foreign Affairs. She has a passion for foreign policy, and last year she completed her Master's degree in International Relations. Her mission is to introduce classical music to young people. To this end, she founded the international music festival Tóny nad městy, for which she is Artistic Director. Some of her most significant recordings include a CD with Antonín Dvořák songs. In spring, she is releasing a new CD focused on Dvořák's early songs, which are not well known amongst the general public. She currently performs concerts most often in Italy. Edita Randová speaks English, French and Italian.She is planning to undertake doctoral studies in Art Management at the University of Economics, Prague. She has succeeded in her career and in motherhood and is the proud parent of a 26-year-old son. Although she is a star, she does not conform to a corresponding attitude. We agreed on our interview directly. She visited me at home and, despite people saying milk in coffee gives you phlegm, she took a small espresso with a drop of milk. She indulges the occasional vice, but is also often hungry. After meeting Edita,I realised how much art involves living under orders. Everything that a career can mean and also that being the best in a tough business environment often isn ́t enough.
We're holding this interview in a private room in my home. I know you've got a concert in Italy, so I didn't want to meet in a café when there is a flu epidemic going on. Do you worry about your health and your vocal cords?
I won't let things affect me; I believe it all begins with the right mindset. I try to eat healthily, with coffee my only vice. I think that focusing on whether I have a head- or neck-ache, or keeping up to date on flu outbreaks is more likely to cause what I'm worrying about to occur. I do note such reports, but I tell myself they're not going to affect me. I'm very focused on spiritual development, and thus it is my belief it all begins in your mind.
I entirely agree. In my profession as a coach, I perceive an open and positive mindset as fundamental for successful functioning and further growth. After a break of over twenty years since you last studied, you completed a Master's degree in International Relations last year.
I had the opportunity to try out coaching at one specialist conference where, from being a visitor, I filled in for one of the experts who had suddenly fallen ill. Since that time, conference organisers have contacted me a number of times. I'm used to an audience, I don't mind impromptu speaking and I think I can share my experiences in life. Many of my peers were surprised that I was returning to studying, stating that they no longer had the "head or age" for it. Many of my peers complain they can't learn a foreign language. When one explicitly repeats this claim, then one creates one's own block. I've noticed that people use excuses such as age and fitness in order to cover up their own laziness and idleness.
Why did you choose international relations alongside your music?
I enjoy travel, and do it a lot. With tongue in cheek, I say that as some people take the train or bus in the morning, so I take the plane. I enjoy representing the Czech Republic in far- away destinations such as China, Brazil and Australia. It was in China, during a performance at Beijing University celebrating the Czech Republic's national day that I was asked to say a few words about the culture of the Czech Republic. I began talking not just about music, but also about important historical buildings and the overall importance of culture. The ambassador appreciated my performance and observed that I would work well in diplomacy. I realised that I really enjoyed diplomacy. So I studied for my master's. But this isn't the end of my studies. From September I'm going to study for a Doctoral degree in Art Management at the University of Economics, Prague. Thus, two decades later, I am fulfilling the wishes of my parents, who wanted me to study at the University of Economics. My parents were not convinced that I could make a living exclusively from singing, which I had been drawn to since pre-school age. So I studied post and telecommunications economics at economic secondary school with the idea of working as a post office manager. I never made it to the post office, becoming an air traffic officer, and then I worked in music. I think that events happen to us in certain cycles. My return to study at the University of Economics was thus the natural completion of my original focus. I am leaving diplomacy as a possible career for the time when my voice is no longer suitable for top concert performances.
Pace and rhythm are very important in music. It seems that the right things come to you at the right moment.
My motto is not to push your luck. It has been meeting particular people which has directed my focus. On the other hand, I have always been open to new opportunities. I studied hard; I haven't cut myself any slack. Now I'm studying for entrance exams. Besides sheet music, I always carry specialist economics textbooks with me. I don't take any account of my age, and it's doing me well. I trust that new opportunities will come again. Besides experience of foreign policy, I also have experience of domestic politics; I was on the list of parliamentary candidates for the KDU-ČSL party. And because I believe that dreams shouldn't just be wished for, but also expressed, I would one day like to represent the Czech Republic as Ambassador in a country I know well, whose language, music and culture I have studied; that is to say, in Italy.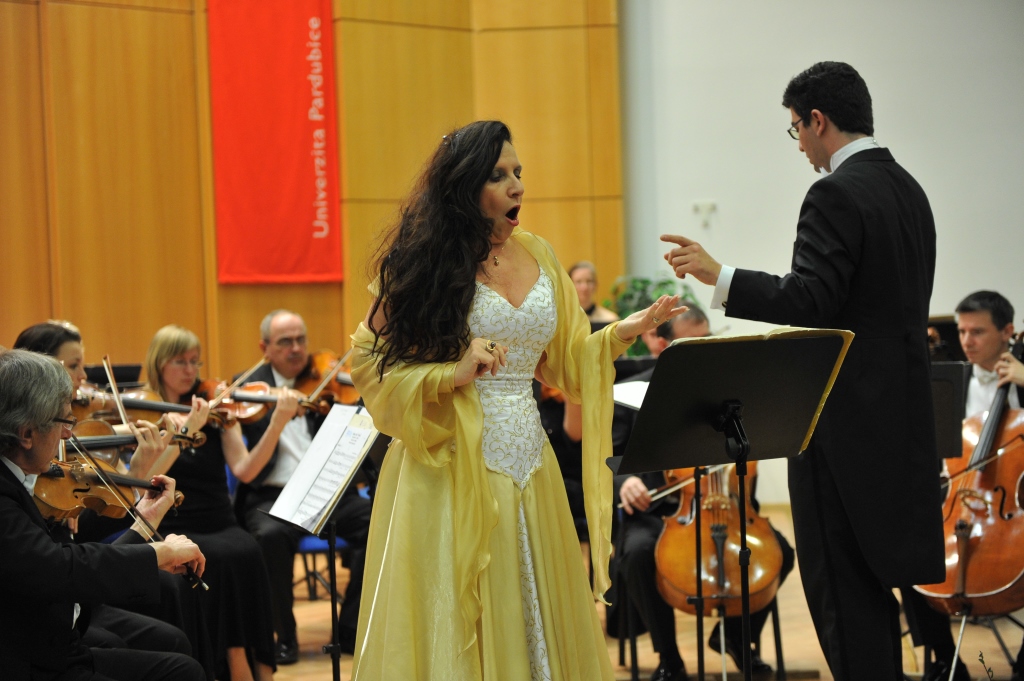 In a way, you already are an ambassador. You set up the Tóny nad městy festival, whose mission is to introduce classical music to young people.
Often young people come up to me after a concert having been moved by the incredible experience. They tell me that this is the first concert they have been to. After the experience, they want to go again to a concert. Many young people initially choose an overly complex composer, and this discourages them from music. Leoš Janáček simply isn't for novices. But everyone will enjoy Bedřich Smetana's Evening Songs, or the songs of Antonín Dvořák. In terms of operas, I recommend experiencing Bedřich Smetana's The Bartered Bride. We can all grasp a happy story, in some ways a love story in a Czech village context. At my concerts, you'll hear both lighter and more demanding repertoire for a young audience. For school- age children, various types of concerts are organised, but there are no such opportunities for adolescents or young adults. I'd like young people to go for dates to the National Theatre and State Opera as well. There are still a lot of preconceptions about classical music and concerts. Many people still don't know how to dress for classical music concerts. I am surprised by how many people from Prague have not been to a concert at the Rudolfinum. They would rather form their own assumptions than come and try it out. We're back at mindset.
You're used to pushing yourself hard. What is really behind your success?
I'm sorry that lots of people are envious of me. Looking at my career, they see only travelling, my outfits, hair styling and stage performances. I continue to study Italian, opera singing and English. For a long time, I learnt to play the piano. I sing every day, but I am not an instrument player who can practice for hours on end. It is important to overcome laziness. I don't go to the gym, but I regularly use an exercise bike. I always have to keep myself in check, and I restrict my diet. I avoid alcohol, something which isn't easy to do within Czech culture. Everyone asks me whether there's something wrong with me. They can ́t imagine deciding to make a radical change overnight.
You've said that Czech music isn't particularly well known abroad. Why is that?
If you sing in Czech, the audience doesn't understand. I often perform in Italy and I sing in Italian because the audience like it when they understand. At chamber recitals where I include Czech songs, I've learnt always to explain to the audience what I'm going to be singing about. This increases understanding, the songs are perceived differently and they gradually grow in popularity. Dvořák is well known in the USA, but in Italy it was very difficult to get him into my repertoire. Because I studied in Italy, there is no language barrier. Italians often think of me as Italian due to my appearance. I like going there often, but the economic situation there at the moment is unfortunate. Young people leave to go abroad because they can't find work. Corruption is pervasive in Italy. I regret how little we Czechs appreciate how beautiful, clean and safe Prague is. I live near Charles Square, and I feel safe. I walk through the park alone in the evening. I'm proud to be Czech. We have low unemployment and stability. So why are we always complaining?
Have you got any more unfulfilled dreams?
I've already said I would like to be the Ambassador to Italy. I believe that what I send out into the ether will return to me. In terms of singing ambitions, I'm too experienced to believe it's only about aptitude and talent. Working for the best opera houses is also a matter of tough business and political contacts. Take a look at the over-representation of Russian singers, such as in La Scala. Not even classical music has managed to avoid the influence of lobbyists, connections and sponsors. Few people realise that opera and classical music are businesses. Issuing a CD isn't just about whether you're the best in your category; it's important to choose a repertoire which attracts attention. Then it's important to find a sponsor or patron to issue your CD. The costs for arranging a director, studio, cutting, mixing, etc. can't be funded from sales. That's why I'm really pleased to have succeeded, and in spring I'm going to be launching my new CD of early Dvořák songs. I'll be happy if Czech and Slovak Leaders readers can be there for it.
Linda Štucbartová