"DEEP ROOTS between GREECE and the CZECH REPUBLIC"
When it comes to interviewing ambassadors, there are usually two approaches: either meet them shortly after they arrive to ask them about their first impressions, visions and strategic plans or to interview them towards the end of their posting, review their accomplished agenda and to share their learnings and observations that can serve to further deepen mutual understanding between two respective nations, their cultures and common bonds.
The interview with H.E. Efthymios Efthymiades, the Ambassador of Greece, was the latter. I interviewed him prior to his leaving to serve in another country. Despite all the packing and organizational arrangements linked to any departure, the interview took place at the very relaxed atmosphere of the Greek residence, located at the street historically called "Spanish" in Prague Vinohrady, however symbolically bordering "Hellenic" street. Overlooking the Prague skyline with Prague castle, H.E. Efthymios Efthymiades reviewed his four years of posting. Mr. Ambassador considers himself an "Europhile", he has spent most of his career dealing with European Union issues. The first time he came to Prague was in 1994 and he fell in love with the city that was still a bit dark at the time. He enjoys the beauty of Prague and the possibility of a walking city. As a diplomat responsible for the EU enlargement of CEE countries, he got to know the Czech Republic prior to his arrival. Thus, being appointed Ambassador to the Czech Republic was not only closing a circle but also a reward.
We talked about current affairs but also history. When it comes to the roots, how far back in history would you date Czech-Greek relations? What makes the Greek community in the Czech Republic so special and unique? Why we should look beyond the figures when evaluating the common economic cooperation? In what aspects are Czechs and Greek like-minded? And what seemed the toughest question for H.E. Efthymios Efthymiades to answer?
Mr. Ambassador and Mr. Thorsten Kalinowski, wishing you the best of luck in your next destination, Riga, Latvia.
Mr. Ambassador, you are to leave Prague soon. Looking back at your four year posting, what is your overall impression? And I hope that the Covid-19 pandemic has not left any negative impressions on your time here.
My last four years were very fulfilling, both on the professional as well as on the personal level. Over these four years, with the course of events, I was able to witness how deep the roots are between the peoples and the countries, Greece and the Czech Republic, and how much like-minded our two nations are. Although in the past we had different opinions about certain issues, in times of crisis we came together and worked in the same spirit.
In February and March this year, when Greece had to defend not only its own, but also European borders, against the illegal flow of migrants, we got an enormous wave of support of many Czech citizens, expressing it in a variety of ways.
When it comes to the Covid-19 pandemic, we felt perfectly safe in the Czech Republic. Also, Greece achieved really excellent results when it comes to the pandemic, which made Czechs feeling safe when travelling there. Greece is open to Czech tourists. The only requirement is to fill in the Passenger Locator Form (PLF) up to the day before entering the country. By the way, this applies to all travelers, including Greeks. We all need to get used to the fact that traveling now has more bureaucratic aspects than before.
Your upcoming departure has been mentioned with many regrets in the circle of both my Czech friends and also foreigners, as they all appreciated various activities and events you organized.
I am pleased to confirm that during the last four years all doors were open and I was glad to connect not only to the top government representatives, but also to many business partners, being Czech, Greek or international. It was a great pleasure that I have been able to spend three out of four years with my partner, Thorsten, who joined me from Germany. Together, we were able to project the spirit of openness and Greek hospitality to all our partners and friends. Such values are not merely a tool of diplomacy, openness is an essential part of European culture and heritage. Even during the sensitive Covid-19 times, we take the right precautions but we continue to keep our culture and values to get back to normalcy as soon as possible.
Thank you for your general broad overview. When it comes to some specific accomplishments, what are you personally most proud of?
I will present you several examples of the so-called signature actions and events that reflect the upgraded presence I have already spoken about. First of all, I need to mention the almost total refurbishment of both buildings we have in Prague. The two historical buildings, the Residence and the Embassy, are owned by the Greek government. I managed to also secure the sponsorship of the major Greek businessman, Sotiris Zavalianis, who will now undertake the complete refurbishment of the façade of the residence, and whom I want to thank publicly. Thanks to him and his sponsoring of Greek National Day Receptions, we were also able to upgrade our public presence. Michalis Stephanidis is another very important Greek businessman whom I would like to thank for standing by the Embassy in many occasions, and who offered his vital support in creating and establishing the Greek Film Days in Prague, which, if it hadn't been for Covid-19, would be in its third edition in 2020. Our aim for this festival is to become an institution that will constitute a powerful step in the communication between Greeks and Czechs, "two peoples with deep historical links and existing multiple channels of communication within the European family". We also organized many artistic events and my personal thanks go to Stephanos Germenis, the owner of Zámek Blatná, who has been a great partner in the area of culture.
As to the political ties, we accomplished an agreement between the Czech Ministry of Interior and the Greek Ministry of Citizens' Protection that upgrades the bilateral co-operation in terms of border protection and migration management. Several bilateral visits took place, the Greek Foreign Minister and the Minister of European Affairs visited Prague and there were also several visits of Czech officials to Athens.
To sum up, it has been four busy years for a good cause, and we have managed to rediscover the friendly roots of our relations.
Speaking of roots and commonalities, there is a significant Greek community not only in Prague, but all over the Czech Republic. In fact, recently I have just interviewed Mr. Sotiris Foutsis, General Manager of the University of New York in Prague.
I would say that the Greek community in the Czech Republic is truly precious. These are people who are very successful at their professions and they love both the Czech Republic and Greece. They are true Europeans and they combine both heritages in a productive way of making partnerships. As I have mentioned before, they provided a lot of support for Embassy activities. Next to Mr. Sotiris Foutsis, there is also Mr. Christos Providas, another successful Greek businessman, and Panagiotis Drosos who represents Greece in the culinary sphere. And of course, the famous singers and performers Martha Elefteriadu and Sofia Mavrogenidu from Brno which shows that the community is all over the country.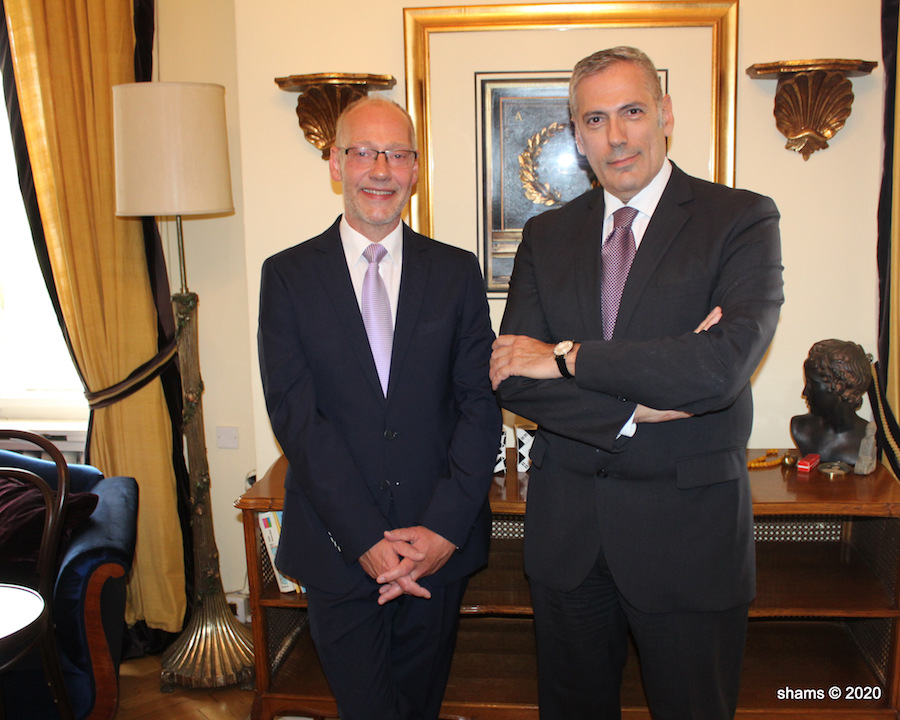 Economic diplomacy is nowadays one of the most important pillars in bilateral relations. You mentioned some influential businessmen active in the Czech Republic. Apart from tourism, do you see any potential in increasing economic exchange which places Greece on the 43rd place in bilateral economic relations?
I believe that within the European Union, the picture of mutual economic exchange, calculating trade and investment, can be somewhat blurred. If you take the existing rules, the ranking seems low. Let us have a look on the quality nature. Sotiris Zavalianis is one of the major health providers in the Czech Republic. The Czech company Kofola is owned by Jannis Samaras. On the other hand, the lottery in Greece is owned by a Czech company. One of the major companies active in the construction and development, AKTOR, is also present here. So always look underneath the surface. By the way, due to the recession, many of the statistics will have to be adjusted and perhaps new metrics will be designed.
When I look at the targeted investments, I see growing interest on both sides to explore new avenues for cooperation. I also want to underline that Greece and the Czech Republic have been like-minded partners in the European Union when it comes to redistribution policies and cohesion policy. Both countries support the redistribution EU tools. I believe that the EU fund designed to help economies recovering from the pandemic will bring further possibilities for cooperation.
My favorite question to ambassadors is about the known-unknown. What Czechs do not know about Greeks and they should and vice versa?
I like this question very much. I think all is connected to mentality. Greeks gear up and tend to have everything done at the last minute, while Czechs are more focused on preparation and detail. However, these are not opposing characters, these are different ways of doing things, as both nations focus on getting things done. Having lived in Prague, I can confirm that we are liked-minded European people who, at the same time, like to keep our own identity in getting things accomplished. We are pursuing the same values within our own histories and identities. Do you know that our contact goes back deep in history? The brothers Cyril and Methodius were sent by the Byzantine Emperor which makes it one of the longest relations. In the 9th century, the Byzantine Emperor in Constantinople realized the importance of ties with the emerging Great Moravian Empire. Since then, we have maintained the contacts. Many contacts happen thanks to tourism. In 2019, over 400 000 Czech tourists visited Greece which shows how important, well-known and loved Greece is. The visitors create the ties and maintain the connection. It is no news that the Czech Prime Minister Andrej Babiš went to Crete in Greece this year, and that the island of Rhodes was in the past a favorite destination for former President Klaus and President Zeman.
Mr. Ambassador, now with wishing you the best of luck in another posting to Riga, Latvia, there is time for your closing words to the Czech and Slovak Leaders Magazine readers…
First of all, I would like to thank your Magazine and its publisher, Mr. Benke Aikell, for being such a great supporter and partner to many of our events. Additionally, I would like to make an appeal to readers to try Greek wine as we produce many excellent wines. I have tried to promote it in the many wine tastings we have organized. I also enjoyed cooking Greek food, for tour operators or at some smaller events I was hosting.
I cannot resist asking you about your favorite Greek dish…
This is the toughest question from all that you have asked. I think my favorite is the Greek dessert "galaktoboureko", a Greek custard pie. This one I am going to serve at my farewell event… as a sweet closing to this chapter of CzechGreek relations!
By Linda Štucbartová
Photo by: Jitka Tomečková