"How to channel your emotions into a brooch"
Text: Alexa Wandersee and Martina Hošková; Photo: Štěpán Mamula, Tomáš Souček, and archive
Eva Růžičková designed a brooch and earrings for the Czech First Lady to wear on the presidential inauguration day, on 9th March 2023. The designer believes that contemporary jewellery is an extension of one's own emotions and free expression of self. Continuing with this theme, she was able to draw from her own emotions, as well as the public's emotional synergy following Pavel's election, to design an intimate and personal statement piece.
A new start with a new brooch
To Eva Růžičková, the election of President Petr Pavel signalled a new dawn for the Czech Republic. Breathing a sigh of relief, the contemporary jewellery designer was able to use her expertise in order to channel the nation's emotional synergy into a brooch for First Lady Eva Pavlová to carry on her chest with pride.
Design has been a method of expression for Růžičková from an early age. In the realm of contemporary jewellery, designers can express their emotions and intentions without limitations or traditional expectations. Růžičková's unique designs and personal touches have resulted in a successful business career but have also made a great personal impact on customers, observers, and more recently, the nation.
"I wanted to explore the feelings I felt during the election when Petr Pavel was elected, which were happiness and pride. And also, kind of like a breath of fresh air and a new day… Everybody was happy; we have a new president", Růžičková explained.
She also used Czech national symbols such as the national tree, Linden, which is seen on the banknotes and presidential standard, to remind the world of a fresh start, a nation in bloom under long sought-for leadership. The abstract and contemporary nature of the brooch and matching earrings spoke to the progressive future of the country, and rang true to Růžičková's personal aspirations.
Contemporary art as a means of free expression
Having the creative freedom to express herself through her design is what ultimately made this inauguration piece a success. Using emotions as inspiration is a key tool for Růžičková's creative process.
"It's great to travel for inspiration because I like people, their stories and what they have to say, their relationships… When I travel, I just discover new cultures, new people, and a new world."
Jewellery is intimate and expressive, and contemporary jewellery gives her the means to express in abstract ways what some may feel limited by expressing in more traditional styles. Contemporary art has become increasingly more popular in recent years as many are drawn to the depth found in its uniqueness; Růžičková's art is no different.
Many of her pieces have been exhibited around the world. Most recently, Růžičková's work was exhibited in Legnica, Poland, at the 31st International Jewellery Competition. This competition for contemporary jewellery allowed designers to exhibit their work, and also learn from one another.
"It's always good to have a chance to meet people who are doing contemporary jewellery, or listen to professors who are lecturing there."
Růžičková knew from an early age that she had a creative mind with business ambitions. As a child, she enjoyed designing and creating simple pieces of jewellery, which she then sold for one Czech koruna. She describes this as a prime childhood memory, which eventually paved the way for starting her own jewellery-creating business.
Step by step, building upon small successes
She studied at the Academy of Arts, Architecture, and Design in Prague and at studio K.O.V., a studio at the Academy that specializes in jewellery and small designs. She continued creating jewellery, while also preparing to launch her business from a small table in her house, until the first opportunity arose for her work to be exhibited in Leeda, a fashion brand and boutique in Prague. Růžičková highlights this as the first pivotal moment in her career. The shop belongs to Czech fashion designer Lucie Kutálková, now a friend of Růžičková, who was the first to take a chance on her.
"I remember that was really nice. I was happy about that because, back then, nobody had their jewellery there. This was the first step, or first point, when people saw my jewellery somewhere."
Building upon the small successes she was seeing in the gallery, Růžičková took the next step in her career by exhibiting her designs at Designblok, an international design festival in Prague. It was here that she got her first customer and was introduced to other artists. Networking with other contemporary artists and interacting with the media inspired her to see potential in herself, and allowed others to recognize her talent as well.
"After Designblok, I realized that I could start on my own", Růžičková said.
Experimenting with different materials and mediums has become a personal love of Růžičková's; the idea that, in her work, she constantly has room to learn and improve.
"This is what I love about making jewellery, that it's infinite, you can still learn something new." Specifically reflecting on her collection titled 'In Between', which is a brooch collection made from several types of wood and incorporating various unique stones, Růžičková describes having the strong feeling that these mediums needed to be used and felt, but did not realize until later what the significance of that was.
"Well, it sounds more poetic than realistic, but I can't really say why I'm doing that. Sometimes I just recognize the need for it."
The collection was created before an exhibition called 'Czech Jewelry Designers Meet NYC' at the Czech Center in Manhattan, New York. She and two colleagues were presented with the same topic, communication, but the result was three drastically different ideas and products. For Růžičková, the wood and pieces of stones were mementos collected from her time spent travelling through Central America, Mexico, and the Dominican Republic.
"I was meeting people there, and having intimate stories and memories with them. I used the wood and the stones to express that."
Preparing a new collection for Designblok
In the near future, Růžičková will be going back to her roots and designing a collection to be exhibited at Designblok in October 2023. For this next collection, she wants to continue drawing from the famous brooch worn by First Lady Eva Pavlová (inspired by her own feelings of relief and hope), alongside incorporated aspects from previous collections, for concept and style inspiration.
Růžičková has created a successful career and an admirable reputation for herself through hard work and pure passion. Using her personal experiences as inspiration for design, her jewellery is able to capture her own intentions, as well as the state of the beholder, in abstract, yet eloquent ways.
It was no easy path to success. Růžičková encountered many challenges along the way, but her ambitions prevailed as her individuality and talent ultimately set her apart.
"If you are afraid of something, or afraid that you won't do it perfectly, that is the biggest block. That is what will stop you and it's a pity…
I try to learn from the past and not stress myself out over the work that I love. I know that I always want to do my best."
---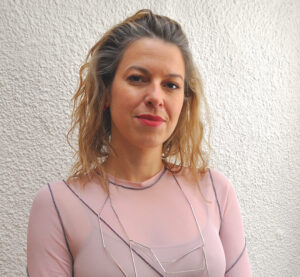 Eva Růžičková is an alumnus of the UMPRUM studio of K.O.V. in Prague, led by Eva Eisler. During her studies, she underwent an internship at Burg Giebichenstein University of Art and Design in Halle, Germany, at the studio Schmuck of Daniel Kruger. In 2016, her work was chosen for the prestigious show TALENTE in Munich. She also exhibited in Milan, New York, Berlin, and London.
Her studio in Celetná Street, Prague 1, can be visited by prior arrangement.
www.evaruzickova.com, info@evaruzickova.com