"It is extremely easy to work with Czech partners"
Text: Martina Hošková and M. Zisso; Photo: Archive
If you are Czech and haven't been to Latvia yet, chances are that after reading our interview with Latvian Ambassador Ms. Gunta Pastore you will suddenly feel the urge to change that. Not only does she give us a list of things we have in common and explains what "Sveiks, Švejk!" means, but she also expresses her high appreciation of the beauties of both countries… which, of course, produces the same effect in the recipient. And through all this beauty, a whiff of the current situation in Europe suddenly penetrates, as she speaks about the most positive element of our cooperation.
You are a career diplomat, working for the Foreign Ministry of Latvia for almost 30 years. Can you tell us more about yourself?
I am from a beautiful place in Latvia, called Piebalga. It resembles your Moravia, with scenic landscapes and deep-rooted cultural traditions. I have a great family, with many traditional get-togethers that usually bring us to my grandparents' place.
I have always been interested in foreign policy and international relations. I have earned a PhD in International Relations in parallel to my day-to-day work – apparently, my job is also my hobby. Before the Czech Republic, I was posted to Denmark, Sweden, and the UN in Geneva, while a big part of my working life was spent in the Ministry headquarters, including the time when Latvia sought accession to the European Union. Therefore, I understand the great value of European cooperation.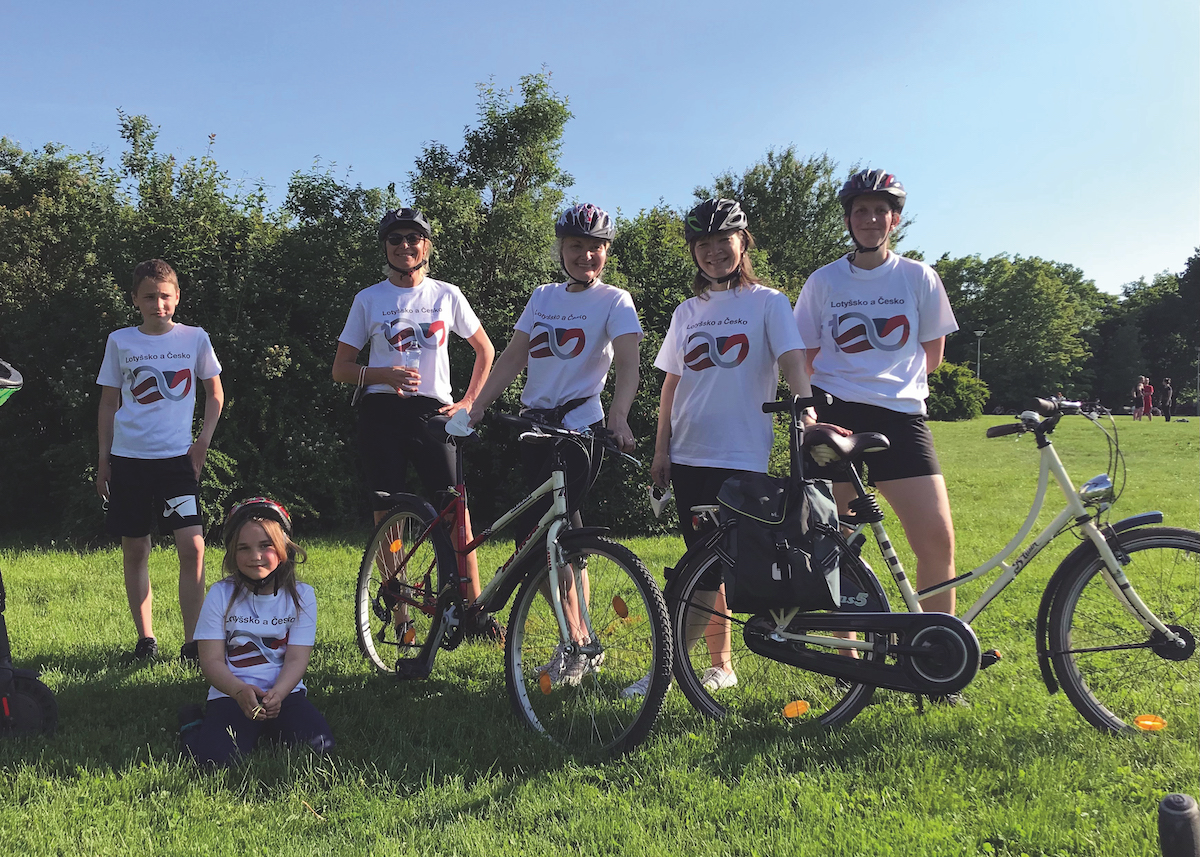 You arrived in the Czech Republic four years ago. What has been your impression of it?
I am fascinated by the vibrant cultural life of Prague and its rich architecture. It is impressive how Czechs take care of their cultural heritage. I also get a certain feeling of home in Prague because the same exact Škoda trams that rumble through the city are also the ones we have in Riga.
During my stay here, I have seen most of Czechia, and its beauty never stops surprising me. But most of all I admire the Czech people. They are proud to be Czechs. They are hard-working and creative, and they also know how to enjoy a glass of beer. I love the very special Czech humor. During my stay here in Czechia, I have made great Czech friends.
It is extremely easy to work with Czech partners – they are open, supportive, and efficient. And, of course, in Prague, we have a very active diplomatic life, with so many great colleagues. A very special diplomatic activity here in Prague is the annual joint Nordic-Baltic National Days celebration, which brings our region closer to the Czechs. This year we celebrated it for the 14th time.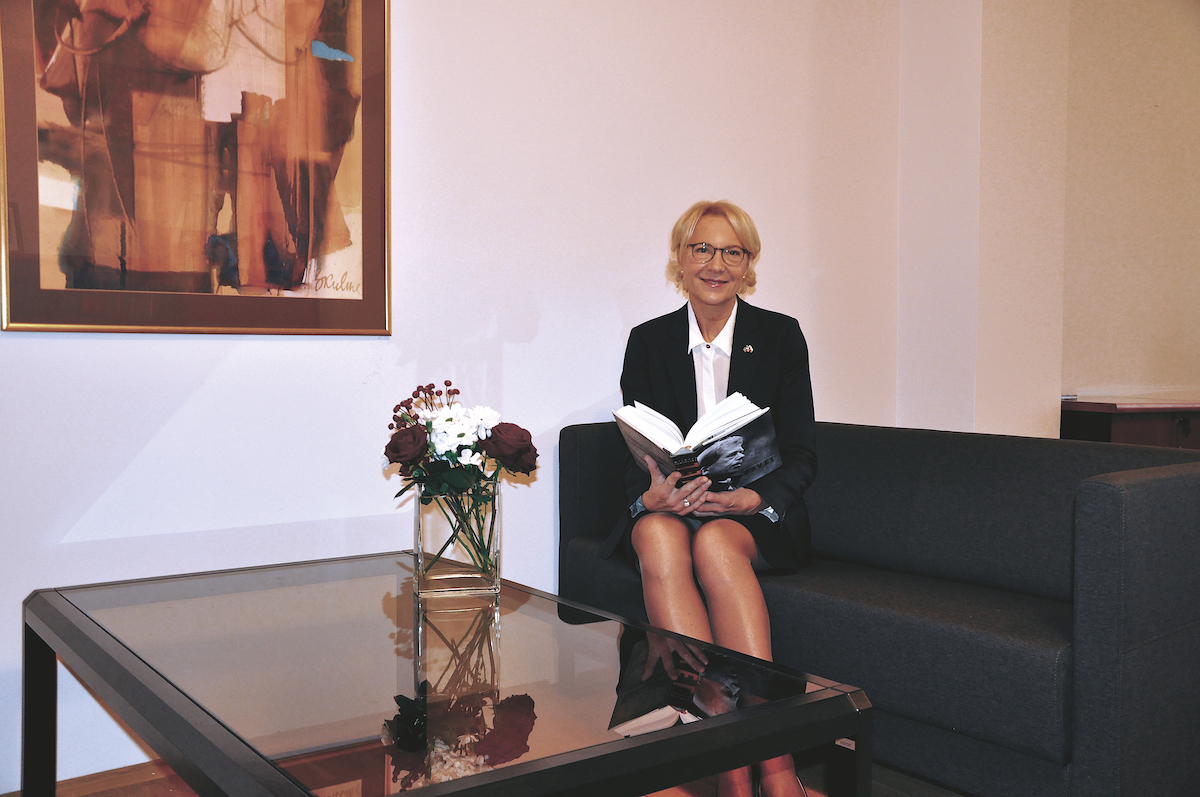 You mentioned that you love travelling. What else do you do in your free time?
Usually, I love doing sports and travelling – in Latvia and elsewhere. And as I engage in all this in Czechia,
I am inspired to do it even better. Czech people are great at sports, they know how to bike, to hike. Riding a bicycle has also allowed me to explore different parts of Czechia which are not in the typical travel guide.
Your country is a beautiful holiday destination. What can you tell us about your homeland in this respect?
While living outside Latvia, I have come to appreciate the beautiful nature of my country even more – the Baltic Sea with its coastline of white sand, the vast forests. There are not that many countries in the world where people can go to the forest to pick berries and mushrooms.
Nature is what binds Latvian people to their land and culture. Singing is another local tradition that unites Latvian people both at home and abroad. The Latvian Song and Dance Festival is an official part of the UNESCO Masterpieces of the Oral and Intangible Heritage of Humanity. It gathers around 50,000 choral singers, folk dancers, and tens of thousands of viewers.
Latvian cities, especially Riga, offer plenty of options for those who enjoy walks, lively cultural scenes, iconic art-nouveau architecture, and medieval buildings in Old Riga.
Like Czechs, Latvians love beer. Although they drink less of it in a year than the Czechs do, they still cannot let go of the frothy drink. When Czechs crave the taste of home while visiting Riga, it is available on almost every corner, sometimes even in stylish settings, such as a pub called Sveiks, Švejk! (Hi, Švejk!).
Both Latvia and the Czech Republic are ice-hockey nations. Next year, Latvia is hosting the World Championship, and the year after it will take place in Czechia.
What is the current status of Czech – Latvian relations?
We have excellent and friendly relations, and I am sure we will continue to build strong bonds in politics, economy, security, culture, and people-to-people contacts.
The most positive element of our cooperation is the presence of Czech soldiers in the NATO mission in Latvia, where they are together with nine other nations in the Canadian-led battlegroup.
Cultural cooperation is particularly prominent. Artists and musical bands perform in concert halls, while museums and galleries exhibit visual arts. Joint co-production of films has gained momentum, and Latvian movies were shot at Barrandov Studios.
The presidency of the EU Council is one of the most important rights and demanding tasks of EU member countries. How do you rate our current performance?
The Czech Presidency of the EU Council is doing impressive work in a complicated international environment.
Latvia shares all of the Czech Presidency priorities, but most of all we appreciate the very firm support that the Czechs are offering to Ukraine.
The Czech Presidency is really fulfilling its motto, "Europe as a Task: Rethink, Rebuild, Repower", and showing its leadership in the European Union.
This interview is for your National Day. Can you make a wish on this occasion?
My wish goes to people in both Latvia and Czechia – cherish your legacy of independence, and safeguard the statehood of your country! Whatever we do and wherever we go, let us remember our roots.