"Lawyer by training, Ambassador by fate"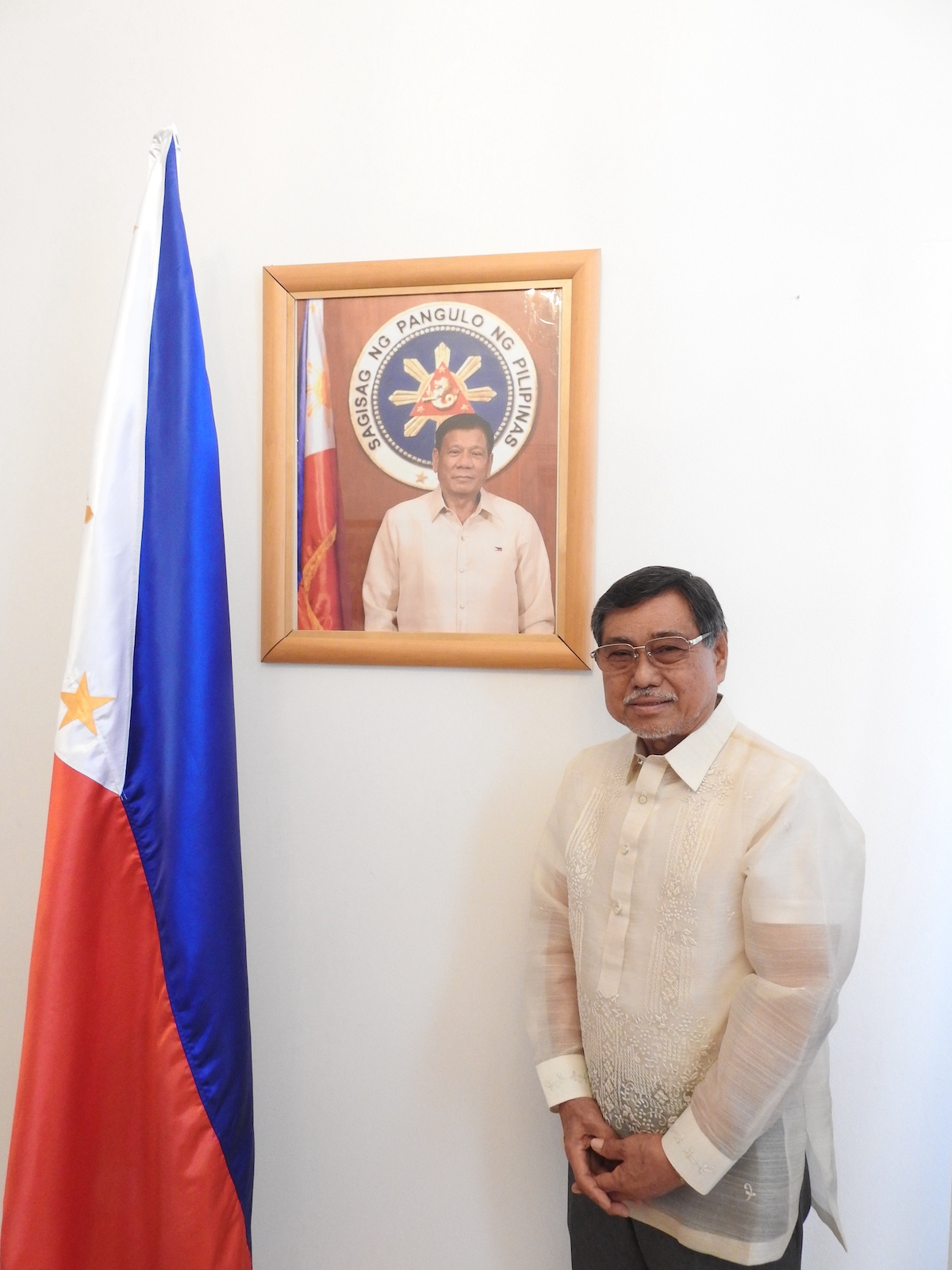 Text: Martina Hošková and M. Zisso; Photo: Archive
The Philippines consists of more than 7,000 islands, the average yearly temperature is 26.6 °C, and its list of spoken languages reaches the number of 182. Sounds quite different from what we are used to in the Czech Republic, so how does a Filipino perceive our country when they arrive? "My first impression of the Czech Republic was one of a prosperous, industrialised country. Of course, I was not mistaken – for indeed, it is," says the Philippine ambassador Ombra T. Jainal and goes on to explain how he became a diplomat, what the current state of the Czech-Philippine relations is, and what significant milestone awaits our two countries next year.
Can you tell us about yourself and your path to being an ambassador?
I am the eldest child of a lowly farmer and fisherman in the southernmost island municipality of the province of Sulu where education, including basic education, is very hard to avail of. Married to Elsie Escandar Jainal, a nurse, who also comes from the same island municipality, we have nine grown-up and professional children, six of whom are already married. We have four grandchildren. So, you can imagine that in my free time, aside from exercising and reading, I often talk to my children and grandchildren by video call.
I became an ambassador by a stroke of fate. I am a lawyer by training, and never did I dream of becoming an ambassador. However, in 2016, when our President Rodrigo Roa Duterte assumed office, he made it known that he needed well-meaning people to join him in government. The rest is history.
When I hear "the Philippines", an image appears in my mind of long beautiful beaches combined with an ongoing economic boom. What about your impression of the Czech Republic?
This is now my 4th year in the Czech Republic, and I will be ending my tour of duty on June 30th this year. My first impression of the Czech Republic was one of a prosperous, industrialised country. Of course, I was not mistaken – for indeed, it is.
It is also a beautiful country; with Prague as its capital, undoubtedly one of the most beautiful cities in the world.
My children and grandchildren simply love the place, and travelling to some of the most beautiful places in the country is certainly a good adventure that I shall always remember. Aside from trade and commerce, tourism is one industry that has a big potential between the two countries.
What is the strangest or the most difficult issue you have faced here?
Dealing with the COVID-19 pandemic can be weird. Despite my age, in order to minimize the risk of infection, I climb the stairs instead of using the elevator. At 73, I am not supposed to climb the stairs, right?
Besides that, and modesty aside, I did not really find any difficulty to deal with. In fact, I have truly enjoyed doing my job as an ambassador, serving my country, helping the Filipinos in the Czech Republic, and in the process, meeting so many good people and making friends. It is my hope that bilateral meetings in various fields, e.g., political, defence, and economic, which were temporarily held off due to the pandemic, would finally resume this year and continue to be held in the upcoming years.
What is the current state of the Czech-Philippine relations?
The current state of the Philippine-Czech relations, I believe, is on a high note. Despite the physical distance between the two countries, and the challenges brought about to all of us by the COVID-19 pandemic, we still managed to enhance bilateral relations. When I started my tour of duty as an ambassador in July 2018, there were just a little more than a thousand Filipinos in the Czech Republic, but, today, despite the pandemic, there are already more than 3,500 Filipinos in the country. Czech companies value the contribution of Filipino workers towards their high productivity rates, which in turn contribute to the growth of the Czech economy.
There is also a steady number of Filipino students in the Czech Republic as a result of the academic cooperation agreements between Philippine and Czech universities.
This interview is on your national day. What do you wish your country on this special day? And what to the Czech Republic?
The Philippines obtained its independence on 12th June 1898; thus, we will be celebrating 124 years of independence this year. We have many reasons to celebrate, even amidst the challenges of the pandemic. First, we are close to attaining the 70% target of fully vaccinating our population; second, our economy is back on track and is expected to grow by 6% to 7% this year; and third, we just held our national and local elections – a free and democratic exercise that allowed Filipinos, whether in the Philippines or abroad, to select our new leaders for the next six years.
As they are to reach an important milestone next year, that is, 50 years of diplomatic relations, I wish the Philippines and the Czech Republic will continue to enhance their economic relations, putting more emphasis on the complementarity of their available resource endowments that both could benefit from in terms of trade and investments. For example, the Czech Republic is a landlocked country while the Philippines, being an archipelago, is surrounded by large bodies of water. We recognize the strengths of the Czech Republic in natural sciences, advanced manufacturing, engineering, and technical sciences. This means that there are plenty of opportunities to explore aside from the traditional trade in goods and services, such as in- vestments in marine science, technology, and innovation; research and educational exchange on conservation and preservation of water and marine resources; infrastructure related to connectivity; and maritime security.