"The business is changing"
Text: Martina Hošková and M. Zisso; Photo: Archive
Finland has been one of my favourite countries ever since my Finnish friend Maarit told me a long time ago that she only had a studio apartment, but with its own sauna, of course. Now, the new Ambassador of Finland to the Czech Republic, Mr. Pasi Tuominen, follows tradition by saying, "I really like ice swimming and will continue it here if possible". We'll keep our fingers crossed for you, Mr. Ambassador.
You were officially accredited as Finland's ambassador to Czechia in July of this year. Can you tell us a bit about yourself and your impressions so far?
Regarding myself, I can say that I feel almost as young as I was when entering the foreign service in 1997. Recently, less than twenty years ago, I have found some grey hairs. My daughter has grown up and studies in Helsinki, and we are enjoying Prague with my wife Marjut Kuokkanen. I love ice swimming and will continue it here if possible. Like all Finns, we have a summer cottage back home, to be precise actually two, one at a lakeside and the other with a field view.
And my impressions of the Czech Republic? Friendly, polite, and welcoming. It really feels good to be here and sense that Finland is an interesting partner for Czechs.
In my free time, I like to learn about Czech and Slovak society. I have recently taken up Czech lessons, so I try to work on my language skills. The study of languages is my big passion. My wife and I have been living in the Czech Republic for quite a short time yet, so we like to walk around the town a lot and explore not just Prague but the whole beautiful Czech Republic.
What is the most difficult part of being an ambassador?
Leaving the country where one has served. In four years, you have learnt the local politics, colleagues, and culture, and are now able to navigate through society. You have most likely made friends as well. And then, all of a sudden, you are in another culture because of the rotation system. However, I must admit, this is one of the best, nicest, and most rewarding parts of being an ambassador at the same time, too.
Before coming here, you were assigned to other countries by the Ministry of Foreign Affairs, and prior to that, you were in Lebanon with UNIFIL (United Nations Interim Force in Lebanon). Based on your experience, can you give a piece of advice to the next generation of ambassadors, please? The business is changing, be interested in everything around you, especially in digitalization. Next-generation diplomats must understand not only human interaction but also the digital environment. You may not have a car and driver, so be prepared to use public transport or a bicycle.
Your country applied for NATO membership. What benefits can be expected from that?
NATO membership will strengthen Finland's security in the changed security environment, and improve stability and security in the Baltic Sea region and Northern Europe. Finland's strong defence capability and resilience to crisis will also strengthen NATO and the collective defence of the Alliance. With Finland and Sweden becoming NATO members, the threshold for using military force in the Baltic Sea region will rise, which will enhance the stability of the region in the long term. NATO is a stabilizing actor in the Baltic Sea region.
When Finland and Sweden join NATO, all the Nordic countries will be NATO members. This means that the Nordic countries can advocate together for issues important to them within the Alliance.
Finland is a holiday destination favourite. How do you promote your country?
By now, everybody knows that Finland is cool. It is a good destination in the summer because it is not too hot, and in the winter because it is nice and cold. Nature is one of the advantages of Finland, but you can also find fine dining and cultural events in the middle of nowhere. As an example, I can mention Mänttä-Vilppula, a fantastic culture town about 300 kilometres north of Helsinki. In the middle of the forests.
The presidency of the Czech Republic in the EU Council started in July this year. What are you, as a representative of your country, expecting?
Success.
Indeed. What about the status of Czechia-Finland relations, can you evaluate that?
Bilateral relations are excellent. We are very much like- minded partners, the cooperation is based on shared values, and EU membership, plus Finland's and Sweden's accession to NATO, will further deepen our relations.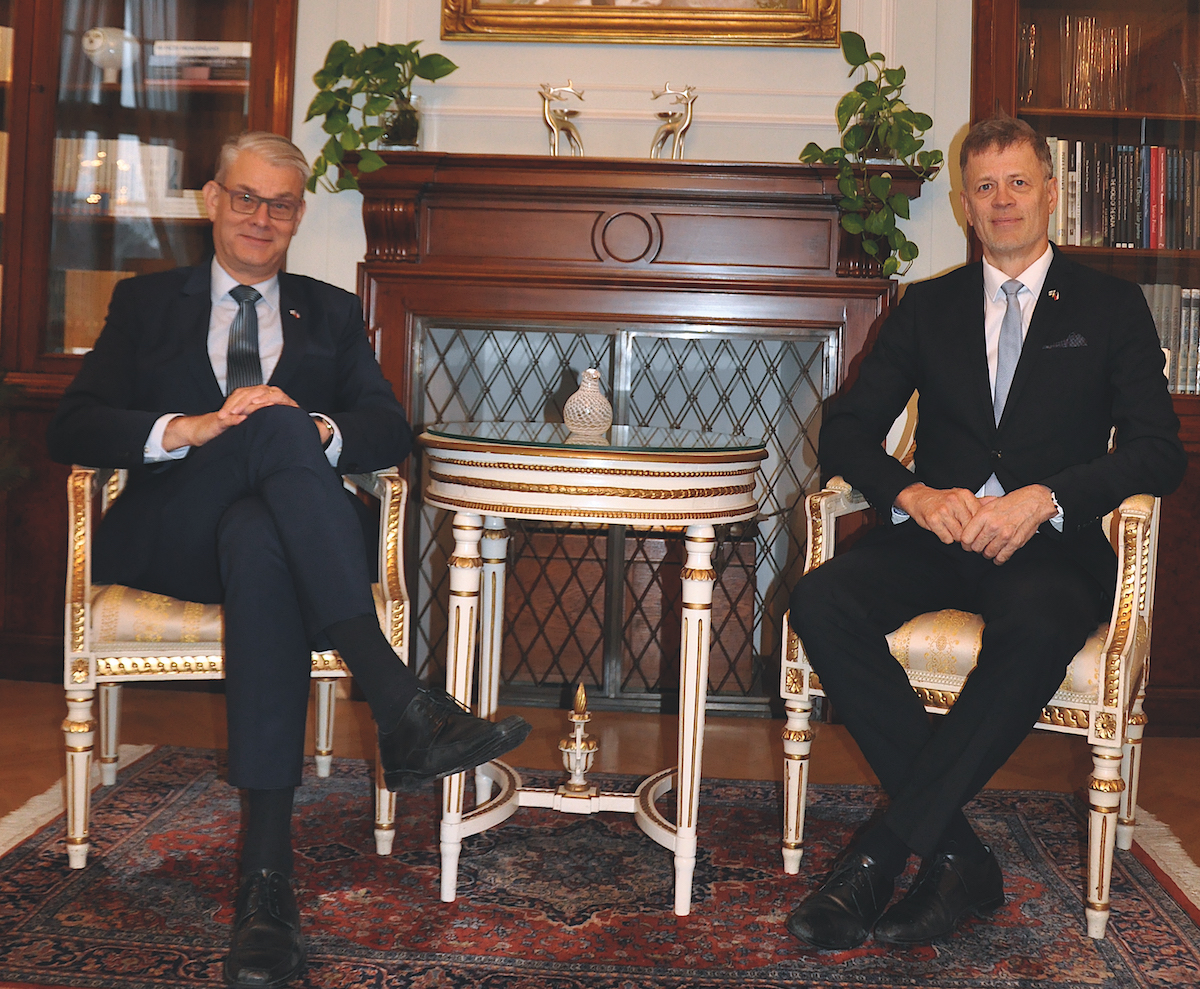 This interview is done on the occasion of your National Day. What comes to your mind in this context?
Independence has never been self-evident in Finland. We have a country, which is worth defending, and I hope that the will for that becomes even bigger. Trust in authorities and politicians has been very high and I hope it remains this way. The future must be built by new generations, and climate change requires us to find sustainable solutions and the replacement of fossil energy. It is important also for our security.