"We always continue to try"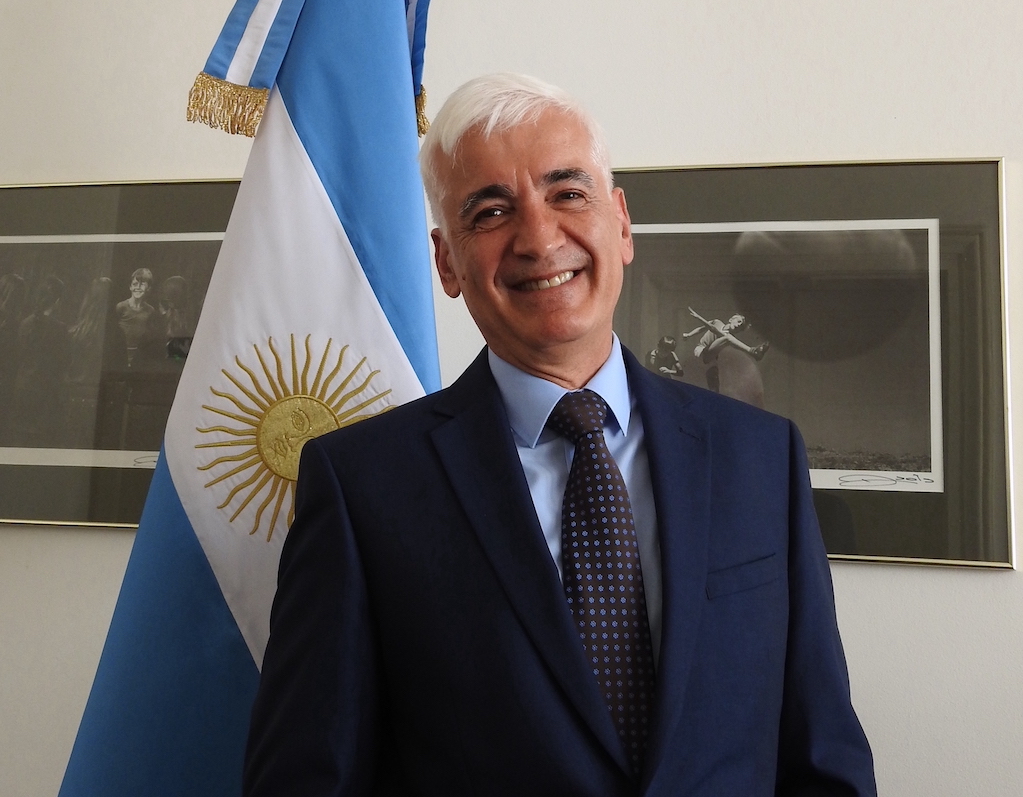 Text: Martina Hošková and M. Zisso; Photo: Archive
When you hear these words from a career diplomat with a 40-year-long working experience, it sure means a lot. And you can understand the message even better when Roberto Alejandro Salafia goes into more detail: "Diplomats don't usually have 'adventures'. My professional memories are more related to long negotiations and to the satisfaction of reaching a final agreement". What challenges has he faced in our country? And what happened in Zimbabwe?
You are completing your four years as ambassador to the Czech Republic in June. How do you feel about our country?
Obviously, I believe that most people are struck by the beauty of Prague at first sight, and then, when you can travel around the country, the combination of nature, history and culture is unbeatable. Czechs are very proud of their country, and I quickly understood why.
I am a social person by nature and quite active too. I like having a full agenda that allows me to meet interesting people, get to know new places, or learn new information. But, of course, these activities are related to my responsibility to look for new horizons in the bilateral relations between my country and the Czech Republic.
How many countries have you been posted to so far?
I have been working for the Ministry of Foreign Affairs of Argentina for 40 years. Prague is my first post as ambassador. Before, I was posted in Brasilia (twice), Pretoria, and Washington DC. Besides that, as a diplomat, I have had the opportunity to visit many other places on official missions. The opportunity (to experience different countries) is one of the most interesting aspects of our profession.
What is the most remarkable adventure you have had?
I don't think that ambassadors' lives are as exciting as those of journalists or explorers. We don't usually have 'adventures'. My professional memories are more related to long negotiations and the satisfaction of reaching a final agreement. Or to the participation in high-level visits, when it is essential to be very attentive to the smallest details. However, now I remember that once in Zimbabwe, the hotel managers were supposed to pick me and my family up in the middle of a nature reserve but they did not show up. We got lost in the jungle and had to spend the night in the vehicle, without any water or food, surrounded by hyenas and other animals. But we survived.
Well, I believe the challenges you are facing in the Czech Republic are of a different kind?
The beginning of the Coronavirus pandemic was quite complicated. Many Argentinian tourists were stranded in the Czech Republic due to the cancellation of flights and the uncertainty of the changing regulations. Fortunately, we had a lot of support from the local authorities and finally, little by little, we were able to help them reach airports in other countries, since there are no direct flights between the Czech Republic and Argentina or South America. We even rented buses to transport people to Frankfurt.
What is the current status of Czech Republic – Argentina relations?
Bilateral relations are excellent. There is great interest in Argentina due to its size and variety of landscapes, as well as its high-quality food products; like beef and wine; and cultural activities, including tango, literature, and cinema. And soccer, of course!
Furthermore, around 70,000 people of Czech and Moravian descent live in Argentina, the second-largest community in the Americas after the USA. The Argentine is, to a large extent, the result of immigration and we are very proud of the contribution made by the Czech people to our identity.
What is generally the most difficult part of being an ambassador, no matter what country you might go to?
Without a doubt – carrying forward and trying to achieve all the projects that we have in our minds. We, ambassadors, can have many ideas, even good ones (ha-ha!). But international relations, like other sectors, are full of unforeseen events. We can work hard on a project, an agreement, or a meeting, which can then be cancelled at the last minute. It is quite complex to integrate the wills of so many players involved. But we always continue trying.
In my case, my work-life balance situation represents a challenge too, I must say. I have three children and my wife of more than 30 years is a Brazilian diplomat herself, which is quite unique as it is not easy to reconcile both careers.
Can you give some advice to the next generations of diplomats?
The diplomatic profession has changed dramatically in recent decades due to the IT revolution. When I started working, back in the 80s, it was quite a challenge to get access to information. On the other hand, today the challenge is to identify the most accurate information amongst hundreds of sources.
Also, diplomats were traditionally expected to be discreet in their activities, but today we are asked to use social media to showcase our work.
Therefore, my recommendation is to incorporate the new tools that technology offers but also maintain a balance, respecting the 'good old traditions' of our profession.
This interview is taken on the occasion of the National Day of Argentina. What are you wishing for your country? And for the Czech Republic?
Clearly, we are living in an unforeseen time period. We thought that we were on the path to a world with greater stability, peace, and development, with possibilities to allocate more resources for health, education, the environment, and technological transformation. However, in recent weeks we have gone back a hundred years and have instead faced a horizon of military confrontation and mistrust. Therefore, my first wish is for peace and dialogue, and to return to a path of understanding.
With regard to the bilateral relations between Argentina and the Czech Republic, my wish is to succeed in developing the full potential of our complementarities. Despite the geographical distance, (my wish is that) new technologies will allow us to develop further links in areas such as software, biotechnology, genetics, nanotechnology, pharmaceuticals, new materials, alternative energy sources, and peaceful use of nuclear energy, among other things. In short, a whole constellation of sectors in which Argentina and the Czech Republic have much to do jointly and to offer to the rest of the world.