Laser medicine isn't Photoshop
MUDr Hana Raková is a renowned Czech doctor working in aesthetic laser medicine. In addition to holding three medical licences and completing three foreign placements in Sweden, she has also studied for an MBA. She has furthermore stood on the notional winners' podium three times in various management and business competitions. Clients say she has not just golden hands, but also a golden heart. Hana Raková is also well-known as a supporter of female enterprise and female solidarity. You can come across her regularly at events of the Helas Ladies Club, a club she has been a member of since the very beginning. I take my hat off to the breadth and depth of Hana's knowledge. Yet she sees herself as still not yet fully educated, and would like to study more. Are you wondering what subject this successful doctor and businesswoman would like to study? The answer is simple: quantum physics. What do you consider the benefits of aesthetic dermatology? How do we perceive aesthetics? More in this interview focused on trends, the benefits of laser therapy in dermatology, and also the life story which has shaped the great personality of this still modest and humble doctor.
My first question to a doctor is always the same. What do we not know about your field which we should know about, i.e. specifically about aesthetic laser dermatology?
I'd first consider the word "aesthetic". For me personally, an aesthetic outcome is related to health. What is aesthetically acceptable from my own field's perspective? For me it is skin which shows no signs of a problem, and is thus healthy. When skin looks healthy, it looks youthful. The saying, "there's no cure to age" is true, but only partially so. From my own perspective, "aesthetic" means returning someone to a healthy appearance. Unfortunately, over the past 20 years there has been a greater focus on aesthetic surgery, which often aims to restore youth, rather than aesthetic dermatology, which is actually a treatment. Our lasers can resolve serious issues which may not be a threat to life, but can nevertheless make it very unpleasant, as they are considered unaesthetic. Such illnesses include rosacea, and various skin growths such as fibromas, warts and milia. So I perceive the word "aesthetic" within a broader context, and every field of medicine incorporates an aesthetic aspect. But let us also note that aesthetics and how aesthetics is perceived is highly individual, and I personally warn against some excessive procedures. Common sense is important, even in my own field, and it isn't good to have unrealistic expectations. And aesthetics itself? For me it is just a fashionable term which is rather hollow.
Do you often have to explain to clients that laser therapy is not Photoshop? And what are your standard clients like?
I personally don't understand the Photoshop phenomenon. I am the way I am, so I don't need to retouch myself in photos. Merely retouching photos won't achieve permanent changes. I remain the way I am in real life. So why do it? Laser therapy really can achieve rejuvenation. A laser beam has huge heat energy, which is transferred to a particular layer in the hypodermis. This leads to a kind of micro-oedema, which after absorption strengthens the collagen and elastic fibres, creating taught skin. And here we are again at a natural trend for healthy-looking skin. Personally, I fell in love with lasers twenty years ago, and I am still impressed and fascinated by everything lasers can do.
My clients range from one year old to 80-plus. The youngest come to us with viral warts. The traditional use of repeated liquid nitrogen applications is difficult for adults, never mind for children. Adolescents come to us to deal with problematic acne. And we're back at aesthetics. What might appear to us as superficial or banal, is of crucial importance to an adolescent who wants to look good. Our melanoma pigmentation advisory service is available to all age groups. At middle age, we deal with problems of the circulatory system, pigmentation patches and so-called adult acne. In terms of the trend for skin rejuvenation, it is clients from 30 years of age and above who express interest in this procedure. I have a client who has celebrated her 80th birthday, and she likes to look after herself.
Although women predominate, men are also beginning to visit our clinics. They most commonly come to deal with birthmarks they don't want to get rid of the traditional way, i.e. excision. The saying, "the more youthful the skin, the worse the scar" has unfortunately been proven in my many years of practice. Lasers do not leave scars.
The latest issue of a dermatology textbook can clearly be seen on your desk. You hold three licences, you have undertaken three foreign placements and you've also studied for an MBA. In theory, you have the ideal profile for someone of the 21st century, the quintessential Type T personality. You have an in-depth professional specialisation yet also a broad scope. Life-long learning is not a new trend for you; you are its embodiment.
What you say is interesting. I still feel I don't know enough. Learning is as natural as breathing for me. I've got used to reading specialist books like fiction. So I always have the feeling I'm not educated enough, and that I'm never going to cover everything. I've got three medical licences, although I knew I wouldn't need the extra ones; these are required for heading departments and I never wanted to be a head doctor. I've changed fields three times; I began at ENT, then I moved to dermatology and plastic surgery. My beloved lasers came later.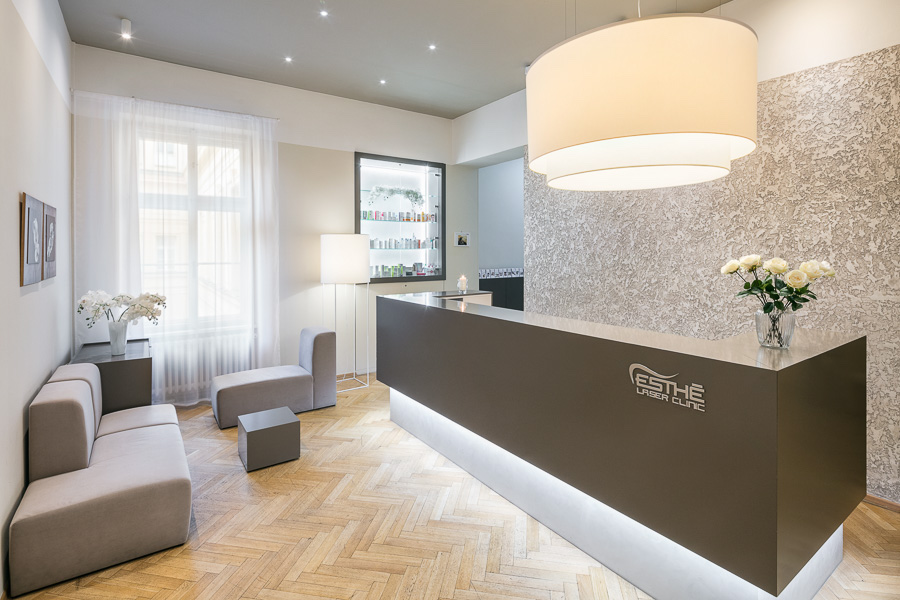 Your path to your private clinic began right after the revolution during a placement in Sweden.
It's a story which only life itself can write. I had an aunt and uncle who had emigrated to Sweden. After the revolution in 1989, I asked them whether they could help me arrange a placement in Gävle, and I set off the following summer. It was 1990, and my salary at the time came to 4200 CZK, so all my savings went toward the ticket there. I was surprised to find that medical procedures there were the same. What was fundamentally different was the atmosphere, interpersonal relations at work, and the attitude to patients. And of course I could not help but notice men's different behaviour towards women in Scandinavia, the cradle of women's equality. I had mistakenly thought that the differences would be in practical procedures and that Czech medicine would be much less developed. I spent literally days and nights at the clinic. By the end of the placement, I received a great reference, and I had four days of placement left to go. I decided to set off for Uppsala, because the clinic in Uppsala was one of the most renowned in the world. I invested the last money I had in the bus there, and I was ready to sleep at the station. I found the university and ENT clinic in Uppsala and planned to meet the head of the clinic. His secretary, however, was unwilling to let me see him. Suddenly the door opened, and there stood Professor Anniko. I took advantage of the moment of surprise and introduced myself to the professor as a doctor from Prague who had four days until she returned and would be unlikely to come back, and could I possibly stay at the clinic for those four days? Professor Anniko was taken aback by my request and explained that students from Japan, for example, had to wait for over half a year to find out whether they could get a placement. My response disarmed him: "Yet they can go back, but I cannot." And so I was able to stay. I must have seemed like an alien from across the Iron Curtain to everyone there. After four days, I left with a personal invitation to return for a longer placement. Upon my return home, I readily shared the new techniques and findings I had discovered with my colleagues, but it was clear that management would not allow me to undertake another placement. This was confirmed, as they said they had no-one to work the out-of-hours service. With a heavy heart, I wrote to tell Uppsala that I would unfortunately be unable to go. Professor Anniko, who was himself a political refugee, did not give up, however. He wrote a personal letter to the head doctor asking him to release me to undertake the placement. So I set off for a second time, again spending some amazing days and nights at the university, but also private, clinic. In the end, I went a third time too. I came back with a different view of the world, along with the vision for my own private clinic. Everything else was a matter of time for implementation. It is no exaggeration to say that without my stay in Uppsala, my clinic would never have come about.
Let's look more at the issue of female solidarity. It's said of women that we are unable to support each other. How do you perceive the phenomenon of female solidarity?
I don't like generalisations. When we say women, this refers to half the human population. It doesn't work like that. I surround myself with women, and we support each other hugely. Within the Helas business club, we travel together, discover new places and support each other. I can imagine the situation might be more complex in the corporate sector. But mutual support comes from each of us, and each of us can influence the social paradigm. Mutual support is based on our own mental model. And it doesn't depend on whether we are male or female. And men who respect women are always welcome. Let us work on ourselves so we can be mature and well-adjusted and then everything will change. When feelings of injustice and envy fall away, support and co-operation follow naturally.
It is common practice to support each other. What is abnormal is not to co-operate.
The new year of 2020 is beginning. What are your plans?
I try not to plan for the long term. At my age, I believe that the right things come at the right times by themselves. I have studied psychosomatic medicine and psychology, and sought out other areas related to medicine. I've always come back to lasers. I'm proud that my team of 25 colleagues is now entirely independent. I make sure to leave space for my younger colleagues. If they're going to really mature and blossom as personalities, I cannot cramp them. So I focus on representing the clinic and transferring my experience, and leave the day-to-day operation to others. My goal is to be healthy and to have space to focus on other activities. I'm fascinated by quantum physics. I listen to various popularisers of science to understand it. There is no such thing as mass; there are particles of massless waves which organise depending on whether and how you observe them. I study the consequences of this discovery and the new paradigm which arises. Don't you find it fascinating?
And what is your final word for readers of Czech and Slovak Magazine?
I'm Czech through and through, and I'm glad to live in the Czech Republic. I would wish us all to be able to be thankful for the fact we live in one of the best countries in the world. Let us live attentively to the world and to daily life. And with attention naturally comes taking responsibility.
By Linda Štucbartová