"My nomination to your country is a big privilege"
What do you think of when you hear the word Morocco? It might be Casablanca, a renowned film from the times of the WWII, an Arabic kaleidoscope of many colors, flavors, and sounds, or the impressive beauty of a desert landscape. These are but a few images of the Northern African country, currently represented in Prague by Mrs. Hanane Saadi, who feels honored to be designated as Ambassador here. What background does she come from? How does she describe the status of Czechia-Morocco relations? And which of our questions was she especially happy to answer?
Let's begin with a traditional question. Can you please tell us about yourself?
I am the youngest child of a large family of seven siblings. My mother was a housewife, completely dedicated to her husband and children. This was common in our society, and I learned from her the values of sacrifice and dedication. My father was an enlightened religious scholar and Imam, who taught me the values of an open and tolerant Islam, specific of Morocco, including a respect for other religions and an acceptance of the different. I was also influenced by my elder brothers and sisters, who instilled in me the values of equality and hard work.
I married a colleague diplomat, who is, by the way, my best support in the difficult diplomatic career, and I am a mother of an 18-year-old daughter who is my best achievement.
What drew you to diplomacy and how did you become an ambassador?
One of my two brothers was a diplomat himself, and my cousin was also a diplomat. I came to visit him in Prague, where he was serving at the Moroccan embassy, when I was a student. It was my first contact with your beautiful capital city.
So, as you can understand, I have been in contact with the diplomatic world for many years. This is the reason why I decided to join the Ministry of Foreign Affairs right after my graduation. But the way to my designation as Ambassador of His Majesty the King of Morocco was long. In total, I have been serving at the Ministry for almost 30 years. During those years, I was posted in many countries as a diplomatic counsellor, and before my designation as ambassador I was consul general in Palma de Mallorca, Balearic Islands, Spain.
How long have you been in the Czech Republic?
I have had the honor of representing my country here in the Czech Republic since July 2018. As I have mentioned before, I visited Prague many years ago so I already knew how beautiful it is. I don't really want to give details about my age… haha, but my first visit took place before the Velvet Revolution. Of course, there is a huge difference between visiting a capital as a tourist and being accredited as ambassador. Prague is as beautiful as before, but I can tell that the atmosphere and the spirit of the city have changed.
I consider my nomination by HM the King Mohammed VI to your country a big privilege because of the beauty of its history, architecture, and the culture in general, not only in Prague but also in other places around the country. It is also an honor for me to represent Morocco to an important partner, and to work towards enhancing the bilateral relations between the two countries.
After a few years of your diplomatic service here, can you share with us your impressions and highlights?
Just after I started, in 2018, I was given the task of preparing a delegation of the Czech prime minister and about forty Czech businessmen to Morocco. It was a big responsibility for me only a few months after my designation, but I think we managed to organize a very successful visit.
I am also proud that in April 2019 a direct flight between Prague and Casablanca was launched by Air Arabia, which was unfortunately cancelled because of the pandemic. I'm working hard to reopen it as soon as possible. You know the importance of direct flights for building bridges between people, be it for tourism, cultural exchange, or investments.
But what I'm most proud of is the big number of new friends, contacts at all levels of Czech society, which I have had the opportunity to meet. It is extremely enriching and pleasant because wherever I have been around here, I have always been extremely well received. These relations are giving me a chance to let people know more about my country, to raise interest for visiting it and to sometimes change the perception that some of them could have about women from Arab and Muslim countries.
Several months ago, Spain changed its stance towards the Moroccan Sahara issue after a long time, and announced its support for the Moroccan initiative in this region. Can you tell us more about this historic turnabout?
First, I would like to thank you for asking this question because it is related to our territorial integrity. My country is facing an artificial conflict in the Moroccan Sahara, inherited from the period of the cold war. I would like to give some historical facts if you allow me.
Due to its strategic geographical location, Morocco is one of very few countries that suffered from the colonization of two powers. In our case, it was France in the centre, and Spain in the north and south. When we gained our independence in 1956, Spain was still occupying our southern part, the Sahara. Our independence was then not complete.
Later, my country was gradually recovering its territories from Spain (Tarfaya in 1958 and Sidi Ifni in 1969). Later, in 1963, Morocco claimed the occupied territory of the Sahara at the United Nations. We asked for its registration at the UN committee for decolonization and never stopped claiming it. In 1975, and after long negotiations, an agreement was signed with Spain and notified to the UN. According to its dispositions, Morocco recovered its southern provinces by peaceful means. The Green March was indeed a momentum in our history, and all Moroccans are proud of it.
Unfortunately, the geopolitical situation and the cold war complicated the situation. The fact is that Morocco has always been an ally of the West, but our neighboring countries, with a different ideology and a lot of petrodollars, decided to take advantage of a group of young Moroccan students of Rabat and Marrakech universities, with origins in the south. They created a separatist movement called Polisario to destabilize my country. This left-wing movement is still hosted, armed, and financed to undermine Morocco's territorial integrity. A group of people from the region (the exact number is unknown since the hosting country never allowed the UNHCR to carry on the census despite being repeatedly asked by the UN) has been taken hostage for almost half a century in camps, without any right to vote, work, build a house, or just leave… They are living in inhuman conditions in complete violation of all Human Rights and UN Refugees Conventions.
As a proof of good will, Morocco continues to support the efforts made by the UN to find a political solution, as stipulated in all the Security Council Resolutions since 2007, when the Initiative of a Large Autonomy was proposed by my country to put an end to this artificial regional conflict.
I have much more to say about this issue, but I don't want to be too long. The fact is that while talking with Czech people, I unfortunately notice that they don't know much about it and therefore I indeed thank you for giving me the opportunity to enlighten your distinguished readers on this.
…let us not forget the change of Spain ́s position…
Sure. After giving these historical facts, I can now answer your question about Spain's new position regarding the Moroccan Sahara. "Spain considers the autonomy initiative presented by Morocco in 2007 as the most serious, realistic, and credible way for resolving the dispute".
As I mentioned before, this country had been occupying the territory since 1884, and they used to consider it as "terra nullius", which is not true. Nomadic tribes have always moved through the Sahara according to their way of life.
The Spanish authorities do actually have the documents that prove the relationship between the heads of these tribes and the kings of Morocco. They were designated as representatives of the Moroccan monarchs for centuries, the prayers were said in their name (which is a very important symbol of allegiance in the Muslim culture)…
This is what makes the new stance of Spain as important as it is. Nevertheless, I have to remind you that the USA recognized my country's sovereignty over the Moroccan Sahara. Almost 30 countries have already opened their consulates general in Laayoune or Dakhla, the main cities of the provinces concerned. I can tell you a lot about the development of the infrastructure thanks to the strategic vision of HM the King, the peaceful life of people , or about the investment opportunities for Czech companies, but I would rather invite you and your readers to come and see for yourselves.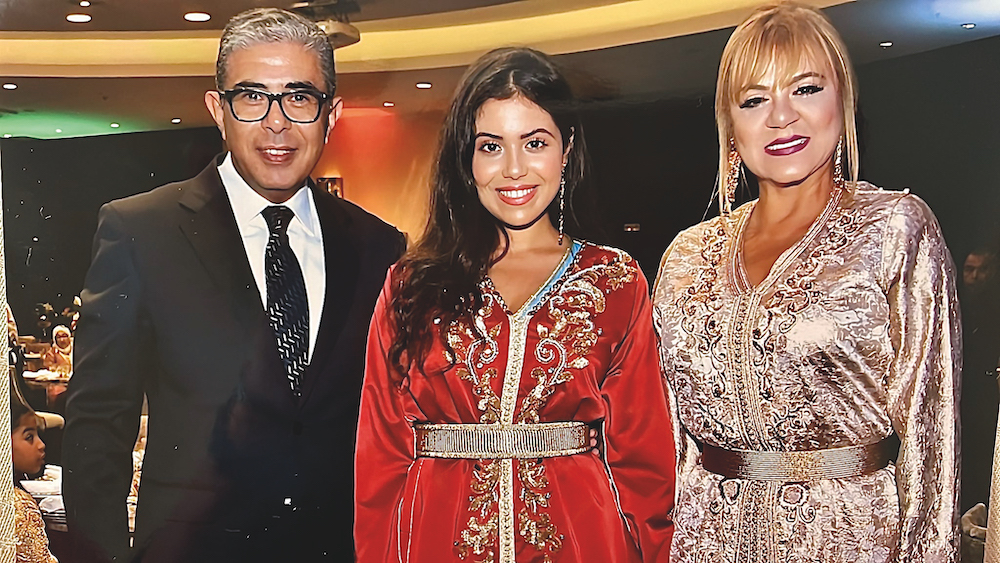 You are known for your activity supporting close relations between three religions. Would you like to tell us more?
My country has been a land of tolerance and cohabitation for centuries. Moroccan Islam is very open, moderate, and tolerant. Few people know that until the 1950s there were 300,000 Jews living there in complete harmony with the Muslims. They later moved mainly to Israel, but also to Canada and the USA. Today, Morocco is the only Arab country where you can still find a Jewish community living in peace and using their own places of worship, schools, and judiciary system. By the way, the Moroccan constitution perfectly endorses its various cultural components, be it African, Amazigh, or Hebrew. Pope François visited Morocco in 2019 as a proof of his imminence's consideration for my country as a land of peace and tolerance. On this occasion, the Jerusalem Declaration was signed by the Pope and H.M. the king of Morocco calling for the preservation of the multi faith character of the holy city.
This is the reason that makes me fully convinced that intercultural and interfaith dialogue is the best way to build bridges between people of different cultures and religions. As I mentioned before, I learned this as a child from my father, and as an adult I realized the specificity of my country as a land of cohabitation. I was able to understand why our monarchs hold the title of Amir Al Mouminine (Leader of the Faithful). I learned how His Majesty Late King Mohammed V protected the Moroccan Jews from the Vichy Regime, etc.
The abrahamic religions prayer that I organized in 2020 on the occasion of our National Day, and the concert of Moroccan/ Jewish music held in the Trauttmansdorf Palace earlier this year, are just a symbol of my personal commitment and the commitment of my country in relation to interfaith dialogue.
How do you view the status of Czechia-Morocco relations?
Morocco and the Czech Republic initiated their diplomatic relations back in 1959. More than sixty years later, they have built excellent bilateral relations at the political, economic, and human levels. Morocco is the second trade partner of the Czech Republic in the MENA region and in Africa.
Important Czech companies such as Škoda, Tatra, and Linet have an important presence on the Moroccan market. We actually have a similar structure of economy, including a focus on the automotive industry, and we are interested in Czech engineering and manufacturing know-how, both in and out of the automotive industry.
There are untapped opportunities for Czech companies in IT, the medical and pharmaceutical industries, defense, the food industry, and agriculture.
This interview is taken on the occasion of your national day. What are you wishing for your country? And what for the Czech Republic?
First of all, I wish peace and prosperity for the people of both countries. I also wish for the end of the war in Ukraine, because wars always have horrific consequences on the whole world. We have already suffered an unprecedented pandemic, and we have to focus on the welfare of our people, so I can only address my best wishes of peace, good health, and success to all humanity.
I would like to finish this interview by inviting Czech people to enjoy the charm of my country, and inviting Czech businessmen to discover the huge potential of its economy.
Text: Martina Hošková and M. Zisso; Photo: Archive