"The Czechs were always at the heart of Europe."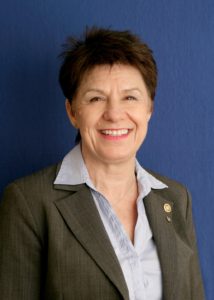 I have had the pleasure to know Irena Brichta for several years.  We share two passions in common – making the world a better place in the realm of Rotary International as the largest service organization in the world with 1.2 million members and 35,000 clubs and supporting women and diversity.  If I am to characterize her by only one word I would choose energy. She is remarkable for her eager approach and ambitious goals as well as reaching them.  Just look at the unprecedented list of activities she is able to pursue besides her profession as a top executive search expert.
Irena is a Member of Board of Trustees (former Chairman) of Junior Achievement (Young Enterprise) Czech Republic; a Past Rotary District Governor for Czech Republic & Slovak Republic District, and Past President & current member of Rotary Club Prague International, as well as a Rotary International Training Leader and now an RI President Special Representative.
Irena is a British/Czech national, her Czech parents came to the UK after communist coup d'état in 1948, her father was in the Czechoslovak Army during WWII based in England.  She was born and educated in Britain, attending the University of Glasgow where she gained an MA Honors Degree in Czech & Archaeology, and subsequently an MBA at Strathclyde Business School after a British Council Scholarship year at Brno University. She is bilingual in English & Czech; speaks intermediate French, German and Polish, with some Hungarian.
Since late 2005, Irena has been heading her own senior level recruitment firm, and has been helping clients with their senior level recruitment needs in the Czech Republic and across the CEE Region.  A major focus has also been offering senior individuals and organizations, who seek to help and support their senior executives, transition management / outplacement programs – working with individuals to guide them as they find their next career move.
Prior to establishing her own business, she held the positions of Country Manager and Managing Partner for several international Executive Search companies.  She has also an experience from various sales and marketing positions on CEE Regional level at pharmaceutical industry.
How do you perceive today's world?
Although my generation in Europe did not experience World War II, we did experience the Cold War whether we were behind the Iron Curtain, or living on the other free side, for me personally it was in the United Kingdom.  Until 1989 and the Fall of the Wall, this was the world's major concern along with the need to find enough oil to fuel our development. However, today, as the tragic events in London, Paris and Brussels have proved, there is a grave criminal threat to our freedom and thousands of displaced persons flooding into Europe for a safer and better economic future.  Is it a wonder parents across Europe are worried for the future of their children? Certainly it is a scarier world today than when compared to the one 20 or 30 years ago.  We need to use our collective experience, work together with optimism and go forward positively, with confidence to create a better world – we can do it. Each of us can and needs to contribute to this better world.
How do you perceive the role of the Czech Republic in today's world?
This country in the heart of Europe has a role to play in the EU, making it a stronger more cohesive group of countries and maybe reminding other European countries of not being too liberal for the good of Europe. However, we also have to put our house more in order by focusing on ethics and integrity in every aspect of the Czech society. The Czechs were always at the heart of Europe.  It is by no chance symbolic that this year we are celebrating 700 year anniversary of the birth of Charles IV, King of Bohemia and The Holy Roman Emperor who influenced and enhanced society across borders in all aspects of culture, education, politics and renaissance thinking. We should also be reminding ourselves of the great liberal and democratic legacy of President Thomas Garrigue Masaryk.  We have great examples and traditions to follow.
You have been active in executive search for more than two decades.  What are the main trends and changes that you have witnessed?  In the sphere of executive search, can Czech managers compete with the rest of Europe?  And for which qualities are Czech managers known and appreciated?
In the early 1990's, it was more the search for former Czechs, or those with Czech or Slovak language ability, elsewhere in the world who could return and give of their expertise in management and organizational development to drive former state businesses into the modern world. Not everyone spoke the same language and cross cultural intermixing of ideas and experiences brought their own challenges.  Today, search for senior executives to fill senior roles means searching locally for those who are qualified and 'fit the role and company culture' as well as internationally for those Czechs who are working in neighboring Slovakia or further afield.  It is always a case if the person has the skills and experience, fits the company culture, and last but not least the question of his/ her motivation. Of course, today Czech managers compete with the rest of Europe in comparable sized organizations.  There are still only a few who have reached the height of leading a European or world organization in their functional capacity: finance, general management, corporate affairs etc.  Returning to their homeland usually means becoming a business consultant, coach, media figure or entrepreneur.  Senior Czech managers have the same characteristics as other European senior managers – it depends where, in which position and organization they have gained their experience: each have certain strengths and skills which in the last 25 years have been further developed by exposure to and work in other countries in a variety of languages. So today, Czech managers are sought after for their managerial capabilities just as are other countries'  managers.
You have been dedicated to the region of Central and Eastern Europe, can you highlight some interesting regional distinctions we should be aware of?
Each country of the CEE Region is different, marked by its own unique political, historical and social development through the centuries. Interestingly enough, if you look at senior and middle management executives in Prague in international organizations, many of them are Slovaks. Is it a coincidence that they are more hungry for success, more ambitious, having more drive in many cases since they are coming from a smaller country and need to leave their mark?
You are very active and involved in the Rotary International movement. However, "the club life" might not seem interesting to fit younger generations lifestyle.  Rotary International is still perceived as a mystery to many. What can Rotary International offer to prospective members?  If someone is interested in joining, what do you suggest?
Come and see for yourself!  Each Rotary club is different with different members – it is a group of people representing a variety of professions, who meet regularly, become friends, do good and have fun! The age group can be ranging from 30 to over 80 years of age! Young professionals appreciate exchanging ideas with 'mentors', those more experienced, and working together on community projects (local and international), however clubs need to be flexible when having younger members who juggle family, children and work commitments.  Sometimes the answer is to create an e-club where the members meet 'face to face' once a month, or just to understand that each age group has its own limitations, but they can mix.  Rotary offers local and international involvement to its members, who can visit any club in the world, meeting new friends, and new business contacts.  Rotarians are focused on acting with integrity and have a high ethical standard, so they enjoy doing business with friends who have the same values.
Your current appointment by Rotary International President Ravi Ravindran mirrors not only the good reputation of Czech and Slovak Clubs (1 District of 70 clubs in both countries) but also the importance of women being engaged in Rotary.  Women and leadership is one of the issues you also have been addressing.  How do you see the latest development and what is your advice to women leaders?
Just go for it.  Don't let yourself be intimidated, or be despondent in the 'man's world'.  Sure its tougher for women to achieve their goals unless they have mentors within or outside their organizations. However, we need to have a strong voice in all aspects of society.  War is usually started by men with other men; women very rarely start wars.  Women are focused on getting the job done and desirous of dialogue. My latest challenge is being made responsible, on behalf of the RI President, for the 27 Rotary Clubs (462 members) in Siberia and Far East Russia for the next 18 months.  It is a voluntary job (only expenses paid) to be juggled with professional and personal commitments. It is always the case that one asks a busy person to do another job, when you want something done!
What are your final words to Czech and Slovak Leaders Magazines readers?
In contrast to the current mood which might be quite pessimistic, I recommend to enjoy your life; work hard, play hard.  Help to make the world a better place and change people's lives.   Come and visit a Rotary Club near you (English speaking, German speaking, Czech or Slovak speaking) www.rotary.org.
By Linda Štucbartová