"Czech-Israeli Relations at the Time When Past Collaboration Helps to Address Future Challenges"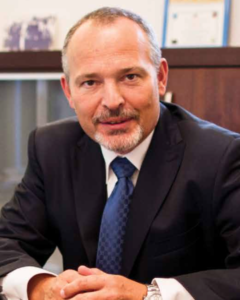 Having the possibility to interview H.E. Ivo Schwarz took me twenty years back, all the way to my university studies, when majoring in international relations resulted in one long research of the Czechoslovak assistance to Israel during its War of Independence. I also remember the times of my diplomatic career, when I was heading the Diplomatic Academy and met Mr. Schwarz; at that time he was the Head of Foreign Relations Department at the Office of Foreign Relations and Information and there was a close co-operation between the two institutions. When I was on a private visit to Israel, I decided to contact Mr. Schwarz and use the opportunity for a personal interview for the Czech and Slovak Leaders Magazine. Despite his busy schedule, the Ambassador readily agreed and we had a chance to discuss not only Czechoslovak-Israeli relations (not a mistake but a reflection how is our country reflected and perceived), but also current security challenges and Mr. Schwarz's outstanding career at various institutions of the public sector that are nevertheless rather secret in their nature.
Mr. Ivo Schwarz has been an Ambassador to Israel since October 2014. On October 28, 2013 he was appointed Brigadier General by the President of the Czech Republic. He was the Director of the Office of Foreign Relations and Information from 2007-2014, having assumed several leading posts at the Office since 1999. From 1991-1999 he was Director of Immigration and Border Police in Western Bohemia. Mr. Schwarz is married and has two children.
Mr. Ambassador, how would you describe Czech-Israeli relations using only in one word?
Excellent.
Well, I expected some sort of a positive adjective and I apologise for my interruption, don't you fear that excellent relations might be prone to deterioration? Let me mention Czech-US relations as an example. We have experienced that excellent relations are taken for granted and soon they might not be appreciated as such anymore.
Well, should I have a bigger space, I would have said close to excellent. Parallel to the nature of relations between people, relations between countries also do change in time and evolve; however, the change in interstate relations tends not to be so sudden and takes longer. I am not afraid of a change in the nature, since Czech-Israeli relations have very solid roots. Besides, thinking about often mentioned belonging of the Middle-Ages Jewish community to and its role in the Czech society, next year we will celebrate the 90th anniversary of Thomas Garrigue Masaryk´s visit to British Mandate Palestine territory – he was the first European president to do so, thus recognising the status of Jewish settlers. Both sides, Israel and equally the Czech Republic are very much aware of this primacy and tradition. The second special moment is marked by the Czechoslovak diplomatic, military and security assistance during the War of Independence. Everyone in Israel knows that and those who were fighting during this War still remember holding the Czech rifle as their first weapon, and they all mention the importance of Czech airplanes and the military training provided. The Czech Embassy still keeps in touch with the pilots, a former Israeli president Ezer Weizman being one of them, who were trained at various Czech air bases. Then the turning point came in 1967, when Czechoslovakia followed the Soviet Union and interrupted the relations with Israel. However, the need to re-establish Czechoslovak-Israeli relations as one of the foreign policy priorities was mentioned in the famous speech of President Havel on January 1, 1990, to the very surprise of his foreign policy advisors. And Vaclav Havel was again the first post-communist president to visit Israel in April 1990. Since then, we have been continuously working on mutual relations and currently we are able to discuss openly even issues that are not easy to address, which is a sign of a great friendship. On May 22, there will be a joined session of both governments in Jerusalem, which will present another opportunity to discuss and advance many issues further. The quality of Czech-Israeli relations can be documented by the total number of 20 visits (including G2G meeting) of the prime minister, both vice prime ministers, ministers or their deputies as well as Speaker of Chamber of Deputies visiting Israel in 2016. I am very glad that such interest exists. As the Czech proverb goes, it is better to see once than to hear three times.
Such interest is quite unprecedented given the size of the Embassy. By the same token, is the Czech Republic also an attractive partner for Israel?
Yes, there is an interest about the Czech Republic, however the one of different nature; one cannot always apply reciprocity rule to bilateral relations. Given the history and the amount of migrants to Israel, the interest is still shifted to Czechoslovakia as such. Not many people either noticed or came to terms with the existence of the Czech Republic, and we held so many events together in close co-operation with the Slovak Embassy. There is a mutual co-operation in commercial, trade and start-up spheres. The Israelis come to the Czech Republic to become engaged in development projects and construction, chemistry and new technologies. And last but not least, we represent EU and UN like-minded country and the United Nations. Cultural relations also bring another special dimension. By the way, as we discussed history earlier, listening to the Israeli anthem Hatikva brings some tunes that particularly Czechs are very familiar with.
So let us move forward to current issues, and particularly the one that has been your source of expertise, the issue of security. How do you perceive security from a country that has learned to live in the state of a permanent alert?
Throughout its history Israel has faced the challenges the EU is facing right now, such as defence of borders, control of immigration and verifying the origins of migrants. Israel has quite vast know-how, including some lessons what not to do, so we can benefit from those. The latest projects about to be launched concern cybersecurity and government system data protection as well as detection of parties at the state border. I believe that the threat Europe is facing is quite unprecedented throughout the history, apart from two world conflicts. I perceive the European Union as a functioning system but far away from being homogenous. The migrant wave has not only security but also trade and commercial consequences. Therefore, we need to start to co-operate immediately and share the intelligence. I think that it is not five to twelve but rather twelve sharp to act and to define basic principles of European / Western civilisation. Which will be the most important principles to defend and which will be the ones not so crucial so we can quit defending? From my experience and perspective, the protection of borders comes first to give us the time to deal with the mass of migrants already in and only then we can devote energy and also resources to solving the issue in the countries where problems originate or in transit countries. The problem has a solution, but it is a global problem that puts world leaders and diplomats under pressure to find a common ground for co-operation. A lot has been said about economic migrants. But just to make it clear, economic migrants were those who went to the US at the turn of the last century, they were willing to work hard under the existing harsh conditions, accept the reality of the new country, earn money to send it back, and eventually return to their country of origin. This is a true definition of an economic migrant and there are few people like this in the current wave.
Very few people coming from totally different conditions and societies are capable of accepting and embracing our cultural norms of behaviour and functioning. The last thing is to send a strong signal to those countries where migrants come from that they too should be responsible for finding a solution.
To end up more on the optimistic note, how do you view your career journey? How was the transfer from the secret nature of Office for Foreign Relations and Information into diplomacy?
Well, I do not perceive such sharp divide in my career. After the Velvet Revolution, I spent my career dealing with security, foreign relations and diplomacy. In early 1990s, we re-constituted the Czech-German border and check points, controlled the flow, migration system and extraditing processes and all that going on during the time of the Balkan crisis when the Czech Republic was a transit country for Balkan migrants. So I view the current situation as a certain déjà vu, albeit on a larger scale. Then I was active in the Office of Foreign Relations and Information and I am sure you will understand me for not mentioning more details. However, this was the time when you and I met at the Diplomatic Academy of the Ministry of Foreign Affairs; that very fact shows how intelligence and diplomacy go hand in hand. I have always been interested in trends and best practices so I looked abroad for partnerships and co-operation. Mossad was one of the most efficient intelligence services, at that time led by my close friend Meir Dagan, and even Mossad started to be open for co-operation and I believe the two countries learned a lot from one another. After seven years of being a director at the Foreign Office, I got the offer to become an Ambassador to Israel. The circle is coming to close, as in Israel the issues of security and foreign policy are closely interrelated. I can make use of all the contacts from the Foreign Office. Due to the fact there is a compulsory military service in Israel that serves as a primary network, I have an easy access to most influential partners. Being a Czech Ambassador and a Brigadier General at the same time really works here and I am proud I can continue serving the Czech Republic.
By Linda Štucbartová
Photo: Pavlina Schulz