Martin Herman is the president of the American Fund for Czech and Slovak Leadership Studies (AFCSLS, www.afcsls.org), a fund of Czech and Slovak Americans dedicated to the pursuit of excellence in education in their old homeland. AFCSLS is a successor to the American Fund for Czechoslovak Refugees founded in 1948 by Dr. Ján Papánek, the first Czechoslovak Ambassador to the United Nations. The fund helped thousands of Czechs and Slovaks escape communism and settle in the United States. In 1976, Martin emigrated from Czechoslovakia to the United States. For twenty years he worked as an economist at the World Bank, later free-lancing on projects all over the world. His experience as a teenager, a university student in Prague, and later as a student in the United States convinced him of the importance of education, especially of a solid foundation gained in primary and secondary schools. AFCSLS gave him an opportunity to make a practical contribution. Martin conceived, developed and has been managing AFCSLS education programs since 2008.
In 2016 he became the president of AFCSLS, succeeding Henry Kallan, a longtime president and one of the fund's most generous contributors. Martin studied at University of Economics in Prague in Prague and Cornell University and George Washington University in the United States.
Talent is a precondition for excellence. It tends to fizzle out without the desire, determination and discipline during formative years. Children need a system to help them develop their talent. This is the premise on which AFCSLS builds its education program. Martin brought in the Center for Talented Youth (CTY), Johns Hopkins University, a leading world authority on talent development, with the objective of establishing a CTY affiliate in Prague. This idea encountered immediate and massive local resistance. Influential experts on education labeled it "elitist, commercial and helping talented teenagers escape to prestigious universities abroad". Martin persisted. Two years into the program, he brought in the Center for Talented Minds (CTM, www.ctm-academy.org), Prague non-profit, which has become the extended arm of AFCSLS. Only last year it has become possible with the help of CTM and RSJ foundation to secure the program for the long term.
Mr. Herman, before we get into the specifics of your program, please tell us first how you perceive today's world?
Where do you want me to start? The whole world is confronted by massive and accelerating advances in science and technology. Yet, partly be- cause of failing education in too many parts of the world, many people are ill equipped for today's world and the future. They have difficulty to cope, to hold their jobs, to secure a worthy purpose for themselves and their families. Often, they find purpose in money, amassing worldly goods. If they fail, they tend to blame others. They are vulnerable to voices promising easy fixes. Their leaders promise but fail to deliver compromised by special interest and unable to deal with mounting problems. Local and global conflicts tend to persist, fresh ones lurking around the corner. How will mankind cope with all this is in the stars. I believe knowledge, spirituality and strong ethical code bring more satisfaction than just money and consumerism. This is why I focus on education. It gives me an opportunity to help teenagers find their purpose, develop their talent and one day possibly make the world a better place for us all.
And how do you perceive today's Czech Republic?
Czech Republic is confronted with much the same issues as the rest of the civilized world. Moreover, it is still struggling to recover from the nightmare of communism imposed on it by Stalin and helped by local useful idiots 70 years ago. There is no doubt with Marshall Plan and as part of Western democracies, Czechoslovakia today would be one of the richest countries in the world. Instead the communists made it one of the poorest. It is now back, member of the European Union and NATO. It is becoming more prosperous as time goes by. Still, years of communism and persistent Kremlin influence keep many confused and disoriented. Some even equate Brussels with Kremlin, perhaps because too often people have been betrayed. They mistrust their leaders. They tend to be suspicious of anything foreign, envious of natural talent, suspicious of success by others, and believe they have superior answers for everything.
Education is a key indicator of prosperity. Yet, education in the Czech Republic has been neglected at all levels for years. Teachers have the lowest salaries in the civilized world. Schools at all levels are stuck in the past. Boredom and disinterest prevail. Proposals for improvement remain on paper. Still, at all levels there are pockets of excellence but rather than others learning from them these pockets become targets of envy and abuse by those less capable. I have experienced it firsthand with our program. Disgruntled parents are taking matters into their hands starting private schools for their children. Those seeking superior university education prefer to study abroad.
You also have activities in Slovakia, do you perceive the countries being same or different?
They are similar. I am happy Slovakia is independent and becoming more prosperous. The Slovaks are more decisive. The Czechs favorite decision is "maybe". The Euro is a case in point. The Czechs would debate the Euro forever waiting for some- one to decide for them. Slovakia is even more dependent on car manufacturing than the Czech Republic, a risk for both with robots taking over assembly lines and repetitive manufacturing jobs in the near future.
Education in Slovakia suffers from much the same neglect. However, Slovak teachers actually strike for better salaries. Czech teachers debate strikes. Perhaps the biggest difference is superior university education in the Czech Republic. About 25,000 Slovaks account for about 70% of all foreign students at Czech universities.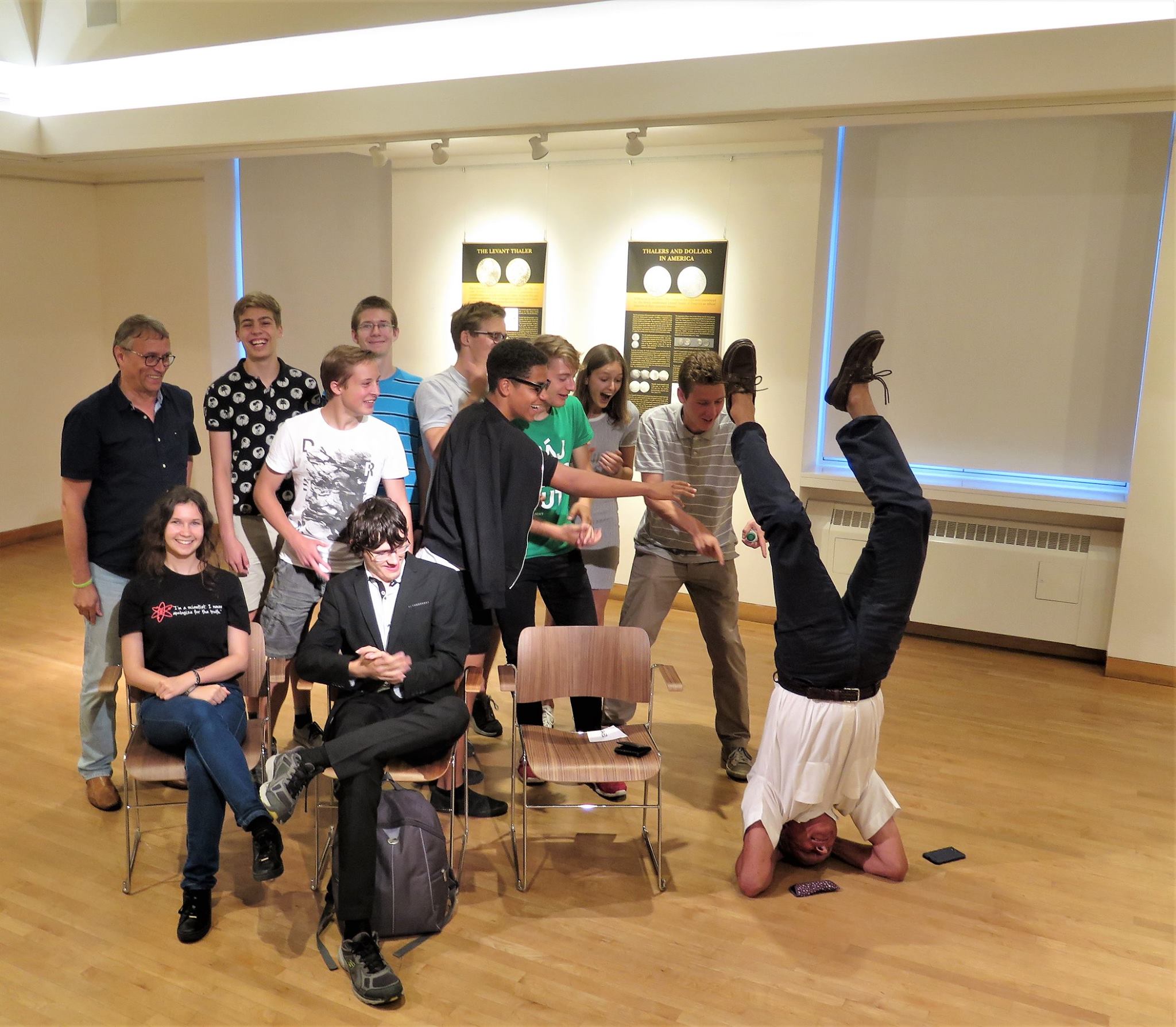 Mr. Herman, please tell us now more about your program.
We offer Czech and Slovak children opportunities to develop their talent, to accelerate and enrich their learning with CTM Online, Discovery Saturdays and CTM and CTY Summer. CTM Online is the most popular. It offers students 12-18 years of age online courses in English guided by experienced CTM instructors leading eventually to Advanced Placement (AP) exams of the American College Board. Students can choose from over 100 courses in mathematics, physics, chemistry, biology, computer science, and many other subjects. CTM Online is the only opportunity for students in Czech and Slovak public schools to measure their academic accomplishments directly with their peers in the rest of the world. Students find it highly motivating and rewarding. They really learn. Some schools integrated CTM Online into their school curricula. For the first time this coming school year, CTM Online will be used directly in class at three participating schools. CTM Online evolves from our long-term association with CTY to which we added Florida Virtual School Global (FLVS) and the University of Nebraska High School (UNHS); all prestigious online learning institutions, to provide effective, affordable and flexible ways to learn. Also, CTM offers its own online courses for younger students to get them used to online learning environment, technical English and instructor support. I keep scouting all the time for the best possible online content for our students.
What are the results of the program?
I cannot be happier with the results of our students. They excel in the most popular and the most demanding courses in the AP system of the College Board. AP courses offer college-level curricula and exams. They teach critical thinking, reasoning and learning through inquiry. Students gain detailed knowledge of key subjects, substantially improve their technical English and become well prepared for AP exams. By taking AP exams, they prove their interest, ability and determination to succeed in university studies. CTM is a College Board partner for administering AP exams at Czech and Slovak schools.
CTM students rank consistently among the best in AP exams earning on average a 4.06; much superior to the global AP average of 2.89 with "5" the top grade. Every year in May, more than seven million students from all over the world take AP exams. Over 1,000 CTM students have participated since 2011. Great results helped over 100 to scholarships and admissions to universities including Oxford, Cambridge, Yale, Johns Hopkins, NYU, MIT and others. Most students continue at Czech universities, some moving later to graduate work abroad.
Where are the biggest obstacles to achieve more support?
By now, CTM Online would be making a huge impact if most schools would be like the five we started with in 2011. These schools have excellent directors. They have appointed effective school CTM coordinators who inform students and parents, and with the teaching staff integrate CTM Online courses into the school curricula. These schools plus a few others are the most active, some with 15-20 students every year. This school year we expect about 350 students in CTM Online. We are immensely grateful for the support of RSJ foundation in sharing the program cost.
Our biggest obstacles are people – school directors, teachers, and some education experts (those with their superior answers). They are out of step with the times, resisting change, killing the natural interest of children to learn. We have visited most Czech and many Slovak schools; some many times over. When we come, they are excited promising to take part. After we leave, nothing happens. From some directors we even hear: "No, we do not have any talented students here". Some teachers tell students: "Why CTM Online? Is my class not good enough for you?" These and similar stories we hear all the time.
How do you wish to see AFCSLS and CTM in 10 years' time? (what is your vision?)
We do all we can to build CTM into a force for excellent primary and secondary education in Central Europe. We are making solid progress in difficult Czech environment, in Slovakia and with occasional interest elsewhere in the region. In four years, we would like to see 800 – 1,200 students in CTM Online, maintaining AP exam scores well above the global average. This year, we start preparations for AP International Diploma, equivalent to the International Baccalaureate (IB) Diploma but more flexible and affordable. Naturally, some education experts are suspicious of the idea. With no access to the IB program, many parents may find CTM Online ideal for their children. But first they would need to convince their school director. Our top priority is to hire the very best CTM Online instructors with salaries equivalent to top professionals. Instructors make a huge positive difference in students' outcomes as confirmed by responses from students and parents in CTM Online evaluation surveys.
Your final words…
We would love to do much more to help Czech and Slovak children prepare well for the future. The best possible education for all must become the top national priority. We look all the time for partners and supporters to join us in our quest.
By Linda Štucbartová