Congratulations and Thank You, Ma'am!
This year, Dr. Meda Marie Mládková is celebrating her 100th birthday. This petite lady had until recently held a large number of roles with energy and grace, and these have gradually been taken over by one medium-large team. Meda Mládková's second career began after the Velvet Revolution when she returned to Czechoslovakia from exile in the USA. Meda was 72 years old when she returned alone to her home country. Her husband, the economist Jan Mládek, did not live to see the change of regime, having died in September 1989. At an age when others are well into enjoying their retirement, Meda embarked with energy and vigour on a project of renovating Museum Kampa; at 89 years of age she started a project renovating the renowned Werich Villa, and at 98 years old she decided to support the inception of a unique exhibition of Czech glass as part of a new Museum of Glass in the renovated Portheimka Palace. Over her life, Meda Mládková has combined various roles as philanthropist, collector and patron of the arts, expert in modern art and tireless ambassador for Czech art and culture in general.
I remember the day I first met Meda. It was the day of my 40th birthday party, and Meda wished me not just happiness and energy, but also that I feel fulfilled and proud of the work I undertake. In Museum Kampa's courtyard, she proudly showed me the museum's motto: "If the culture survives, then so too does the nation." Even during the depths of communist totalitarianism, Meda never gave up her Czech passport.
February's flu epidemic thwarted a reunion with Meda.
The interview was thus held with the core Museum Kampa – Jan and Meda Mládek Foundation team: I asked its Chairman of the Board of Directors, Jiří Pospíšil, Director Jan Smetana and member of the Board of Directors Jana Hrstková not just to tell the story of Meda as few know it, but also to reveal the secret of how Meda Mládková's 100 birthday celebrations will pan out.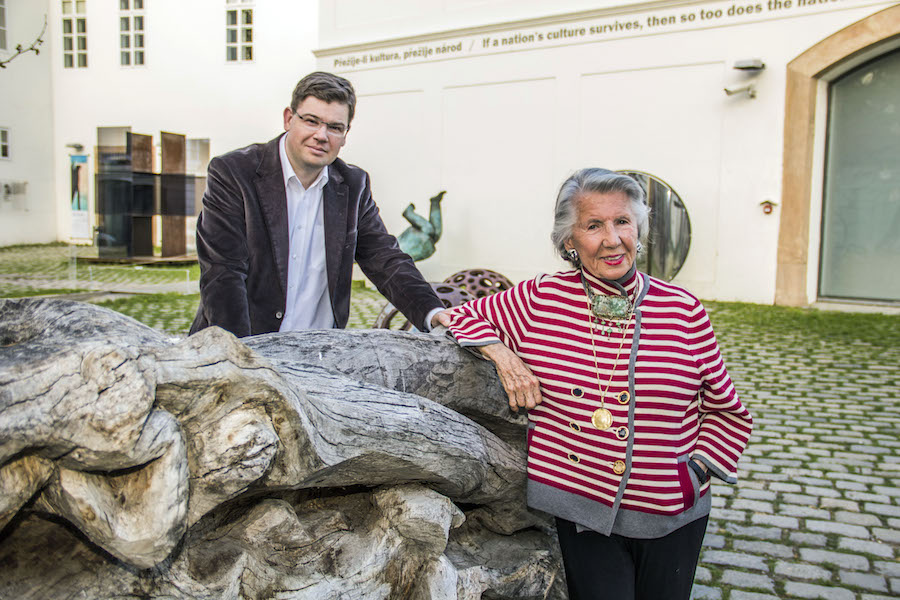 What do the public not know about Meda?
Few realise the current breadth of museums Meda has built and supported. From Museum Kampa, which focuses on modern art, to the Werich Villa, which doesn't just recall the legacy of Prague's Liberated Theatre, but whose space also builds on its tradition, encouraging further cultural encounters, discussions or dance, and musical evenings. We warmly invite all readers to visit the Museum of Glass in the Baroque Portheimka Palace in Smíchov, which joined the institutions administered by the Mládek Foundation last year. Besides collecting pictures, Meda has also focused on artists who have worked with glass. She held a unique exhibition promoting Czech glass in Washington in the 1980s.
When she lived in the USA, Meda was not just a true ambassador for Czech culture, but she also supported young artists, and in today's terminology was also a unique "networker".
Again, few people realise that the Mládeks' famous house in Georgetown was visited by renowned politicians, writers and artists. She displayed artists' pictures in her home, held exhibitions and invited well- known guests there to whom she presented Czech artists. Many Czech artists who got the opportunity to travel to the USA found not just support from the Mládeks, but also a place to stay, including being introduced and presented to American society. It is no exaggeration to say that Czechoslovakia's true embassy at that time was to be found at the Mládeks' home. Mrs. Mládek's efforts at bringing cultures together are also evidenced by letters from Václav Havel when she tried to get a Ford Foundation grant for him.
It was Meda who supported the young talented artist Emilie Beneš Brzezinski, President Beneš's niece, who married the influential political scientist and American foreign policy power-broker, Zbigniew Brzezinski. Meda's passion and willingness to support Czech art knew no bounds. She once even sold her house in order to buy a Kupka painting, which she later donated to the National Gallery in Washington, where it remains displayed as part of its permanent exhibition. During the communist totalitarianism, she supported Czech artists by purchasing pictures and organising exhibitions, not just in America, but also in Europe. Her vision in this regard was truly unsurpassable, and without all she did then there would be nothing to build on today.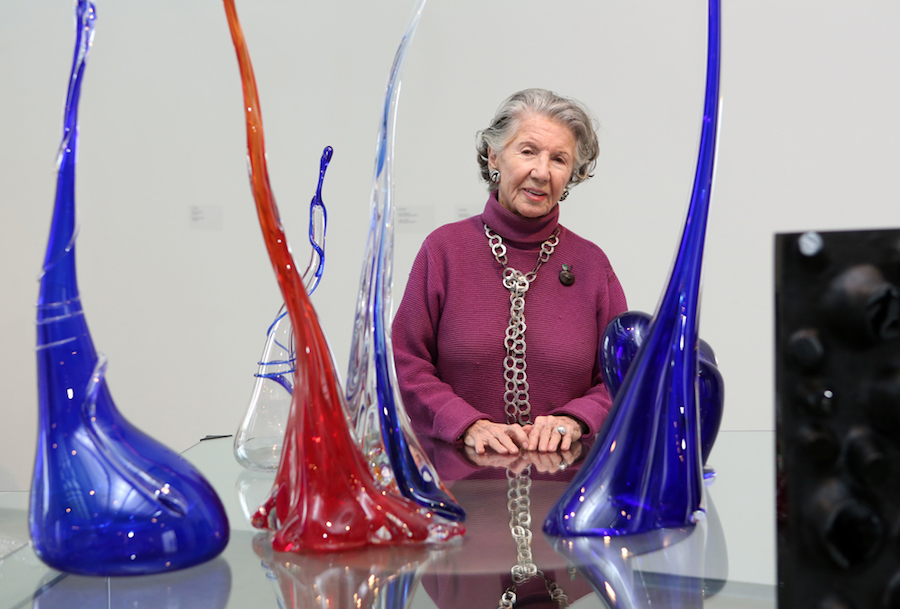 What happened to her legacy in America after she returned home?
Meda's legacy in the USA was not diminished even after she left, and her name is often mentioned in cultural and societal circles. For example, a Jiří Kolář exhibition was implemented at the start of this year through her American-based Central and Eastern European Art Foundation. This unique Jiří Kolář exhibition, Forms of Visual Poetry, containing works from the Museum Kampa collection, is being held at the American University Museum, Katzen Arts Center, Washington DC until 17 March 2019. Many renowned figures have visited this exhibition, and so another opportunity has arisen to remind the world of the importance of Czech art in a global context, and build further co-operation with other cultural institutions in the USA.
What's it like to work with Meda?
Meda is determined and adamant. She is incredibly tenacious, a great debater. She never gives in to her age. At a time when many people complain they don ́t have the energy for certain things, she got started on building Museum Kampa and renovating Sova's Mills. Her motto is: If you want to, you can. She's had to fight hard for all her museums, whether with bureaucracy, conservationists or the proverbial Czech small-mindedness in general.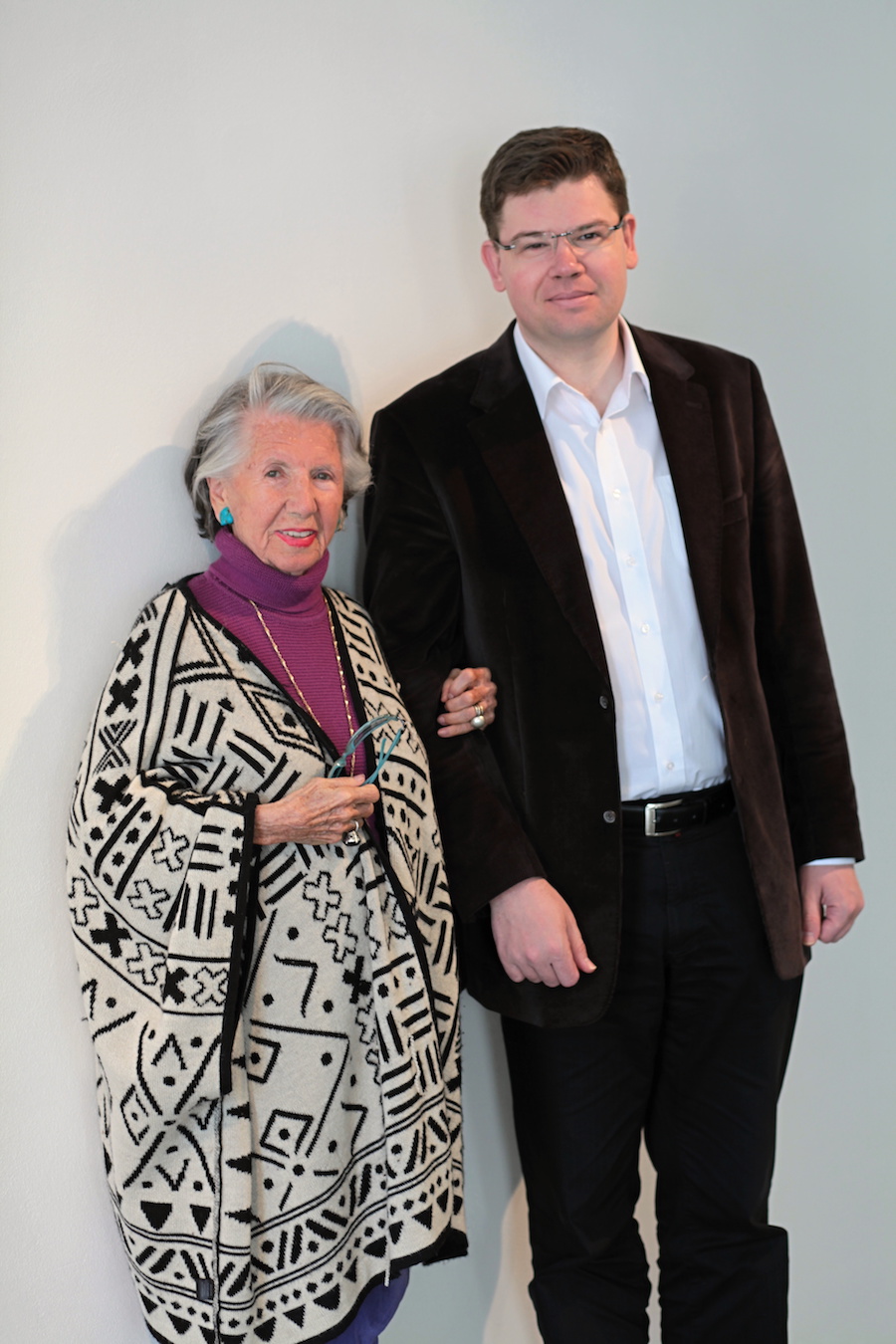 I put my final question to Jiří Pospíšil, who as Chairman is, with the Board of Directors, in closest contact with Meda. Can you reveal how Meda's birthday celebrations will pan out?
We've conceived this year as Meda's year. We're planning a lot of exhibitions, meetings and other events at Museum Kampa. We warmly invite all readers to view the play Meda. Tatiana Vilhelmová will be playing the title role. The play is a representation of Meda's life from the age of 14 to today. The play will be performed on the summer stage from June to September. It will be performed under open skies in Museum Kampa's courtyard. The final performance will be held on 8 September 2019, on the day of Meda Mládková's 100th birthday.
Linda Štucbartová