"STRUGGLES MAKE YOU STRONGER"
Before getting to technology, let me ask you, as VP for CEE and Nordic European Region at Huawei, how has the pandemic affected your work and operations?
Similar to many others, our company has largely switched to an online model, which was very smooth since we are a technology company. We also significantly reduced travel, and began conducting more video conferences to meet with colleagues and customers. But as you can imagine, since the very beginning of the outbreak, we have been supporting our customers in dealing with network overload across Europe and also around the world. Although we helped to prevent any major collapse, some networks have been stretched to their limits. The pandemic has shown us that there is a growing need for the development of fast and modern networks with higher data throughput. I personally think that this experience could significantly speed up the deployment of the fifth-generation networks.
Do you see any difference between CEE and Nordic European region handling the pandemic?
Regarding the transition to the work models of online communication and home office, both regions are fairly technologically advanced. There are of course differences in the speed of connection and transfer of data volumes, but there is no strict division into two distinctive groups, in this case, namely Central and Eastern Europe. The whole area has regions that are less or more advanced than others. But if you are asking about the difference between managing an epidemic from a medical or political point of view, then that's not a question for me.
Allow me one more geopolitical question, how does the economic competition between the US and China influence the business on the Old Continent?
Our business in Europe is, in a certain way, negatively affected by all allegations that accuse us of doing something we are not actually doing. The founder and CEO of our company, Ren Zhengfei, has stated on multiple occasions that he would rather close the company than take part in espionage. Personally, I perceive the whole thing as primarily a competitive struggle at the management level of individual states. Huawei operates in 170 countries, and our solutions are used in networks that cover 3 billion customers worldwide. No major data breach or a security incident has occurred in its 33-year-long history. Huawei is an independently audited company, and 45 of the world's 50 largest operators rely on its technology. Throughout our twenty years of operations on European soil, the company has been strictly following the EU and national rules. Nevertheless, there are constant discriminatory voices against our company with their only argument being our place of origin. And that is definitely not fair.
I believe that the question regarding 5G technologies can be compared to last decade's transition to the cloud. It is not a matter of whether this will happen, but rather when. Can you share with us some examples of successful operations of 5G networks in Europe?
Our company successfully implemented 5G in Switzerland and Monaco. We had signed around 100 commercial contracts for 5G technology worldwide. Our partners include, for example, the Spanish Telefónica, the Swiss Sunrise or the Dutch company KPN. In the Czech Republic, we are currently involved in the construction of 5G networks implemented by one of the network operators in the country.
Technology seems to be the remedy to most problems nowadays – from improving the run of economy to fighting the pandemic. Let's start with the economic recovery of the Czech Republic. How can the quick building of a digital infrastructure help the country? What are the direct benefits for the industry, transportation and also respective households?
The use of 5G networks will be very wide and will cover almost all areas. Through the new generation networks, we're embracing a digital economy. Applications and related mobile services will benefit not only from high transmission speeds but, above all, from low latency. The 5G networks will allow for automated production lines and will bring greater involvement of robotic systems. We will see major shifts in the field of medicine or transportation – think of automated driving, for example. And of course, there will be massive development of the Internet of Things. The development and mass-scale deployment of 5G networks will revolutionize the way we live. This includes Industry 4.0, smart city government, intelligent transport systems, such as automated vehicles and autonomous mobility, or e-learning. The entire 5G ecosystem, including end-users, will ultimately transform.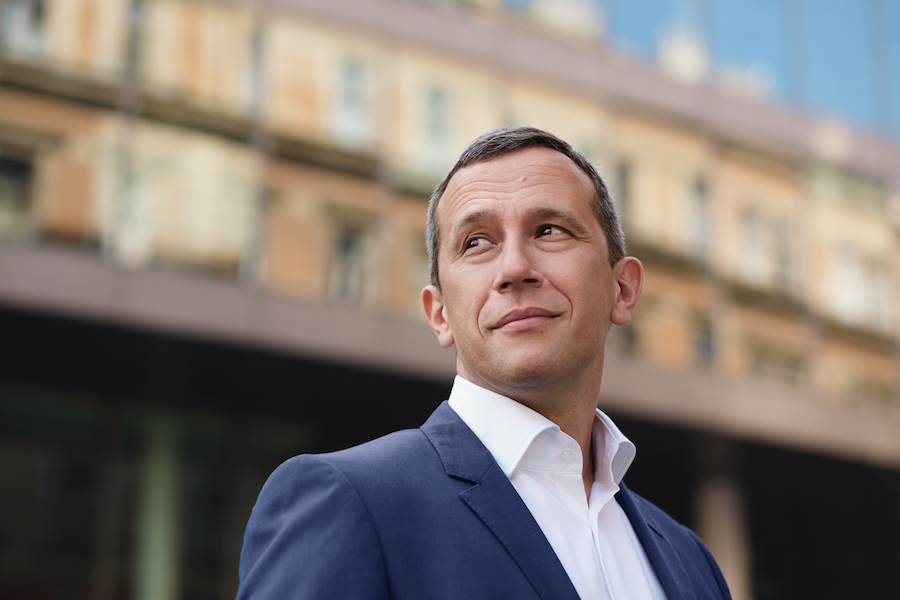 What are the examples of 5G and AI used in medicine and diagnostics to fight not only the pandemic but also other diseases?
5G networks can make really significant advancements in medicine. We are on the threshold of an era where top-notch medical care can be available immediately and worldwide – whether a patient is unable to move to an elite workplace or transportation is not possible for the medical professional. But we're not just talking about the remote corners of the world. There is the need of medical assistance in places hit by natural disasters, or more recently in communities fenced off due to quarantine. This year, for instance, a medical team led by neurologist Ling Zhipei conducted a procedure in which a patient with Parkinson's disease had a system implanted, allowing for deep brain stimulation. According to China Daily, the patient underwent a three-hour-long surgery in Beijing. At the same time, the leading operating team was located in Hainan in the very southern part of the country roughly 3,000 kilometres away. Thanks to the 5G connection provided in collaboration with the networks operator China Mobile and using the 5G technology delivered by Huawei, the procedure was performed, according to the doctor's words, as if the patient were in the same room.
Huawei is the technology leader, having the largest number of patents when it comes to 5G technologies. Can you share with us the next big thing from your research?
In general, in 2019 we had approximately 96 000 research and development employees, representing 49 % of our workforce. We invested approximately USD $17 billion in R&D in a single year! It is quite hard to say one big thing, because our employees are dedicated to making discoveries in the most advanced technologies the world has ever seen with the transformative power for good: artificial intelligence, digital health – remote healthcare, telemedicine, smart cities, autonomous vehicles, AR, VR, economic innovations, superfast Wi-Fi, edge computing, sustainability. we need to keep enhancing the competitiveness of our products and services, promoting innovation and greater value – both for our customers and society at large.
These times are challenging not only for large organizations but also for managers. What are the three lessons you have learned due to the pandemic?
The first one: Have faith in your customers. All the efforts you put over the years in helping them build their networks are not only about the price. They will see your value in the challenging times, and you will feel recognition for the value you bring to them.
The second: In a challenging situation, where you are accused without proof or evidence, and some forces try to put you out of business because you are too good, you realize how important the work you do is and how much people rely on your presence on the market. And the last one: Whatever struggles you go through, they will make you stronger and more experienced.