On Viennese Tradition, Legacy and Journey to Modernity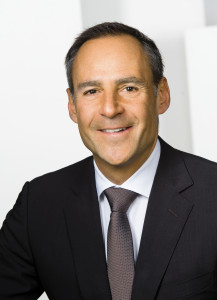 Preparing for an interview with Rupert Simoner, CEO Vienna House (formerly Vienna International), made me reflect on the past and brought my mind back to the history of the Austro-Hungarian Empire when Vienna used to be the second largest Czech city in the Monarchy. It also made me reflect on the proximity and closeness of the Czechs and Austrians that I have experienced while working for the Diplomatic Academy Prague and closely co-operating with the Diplomatic Academy in Vienna.  However, after I became familiar with the current project of rebranding, characterised by the outburst of creativity and joyful communication, I realised there is no space for the sentiment of the past but on the contrary, time for enjoyment and zest for life. I felt quite invigorated discussing strategy, values, diversity and energy.
It is my pleasure to introduce you to Rupert Simoner, CEO, Vienna House.
Vienna International Hotelmanagement AG – in 2016 repositioned as Vienna House – looks back at more than 26 years of success, during which it has focused on building and expanding its portfolio of hotels in the three to five star segment. CEO Rupert Simoner is proud of the group and the vast hotel portfolio it has built up during its 26 years of existence. Currently, the group consists of 38 hotels, six in Czech Republic, four hotel lines and 2,200 employees operating in ten countries: from France to Russia, from Poland to Austria. They include the top tourist destinations such as Berlin, Prague, Pilsen, Carlsbad, Bucharest, Coburg, Krakow, Lodz, Munich, Neckarsulm, Trier, Disneyland® Paris and Bratislava.
Mr. Simoner, the current rebranding seems like a remarkable major change. What is the reason behind the change of Vienna International, in Prague perceived as an established brand, to Vienna House?
Currently, the hotel market is in a state of flux which is providing us with a number of challenges. Today's guests have excellent access to the most up-to-date information. Their thinking and actions are global, local and mobile at the same time, and they have a steadily increasing selection of options to choose from.
At the same time, people's understanding of value is undergoing a transformation. Traditional values such as luxury, in view of expensive status symbols, star categorisations and standards, are being replaced by personal, unique and, above all, one-of-a-kind experiences. People's self-image has become more value-conscious than status-oriented.
Following the trend reports of the hotel industry and implementing these with a healthy dose of common sense gives rise to the following formula – living brand values together with acting from the guest's perspective while keeping it simple.
As such, we have had to change the areas with regards to our corporate culture, restructure corporate divisions, reposition ourselves by developing and communicating a clear new brand architecture and last but not least redesign all hotel divisions and realign standards to guests' requirements.
I see the statement "Values need to make sense from the inside out and be easy to understand" being very fundamental to any company. Nevertheless, from my experience working with teams, only few employees can recite values and even smaller amount can explain them. How will you make sure that your values will be thriving not surviving?
A new corporate culture only works when it is accepted and lived from the inside. All employees were informed about the development steps in the beginning and have been kept up-to-date with regular news from myself and my management board colleagues, hotel directors and direct management in open feedback discussions. National and international workshops provided additional support for the process.
It is essential that values make sense from the inside out, be easy to understand and easily implemented into our working life which means that they must be lived from above. We took this decision together and we continue to work on what this means for each individual.
We developed a "roadmap" for our new self-image of Vienna House which translates our core values into daily actions and in a simple and understandable way explains what optimal guest feedback, employee conduct, work environment and management understanding look like at Vienna House.
When rebranding takes place, it is often the case that regions are lagging behind headquarters but Prague is not that far from Vienna. What specific plans do you have for the Czech Republic? What can clients look forward to?
We are a hotel group and hotels are the heart of our business no matter what the location is. All our Czech hotels will be rebranded, so you will see Vienna House Diplomat, andel's by Vienna Prague, angelo by Vienna House Prague, Vienna House Easy Chopin Prague, angelo by Vienna House Pilsen and Vienna House Dvorak Karlovy Vary.
The most significant changes will be applied step by step and affect the following areas.  Hotel staff in new uniforms will have very broad freedom of action. Open lobby with a living-room or lounge atmosphere will allow for the work-life blend trend since this is where business and leisure meet so you will see co-working areas, lounge corners, an integrated bar and a free-standing reception.
Current trends in mobility will be facilitated by bicycle stations, electric car charging points and car-pool stations.
The use of new techniques and technologies true to the motto of "simple and intelligent", such as charging points on all tables, USB ports in all rooms and web. Last but not least, the trend of (g)localisation will be seen in new individual bar and restaurant concepts that will serve also local specialities matching the region were the hotel is located.
I was surprised about the digital shift and the impact that it makes on the hotel industry.  You have already mentioned several services making use of ICT, such as mobile check-in and check-out, mobile concierge services, USB ports, free high-speed Wi-Fi and other services.  Besides digitalisation, are there any other trends in the hotel industry that you see emerging?
There are several micro trends which of course affect lifestyle movements, such as sustainability and corporate social responsibility. In some areas – especially in the service and hotel industry, we can observe that people wish to have personal contacts instead of machines.
Further, there is a trend to concentrate on simple but quality things. More and more European travellers are sensitive to the environmental issues and therefore they are trying to live and also travel in an eco-friendly way.
And one attitude can be seen through many levels: buying moments instead of buying things is getting more and more important in our world as everything happens faster and faster.
The next concept we are both passionate about is diversity. You understand it in quite broad definition, not only acknowledging the diversity of the different hotels with all their regional tastes and peculiarities but also diversity of staff and members. How do you deal with diversity of talent and who are your target employees? Many companies now try to target women or young people. What is your approach?
Hospitality is about exploring, being curious and it is about people. It is a great place for people where they grow and shine and where they feel the whole world belongs to them. On one hand, Vienna House offers a niche between small private hotels and large – perhaps more anonymous – chain hotels. This may provide an opportunity for many. We offer international career paths our hotels and broad experience opportunities in our hotels. On the other hand, we have established ourselves as personal and direct. Employees can be themselves, they don't have to pretend anything and feel like they are wearing a mask. We offer proper training programmes, promotions and a personal work environment.
Thanks to the Vienna House Academy, the HR division provides extensive new training and development programmes for all company employees. These include: Executive Development 360°, cooperation with 20 universities in 12 countries, a global departmental trainer structure and introduction of the Victor Leadership Development Programme for specifically developing young leaders.
I have valued? (aluded to, spoken about?) to the Austro-Hungarian Empire and its legacy several times. According to experts on Czech-Austrian relations, both nations tend to be quite similar and that might be irritating. How do you personally view Czech-Austrian current political, business and interpersonal relations?
Why irritating? As you mentioned, we share big parts of history, we have many things in common. The same is true about food. I love Czech beer and so do many Austrians. The Czechs as well as the Austrians are very hospitable. So on the cultural level there is a huge similarity that makes approaching both nations easy. Moreover, this good common understanding affects political, business as well as interpersonal Czech-Austrian relations in a positive way.
Mr. Simoner, you are always smiling, are in a good mood and positive. To me, you are a perfect example of the new approach to work-life blend rather than work-time management. Can you share some secrets of time and energy management with us?
Work-life balance is important to me and so I also make sure that my team members have time for their families, friends, hobbies and sports. I strongly believe that people are much more efficient if they have also a private life. Therefore, I trust them and I can fully rely on my employees. This makes my time and energy management possible.
Your creative campaign has inspired my imagination and made me think outside the box. Instead of the typical question what your final words for Czech and Slovak Leaders are, I will ask if there is a question that you wanted to answer but no journalist has ever asked?
I can't think of one single questions I was never asked – but I like your last question very much.
By Linda Štucbartová