"My role is to promote positive exchange among nations"
Have you ever thought about the parallel between bees, diversity, and security?
Once you enter the Embassy of Slovenia, you notice a colourful hand-crafted beehive in the garden on your right-hand side.
H.E. Tanja Strniša, Ambassador of Slovenia, is proud Slovenia is often called a bee country. On the World Bee Day on the 20th of May, together with other women ambassadors in Prague she made a short video explaining the tremendous value bees have in our world. Slovenia, having a rich history in apiculture, including special beehives being part of its cultural heritage, managed to introduce the World Bee Day in 2017 at the United Nations to help to protect bees and other pollinators. At that time, Ambassador Strniša was working for the Ministry of Agriculture of Slovenia, so she was very much involved in the process. She continues: "Although Slovenia is a small and young country, I learned that we could achieve a positive change on the global level. I was quite proud that the Czech Republic was one of the first six countries very supportive of this initiative."
In June, Ambassador Strniša organized a workshop for the diplomats on the importance of beekeeping and the role of bees and other pollinators for the environment and biodiversity as well as for global food security. Every third spoon of our food depends on pollination. Did you know that one of the first expert beekeepers, Anton Janša, came from Slovenia and was hired to work at the Habsburg Court in Vienna in the middle of the 18th century?
The noble idea of beekeeping supports and promotes other goals such as protecting biodiversity, fighting against hunger and poverty, sustainable development goals topics that are relevant but might seem too distant from an ordinary citizen.
With Mrs. Ambassador, we discussed not only modern Slovenia but also its history. Václav Havel once said that apart from Slovaks, there is no other nation so close to Czechs than Slovenians. As I believe that there is no coincidence, just synchronicity, Václav Havel's villa is just opposite the Slovenian Embassy.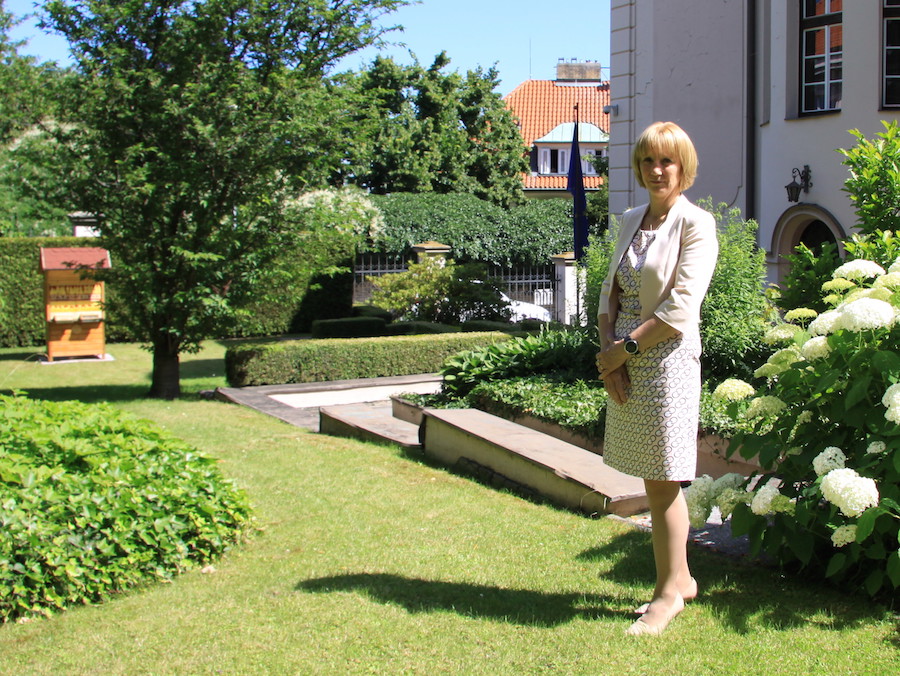 Mrs. Ambassador, Slovenia will celebrate 30 years since the Declaration of Independence next year. The country has successfully managed to transform from the exYugoslav country and to build its brand as a modern dynamic country that was named as the first green tourist destination as a whole country or the only country with the word love in its name. How do you as an Ambassador introduce Slovenia?
As you mentioned, Slovenia is both green and diverse. More than 60% of its surface is covered with forests, more than one-third of Slovenian land belongs to the NATURA 2000 network of protected areas, and also prides itself on one of the richest biodiversity in the world thanks to the well preserved and protected environment.
As to the diversity, one can find it on our territory, as Slovenia is the crossroad of Alps, covers Pannonia Plane and Mediterranean seacoast. You can also find it in our culture and gastronomy, which makes Slovenia an ideal tourist destina- tion, with particular emphasis on the protection of the environment and sustainable tourism, making it a green destination.
I like to add that Slovenia is a smart, innovative, and creative country attractive for economic partnership, cooperation, and investments in modern hi-tech technologies.
According to a recent survey, half of the Slovenian enterprises actively develop innovations. Slovenia is the country with the highest share of female graduates in natural science, technology, engineering, and mathematics in the EU. The International Research Institute on Artificial Intelligence (IRCAI), which operates under the auspices of UNESCO, was established in November 2019 in Ljubljana, thus putting Slovenia on the global map of the most advanced countries in the field of artificial intelligence in the world.
Our two countries have much in common. My question to ambassadors is about known unknown what is the message for Slovenians to know with regards to the Czech people? There is certainly more than Jože Plečnik (known as Josip in the Czech Republic) or Václav Havel and his legacy that we share.
That is an excellent question, we tend to overlook the smaller bits of history of our relations and only follow the big or more dramatic events. I firmly believe history has much more to offer and the greatest lessons are provided by stories of many ordinary and extraordinary Czechs and Slovenes whose work and lives are a testimony to the enduring closeness between our two nations. One such personality is a Czech lover of the Slovenian Alps, Professor Karel Chodounský. A Czech Hut, in Slovenian called "Češka koča" is the oldest originally preserved mountain hut in Slovenia built by the Czech branch of Slovenian Mountaineering Club from Prague in the year 1900. Just these days, on 26th July we celebrated the 120th anniversary of the opening ceremony which was at that time attended also by more than 70 Czechs. There are many other examples of one-to-one bilateral relations, and I feel extremely honoured and proud to be able to walk in their footsteps.
Many people that have marked Slovenian society and history were Czech by birth and vice versa. These personalities represent links between Slovenia and the Czech Republic. They inspire Slovene-Czech friendships through present-day. One must agree with President Havel's observation, still valid today, that there is no other nation closer to Czechs, apart from Slovaks than Slovenians.
What is the message for Czech people with regard to Slovenian people?
What we also share is a sense of humour of a particular brand, however, we might not be aware of it. Central European nations with its difficult history, in general, would have not survived without this sense of humour. When I communicate with the Czech people I get this sense of us being able to understand each other with very few words. It is not only about the closeness of the two languages, I believe it is much deeper and it involves a similar mentality. History has taught us that with patience, perseverance, and hard work, much can be achieved. In Central Europe we are more of marathon runners, we are not used to instant achievements and quick results. That is one of our shared advantages I believe.
I have met many Czechs who know and like Slovenia and have been our close friends for decades; on the other hand, for most of the Czechs Slovenia is still to be discovered. We have put a lot of effort into promoting Slovenia as a perfect tourist destination for those interested in spending holidays actively in less crowded places with beautiful nature, excellent food and wines, and accessible by car.
After the past, let us discuss the future. How is Slovenia prepared for the challenges of the 21st century, including the post-Covid 19 recovery?
Slovenia has achieved substantial progress since its independence and in particular after its 16 years of membership in the EU and NATO. To illustrate this with two figures: 15 years after joining the EU, the GDP per capita rose from 13.900 to 22.182 EUR and the average net salary from 701 to 1092 EUR. Many other indicators of the quality of life improved significantly, for example life expectancy, number of cultural events, or places for children in kindergartens (which rose from roughly 60 to 80%).
EU and NATO form the main pillars also for the future. We have all learned from the crisis that a strong and efficient EU is needed in order to cope with many challenges, including pandemics like COVID-19 and other treats.
Slovenia will preside over the Council of the EU in the second half of 2021 for the second time. The preparations are already in full swing as we want to implement this task effectively and as an honest broker. Although most of the Presidency's work will be done in Brussels and Ljubljana, also the work of our Embassies all over the world will be important and I look forward to the cooperation with the Czech government and society during that time.
No less important are strong ties and connections between EU member states, nations, businesses, scientists, researchers, and last but not least the people.
Regional cooperation is also very important. The Slovenian Foreign Policy Strategy recognizes the cooperation with the Central European countries as an important priority. It is not only about political cooperation but also trade and other fields. For example, the V4 countries as a whole present the second most important trade partner for Slovenia after Germany.
This interview is being published within a series of interviews with women ambassadors in the Czech Republic. You made the group visible thanks to your initiative on World Bees Day. Can you share with us some highlights of your career journey?
I would like to mention three milestones. First, as the Head of the Project Group for the Coordination of Preparations of the Slovenian EU Presidency in 2008 at the Government Office for the European Affairs, I was privileged to experience a unique task Slovenia had been entrusted as the first among the so-called new member states immediately after joining the EU. It was a huge project for a young state and modest administration. I was deeply involved in it from the very beginning, from the creation of the plan of preparations through its implementation and evaluation and was proud Slovenia did a good job.
Second, working as State Secretary at the Ministry of Agriculture, Forestry and Food for almost eight years, I got valuable experience in coping with the challenge of how difficult natural conditions and unfavourable farm structure could be transformed into an advantage for the production of food of higher quality and higher added value in a well preserved natural environment and countryside. We also had excellent bila-teral cooperation as well as cooperation on the EU level with the Czech Ministry of Agriculture in combating unfair trade practices in the food chain and many other fields. I am particularly proud I was an active member of a core team striving for World Bee Day that the UN General Assembly unanimously declared in 2017 upon the initiative of the Slovenian Government.
Third, the ambassadorial post in the Czech Republic as a privilege to represent my home country in a country with which we have friendly relations, share a great part of our history and with whom we have vibrant economic and extensive cultural cooperation. At the same time, it is a challenge to add some value to what has already been achieved to promote further cooperation and trade exchange. I believe the Slovenian (2021) and Czech (2022) EU Presidencies will offer ample opportunities to deepen our bilateral, regional, and EU cooperation.
What is your message or mentoring advice to women professionals?
Women still have to present more effort to be visible and for their work to be recognised. Usually, we must work harder than our male colleagues. However, as we tend to put our hearts into our work the results are tangible and indispensable for our society and we should not be modest about them.
Women present half of the population and consequently half of the societal potential. Considering our different talents, capabilities, and natural potential, women cannot be fully replaced by the rest of the population. This should never be overlooked if we strive for sustainable development, welfare, and a better world in general.
What is your final message to Czech and Slovak Leaders readers?
Slovenia is like a multifaceted diamond, reflecting different aspects of its geography, culture, and character. Our capital Ljubljana embodies the diversity of Slovenia, with its modern features and rich history. It is a busy city that relaxes in a Mediterranean way. You can almost smell the sea from its open-air cafes as well as admire snowy mountain peaks that are visible from Ljubljana even in the summer. I would also highlight the beauty of our diverse regions and many smaller cities and villages all over Slovenia that are worth visiting.
What is special about Slovenia is also the combination of the energy of a young state (we are about to celebrate the 30th anniversary of independent Slovenia next year) and the wisdom of an old nation. Before gaining statehood the Slovenian nation was based on language and culture and there remains to this day a special, productive dynamic between state and culture. I believe this is a common Central European feature. Cultural interaction is an important element also in our bilateral relations with the Czech Republic. It does not only help us learn about the other but also makes us learn about ourselves.
I would also like to add that in times of crisis the importance of culture rises. No great achievement in any area is possible without the culture's power to mobilize. Histories of both of our nations have proved this again and again. This is why I see strengthening cooperation in the field of culture as one of my most important tasks.
By Linda Štucbartová
Photo by: Jitka Tomečková