We are all Europeans
Vazil Hudák has been a vice-president of European Investment Bank since October 2016. He was engaged in Slovak politics since 2012, first as the State Secretary at the Ministry of Finance and from 2015 until 2016, he was the Minister of Economy. Mr. Hudák started his early career at the Czechoslovak Federal Ministry of Foreign Affairs in 1990. Later, he worked for the non-governmental organization East-West Institute. From 2006-2011, he worked in the private sphere for Citigroup and JPMorgan Chase Bank. Mr. Hudák is married, and a father of four children. It was a great opportunity to be able to interview Mr. Hudák, as a leading representative of the Slovak Republic for the Czech and Slovak Leaders Magazine. We discussed not only his career journey and the role of European Investment Bank, but also his memories and thoughts about the Velvet Revolution, EU unity, and innovations.
Your very rich and broad professional experience comes from private investment banks such as J.P. Morgan, several roles in the public sphere, including the Minister of Economy and now you are Vice-President at European Investment Bank. Your motto is "making a difference". It seems that young people in particular cannot see how to make a difference in complex and large structures these days. What is the legacy you left behind in each organization?
Indeed, I did manage to work in different sectors of society during my life, ranging from the not-for-profit sector to commercial banking and government. Looking back at these diverse experiences I can tell you that wherever you are and whatever you do, it is important to focus on human relations. Regardless of the position or sector, I always ask myself the same questions: "What legacy do I want to leave behind? How do I want to be remembered?" In today's fast-changing world one can expect to have several careers and the ability to move flexibly among different institutions or employers is becoming quite essential. Yet, there are two important assets that last beyond these changes. The first is the friends whom we meet during the journey, and number two is the satisfaction of making a difference. In my case, many people whom I met continue with me on my next journey, this time belonging to the circle of my friends. As to the second, achievements or projects, I am proud to mention several examples, such as the Carpathian Foundation that I helped create to support local communities, Roma minorities and young people in the bordering regions of Poland, Slovakia, Hungary, Romania, and Ukraine. The next project, I am proud of, concerns the Slovak Investment Holding supporting innovative companies, which I initiated during my career at the Slovak Ministry of Finance. At the European Investment Bank, I've participated in a number of projects promoting transport infrastructure, clean energy and small and medium enterprises (SMEs) development in the region of Central and Eastern Europe (CEE).
We are soon going to celebrate 30 years since the Velvet Revolution. What are your personal memories and what lessons do you wish to pass onto the next generation?
In November 1989 I was doing my (at that time) obligatory military service. It was amazing to see how within a few days the NATO that we were trained to fight as our arch-enemy suddenly became our big friend! And how "comrade captains" fell in love with US army generals. It's difficult for today's young people to fully comprehend the huge change and transformation that my generation has gone through during the last 30 years! Just to mention a few already forgotten or taken for granted aspects – the ability to travel freely, the ability to speak without fear, a huge choice of everything, starting with goods, ending with personal and career choices. Personally, I must admit that I am worried that today's youth are taking all this for granted. As a father of four sons, I know what I am talking about. Without the historical knowledge and direct experience of mine and previous generations, it bothers me to see that today's young people are too susceptible to different types of populists who offer easy solutions to complex problems.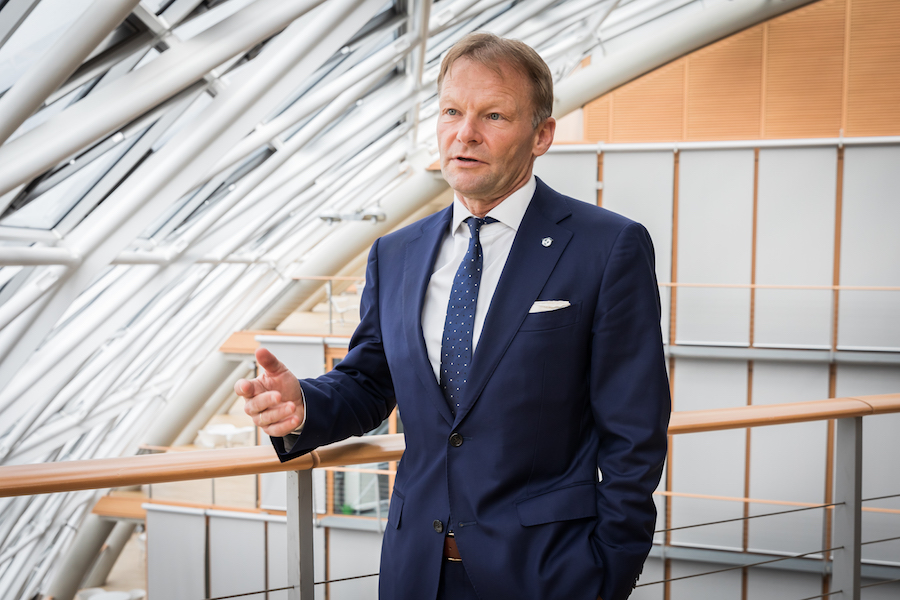 In one of the interviews, you were asked about your Eastern European mindset. I was quite surprised. 30 years ago we certainly wished that the unification would end sooner? How does this East – West division affect the daily work of the EU institutions?
I know that there are some people quite allergic to the notion of Eastern Europe. In my case, I have always been proud of coming from Eastern Europe! My mother is half-Polish and my father is half-Ukrainian. I grew up in Eastern Slovakia and currently, I live with my family in Prague. The beauty of Eastern Europe is in its diversity, rich culture and history and in its ability to adapt to different socio-economic environments. Our people tend to be more flexible and more hard working that those from Western Europe. But, most of all, we all are Europeans! In today's world of growing regional polarization and increased geo-political and geo-economic tensions the only way Europe can survive as a strong entity is by standing together. This notion is quite strongly embodied also at the European Investment Bank. Of course, there are different national and regional interests. But at the end of the day, the European interest is the main guiding principle.
You have been involved in the area of innovation and new technologies where Central and Eastern Europe lags behind. What should be done to prevent a new technology and investment curtain being erected in Europe?
New technologies and the ability to constantly innovate are the main driving forces of today's economy. Disruptive changes related to artificial intelligence, digitalization, and robotization require new thinking and new approaches. Unfortunately, Europe is not always up to speed with these challenges. Our decision making is too slow and complex, we tend to be too bureaucratic and conservative. Our capital markets are too weak and do not provide sufficient support for risk-taking. Our schools produce young people unable to think in an analytical and horizontal way. We are afraid of failure and prefer continuity to change. Also, we spend too little money on research and development (R&D)-only 1.5% of Europe's Gross Domestic Product (GDP), while the USA and China spend close to 3%! At the same time, we do have bright people to come up with innovations. Sadly for us, many innovations were started by Europeans who then migrated to the USA or Israel where they found more resources and a better environment for scaling up and commercialization. Therefore, we have to remove these barriers to innovation. It has to start from education and continue through creating a pro-innovation environment and thinking in society. In this context, I am very encouraged by the recent steps of the Czech government in this area under the framework of the project "the Czech Republic – the country for the future".
What should Czechs and Slovak know about the European Investment Bank?
The European Investment Bank (EIB) is a hidden jewel of the European Union. Few people know that this is the largest international financial institution in the world (larger than the World Bank!), or that the Czech Republic gets annually around €1 billion from EIB for different projects. EIB was created in 1958 and it is owned by 28 member states of the European Union. The size of its assets is around €600 billion and its annual lending volumes over €70 billion. EIB is now in the process of transforming into a "climate bank" focusing heavily on financing projects with a positive environmental impact. Czech railways, Prague metro, and many Czech SMEs have benefited from EIB's support.
Economists do not like questions about the upcoming economic crisis. Sooner or later, there will be one. Therefore, I will ask you what can we do to be better prepared in case there is a new economic crisis coming? Are the governments, private institutions, and individuals doing enough to prevent the total collapse similar to the 2008 scenario?
Crisis is a natural part of an economic cycle. We all need to "adjust" from time to time. The only question is what kind of crisis, how much destruction and how to prepare for it? I was at Citi when the previous financial crisis hit the globe and then I worked at the Slovak Finance Ministry when key measures to strengthen our and European capacities to deal with a financial crisis were designed and implemented. I believe we are now much better prepared for an eventual crisis. We have better regulated financial institutions which have much stronger capital buffers; we have much stronger financial supervision; we have new institutions like ESM (European Stability Mechanism) to deal with a crisis. Collectively, we have learned a lot from the previous crisis. So, many things are in place. What we don't know is what kind of crisis might be coming. After 2008 we have focused on dealing with a financial crisis. However, nobody knows whether the next crisis will be financial in nature or something else. I am more worried about a crisis that would combine economic and social aspects (e.g., migration or religious or ethnic tensions). Dealing with such a crisis would pose a qualitatively different type of challenge!
What are your final words for Czech and Slovak Leaders Magazine readers?
I truly do appreciate this opportunity to share my views and experience thanks to the Czech and Slovak Leaders Magazine. It is important to have such platforms that connect people and ideas. I hope this is not the last time I am able to contribute to the Leaders Magazine. As my term in the EIB is coming to an end, I am hopeful that I will be able to share with the readers my new career steps along with the new experiences it will bring.
Mr. Hudák, thank you very much and all the best wishes on the continuation of your career journey. Let us keep in touch so we can share your update with our readers.
By Linda Štucbartová