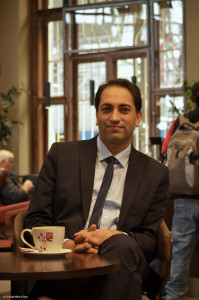 After more than 10 years of experience working for Café Coffee Day, owned by parent company Coffee Day Global Ltd., at their central headquarters in Bangalore, India, Ved Malhotra came to Prague as the company's European GM in January of 2013.
While Vienna is known as "the capital of coffee," the opportunities of expanding the company's brand and franchise potential in Eastern Europe stemmed from the company's acquisition of the Cafe Emporio chain in Prague in 2010. In the 10 years the company has been in the European market, Café Coffee Day has expanded to include 4 locations in Prague, Czech Republic as well as 6 locations in other Czech cities including Brno, Plzen, Most and Pardubice.
PragueConnect.cz met Malhotra at the recently reopened Fanta Cafe in the historic Fanta building of the Prague main train station to speak about Coffee Day's emergence as an international coffee chain in the Czech Republic.
Although the family-owned company has been in the coffee business since 1870, the first Café Coffee Day cafe was opened in 1996 in Bangalore, India. Initially, the company's coffee shops were places where Indian youth met to hangout, surf the internet and have a coffee. They served as internet cafes as much as specialty coffee houses. However, the brand soon spread across the country. CCD, as the brand is locally nicknamed, currently operates 1500 stores in 200 Indian cities and serves about 300,000 guests daily.
Currently, CCD is opening new cafes in India at the rate of 10-12 per month, in addition to the company's recent expansion into Europe, Malaysia and Egypt.
The company's founder V.G. Siddhartha is credited by Economic Times "for crafting a successful pan Indian brand from a commodity business and giving Indian consumers a new lifestyle experience that is within the reach of the common man."
The origins of CCD's coffee beans are steeped in an ancient legend that an Indian Sulfi saint smuggled 7 coffee beans from the nearby Ethiopian province and planted them in the hills of Southern India's Western Ghats. Today, the company's coffee beans are still raised in the Indian Highlands in the shade of trees on the company's 12,000 acre plantations.  The berries are hand-picked when ripe and later roasted in the company's own roasting plant. Coffee Day Global Ltd. is the largest producer of Arabica coffee in Asia and one of the top 3 exporters of green coffee in Asia. Currently 7,000 tons of coffee beans are roasted annually. The company employs its own research & development team which has created 22 different Indian coffee blends and 4 blends specifically for the European market.
In India, the brand has three distinct retail concepts, ranging from Café Coffee Day "Xpress" with 900+ kiosks located in shopping malls, corporate centers, hospitals and metro stations to "The Lounge" a sit-down coffee shop serving breakfast and lunch in metropolitan areas. At the pinnacle of coffee culture, CCD operates "The Square," 7 premium luxury cafes with full-service restaurants, single origin coffees from around the world and coffee selections paired with food. Coffee Day "Fresh and Ground" retails fresh, ground coffee. The brand also sells a capsule machine and "WAKECUP" cups and was the first Asian brand to produce a single-cup system.
Café Coffee Day's newest Czech coffee house, the Fanta Cafe epitomizes the vibrant, social coffee culture that the company would like to bring to each of its European coffee ventures.
When asked about the differences between Indian and European coffee house culture, Malhotra said. "Coffee is a bigger cafe culture in Europe. In India, it's still growing. Europeans are used to staying an hour or two longer at the cafes. They meet with friends and stay for drinks other than coffee." While Malhotra admits that Viennese coffee culture is more cosmopolitan than in the Czech Republic, he says that Czechs see coffee shops as social outlets.
In each of their European cafes, Café Coffee Day operates as a full table-service cafe, meaning that customers do not have to stand in line to order their coffee or carry it back to their seats. The CCD coffee houses serve sandwiches, pastries and homemade cakes as well as a breakfast combo, including fresh muesli. The Novy Smichov, Prague location has a full-kitchen offering international cuisine and Indian drink and food specialties. On the whole, the costs for CCD coffee drinks in the Czech market are slightly below those of American and British chains.
When I asked Malhotra if there were any difficulties particular to entering the Czech market, he admitted that learning the Czech language has been a challenge. However, from a business point he says, "I appreciate the fact that Czechs are straight-forward in business. They do not waste time being diplomatic. What they promise, they will deliver." In the Czech Republic, he has gathered a professional team of employees; many are Czechs with international experience in the coffee and food industries.
In the future, Malhotra said, he'd like to introduce top-quality Indian coffee in full-service CCD cafes in more key European locations. Specifically, the company is looking at other Eastern European countries for possible franchise opportunities. In Prague, he's interested in using the historic Fanta Cafe space for events, birthday parties, book readings or signings.
As Malhotra has learned, Czech cafe culture is strong.
Author: Czech Leaders in cooperation with Emily Prucha, PragueConnect.cz