"I knew of Praha and Bratislava before coming here"
H.E. Virginia Hesse is not only the Ambassador of Ghana to the Czech Republic but also the Dean of the African Group in the Czech Republic. She has had a long and remarkable career, both in the public and private sectors.
She hails from Hesse family of Ghana then known as the Gold Coast. The Hesse family has traceable roots to Germany and Holland in the early 18th century when the progenitor Dr. Lebretch Wilhelm Hesse, then a young newly qualified German/Dutch physician, was posted as an employee of the Danish Missionary Society as in-house physician to Christiansburg Castle now Osu Castle under the Danish Crown of King Christian VII. During this sojourn he married a local lady named Lamiorkai and thus began the Hesse Euro-Ga family of Osu. Since then the members have included the first African Administrator for Korle Bu Hospital, the first African Rhodes Scholar, a notable software expert and many more.
Ambassador Hesse began her career at the Ministry of Trade and Industry during the era of "cocktail diplomacy" when international relations pertaining to trade, in- dustry, commerce and investment were under the purview of the Trade Ministries of most countries. Her remarkable career includes participation in empowerment of women and gender equality; having served as the President of the Zonta Club of Accra as well as her public and private sector experience is more than adequate preparation for her current assignment. She served in the diplomatic section of the Ministry to the level of Deputy Trade Commissioner at St. James Court, London. She then ventured into private enterprise as a project manager for a noted Swiss multinational company but this company folded up and was offered the agency for the supply of packaged water and sewage treatment plants. Until recently she was the only female in the supply of the environmentally friendly "Aerobic Sewage Treatment" package plants. The highlight of her career came when she was appointed Ghana Ambassador to Czech Republic with concurrent accreditation to Slovak Republic, Hungary, Romania and North Macedonia by Ghana's President Nana Addo Dankwa Akuffo Addo as part of a Group of 19 Lady Ambassadors in 2017. This example of the Ghana's President championing gender equality resulted in the President being awarded the AU honour for promoting gender equality in 2018.
H.E. Hesse and I discussed current issues, not only Covid-19 but also the Black Lives Matter movement, her remarkable career journey, women empowerment, and the unexploited potential of Czech-Ghanaian relations.
Do you want to know how come H.E. Hesse knew Prague and Bratislava before she set a foot on the Czech soil and what her conception was like? Well the best stories are the life stories, so continue reading…
Mrs. Ambassador, my first question is directed to you, as the Dean of the African Group in the Czech Republic. What is your response to the current affairs concerning the violence in the US towards African Americans and the movement Black Lives Matter in the US but also elsewhere? What can be done to end dis- crimination based on race?
I believe that we cannot discuss such topics within the scope of this interview. It is such a deeply rooted problem that it will take a long time to get to the solution. Luckily, the dialogue has started but such dialogue cannot be resolved overnight. This dialogue does not concern only the United States and Africa, it involves the whole world. The solution will depend both on the efficacy of world conflict resolution institutions and tolerance in the world in general. By the way, Ghana already issued in 2019 the "Year of Return" appeal to Black Americans to return home which was successful. Many US citizens decided to resettle and to divide their stay between Ghana and the US.
What is the current situation in Africa with regard to Covid-19?
African countries are managing the pandemic within the parameters of local, cultural, and social contexts. The experience is a profound learning opportunity for Africa, as it has alerted the continent to inadequacies of the healthcare system. Hence the efforts of many countries are concentrating on the roll-out of a plan to resolve the system's shortcomings. The Government of Ghana is building 88 district hospitals to augment the current health sector facilities and in like manner most African countries are improv- ing their health sector facilities. Morocco and Egypt have become major suppliers and manufacturers of personal protective equipment. The African Union has set up the Co- vid-19 Response Fund to augment efforts of member countries to be able to cope with the pandemic.
Being not only a writer but also a journalist, I cannot help to ask the question about Africa opening its borders. I am sure that many readers are waiting to be able to travel to Africa, both for business and for pleasure.
Ghana belongs to the Economic Community of West African States (ECOWAS), which is made up of 15 countries located in the Western African region and sharing cultural, geopolitical ties and common economic interests. It has set up a special institute monitoring Co- vid-19. We follow the same approach with regards to flattening the curve as your country had and very positive trend of lowering the number of positive cases that leads to releasing the restrictions. External borders among states are still closed. A special committee to monitor Covid-19 in the region has been set up which has agreed to carry out a phase by phase border opening. The easing of borders is following the same model as being practiced in this region.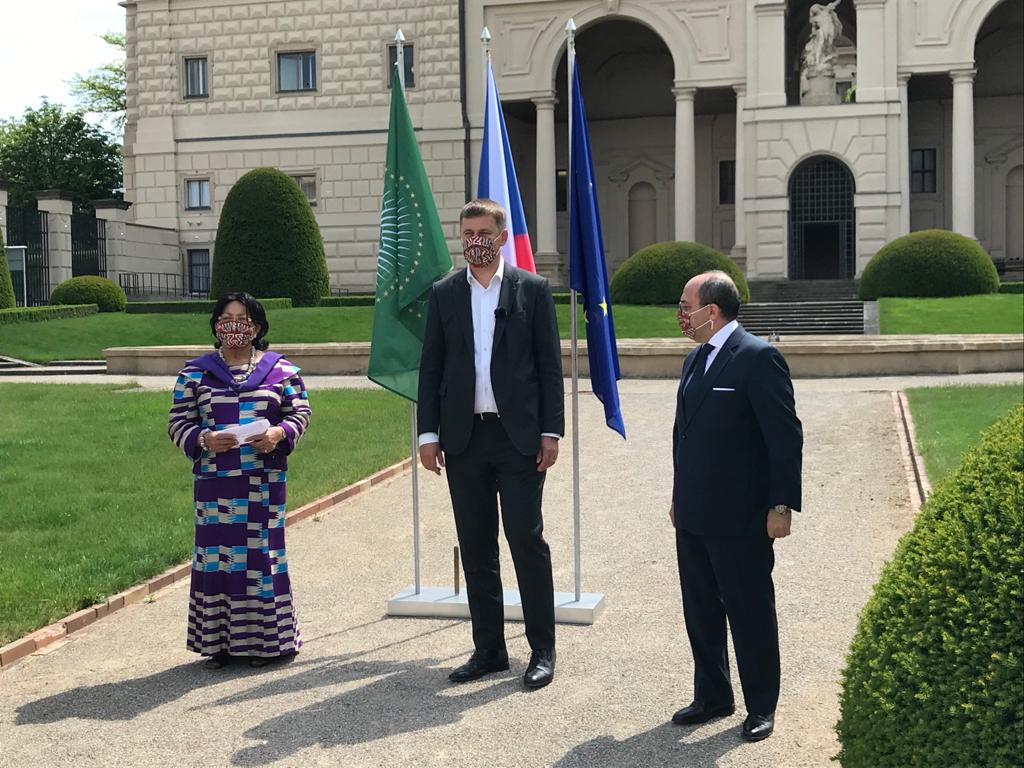 Now, let me turn to a personal question. You have had an extraordinary career in both the public and private sectors. How do you reflect on the change in the nature of civil service over the years? By the way, I have seen your video commemorating the African Day, which was made together with Mr. Petříček, the Czech Minister of Foreign Affairs and Yemi, an actor and choreographer, and it seems to me that no one would imagine such informality connected to diplomacy even five years ago.
It is true Covid-19 has highlighted the use of electronic communication as the only vi- able solution during the pandemic and virtual electronic meetings are de rigueur now. However, the most significant development in civil service has been the increased presence of women in all aspects of civil service and diplomacy and this is exemplified in a lady as the UN Deputy Secretary General, Madam Amina Mohammed of Nigeria; such a major milestone for women. Ethiopia has a lady Head of State, President Madam Sahle Won Zewde since 2018. These are impressive developments that can be attributed to the Fourth (4th) Beijing Conference held in 1995. These changes may not be at par with the expectations of gender equality advocates nonetheless they are significant improvements to the status quo. In Prague we have about 22 lady Heads of Missions including Tunisia, Morocco, South Africa, and Ghana. The AU Pan African Parliament has a 25% share of female members. Landownership which had hitherto been male dominated in Africa is changing in countries like Benin, Burkina Faso, Congo, Mauritania, Morocco, Sudan, and Tanzania. The case in Ghana is similar, women are actively engaged in farming to the extent of a woman winning the "Farmer of the Year Award". It is refreshing that two international lady civil servants have been mentioned as possible candidates to fill the World Trade Organisation vacancy. The final and most innovative development is in management appraisal of personnel in the two stage format. Stage one is a self-assessment by the appraisee and state two an interactive discussion of the self-assessment by both appraisee and appraiser.
From personal relations, let us now talk about Czech-Ghanaian mutual relations. What have been the long-term trends and what are the new possibilities of bi- lateral cooperation?
I will start by stressing that our co-operation has been ongoing since 1959 when the Embassy of Ghana was established in Czechoslovakia, only two years after Ghana gained independence. I proudly say that neither side has closed its Embassy, so we have 61 years of uninterrupted relations between our two nations. The main area of cooperation since the early sixties was in education. Many African students, not only from Ghana, came to study at Czech universities – medicine, technical disciplines, science, and agriculture. These students have become experts in Africa while some stayed and started their careers and new lives with families here. In fact, my cousin studied medicine in Prague, then married a Czech woman and they had a daughter. But wait, this is not the story of my connection to Prague yet.
As far as mutual projects are concerned, we are pursuing the trend of economic diplomacy through collaboration with Czech companies, particularly in key projects of infrastructure development. Today, a Czech company has built 15 health posts, facilities that you visit before going to a large hospital. In the same manner, 200 bridges are being built with the help of Czech construction companies. Finally, we are tapping into the specialized technologies of tram and railways that the Czech Republic can offer and will be piloting a regional project of setting up a tram system in Ashanti region of Ghana.
My question to ambassadors is about known unknowns. What is the message for people in Ghana they should know with regard to the Czech people and culture and vice-versa?
There has always been a constant cultural cooperation, especially with dance groups, in collaboration with the Tanec Praha festival (Dance Prague festival). Then we have the phenomenon of Czech and Slovak Af- rican mixed families as conduits of cultural interaction. The mission has been assisting in reconnections between Czech and Ghanaian families and there have been a significant number of successes. For Czech people who have not yet discovered Africa, it is the new horizon with all the seasons the world enjoys, without the extreme cold weather, making it a holiday destination worth exploring. It is a continent that offers a combination of business and leisure.
Our interview is within a series of inter- views with women ambassadors. Based on your experience and your passion for women empowerment, what is your message to women professionals?
In today's world, there is no limit as to how far women can go in their profession. The strength to succeed is in their hands, they need to be determined, focused, and resolved to attain excellence in all they want to achieve. Women are the best multitasking performers, therefore if they stay true to their cause, they will eventually win.
Usually, the last question is about the message to the Czech and Slovak Leaders Magazine readers. In your case, I am waiting for the revelation of your special connection to Prague.
I would like to remind you that Czechs and Slovaks were part of the newly independent history of African countries in the 1960s. Continue with this tradition and partner with African Union and African Continental Free Trade Area, which is the largest free-trade area in the world in terms of the number of participating countries, since the formation of AFTA any investment in Africa will now have access to a ready market of 1.3billion population. My selection of a place to serve as an Ambassador is uncanny. I read all about the beauty of Praha and Bratislava in letters sent from my best friend who was a medical student in then Czechoslovakia. Prague, in a way, is a vicarious homecoming for me because I knew all about it before I got here. In Prague, you enjoy all the grandeur of Euro- pean history but without the hassles of the traffic of similar European cities. Prague continues to grow on me with its charms. My other accreditations to countries of Visegrad Group have exposed me to other players of Central Europe. And I cherish the close-knit family of Prague diplomatic colleagues ready to assist each other.
By Linda Štucbartová
Photos by: Jitka Tomečková