Future for the upcoming generation
Although he studied at Charles University's Third Faculty of Medicine, he has never worked as a doctor. With tongue in cheek, he says of himself that he is not a doctor of people, but of systems. As director of the charitable organisation Institut pro aplikovaný výzkum, edukaci a řízení ve zdravotnictví (the Institute for Applied Research, Education and Management in Healthcare), he was involved in many working groups at the national, EU and worldwide level, and has published many studies on IT, quality and services efficiency. He was the Pirate Party's leader for Prague in the 2018 municipal election. Not only was he elected to Prague City Council, he subsequently became the first city mayor in the world nominated by the Pirate Party. As mayor, he is responsible for IT, security, European funds and foreign relations, amongst other areas. He is also the Czech Pirate Party's member of the VZP health insurance company's management board. Zdeněk Hřib is married and has three children. Along with its new mayor, energy and hope came to Prague, as well as a major change in communication. On the day of the 20th anniversary of the Czech Republic joining NATO, Prague citizens had the opportunity to hear the mayor greeting them in Czech and English in the metro to tell them of the anniversary. The current mayor provides information on his events on social networks, holds open meetings with city residents and is much more accommodating with journalists. Our meeting was held at the council building. Upon entering the New City Hall building, the porter proudly declared that the mayor was already at work. While waiting for the interview, I had the opportunity to watch some of his closest team members doing their everyday business, and as a Prague-born native I found it a pleasing experience. Two colleagues were setting off to check the condition of Prague's bridges, while another two were looking at the IT systems and how to make communication even more accessible to citizens. Did you know, for example, that all Pirate councillors have a shared calendar, so you can check what activities they are involved in? My wish for all Prague citizens is that the ideas and innovations coming from the "New City Hall" can be successfully propagated.
Mr Mayor, has your perception of Prague changed since taking up your post? Are you able to just walk around Prague, or do you immediately notice shortcomings in terms of mess, shabby buildings or poor-quality paths?
I don't have a lot of time to walk through Prague; I spend all my time at work. My perception of Prague has changed in terms of scale. While I used to see problems within my neighbourhood, such as on my journey to nursery school with my kids, now I see problems throughout the whole of Prague.
Your original profession is as a doctor. Comparing Prague to a patient, what ailments does it suffer from?
Well, in fact, I proposed that we should diagnose Prague using medical terminology during the election campaign. From my perspective, Prague suffers chronic problems in its backbone infrastructure (meaning the lack of a city bypass) along with acute accommodation insufficiencies (lack of accessible housing), its information services are displaying signs of senility (they are outdated), and there is clearly also a photosynthetic carrier deficiency (lack of greenery in streets). In the end, we decided to take a different tack in the whole campaign, but I wouldn't change anything in my initial diagnosis.
Your programme offers a vision for the 21st century based on an information society, compared to the traditional industrial society of the last century and the one before that. How are you succeeding in pursuing this vision within the city?
It is often said of municipal politics that results are visible earlier. For a city the size of Prague, which is also a region, this is not true. The large investment projects we have launched, such as the metro D-line and the extension of a number of tram lines, won't be completed during this council term. The advantage is that I can concentrate "only" on the problems of Prague itself. Restricting problems to one specific and also compact region makes the problems a little simpler. I must also note, however, that we took over Prague in quite a poor state, with bridges collapsing on the one hand, and road works due to various repairs on the other, meaning that it was hard to traverse the city.
You made thorough preparations for the post of future mayor through studying new trends and visiting cities that can serve as a model. What are you going to do to make sure Prague isn't just a beautiful city, but also a smart one?
In terms of smart cities, Barcelona has long been considered a leader within Europe, with a congress on the issue taking place there every year. Barcelona became a pioneer in the field so it had to seek out many innovative solutions, and not only did it break new ground for other cities to follow, but it has also set itself a positive and sustainable course. In Barcelona, three quarters of the budget is invested in so-called open-source projects. In every contract the city signs with its suppliers, it includes a clause on data sovereignty, meaning that data produced in operating the city is its own property and the city can do with it as it needs. Open data is one of the principles of smart cities. Data that allows not just for increased citizen comfort, but also improved city management. We are launching mobile reception in the metro, the option of paying for regular fees by credit or debit card (such as for a dog licence), the option of applying electronically for use of a street for entrepreneurs (e.g. to run a beer garden), and online information on current tram delays and available P+R parking capacity. It is these measures that relate to the running of a smart city, which under the previous leadership had been reduced to buying "smart benches and smart lamp-posts".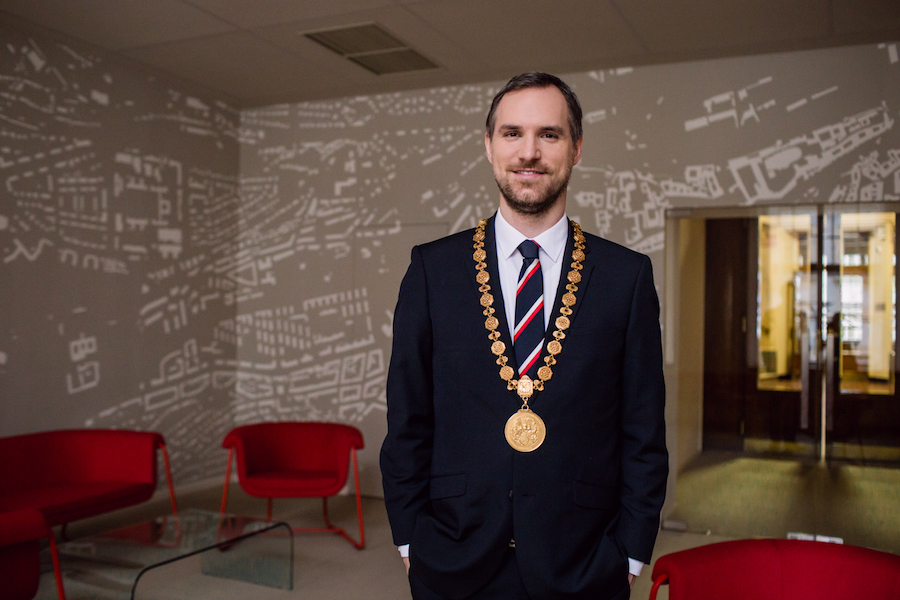 I'm surprised you haven't mentioned Vienna, which has taken the top spot in a list of cities in terms of quality of living, and which is often given as a model…
We could learn how to avoid a housing crisis from Vienna, but only if we had decades available to us. And we don't. We can find inspiration from Vienna in terms of culture, for example. It is true, though, that Vienna is close to us both culturally and historically.
What about Amsterdam?
In general, there are a lot of examples in many areas in Holland for the Pirates. Amsterdam can provide inspiration in matters of transport solutions, or support for alternative means of transport. On the other hand, we know we're not all going to start cycling everywhere overnight.
The May elections to the European Parliament are ahead of us. How can you convey the connections between the local-national and EU levels to citizens?
The key problem with the European Parliament elections is the traditionally low voter turnout these elections have. Turnout the last time was around 19 %. When that happens, it's really easy for populists and other special interest groups to dominate the election. So it's important to explain the importance of these elections to people. A broad range of legislation comes to the Czech Republic from the EU. For the Pirate Party, there are fundamental issues in these elections such as freedom of information, copyright, matters regarding the free movement of people, and more. In terms of the connections between these three levels, the ideal solution would be to elect Pirate candidates (laughs), which will ensure one hundred percent interconnectedness. For the Pirates, a well-informed citizen making free choices is important, representing the connection between these three different levels.
I've been instructed to give you the following two questions by my fifteen- year-old daughter Lada. How do you perceive the role of the young generation?
I perceive the young generation to be very important. A lot of decisions we are making won't affect our generation, or the generation of our parents, but rather the upcoming generation. Issues regarding the environment and ecology and related strategic energy plans show that any fundamental decisions made or turning around of the ship won't bear fruit for decades. Decisions made within these issues won't just determine the cleanliness of the environment we're going to be living in, but will also fundamentally affect our geopolitical orientation. At the city level, we take the support of the upcoming generation seriously; we recently approved a change to the rules of procedure, removing the age limit for speaking at council meetings. Citizens can now submit a question, or speak in debates on specific points (you can also register electronically) with no restriction on age. As mayor, I provide patronage for a broad range of events that promote learning about democracy amongst the young generation, such as the Model UN and the Student Parliament. We also endeavour to accommodate student events such as, for example, by providing a venue.
How are you changing the current education system?
I think the fundamental problem is in teachers' workload, which does not allow them sufficient time for further training. In contrast to previous school investments, which have gone toward so-called hardware in the form of school buildings, or equipment such as interactive boards, we want to invest in what we term software, meaning teacher training. We want to invest in exchange programmes for teachers, whether these are Erasmus Plus or Eurocities; we've just joined the Xarxa organisation, which is focused on secondary school vocational training. Through our endeavours at reducing administration, we hope that teachers will have more time and space for the mutual sharing of experience and mentoring. In this area, we are highly dependent on what is happening at the national level. On the other hand, at the city level we can impact the level of teachers' pay and provide city apartments. Furthermore, apartment provision doesn't just go to teachers, but also to other important professions. Over the next year, we are going to try to change the conditions set up nationwide so they are not based solely on the weakest regions, something Prague cannot compete within.
Do you have a final word for Czech and Slovak Leaders Magazine readers?
Vote in the European Parliament elections. I've already said how important these elections are, but I want to again stress their importance not just for the Czech Republic, but for the European Union as a whole. Few people realise that it is the European Parliament that is going to vote again on the controversial bill on copyright rules for the internet. This is about whether the internet is going to keep its current form, or whether new regulations will be applied to it on a common digital market, resulting in strict censorship. I'm glad the Pirate Party has Marcel Kolaja as its leader, an expert in IT and copyright.
By Linda Štucbartová