Can you introduce your initiative Global Slovakia?
I am the founder of Global Slovakia (www.globalslovakia.com). We are not-for-profit organization that aims to 'share Slovakia with the world'. What does that mean? It means we want to codify, celebrate and transmit Slovak heritage and culture to foreign communities.  At this stage we are doing it primarily through our books, and of course our workshops.
This year we have already travelled quite a bit, we have just returned from a series of presentations in Romania. Where there was once a very large Slovak community (dating back to the reign of Empress Maria Theresa), and this community is still active today. Since 2018 we have begun to tour the world with our books and have held presentations, from Washington DC to Moscow, from New York City to London, as well as in Bratislava and Prague.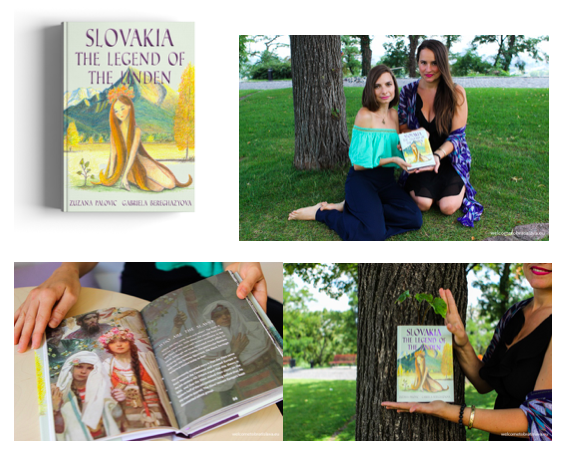 Our first book, 'Slovakia: The Legend of the Linden' (www.legendofthelinden.com) co-authored with Dr Gabriela Bereghazyova, is what we refer to as Slovakia's first national narrative. It's a complication of 200+ pages of evocative text, illustrations and photography that emotional tells Slovakia's journey through history. From 500 years before Christ to present-day, 'The Legend of the Linden' is a tale told through symbolism, that of the Linden tree (Lipa) and its heart shaped leaf, which we refer to as the 'code' of our region.
Indeed, the Lipa code is something that unites Czechia and Slovakia. It is a cultural totem that dates back to Great Moravia, to a time when the ancient Slavs revered divinity in nature. The Lipa was embodied by the Goddess Lada, one of the most important deities of the Slavic pantheon of gods. And it is to this day, that the Linden is still referred to as the sacred tree of the Slavs.
In more modern history, the Lipa code was resurrected some 1,000 years later, by President Masaryk with the first establishment of Czechoslovakia. Papa Masaryk was a very clever man, who understood that the newly erected country, needed to legitimate itself. And how do countries achieve that? Through economic prowess, but also through mythology and symbolism. That is how the Lipa entered our national consciousness. Today, it is in Slovak passports and Obcianske Preukazy, but also on our state institutions, ministries, universities, national monuments and the list goes on.
The second book, 'The Great Return' is very different, but also complementary with our first. It offers readers a fresh perspective on Slovakia in the 21st century and looks at how our country is transforming, thanks to Slovakia's lost daughters and sons coming home. 
This is very significant since Slovakia suffers, and has historically suffered, from brain drain. For example, at the turn of the 19th/20th century, Slovaks were the second largest emigrating nation, after Ireland. Today, 10% of our active labor force resides abroad, and we have the largest student diaspora (per capita) in the European Union. Many of these students study in the Czech Republic of course.
I wanted to create a project that flips the common narrative. Instead of focusing on brain-drain, I decided to explore brain-gain. From time-travelers to cultural shifters, 'The Great Return' documents what happens when Slovakia's young human capital: leaves, learns and returns to shift the culture of the country for better. The 300-page publication pairs cutting edge research, with personal interviews, and 58 portrait photographs that bring the journey of personal but also national transformation to life.
The featured respondents include young people from various industries and sectors, including start-ups, science, art and civil society. The stories of the young returnees are over-layed with more mature perspectives, from business, society and government. Some big names, like the CEO fo the ESET or the Minister of Foreign Affairs add their commentary on the phenomenon. As did Slovak national treasure and internationally acclaimed filmmaker Juraj Jakubisko, who said "home is where your bed is, or symbolically speaking, it is the soil you were born into".
Last autumn, I had the great pleasure and privilege to travel with our former President, as part of the Slovak Delegation, to the United States. On the eve of the 100th anniversary of the establishment of Czechoslovakia, I presented 'The Great Return' before President Kiska and an esteemed audience in Chicago. This was an important moment in my career and deeply significant for me personally, because it was in honor of Tomas Garrigue Masaryk. A man I refer to as my intellection patron, and a man who helped carve a new country into the heart of Europe, also thanks to Chicago's large Czech and Slovak community, that funded and supported him.
Your personal journey is quite remarkable. You were born in Czechoslovakia and then your family fled to Canada when you were very young.  Do you have any memories and impressions (perhaps thanks to your parents)  about the life behind the Iron Curtain?
I was five years old when my parents illegally crossed the Iron Curtain in the hopes of finding a better life in the free West. Before we were able to emigrate to Canada, we spent about 9 months living in and out of the various refugee camps in Vienna. Although I was very young, I remember this period very vividly. All of a sudden, my life was flipped upside down.
My family and I went through a period of great instability and this deep dive into the unknown continued when we moved across the Ocean. For example, during our time in Austria, I began to attend school, learn German and assimilate into a new culture. When we moved yet again, my little self-had a hard time adapting to yet another society and language — this time English, which is why I stopped for months altogether. 
As per my impressions of life in communist Czechoslovakia, well, like most children I only have positive things to say of my early childhood. I remember being surrounded by lots of family and loved ones; aunts, uncles, cousins but also grandparents and great grandparents. We lost this social network when we crossed the ocean into the New World.
But, I do remember one very radical difference, the teachers and care takers in my kindergarten (in Austria) and primary school (in Canada) were a lot kinder. They spoke to us gently and at least in Canada, they encouraged me to express myself. This was very different from my daycare experience in Bratislava. I remember all the children, including myself, being scared of the caretakers. They were viewed as persons of authority and there was this huge power gap between us and them. We were just children – and expected to follow the orders the adults gave us. 
Having experience living in 9 countries and across 4 continents, you decided to return and empower your country.  Many people who return after living abroad for a long time claim that you must be prepared not only for living in a new culture, but also for return to your homeland if you were abroad for more than a couple years in a row.  What were your expectations and what was the reality?
I may be young, but I have led a very exciting life, which includes living, studying and working in now -10 countries across 4 continents, including South Korea and Argentina. I most recently lived in the Czech Republic, more specifically in Prague, and found the experience incredibly rewarding. It gave me many more insights into the Czech experience and mindset, and also made me nostalgic for Czechoslovakia.
My far-reaching and perhaps excessive travels, are a reflection of a freedom once denied to my parents.  I believe we are witnesses to a remarkable junction in history, my generation is the first generation that has the freedom to move. My own parents grew up behind the Iron Curtain, as did my grandparents, and their parents. The end of the Cold War, brought about a radical change in terms of access to new freedoms, and our accession into the European Union 15 years later only opened the access further.
I travel because I can – and my parents couldn't. I travel because I want to discover the world, because through discovering the 'other' I actually learn about my 'self'. It was my internationally exposure that catalyzed my hunger to re-connect with my Slovak roots. This discovery has spilled over into my professionally life, it is why I founded Global Slovakia (www.globalslovakia.com) and it is a knowledge we directly rely in our books.
Of course, return is far from easy, and I talk a lot about the obstacles one might encounter, in my second book (www.thegreatreturn.eu).  If I were to compare the 'departure and return' cycle I would say that 'return' is much more difficult. When we are abroad, we are in the learning and adapting phase; living in another culture is exciting, and being accepted by another culture is rewarding. But, return home means the 'integration' of the knowledge.
There comes a time, when we must decide where we want to lay our roots down and with whom we want to share our knowledge, skills and energy. I choose to come back to Slovakia, because I feel inspired to give back, I also see a lot of gaps. But, integrating what I learned 'out there' with the realty back home, is complex and difficult. Ideas cannot be simply copy and pasted, nor should they.
Lastly, and I argue this point in the book, return in not mandatory. I believe, that you can also help your country from abroad, sometimes maybe even more effectively. Because what Slovakia is lacking, and this is also due to its experience of 41 years behind the Iron Curtain, are global perspectives. Slovaks that live abroad are part of the global networks that Slovakia needs to scale-up, also economically speaking. 
In the beginning of the 21st century, many people decided to move from the East to the West. You published the book "The Great Return" that maps the fate of nearly five dozen Slovaks who left, got experience abroad and then returned back to Slovakia.  Is there any common theme to all stories? 
Since the turn of the century, over 100 million Eastern Europeans have gained 'freedom of movement', and many youth have taken advantage of this privilege. In the first years of the EU-8 accession (when 8 former Eastern Bloc countries re-joined Europe), over 1 million migrants entered the UK alone. The press referred to it as 'a continent moving West' and this raised the alarm.
But, 15 years later, the East-West migration has settled. For example, migration patterns are a lot more circular and cyclical, then unidirectional, in nature. They say that half of Polish migrants, are back in Poland at any given time. This is also possible thanks to charter airlines and their cheap plane tickets. When these young Central and Eastern Europeans are not working or studying abroad, they are back in their home countries enjoying their holidays and spending their money.
But one of the recurring returnees themes, was that those that came back, did so because they felt inspired to give back to their community. Of course, these were ambitious people, that were alos interested in their professional growth. But they wanted to pair their career development with national development. Abroad, they learned something new and of this 'new information' shifted their paradigm vis-a-vis how they saw their home country — and their role in it.
Overall, returnees have a higher level of self-confidence. And this more empowered perspective is critical, because it is something that is still missing in Slovakia. Confidence, communication, critical thinking and dare I say – creativity is not something that is prioritized by the Slovak education system. Memorization and repetition is the modus-operandi. Rather, than encouraging students to think for themselves. and then express those opinions before their teacher and classmates.
Slovakia has elected a new president, who has become very popular in the region.  Mrs. Čaputová has been on several occasions mentioned as a president of both Czechs and Slovak.  Do you see change in a way Slovaks have been presenting themselves abroad?
Madam President is a huge inspiration for young people in Slovakia. Her rise to success is remarkable, because she truly started as an unknown candidate with very little support. I remember when I first learned that she was running, I was pleasantly surprised to discover a female candidate, but was doubtful that she would make it.
I followed her campaign attentively and she was nothing short of a champion. Obstacle after obstacle she continued to preserve. No matter the challenge, or the near defeat, she continued to believe in herself. And maybe there were moments, where that too waned, but the important thing is, she did not give up.
Of course the rest is history, and her accession into the Presidency sent a strong message to many Slovaks. To dare to have set a vision for themselves and to have the courage to follow-it, despite the challenges and hardships that await.
I have to say I am proud to have her as my president. As a former environmental rights lawyer, she brings a sense of justice to the role, and I look forward to all that she will accomplish.  As per her representing Slovakia abroad, she is absolutely killing it!
I love seeing photos of her foreign visits, because that is where you can see her thriving the most. Her story, her looks and her demeanor all add to the charming effect she has on the international community. And this attention can only benefit Slovakia. Our country needs more visibility and she is definitely catalyzing interest.
We are going to celebrate 30 years since the Velvet Revolution and you are going to publish another book.  Czechoslovakia: Behind the Iron Curtain.  What can the readers look for?
'Czechoslovakia: Behind the Iron Curtain' (www.communistczechoslovakia.com) is our third book. Dr Gabriela Bereghazyova and I take readers on an emotional journey deep into what life was like during communism. The project exposes how the greatest experiment of the 20th century inspired, persecuted and almost destroyed Czechoslovakia. The visually stimulating, action packed book comes to live through 30 unique illustrations and dozens of photographs, captured by some of the best photographers of the era, including Ladislav Bielik, Dana Kyndrova, Juraj Bartos and Jan Lorincz.
At the moment, we are launching a crowdfunding campaign for it and appreciate everyone's contribution. This project is incredibly important because – ultimately – it is a celebration of freedom. A freedom that many of us take for granted today, especially the youth. This books is to serve as a documentation and reminder of what life was like in unfreedom.
Kick starter: https://www.kickstarter.com/projects/globalslovakia/czechoslovakia-behind-the-iron-curtain?ref=project_build
Of course, we also document the many good aspects of the ideology and what it brought to our region, including free education and health care. Slovakia benefited greatly under communism, our country was very rapidly modernized thanks to it. But, the fact that there was no freedom of information, no freedom of gathering, no freedom of religion or no freedom of movement cannot be denied. The book also documents how these four decades still affect Slovak mindsets and skillsets today.
https://communistczechoslovakia.com
You claim that Our future is greater than our past.  What are your next personal plans and aspirations?
From a young age, I came into awareness that our time on earth is short. There is only so much one can do in a lifetime. This is why Gabriela (co-director of Global Slovakia) and I are so keen to continue to move forward. Our aspiration is to codify and transmit as much of the Slovak story as we possibly can. We already have a fourth project in the works, this is a children's book that documents the large migration waves of Slovaks to America, from various eras, including the late 1800s, the communist era and the 21st century.
We also acknowledge the limitations of print, and of books in general.  People don't read so much anymore and the attention span of youth is even smaller. As storytellers we want to take our work to the next level, which is why we want to make videos. In the near future we will be putting together a pilot episode and pitching it to the major networks. So yes, our ambitious are huge, but we also believe we have the skills and drive to make them happen. 
Thank you so much for this interview, speaking to Czech and Slovak Leaders is an incredible privilege and I am most grateful for this opportunity.