Universal Truth
Dialogue I: Think Nothing[1],[2]
"Silence is a sign of great strength." — Lao Tzu
The boy's name was Peter.
It was a stunning Saturday sunrise as he entered the edge of the forest, about a half kilometer from his home in the small village of Nebušice, a rural suburb of Prague. He and his parents have lived there as a convenience since he entered the International School of Prague (ISP) 10 years ago. One of the best private schools in the Czech Republic, it's less than a five-minute bike ride from his home.
By most standards, 16-year old Peter is considered handsome. He's thin, a bit lanky with longish, dark brown hair, a matching short beard, large penetrating brown eyes, and reasonably tall at 192 cm. He is considerate, but can be a bit precocious and tenacious when seeking answers to his challenging questions and concerns.
ISP has been good for Peter, especially in languages. In addition to his native Czech, he has become fluent in English and French—both with nearly no detectable foreign accent. He is a bright student and studies diligently for excellence, primarily driven by his passionate quest for knowledge—quit unusual for a 16-year old, but then again, Peter is not your usual 16-year old.
The school has prepared him well towards his long-time goal of admission to Harvard to study physics. He and his teachers are optimistic. Peter has taken a number of Advanced Placement (AP) courses in the sciences and mathematics. He not only enjoys learning advanced concepts in these subjects, but also hopes good grades in his AP courses will help him land admission to Harvard.
Peter is not your typical myopically-focused science geek. He's a bit of a natural philosopher, a kind of alchemist, and on his own has read writings by Plato, Socrates, Euclid, Copernicus, Paracelsus, Pythagoras and Archimedes. Some of his favorite words seem to be why, what, when, how, where and who. His fellow students see him as somewhat of a nerd because of his passionate quests to answer what they think are unanswerable questions. But they all like and tolerate him, just the same.
But Peter isn't a nerd in the conventional sense. He likes sports, admittedly a distant second to his interests in academic endeavors. He plays volleyball and soccer for ISP, something he feels keeps him physically fit and his life in balance. As far as girls are concerned, he has several close girl friends, but has never had a girlfriend. This doesn't faze him. He has enough on his plate, already. Girls can wait.                                           
It's late June and school let out just a few days ago. Peter walks slowly and thoughtfully on his favorite hiking path in the forest. As usual, he's lost in contemplation, thinking—Summer is such a great time of the year in this forest. It's super to live so close and have a place to think clearly away from all distractions.
Peter had walked for nearly 30 minutes, thinking about questions he has thought about time and again—how did the universe really begin? Where does consciousness come from? What's my purpose?He came across a fork in the path. He stopped and thought; I've seen this alternate route so many times before and always pass it by. It looks like everyone does.
There were huge tall weeds growing on the path.As he stood there gazing up the steep trail, smothered in overgrowth, he wondered—Nope, I better not. I'm not in the mood to be skirting high weeds and over-brush. It'll take away from my relaxation and thoughts on things of interest to me. Who wants to be a weed dodger anyway?
So Peter passed the alternate path, but some 100 meters later, he stopped and looked back. He wasn't sure why. Suddenly and for no reason he could fathom, he recalled from last year's literature class the concluding lines from Robert Frost's famous poem, The Road Not Taken.
Two roads diverged in a wood, and I,
I took the one less traveled by,
And it made all the difference.
Peter turned around and walked slowly back to the fork in the path. He looked up the hill and somewhat reluctantly started his trek on this new route (Figure 1). He didn't know why. It wasn't an easy hike, being much steeper and covered with high weeds which made progress slow and cumbersome. He had to walk carefully to avoid stinging nettles and his socks were increasingly covered with spiny grass burs that scratched unmercifully at his ankles. He stopped periodically to remove them. But, he persisted, wondering at times, was this really a good idea?
After 45 minutes or so, Peter stopped to catch his breath and rest. It was exhausting avoiding nettles and all of the higher weeds with thorns. He was nearly to the top of the incline. Wiping the sweat from his forehead with his right sleeve, he gazed towards the top. Suddenly, he saw through the bushes and trees what looked like an older man with a long silver beard, sitting on a red carpet. What in the world? Peter discontinued his rest and moved cautiously to the crest of the hill.
His eyes had not deceived him. There sat an elderly man on a bright red carpet placed neatly under an evergreen tree. Peter stopped some distance from him to assess the situation. The man was dressed in a flowing white robe with a gold-colored cape and matching cap. On his left side, there was a pair of sandals placed neatly next to the red carpet. They were very basic and appeared to have been hand-made – unprofessionally, for sure.
The gentleman had clear dark brown skin, wore his hair in a long ponytail, maintained in place by a gold ring. He had plump slightly-rosy cheeks and looked like a combination of a Middle Eastern Santa Claus and a character out of Lawrence of Arabia.
As he approached the man, Peter slowed his pace and noticed the gentleman was sitting in a lotus position, his eyes closed, hands folded in front of his chest as if in prayer and his mouth poised in a slight smile, kind of like a bust of Buddha. Peter stopped and stood directly in front of the man. The man did not move.
Old Man
Suddenly, in a humorous, slow, rising, high-pitched voice, "I see you."
Peter
"How can you see me? Your eyes are closed.
Old Man
In a rising cheerful tone, "Not my third eye."
Peter
"Huh?"
Old Man
"Only kidding," as he opened his eyes—deep dark blue, a striking contrast to his ebony-colored skin.
Peter
"What are you doing up here?"
Old Man
"Oh, nothing really; I'm just sitting here notthinking or doing, just being."
Peter
"You're just being. What does that mean?"
Old Man
"Just what I said—being!"
Peter
"How often do you come here to do your being?"
Old Man
"Oh, every day that it doesn't rain. And when it rains, I sit in one of those hunters' blind platforms up over the hill in the farmer's field. They have nice overhangs so I don't get wet."
Peter
"Why haven't I run into you before?"
Old Man
"Oh that's easy; because like everyone else, you never take this path. It's steep, overgrown and a much more cumbersome and uncomfortable hike than the other path."
Peter
"I see."
Old Man
"And why have you taken this path today?"
Peter
"I don't know; curiosity, I guess. I've never taken it before. I always take the path down below because it's flat, no rocks, no weeds and it's well groomed for walking and thinking."
Trying for a little humor, Peter quipped, "But I guess this is the 'no thinking, just being' path, right?"
Old Man
"Well I guess you could call it that. You know the act of being is pretty important. After all, you are a 'human being' and not a 'human doing.' Oh, please don't get me wrong. Doing is an important part of life. Ah, but being, that's where great things happen."
"Just take your very existence. Have you ever thought about your probability of being here at this exact moment in time?
Peter
"Not really; should I?"
Old Man
"Absolutely! It's much more important and rewarding than you might think. Tell me, do you like math?"
Peter
"Actually, I love math."
Old Man
"Great! Then allow me to do a simple calculation for you—the probability of your being here at this very place and this very moment in time."
Peter
"Sounds interesting, but how are you going to do that?"
Old Man
"Okay; let's see, in your life, you have had two parents, four grandparents, eight grandparents—well, you get the idea, right?
Peter
"Sure."
Old Man
"Okay; this is a simple statistics and probability calculation. Suppose we go back just 30 generations to calculate your probability of being here. Then the total number of people responsible for your being here at this moment is 2 + 22+ 23+ 24+ . . . 230, which gives 2 + 4 + 8 + 16 + . . . , etc., all the way up to 230. You're good in math, so I'm sure you get the idea. Guess what the answer is?"
Peter
"Well, it's a straightforward calculation, but I couldn't do it without a calculator. It certainly must be a very big number."
Old Man
"Right you are. The answer is 2,147,482,646 or about 2.2 billion people!"
Peter
"Hey! Are you kidding me? You couldn't do that calculation in your head."
Old Man
"Oh yes I can . . .
The old man then pulled out a small hand calculator from his backpack and handed it to Peter, who immediately did the calculation.
Peter
"Oh my God, it's 2,147,482,646. That's amazing! How did you do that?"
Old Man
"Yes, it is amazing; not millions or hundreds of millions, but billions of people! And if one of them had been missing, died prematurely, or had not been in the 'right mood,' you would not be here at this moment in time! And that's true for everyone else on the planet. All you have to do is go back 30 generations. So, Peter, is your life here on Earth at this point in time just an accident or a coincidence? Is it a total statistical improbability? Well if it is, that's amazing! And if it's not, then that's amazing! It's amazing either way! Your existence should throw you into a state of sheer ecstasy. As Rabindranath Tagore, the famous Indian poet and Nobel laureate once said, 'If you're not perpetually surprised by the fact of your existence, then you don't deserve to exist.'"
Peter
"That is amazing—it's a straight-forward calculation with an incredibly surprising perspective! Who would have guessed?"
Old Man
"Let's go back to our original discussion. Tell me, what do you do on your 'thinking' path?"
Peter
"I think about questions concerning my life and life in general, sometimes even about the universe."
Old Man
"For example, what kinds of questions?"
Peter
"You know—the ones that everybody thinks about at one time or another; like—Why am I here? Where did I come from? What's my purpose? How did this universe come into existence? The really tough ones!"
Old Man
"And have you gotten any answers?"
Peter
In a somewhat dejected tone, "Honestly—no."
Old Man
"Well maybe you should try the 'no thinking' approach—you know, just being."
Peter
"Huh, that doesn't make any sense to me." Peter could see the man was a foreigner, but he spoke perfect English, but with a kind of peculiar, though pleasant, accent. "Say, where do you come from anyway? Do you live here in Nebušice?"
Old Man
"Oh no—I'm from Mesopotamia."
Peter
Stunned by his answer, but then smiling, "Mesopotamia; are you kidding me. It no longer exists."
Old Man
"Sure it does; it's a big part of what today you call Syria and Iraq."
Peter
Trying not to be sarcastic, "Well that's quite some travel every day. How in the world is that possible?"
Old Man
"Oh, I have my ways."
Peter
Chuckling with disbelief, but then changing to a serious demeanor—"Iraq and Syria—terrible places! They've been overrun by war and all kinds of human atrocities and travesties."
Old Man
"Today, yes, and it's most unfortunate, as they were the cradle of civilization. It's in Mesopotamia where I learned how to answer the questions you ask of yourself. But I did it by not thinking, just by being."
Peter
"You must be kidding me."
Old Man
"No, I'm not."
Peter
"Can you share any of those answers with me?"
Old Man
"Eventually, yes; but, first we should get to know each other."
They both were quiet for several beats.
Old Man
"Peter, would you like to learn about the power of being?"
Peter
"Sure. Hey! How did you know my name? I never mentioned it."
Old Man
Humorously, "Oh, a lucky guess, I suppose."
Peter
"Yeah, right. And your name is . . . ?"
Old Man
"My name is Huriya. In Czech it would translate as Svoboda, which as you know, in English means 'freedom.' But, please, as all my friends do, call me Boda (see Figure 2). "
Peter
"Right . . . now what is it you want me to do?"
Boda
"Did you take any challenging courses last semester at ISP?"
Peter
"Sure . . . Wait a minute, how did you know I attend ISP?"
Boda
"That's easy. It's the only school in this small village that could possibly teach you such excellent English."
Peter
"Right . . . I guess." Continuing, "Yeah, I had a challenging math class, AP Math-501 in advanced calculus and linear algebra."
Boda
"Wow! That's pretty hefty for a high school student. Do you think you could find in your textbook a problem that is so difficult, you are unable to solve it?"
Peter
"Sure. That would be easy."
Boda
"Okay. Tonight, I want you to try one of those problems and be sure you cannot get the answer. Then, I want to sit in a quiet place, close your eyes and relax your hands in your lap as you focus on your breath. Take ten slow deep breaths before returning to a natural pace of breathing. For those deep breaths, it's best if you hold your breath for five seconds after inhalation and before exhaling. With each inhalation, please mentally say the word 'So' and with each deep exhalation, mentally says the word 'Hum'."
"These words are a mantra and you will be doing a brief meditation, called the So HumMeditation. Try to push all thoughts from your mind, and every time one returns, don't be disturbed by it, simply mentally repeat the mantra, So, Hum.After about 30 minutes or so, you can relax, and when you are ready, open your eyes. Then I would like you to again try to solve that same problem again and see what happens. Got it?"
Peter
"I guess. But I can't imagine that this meditation thing will make much of a difference (see Figure 3)?."
Boda
"Maybe not; we'll see. Can you be back here tomorrow morning at about 8:00 a.m.?
Peter
"Sure, then can we can talk about how to answer those challenging questions I mentioned to you?"
Boda
"Peter—everything in the fullness of time. See you tomorrow."
Peter
"Yeah, right, okay."
And with that, Peter continued on his way, a bit confused as to what had just happened, but certainly intrigued to see what would happen.—To be continued.
Sat, Chit, Ananda!
Enjoy your journey, make a difference!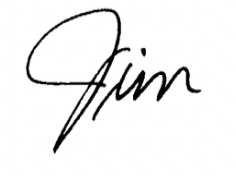 [1] EDITOR'S COMMENT—This is the first article in a new series by the author, based on his forthcoming book, "The Dialogue—A Journey To Universal Truth,"a conversation between a bright young boy and an Avatar, concerning the most challenging questions of all times.
[2]  The author may be reached at Jim@ChateauMcely.Com.