Reflection on 2018 Summit and Three Reasons Why In Particular Female Leaders Should Put Berlin on Their 2019 Agenda
The 2018 Summit's motto read "The Values of Leadership in Times of Transformation, Disruption and Artificial Intelligence" and its aim was to provide relevant insights for female executives to master the four challenges of change:  new world order and global economic outlook, transformational technologies and ethics, corporate leadership and responsible finance and climate challenges, energy solutions and the future of mobility.  As the world is becoming more and more complex and interdependent, today's leaders face the need for not only top expert information but also a broad perspective overview of current events.  The summit provides both; the format, ranging from inspiring talks, interactive think tanks, stimulating panel discussions and time for networking, ensures that participants are not only informed, but also engaged and able to exchange ideas with like-minded peers.
This year, the summit featured 60 speakers from 30 countries and more than 300 executives, both female and male, participated. 
The summit was hosted at the legendary Hotel Adlon Kempinski in Berlin, just a few steps from the Brandenburg Gate.  For me, being born in 1976, I always cherish the moment when I can walk through the Brandenburg Gate freely.  The opening cocktail reception held at the China Club Berlin, is not just one of the most exclusive locations in Germany, overlooking the trendy and hipster city of Berlin, but also an example of a venue that you can enter on the invitation by the best company only.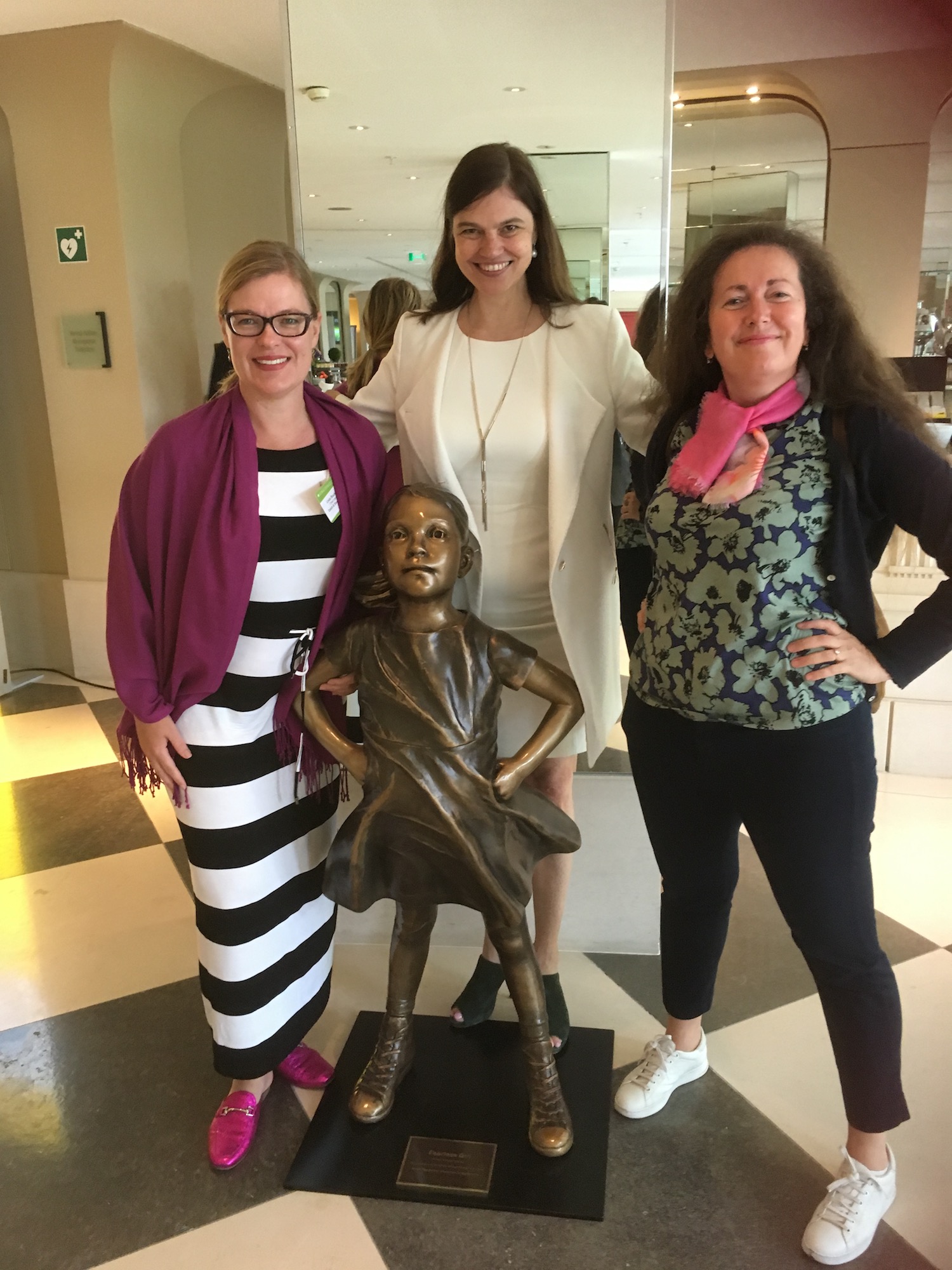 Information
In this age of information overload, one has to make sure, that the information is not only correct, but also relevant, concise and applicable.  As opposed to one-topic special conferences, the Global Female Summit, provides both, depth goes hand in hand with the broad spectrum.  Current trends were discussed from the more general topics of geopolitics, multilateral and bilateral relations, current economic order, to more specific issues such as cybersecurity, digital literacy, artificial intelligence, the future of work, Industry 4.0, Blockchain to corporate social responsibility, corporate compliance, the future of mobility, sustainability and smart cities, the future of energy to the newest trends in tourism, both on Earth as well as outer space.
Content driven agenda was presented by industry leaders like BMW, IKEA, Morgan Stanley, Fujitsu, SAP, DHL, KPMG, as well as by industry challengers, such as Booking.com.  This is in stark contrast to other conferences, where academics usually tend to exhaust not only the issue but also the audience.  The environment in the Czech Republic, lacking visionary leaders, does not provide any similar opportunity to become familiar with these trends already shaping our society and impacting businesses, customers and various stakeholders.     
Inspiration
Each individual has a story and everyone's story is unique.  On the other hand, let us not succumb to egalitarianism.  Some stories are more powerful than others. The summit offers the "crème de la crème", simply the best, speakers and I have picked these three to share.
Roya Mahboob, the first female tech CEO in Afghanistan, shared her challenging journey: being a girl who grew up under the Taliban regime and with no means, she decided to study computing as she saw the potential, means and sense of purpose that technology can provide to women.  She then founded her own company and subsequently launched a mission to "Educate a New Generation of Women Through Digital Literacy and Community Building".  You may recall the highly publicized story of the Afghan team of female coders fighting to get a US visa to participate at the international coding competition? Roya concluded with a powerful statement, "It starts with one girl, one woman, one dream, one computer.  One step at a time, we will change the world together."  Such speeches contribute not only to the notion of the "global sisterhood", a term used by Annie Lennox but if this statement does not get you more engaged, nothing else probably will.  Leadership and the need for more people to shift from the consumers to global citizens was a theme that surfaced during various moments.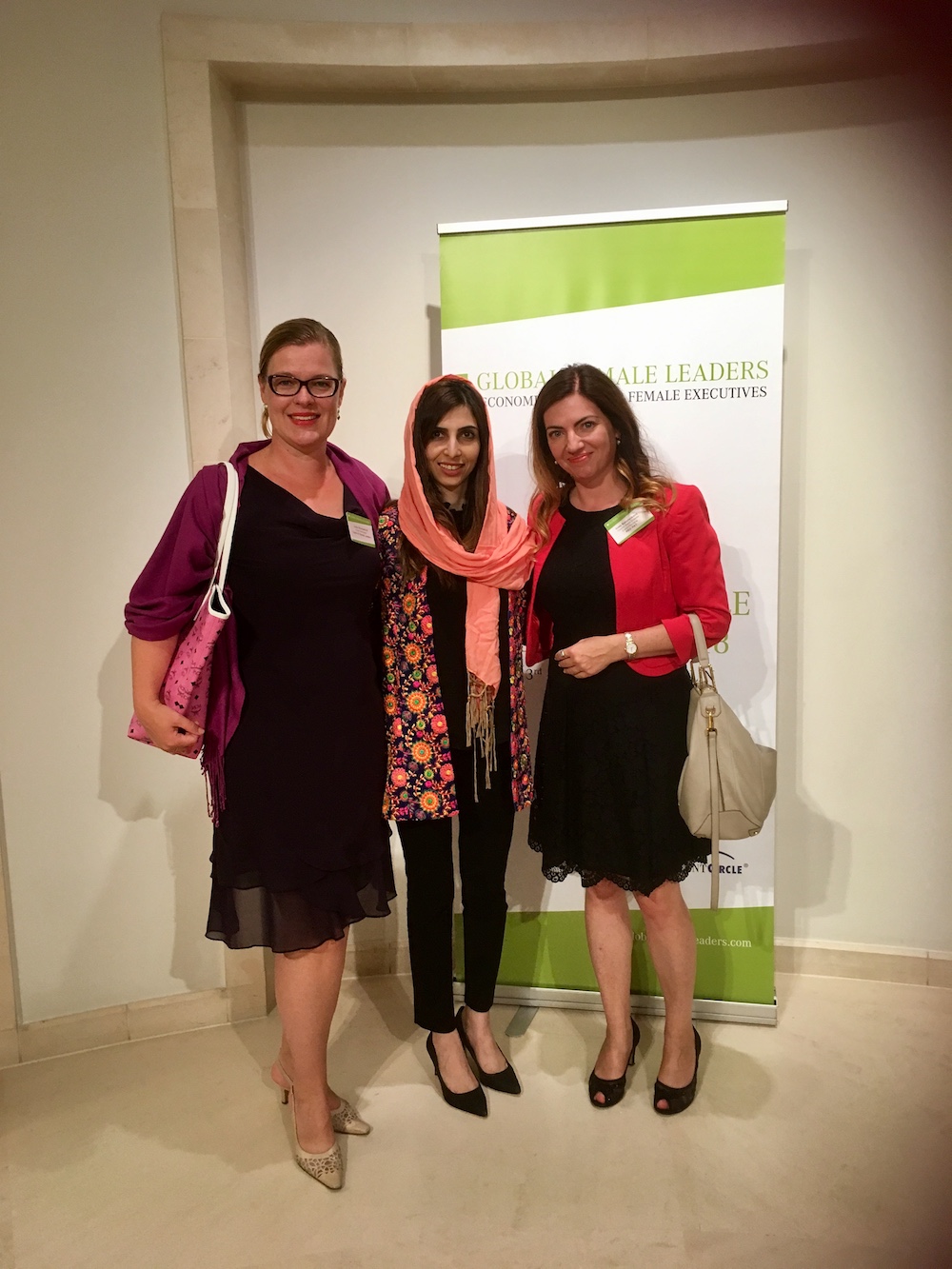 The gala ceremony was hosted by MCM luxury goods company.  The company, established the same year I was born, was acquired by Sung-Joo Kim, Chief Visionary Officer of MCM Holding.  Sung-Joo's story began when she was  disinherited by her father, a wealthy South Korean entrepreneur, when Sung-Joo refused a pre-arranged marriage.  Instead, she set out on a journey to prove that she could do it.  Being successful herself, she also started supporting other women on the journey.  Incredible not only what kind of a person she is, but also how she looks at the age of 61; she proves her second motto "health is new wealth".
Rasha Oudeh's story is reminiscent of the Cinderella fairy-tale, except there was no prince.  Rasha did it all by herself.  A girl from Jordan, the eldest of eight siblings, she was allowed to study but received no support from her parents.  Things then got even worse.  Her dad retired at the age of 50 and she had to take care of the whole family.  Eventually, she switched from IT to pharma business.    She persisted and now she is the CEO of Cedem Pharmaceutical company based in Germany and Switzerland, doing business in the Middle East.  Her first message was related to fear.  She said that fear is the biggest problem, however, it is always out of the comfort zone where miracles happen.
Community
Having been to the conference for the third time, I am always surprised to see, meet and exchange with both new leaders joining the event for the first time as well as those who attend regularly.  The networking opportunities during coffee-breaks, lunches, opening reception, gala dinner, as well during workshop or informal events such as a "morning sight-jogging" make sure that attendees will get perspectives from different corners of the world and various industries and also meet new business partners and/or clients, establish valuable career contacts and even lasting friendships.  By the way, women are not often pampered at expert conferences.  At the Global Female Summit, you can be surprised either by a pop-up store selling discounted brand handbags or by getting cosmetic gifts and make-up by Shiseido and Babor.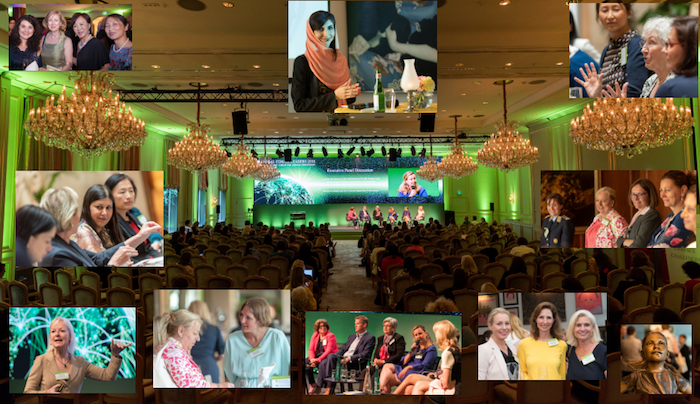 Why is this conference for women?
First of all, it is not exclusively for women.  You can meet many influential male leaders and CEOs.  Stephan Werhahn, grandson of the one of the biggest statesmen of the post-war Europe, Konrad Adenauer, is one of them.
On the other hand, let us face the fact that the female point of view tends to be different and often complementary to the one of the men, which is typically more known and represented across the industries.  For a long time, we have relied on artificial intelligence and machines to overcome gender-based bias.  However, we should start to be concerned where the machines take data from and what kind of data is procured because it is being distorted.  Only 4 out of 1000 women work in the digital sector.  From 1000 women with a bachelor's degree in Europe, only 29 hold ICT degrees, compared to 95 men.  Women leaders hold still less than 20% senior leadership positions in the digital sector, which is comparable with most of the sectors in general.  The statistics for the Czech Republic are even dimmer.  It is high time to do something about it.
Therefore, mark your agenda for spring 2019!  The hosting organization, Management Circle, will be celebrating its 30th anniversary, so I am sure that next year's summit will be even better.  On top of that, Czech and Slovak Magazine Leaders have benefited from the special price, as the Magazine has been one of the supporting media partners since 2016. 
By Linda Štucbartová
---
Iveta Babulenkova, Country Sales Manager, Red Hat, Czech Republic and Slovakia
Why did you attend the Global Female Summit?
When I looked at the topics to be discussed during the summit, like transformation through digitization, disruption via technologies, it instantly caught my attention. Coming from the IT sector, I was really very curious to hear how women executives are going to embrace those topics. And the outcome was just amazing: many of them have very bright and insightful ideas and knowledge in this area, very encouraging and engaging.
Can you summarize three take-aways?
For me, the three main takeaways are: courage, self-confidence and inspiration.  You can be a fearless girl (as the meme of bronze statue of a girl facing fearlessly a bull down to Wall Street) and self-confident to realize your dreams and become even an inspirational woman.
Why do you recommend participation to other women?
The event was a very enriching mixture of great ideas, inspirational talks, interactive approaches – briefly, as a female – and NOT only female executive – the conference is high profile and a must for everyone who is really caring about its company and society in general.
---
Patricia Vicente, CEO, Panama Jack
Many women who attend this summit are working for corporations.  You are part of the owner family of Panama Jack shoes in Spain (ladies, check it out www.panamajack.es).  This year, for you, like for me, this has been the third summit in a row. 
What is the main reason you keep coming back?  And can you summarize some take-aways for you as an entrepreneur?
This is a great forum to keep updated in social, economic and business news. It is also very inspirational to have good conversations and insights from many women business leaders, I always come back full of energy and ideas.
My take-aways:
Many organizations are working to create a culture of innovation on every level,

A strong trend to make the working space a friendly and home alike space,

Artificial intelligence and robotics helping the organizations but not changing them dramatically like expected from many the last two years,

And the need of tons of braveness and hard work to succeed.