Wishing You Responsible and Conscious Travels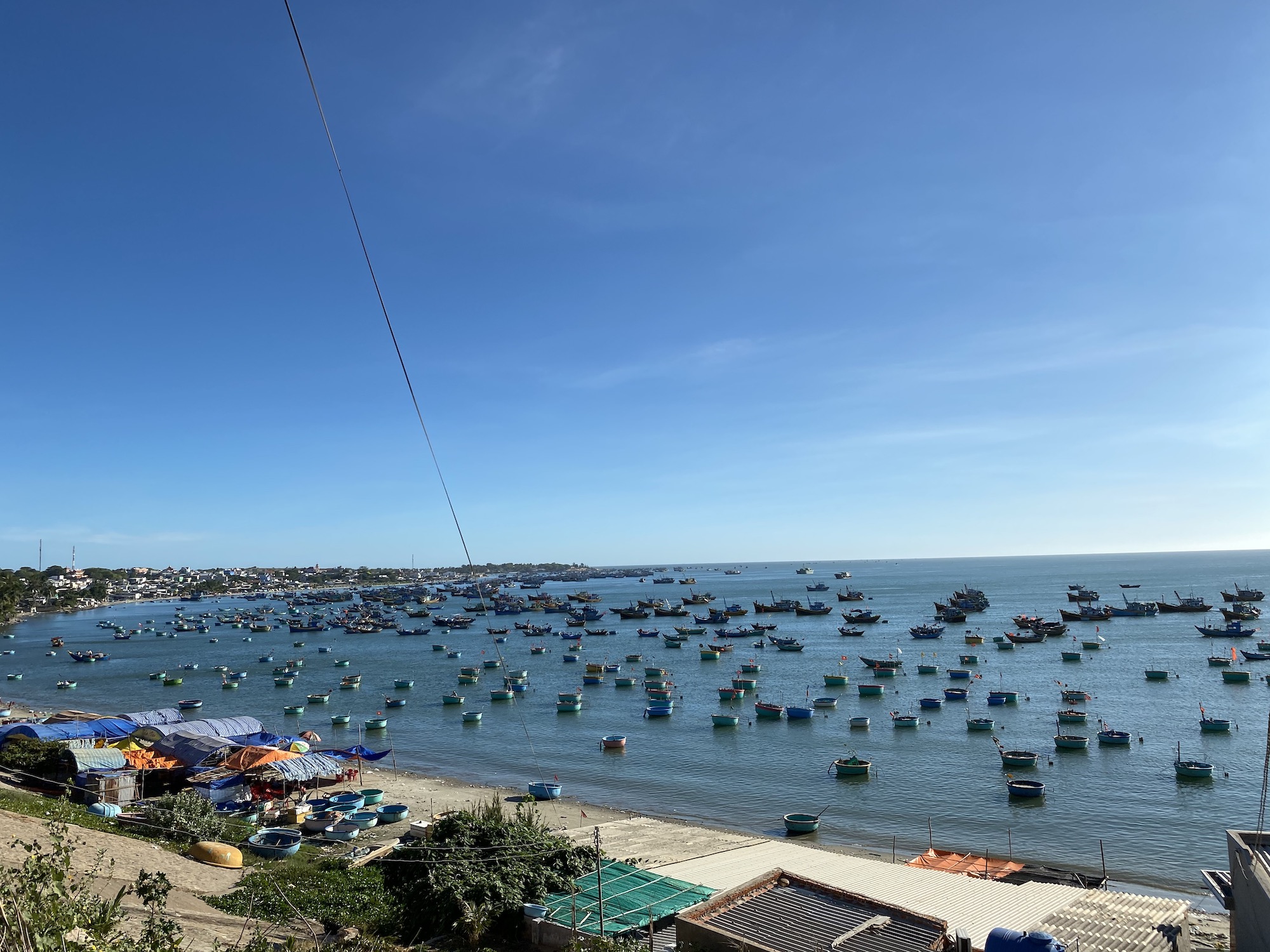 "Live with no excuses and travel with no regrets" said Oscar Wilde.
My last vacation took me and my family to Vietnam. Even before I realized that this was already the 50th country on my list to visit, I was pondering how to make our family travelling more responsible. On one hand, a few "social bubble Facebook friends" have already denounced travelling completely, justifying their decisions with both CO2 emissions and the notoriously well-known results that overtourism has brought to some of "the most attractive places," such as Venice, Dubrovnik or Barcelona, or even the Czech town, a jewel of Southern Bohemia, Český Krumlov. On the other hand, travelling has been always a source of inspiration, joy and relaxation both for me and my family.
Still, remembering the humiliating way my parents had to ask for permission to travel during communism, or the thrill and consequent bullying that even crossing between the two neighboring friendly Czechoslovak-East German borders entailed, I regard the freedom to travel as one of the most important freedoms the Velvet Revolution brought. What is the appropriate way to enhance our travelling, to bring it to a higher level of awareness and consciousness? The fact our travels took place during the Chanukah festival of lights and subsequently Christmas time, holiday periods associated with introspection and good deeds, gave us all a special reason to be more reflective about both actions and impact.
I like to consider myself a pracademic, a practical academic, as I believe that there is nothing more useful than a good theory. I started with research. Being jet lagged after landing in Vietnam gave me a couple of early mornings to read articles about responsible, sustainable and ethical travelling for inspiration. Tourism is one of the world's largest industries – making up about 10 percent of GDP, according to World Tourism Organization, a United Nations specialized agency, and it shows no signs of slowing down. Its "Global Code of Ethics for Tourism" (CGET) is a comprehensive set of principles designed to guide key-players in tourism development. Addressed to governments, the travel industry, communities and tourists alike, it aims to help maximize the sector's benefits while minimizing its potentially negative impact on the environment, cultural heritage and societies across the globe." Personally, as it is the case with most UN documents, it is far from amusing to read it (even on the subject as enlightening as travelling) and contains only little advice for individual travelers. The document was adopted in 1999. As the situation has not improved but rather deteriorated since, it only proves that all big ideas and schemes need to be accompanied by individual acts. One can find many rules on responsible travelling on the internet, ranging from six to 36. Some rules are just variations of others, some rules made sense, others did not, and some I found not to be applicable for Vietnam.
As to the emissions, often the media issues pull attention away from the real ones. What do you think is the number 1 cause of pollution of human-made emissions? Definitely not air transport. I was quite relieved to find out that the air transport accounts for 2.4% of CO2 emissions worldwide human-caused by source. The first being electricity and heating (41.5%), followed by industry (18.9%) and road transport (18.1%). As I do not take transatlantic flights every week, not even every month nor quarter, I can probably do much more for the planet by lowering the heating at home (this is still work in progress, after more than 30 degrees of temperature difference, a room temperature cooler than 22 degrees has become unbearable) or by taking public transport (already done, as it is quite easy to pride yourself as a public transportation user when you live in Prague, where public transportation is one of the cheapest and most efficient in the world). Instead, tourists should be far more concerned about the real pollution, in terms of not leaving garbage in nature (in fact anywhere), a sensible use of plastic bottles (when applicable) and energies (do not leave the lights and AC on, same as you would do at your home).
From words to acts, what rules did we apply in Vietnam and how did it enhance our vacation? As my children had a Chanukah school project to make a good deed during the eight-day festival, we aimed to fulfill everyday with at least one special act of kindness or awareness. Now, I am sharing with you our journey within a broader context of Eight Rules for Responsible Travelers.
Day 1
Support individuals (and make sure to take photos appropriately)
Money donation to a severely handicapped man was our first act of kindness. Even though most rules for tourists claim, "Say no to beggars", I realized there must be some flexibility. We learned that the Vietnamese government, despite being a socialist one, does not provide enough support for handicapped people. While no money to begging children should be a rule, in this case buying food or clothes or giving money to those who have no means to provide for themselves seemed appropriate. No documenting picture was taken – responsible snapping, making sure you take pictures with people's permission and you do not take pictures of embarrassing moments, should be a part of travelling etiquette.
Day 2
Support local sellers, performers and providers (and do not try to bargain all the time)
When strolling and taking pictures in the center of Saigon (Ho Chi Min City), we were approached by a coconut street seller. At first, he did not try to sell, but he warned us against using mobiles on the street and reminded us of keeping handbags closed and worn on the shoulder not facing the heavy scooter traffic that is known for grabbing mobiles or purses from wandering tourists. Then he offered his cold fresh coconuts. Of course, these were overprized to local standards, not to ours. As the seller offered to my son to carry the basket, allowed us to take a picture and then helped us with the directions, we actually did not mind paying the price, as we considered it more experience than commodity. (photo)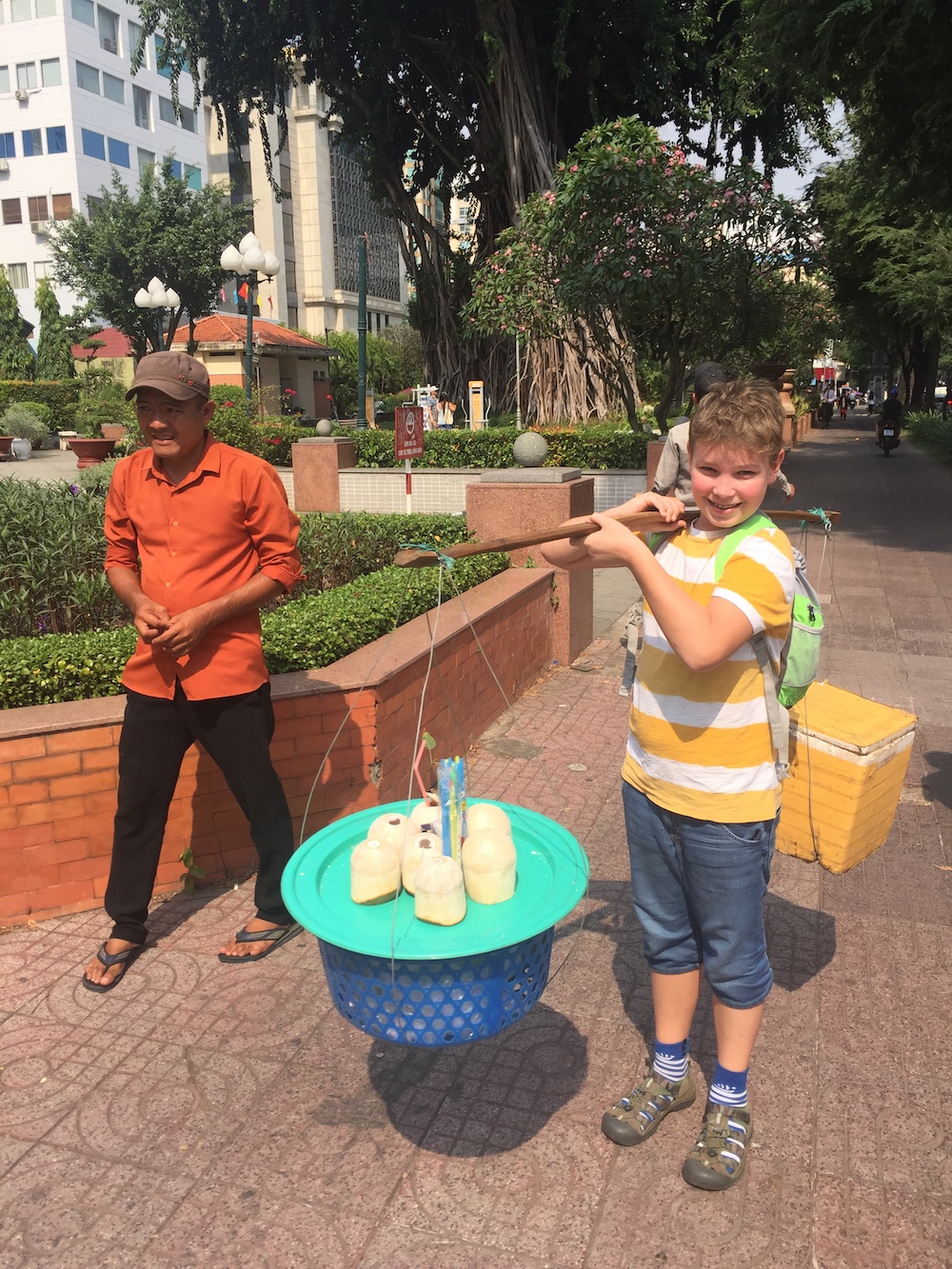 Day 3
Support women
Supporting women has been both my passion and profession for a long time. On the third day I realized what I have witnessed during my career. It is mostly men who are more proactive, either in visibility, or addressing strangers. When we finally met a woman fan seller, we made sure we got several sets to have enough presents. We bargained only a little and compensated by the number of fans bought. Bargaining is often the rule of the game but consider whether it is worth it. What can be the bargained true deal equaling to less than a cost of one coffee for us can in reality make the difference for locals distinguishing between "an ordinary day" and "a very successful day" for those who provide for families. It was December 24, Christmas Day, not a special day for most Vietnamese, but hopefully a better day for that particular woman seller and her family.
Day 4
Give local causes your voice
Thanks to my friend, who is currently serving as high diplomat in Ho Chi Min City, we got an opportunity to visit the Franciscan Monastery. The Monastery, founded in 1840, currently houses more than 200 nun sisters, including elderly ones who have been serving the congregation for their whole life. For the last ten years, the order was under the constant threat of demolition of their premises from foreign real estate developers in the area. In fact, many religious places have recently disappeared in Vietnam, paving the way for new skyscrapers with shopping malls, offices and luxury apartments. Thanks to the continuous support from Western embassies and other religious and non-governmental organizations, the decision to demolish the Monastery was reversed. The current developer came up with a plan to incorporate the Monastery grounds into the new project. Hopefully, he will keep the promise. If not, I believe that sufficient level of foreign awareness and pressure was reached to help the nuns generate support and attention in case the problems re-occur. Instead of preaching about responsible real-estate development (by the way, I cannot think of a place where this is happening), if possible, visit a specific venue that might profit from the visibility. Singing Christmas carols with nuns, having a guided tour at their premises, and receiving not only refreshment but also a gift made us feel welcome like the highest-level government delegation. In return, we left money for future development of the dormitories, as currently more than 60 nuns sleep together in one hall. However, it was not the money but our presence and interest that showed we care and made them care. To us, it was one of the most touching and meaningful moments of our visit. (photo)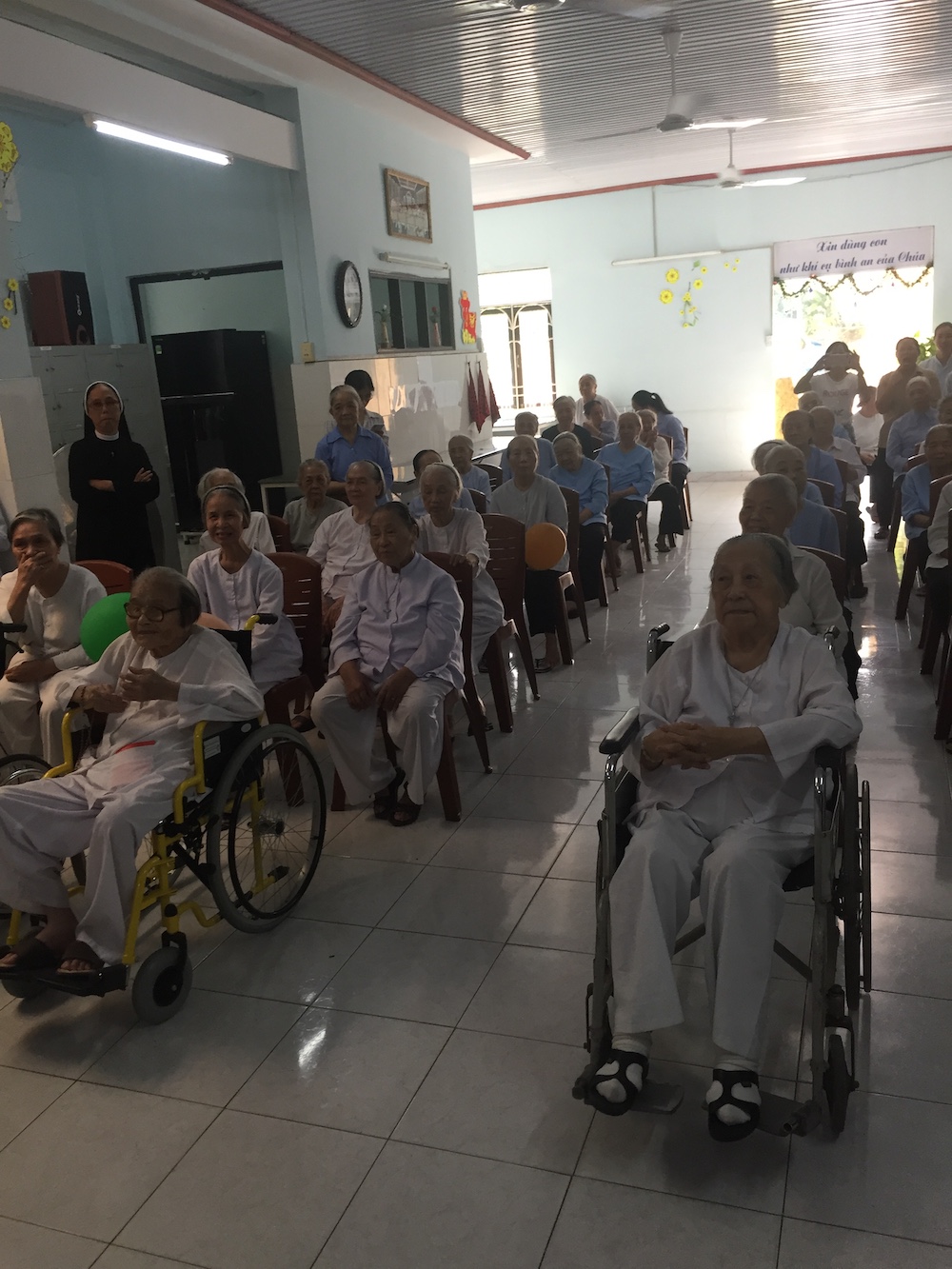 Day 5
Say no to animal abuse, avoid plastic, "extras" and "specials"
Travelling to Mekong delta brought us not only lush greenery, extraordinary tastes of local fruits and products, but also true sadness with regards to the pollution due to plastic trash that was simply everywhere. Without preaching, we simply tried to avoid gifts already packed in plastic being packed in another plastic bag. My children were sadly looking at the beautiful mangrove coves and canals affected and kept suggesting potential solutions to this problem. Remembering the Einstein quote, "we cannot solve problems with the same level of thinking that created them," I challenged them to come up with innovative solutions but also re-consider our consumer way of living. While refilling bottles is not an easily applicable idea in Vietnam, for the rest of the trip, we tried to avoid unnecessary packaging or using one-night toiletries, slippers etc. As for the animal abuse, we chose a walk under the noon sun, instead of taking a horse ride, as the horses looked truly unfit and unkept. We challenge everyone to think twice when offered a donkey, a camel, or an elephant ride; a picture taken with a monkey, a tiger or a cobra; and resist also real bargains on snake or crocodile leather products. Apart from your bad karma or conscience, you might face an additional penalty upon arrival when returning back to the EU customs area. (photo)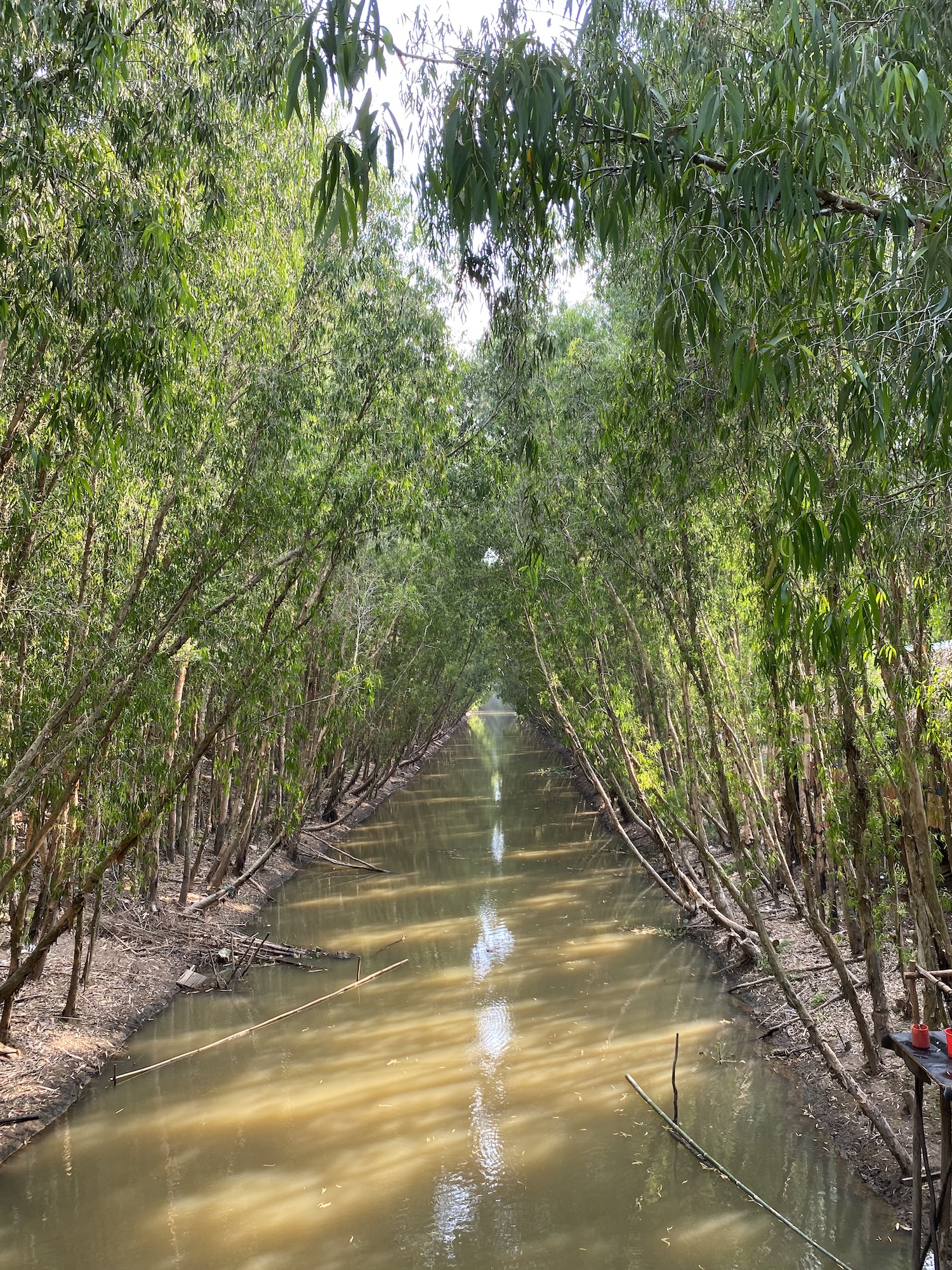 Day 6
Support ecotourism
Visiting the Tra Su bird sanctuary made us not only appreciate the rowboat rides through caujupt and gum trees, we enjoyed observing many kinds of birds, including white and ghost storks, seeing lotus flowers and also climbing the view tower to admire the vastness of the true Mekong delta wild nature (with no trash!). Contrasted to our visit of busy islands near My Tho and the floating markets at Chau Doc, this place was truly an oasis of peace. We were pleased to see that the government decided to spend more money to provide new tourist paths, so people can spend more time there and to experience a walk in the jungle forest. Also, it is an opportunity to attract the tour- ism to locations not yet discovered by the crowds.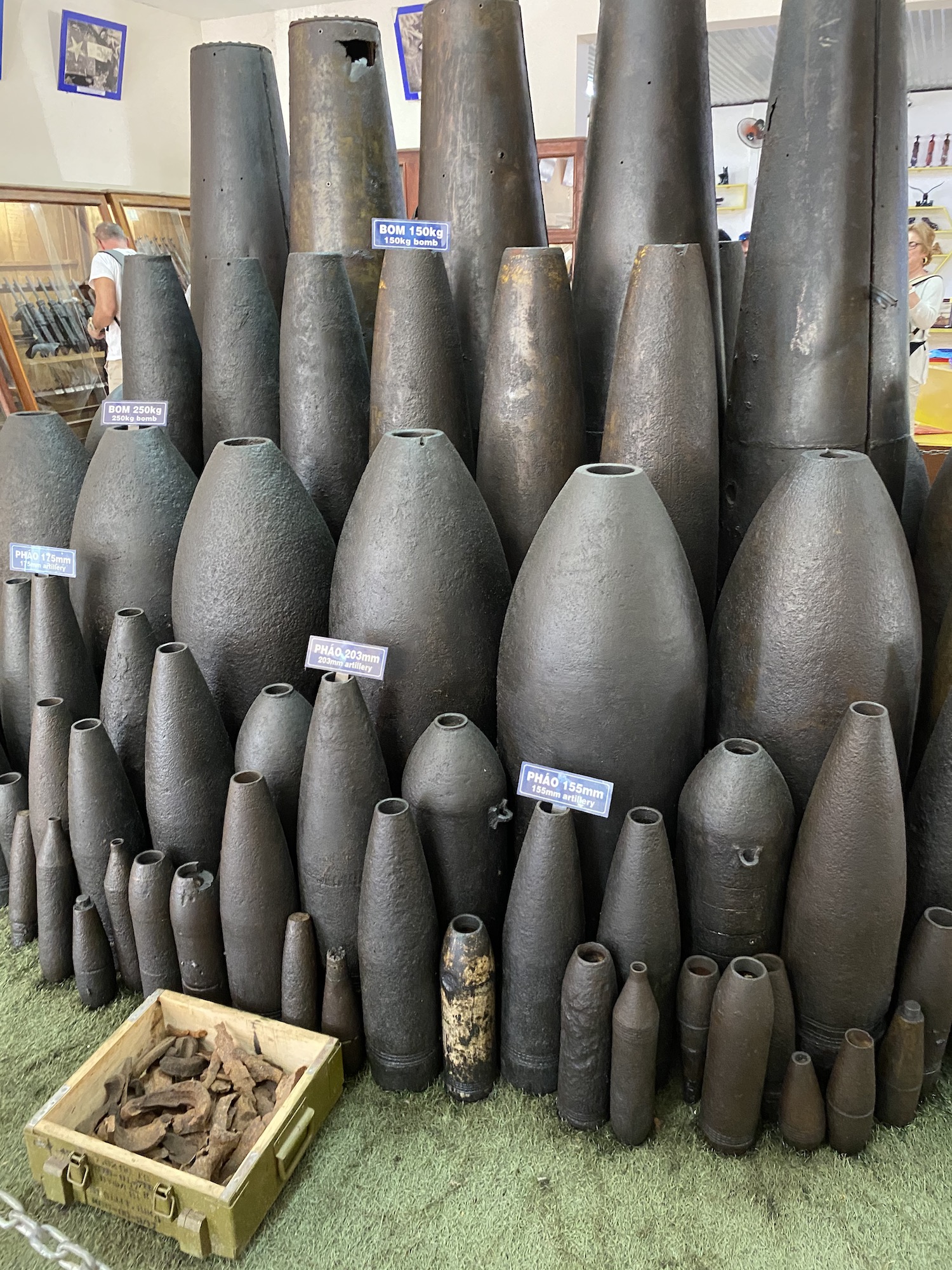 Day 7
Learn about history (even the difficult moments)
Who wants to voluntarily learn about war tragedies during a vacation? Yet, we felt that it is a must, not only in Vietnam. Even now the aftermath of the war can be seen. For more than three decades, four armies expended untold energy and resources bombarding wide areas of Vietnam. Based on American estimates, at the end of war, unexploded ordnance equaled to 150 000 tons. Since 1975, more than 40,000 Vietnamese have been killed or wounded by the leftover ordnance; in the 21st century the casualties still reach 400 people per year. We also learned about ecocide, caused by the notoriously infamous Agent Orange, loaded with dioxin that was used over 16% of South Vietnam to destroy the Viet Congs' natural cover and leading to about four million of direct victims of dioxin poisoning. My children quickly learned how privileged they are to grow up in one of the safest places on the planet. And even though history is written by the winners, humanity always suffers a loss. Having a local guide, an experienced and well-educated university graduate, proved to be a key success to the visit of Cu Chi tunnels, that have become a synonym to the Viet Cong soldiers resistance and hiding spots. 250 kilometers of an underground connected tunnel system, often having 3 underground floors, enough to fit an adolescent (made for soldiers about 1,40 meters and about 40 kilograms) made us won- der about guerilla war, resilience but above all about the danger of ideology and the danger of hawkish solutions that supported war machinery on both sides.
(photo)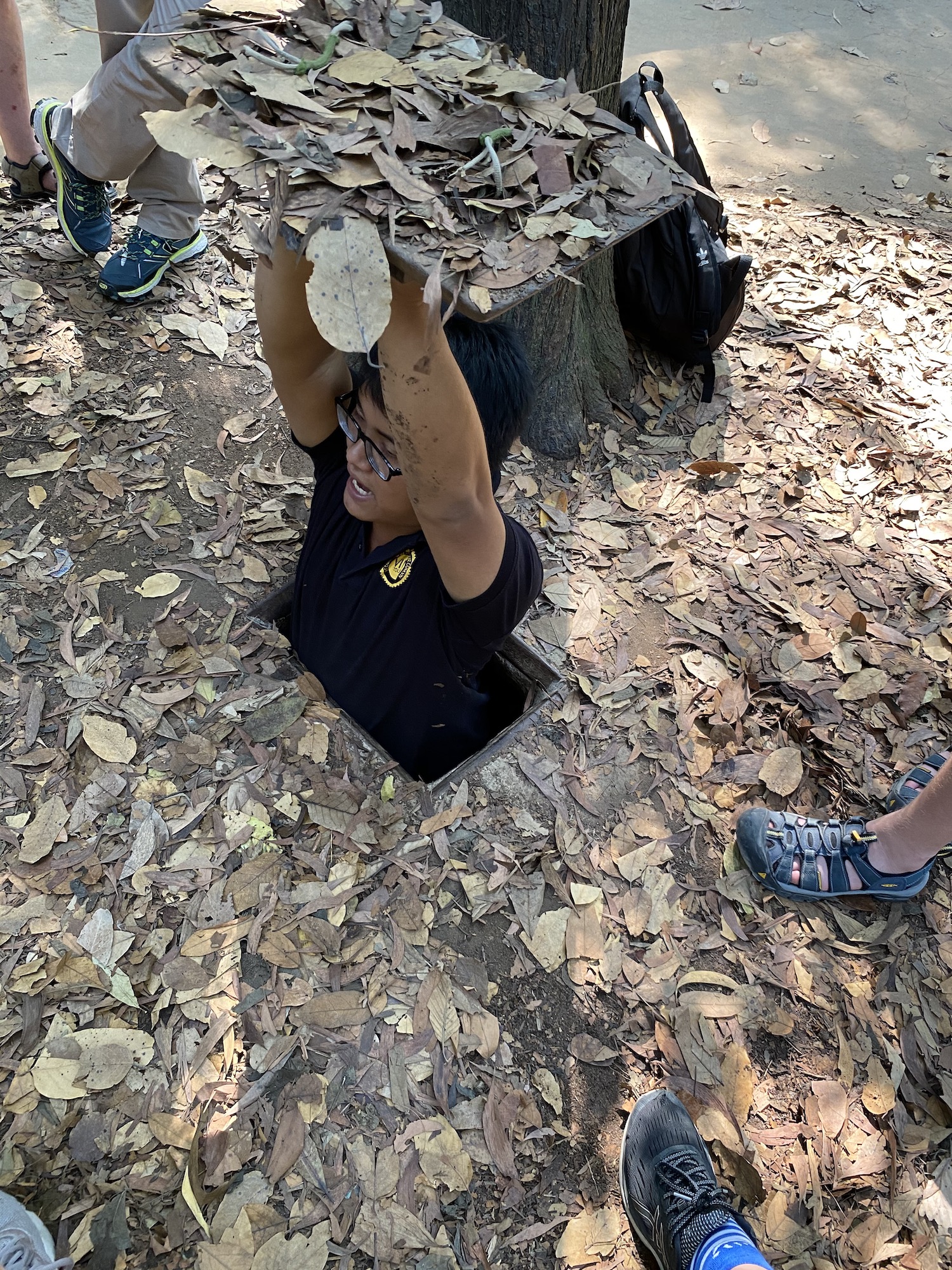 Day 8
Give feedback and set higher-standards
After intensive travelling, we decided to spend a couple of days at Mui Ne, a fishing village located on the east coast of Saigon. By now, you have already gotten an idea about the intensity of the program for two families travelling together, in total seven people, with slightly differing schedule and requests. The local travel agent did the maximum, after one recommended foreign travel agent refused to provide service from the beginning, citing overbooking and the high number of tourists coming for the end of year busy period. Only once we were not satisfied with the quality of the accommodation, only once we did not get the promised service (a nuisance if you get up at four for a sunrise tour and no pick-up arrives). Laughing about it now, one major disappointment came during my massage – the masseuse was talking on the phone most of the time. Typically, first world problems… however, your standard mind-set is that you actually do not want any problems during vacations, right? In contrast to other tourists whom we have seen yelling, rolling eyes at local staff and making various angry or frustrated gestures (by the way a total sign of loss of face which is a disgrace in Asian culture), we tried to give constructive feedback because we cared. We politely communicated our expectations and asked for a solution. And we got it. Being aware of Vietnam being a more and more attractive destination, we want other tourists to have an even better experience than we had. We will certainly return back to travel the North. And if you do not have Vietnam on your bucket list, make sure it is there. The country, the people, the nature, the food (and so on) is just amazing. If Asia is not your destination, please consider setting some personal rules to be a more mindful traveler. I am sure that it will be as positive to you as it was for me and my family. Have a wonderful (not only travels) in 2020!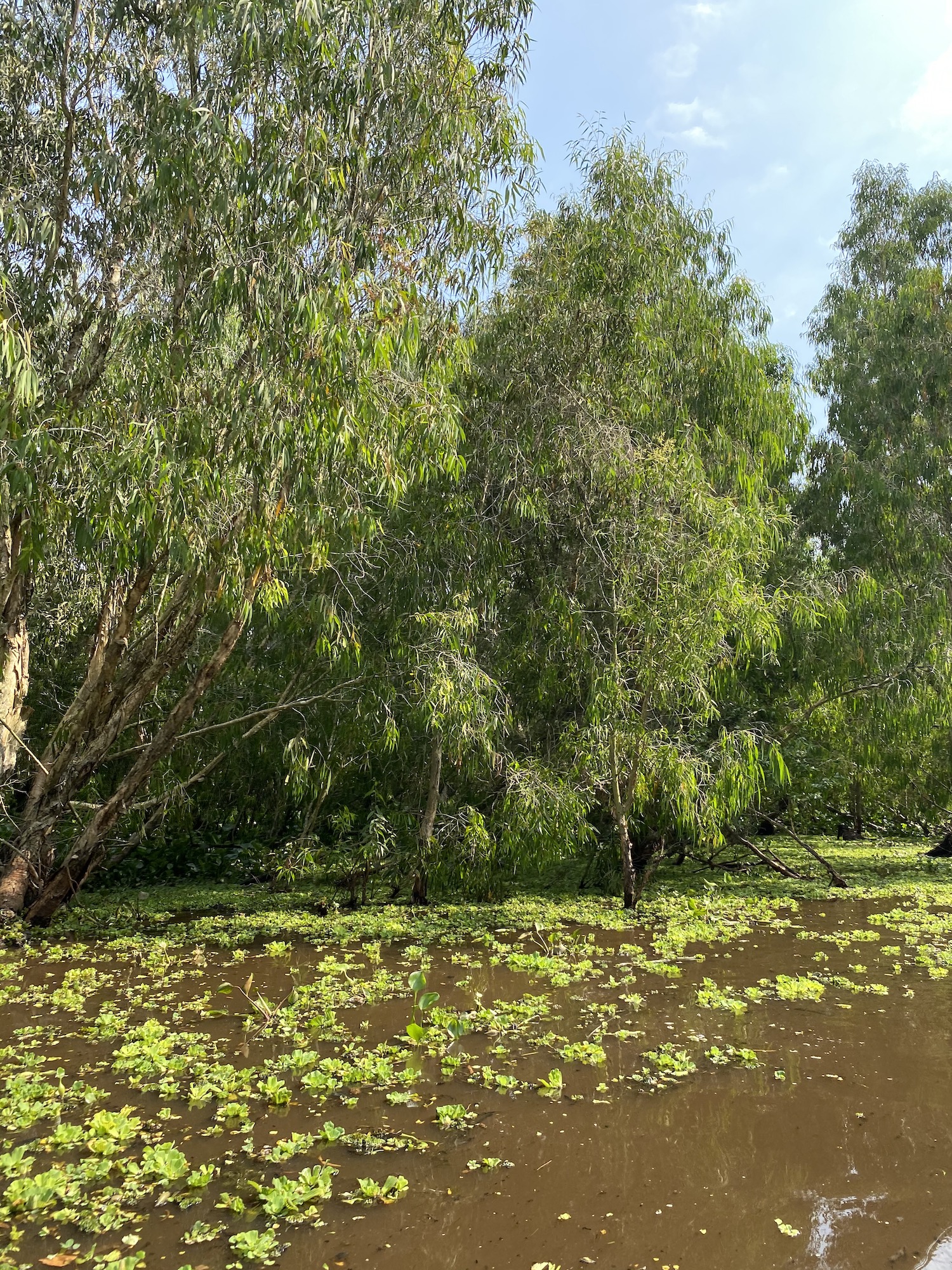 By Linda Štucbartová
Photos: Linda Štucbartová