"Pack your face masks, keep proper distance and discover the New Normal"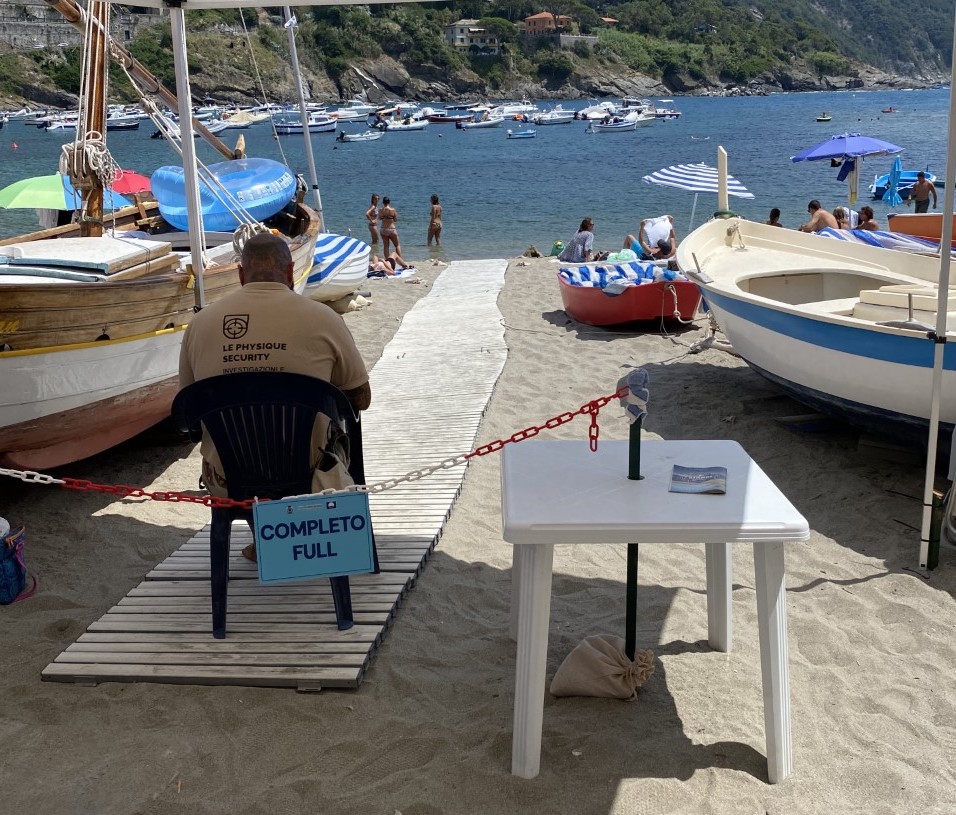 The motto of Summer 2020 could be "Tell me how to wear my face mask and I will tell you who you are" which seems to be the newly adapted intercultural golden rule: "When in Rome, do as Romans do".
Over the last month, I have travelled to Germany, Switzerland and Italy. What did I experience and how did I feel? Why did I feel surprisingly safer abroad than at home? And what have the respective countries learn or did not learn when it comes to dealing with the pandemic?
Back to 1988
First, let me explain to you why travelling matters so much to me. I think it is quite pertinent to the frequently reoccurring discussion about the nature of the communist regime and the tendency to argue that it was not that bad. For me, it was…for all those familiar with the communist regime, you are welcome to skip to the next page. For all of you not familiar, please read, understand and try to ensure it will not happen again. Also, think of the countries where freedom and democracy are still not the norm, such as Belarus.
I remember a hot summer day in August 1988. I was 12. My father and I got permission to travel to Austria to see one of my father's distant cousins who emigrated to Austria after 1968. I knew we were privileged. One of the reasons we got permission to travel was because we were leaving my mother and my sister behind. The chances of the whole family leaving communist Czechoslovakia where my parents had university education and positions in what was regarded strategic professions, my mother being a medical doctor and my father being a chemical engineer, were rather slim. When approaching the borders with our eastern German family car Wartburg, I felt nauseated. I got overheated rather easily, as a matter of fact I still do even these days when travelling by car, and I was very nervous about the border crossings. I knew my dad hid Austrian schillings and German marks in various places in our car, as the daily allowance was not sufficient for some decent experience and on top of that, I had been promised a shopping trip. I was told not to look directly into the customs officials' eyes but also look confident enough to pretend we had nothing to hide or be afraid of. Easier said than done. On one hand, I was so much looking forward to going West. On the other hand, I was wondering if we would ever return and whether I would see my mum and sister again. A few of my classmates had disappeared, I knew cases of families torn apart. Approaching the borders was gradual. At first, we went into a deserted area, full of signs reminding of the state borders and barbed wire and then we got to the custom and border check. Suspicious stares of men in communist uniforms, German shepherd dogs barking, me, a teenage girl, barely breathing as I was worried about undergoing the notorious underwearstripsearch. Checkingdocuments, all the paperwork, precise itinerary and many investigative questions about the purpose of our trip, who financed it and so on. It was mostly thanks to my dad's communicative skills that we were cleared to go…to no one's land, another strip of land designed to protect the peaceful sleep of socialist camp workers and working intelligentsia. Once we reached a bloody imperialist camp border, the procedure was easy and accompanied with a smile.
And many years later
Since then, I always cross a border with mixed feelings. A great relief on one hand but the fear that I felt more than 30 years ago is always present. The grass does not seem as green on the other side of borders as it seemed during my adolescent years (just a bit), the villages might still seem more picturesque in Austria. Since then, my Austrian friends actually consoled me by saying that they find the Czech border villages more authentic and natural. When Covid-19 brought the ban of travel from the Czech government, I sort of relived the 1988 situation. I understood the need to close the borders to prevent the spread of virus, but I did not like the discussion about borders being closed for two years or the rhetoric that the Czech Republic is actually a nice place to live from the Prime Minister.
My travelling for recovery promise
When the pandemic specifically hit Italy and Switzerland, I made a promise to myself, that I will travel there as soon as possible to show support and solidarity. In July, my husband and I decided to spend 10 days travelling across Germany, Switzerland and Italy, exploring beautiful Ligurian shore near Genova. We were assuming that there would be little or no tourists, so we could visit famous sights, such as the Neuschwanstein castle on the way and the UNECSO villages of Cinque Terre being our final destination. If you want to make god laugh, just tell him about your plans!
GERMANY
Off we went and the first stop was Bavaria, Germany. As we left the mask-free Czech Republic, we immediately had to put face masks on at the gas station and entering the hotel reception. "Maskenpflicht" was not the most welcoming sign, often accompanied by potential fines that vary in each state and reach up to 150 EUR in Bavaria and up to 500 EUR in Berlin.
In the hotel, we were given a long and meticulously detailed questionnaire in German. I learned German while working at ŠKODA AUTO, and I found consolation in the fact that my vocabulary consisting of gear, clutch, engine etc. was still enough to get through all the symptoms of Covid 19. The answer to all questions except the last one was NO. The last one was tricky as it read: Have you complied with all the rules set by your respective government and are you intending to do so in near future?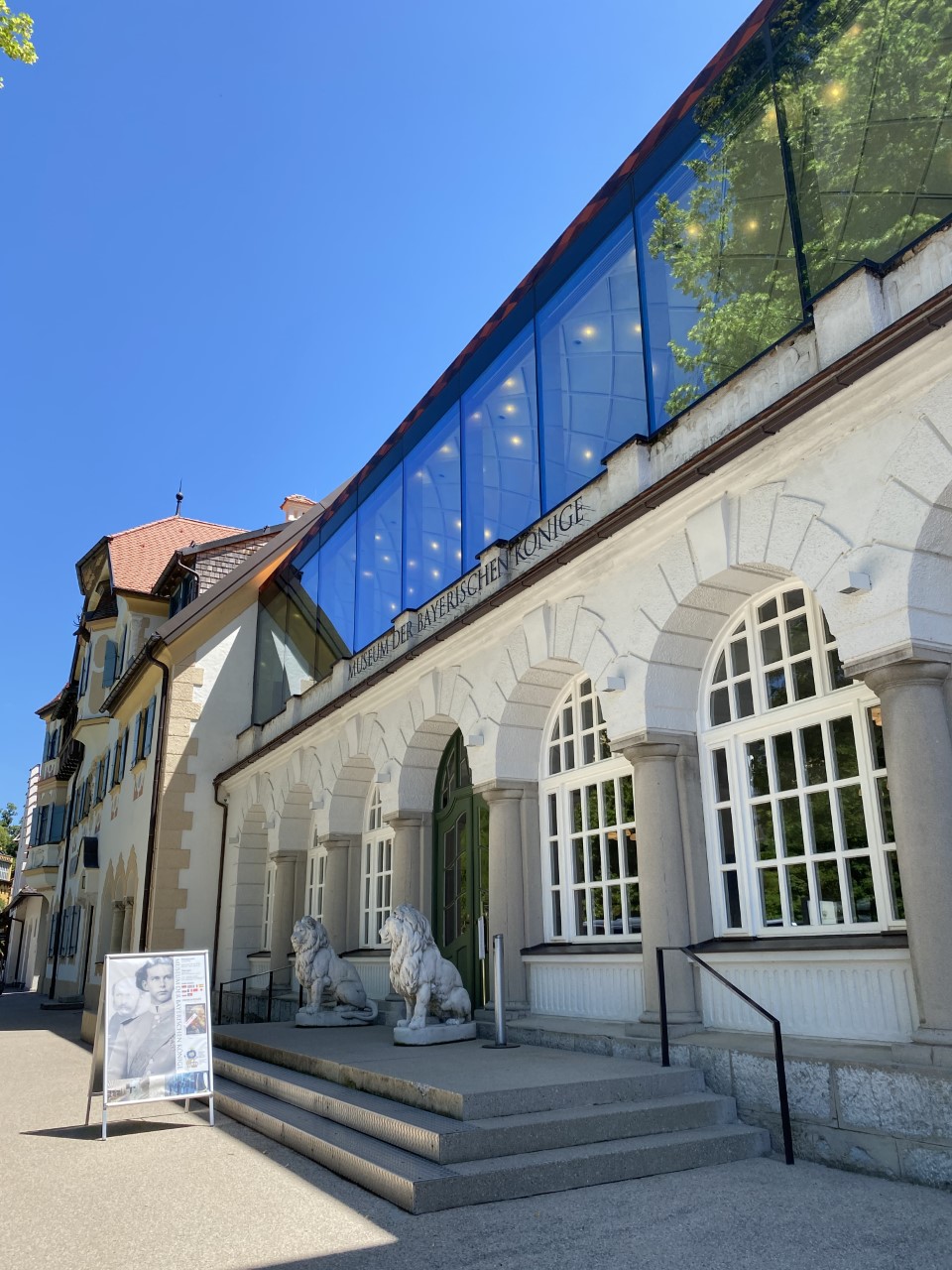 My husband answered yes while I argued that no one in the Czech Republic can claim yes as many of the rules were contradictory and kept changing so quickly – the only correct answer is no. The receptionist did not share my Czech sense of humor, so I corrected no to yes and we were given accommodation. The next day, after the served breakfast, which I actually judged positively as it prevented both overeating and waste that buffet breakfast necessarily brings, we were ready to visit the famous castles of Bavarian king Ludwig. Approaching Neuschwanstein with quite a lot of cars with German license plates warned us that the Chinese and Russian tourists had been swiftly replaced by the locals. As the pandemic also reduced the number of visitors allowed on guided tours, there were no tickets available. We were advised to go and see the museum of Bavarian Kings instead. When we got to the museum, we were asked to sanitize our hands and fill in yet another detailed questionnaire with our contact details, date and hour of visit.
All of a sudden, I remembered the stormy discussions about GDPR two years ago, with all warnings, threats and possible penalties, on top of the documents you needed to sign before actually signing anything. Since then, I have become very mindful about simply handing over all my personal data and addresses. I therefore asked my husband to fill it in, as his handwriting serves partly as GDPR protection. The same process of filling out personal details followed when we entered a restaurant. While this process might be comforting to some, I personally doubt the ability to later retrieve data for any relevant epidemiology purposes and tracing. We decided that three completed forms in less than 24 hours was enough and we continued to Switzerland.
SWITZERLAND
Driving through the Swiss countryside, with cows ringing bells and people raking grass on steep hills made us feel that despite the country being so badly hit per capita (read my interview with H.E. Dominic Furgler), daily life was actually back to normal. We decided to visit legendary St. Moritz. The atmosphere was far more relaxed. Masks were worn by the staff in the hotels and restaurants, and for tourists obligatory only on the public transport. Instead of threats and fines, Swiss communicated the reasons to wear face masks and to maintain social distancing, together with guidelines for proper sneezing as to prevent Covid-19 spread.
Luxurious St. Moritz, usually buzzing with life in both summer and in winter, was empty, as it was missing regular tourists from the Middle East. There were some Swiss tourists to compensate for the loss of foreigners, so the owner of the hotel confirmed they reached 70% occupancy. The empty streets of the resort felt strange and I missed a good night Toblerone chocolate bar on my pillow. Was this to reduce costs or to avoid the spread of Covid-19?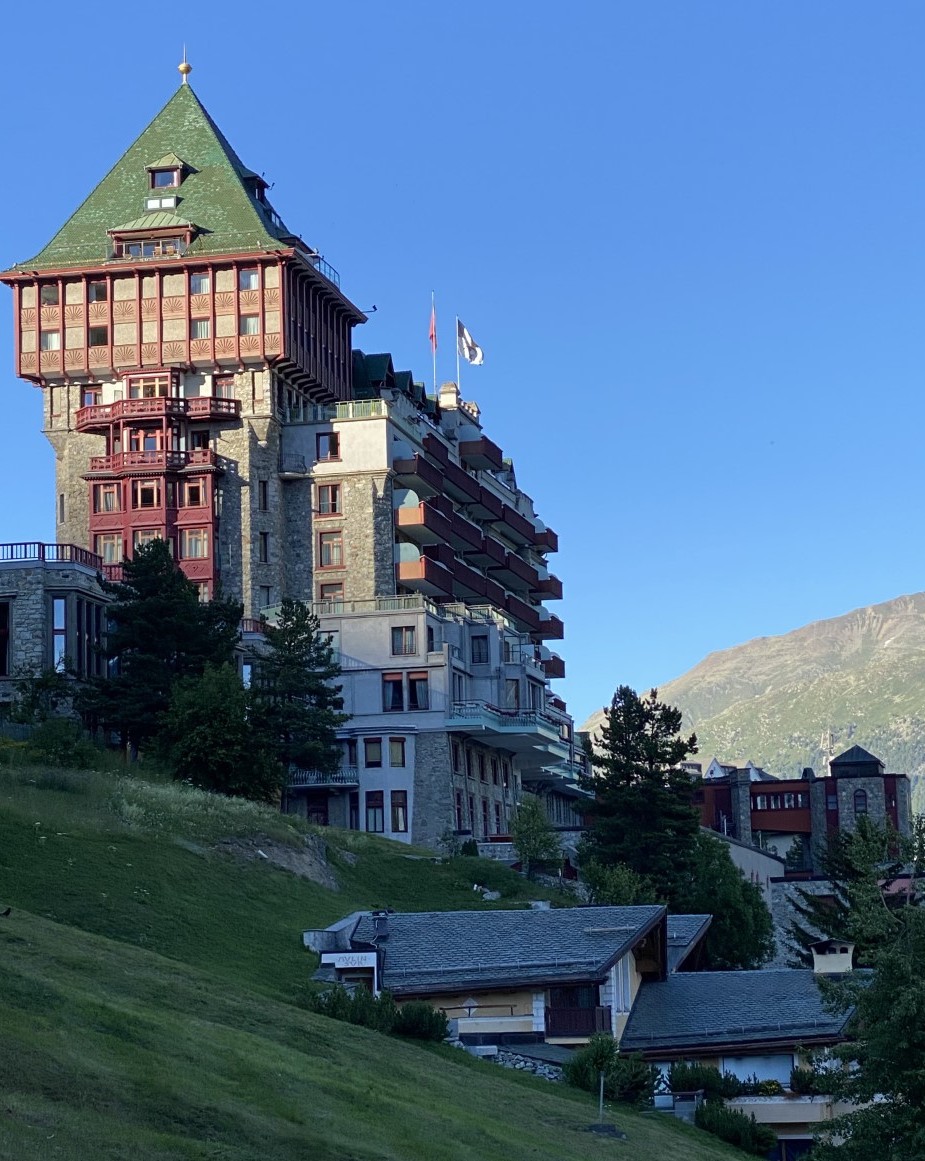 The next day, we took a cable car to Piz Nair and enjoyed the stunning views on the surrounding lakes and mountains, not alone but in a setting that was reminiscent of a rather private tour group. One thing was for sure, the Swiss did not have any reasons to lower the prizes to lure more tourists, so we drove to Italy.
ITALY
Once we crossed the borders to reach Lago di Como and the legendary town of Bellagio, called the pearl of Como lake, we immediately noticed people wearing masks everywhere on the streets, even while riding a bike. Senior citizens were particularly mindful and observant. No wonder, as Como belongs to the region of Lombardy, one of the most badly affected by the pandemic. Arriving to the almost empty town of Como made me to re-think the issue of over-tourism. Como was as empty as Prague, with more than 90% drop of visitors, as both cities rely mainly on foreigners. While overcrowding definitely brings many problems, seeing such a beautiful town almost empty, made me worried about entrepreneurs, the future of restaurant and hotel owners, as well as souvenir shops or tourist boat agencies. Some of them closed completely, some of them waiting for lost wanderers like my husband and I.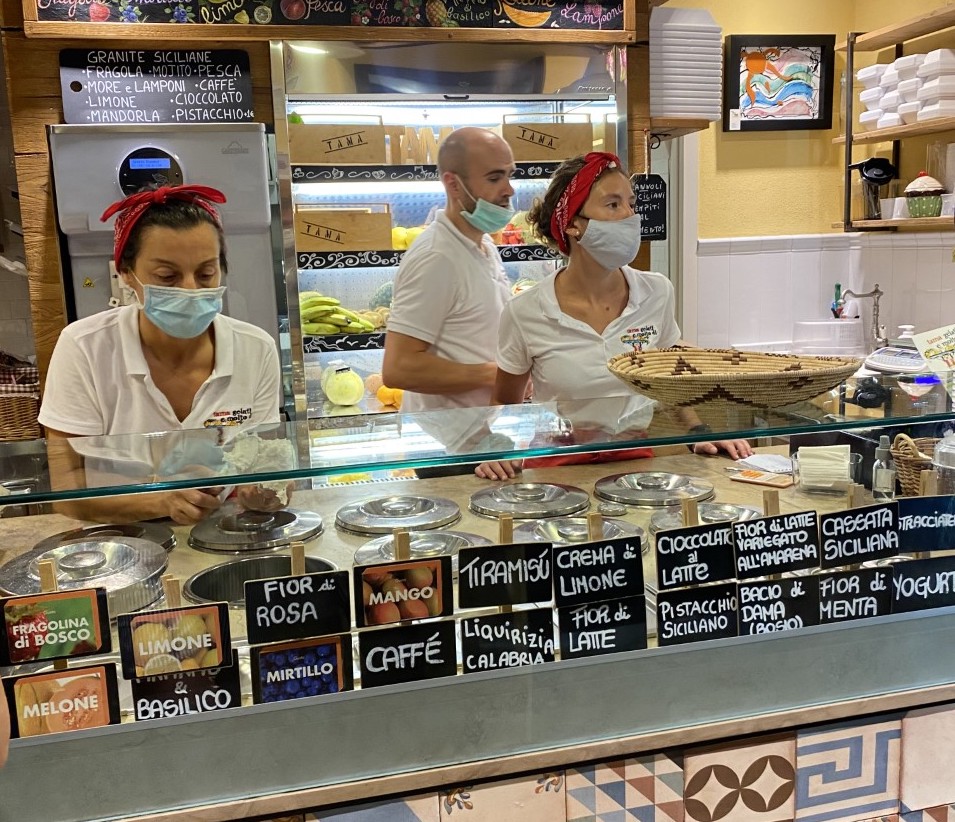 On the other hand, I felt safe and I very much appreciated the positive communication. The signs in the spirit of Italian dolce vita read: "A small gesture for a big result, remember to wear your face masks" or "A smile is enough to say goodbye", challenging the traditional proximity hugging culture. It may come as a surprise to many that Italians were respecting the rules both with masks as well as with distancing.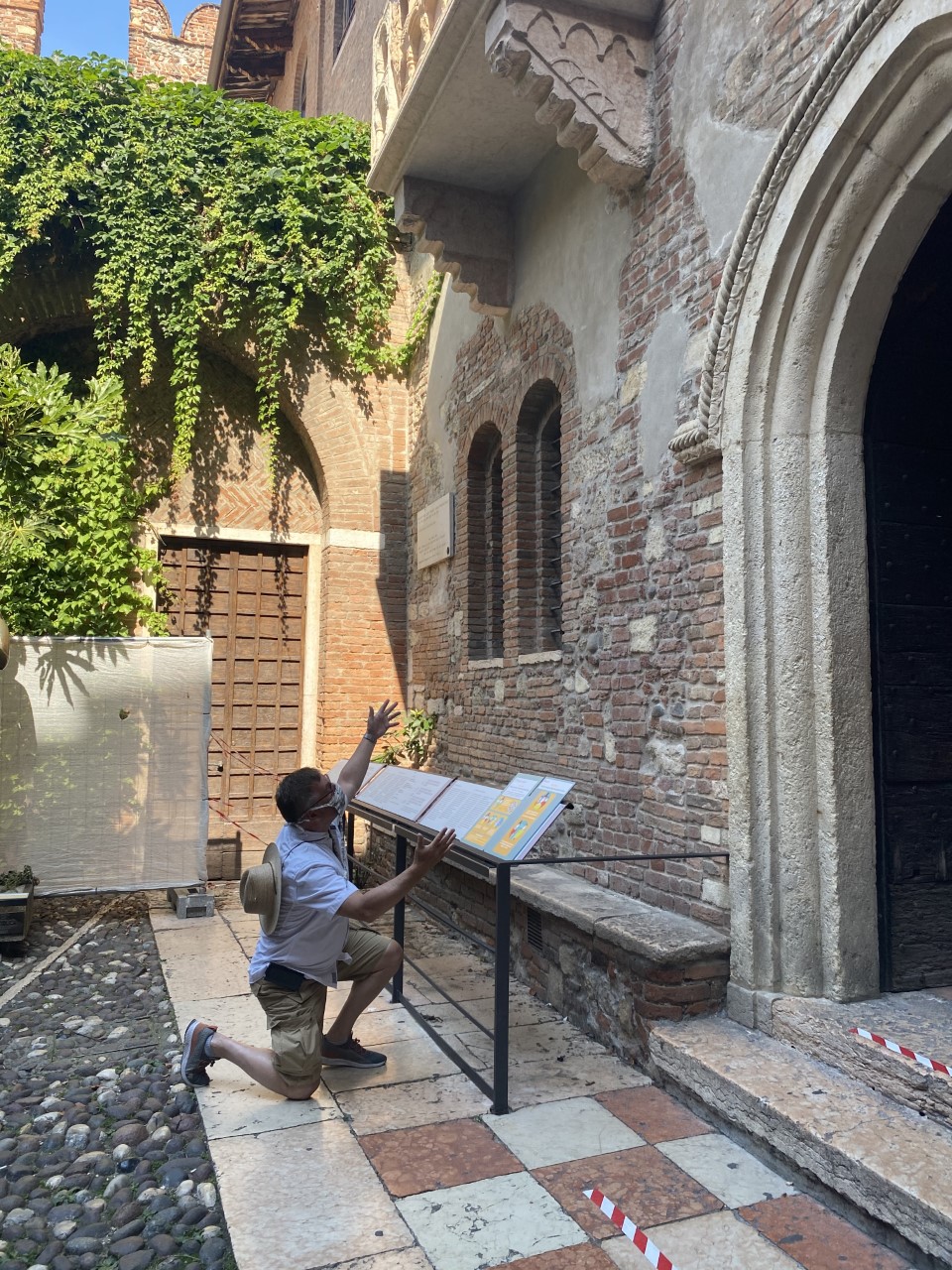 From Bellagio we finally headed to Liguria. Driving through heavy traffic to Liguria just a few weeks before the formerly collapsed bridge in Genova was reopened (it is worth mentioning that the construction took less than two years which is much faster than rebuilding the collapsed bridge in Prague Troja quarter) proved to us that we might not be as lonely as we wished. Liguria was crowded, mostly with locals. Some French, Belgian and Swiss people headed there but mostly locals were saving the season. The hotels were almost fully booked and as Italians were careful about social distancing on most of the private beaches, on Saturday we did not manage to enter one of those. Again, staff and elderly people were wearing masks, younger people relaxed. Famous UNESCO site, the Cinque Terre villages were busy with tourists as well. We still found a parking spot, although we recommend taking a train. When asking a young waitress, speaking fluent English, she confirmed that compared to last year when mostly Americans or Asians came to visit, this year they welcomed 90% of Italian tourists. We also saw many organized Italian children and student groups, which might be an inspiration for the Czech government as to how to promote tourism rather than paying far too much money for some dubious media campaign. On our way back, we stopped in Verona to celebrate our 20th anniversary. Visiting Juliet's house and taking a photo with a face mask will certainly be a moment to remember, not only because of my darling husband kneeling and reciting Shakespeare's love verses to me. While Verona had more tourists than Bellagio, according to locals the city was at 25% of its occupancy and no hope to attract Italian visitors. We Italians are not very much interested in cities, she claimed. But she ended up on a positive note: "Things are definitely improving." I also appreciated this positive outlook knowing what Italy and Italians went through. By the way, we got a very reasonable hotel rate in Verona.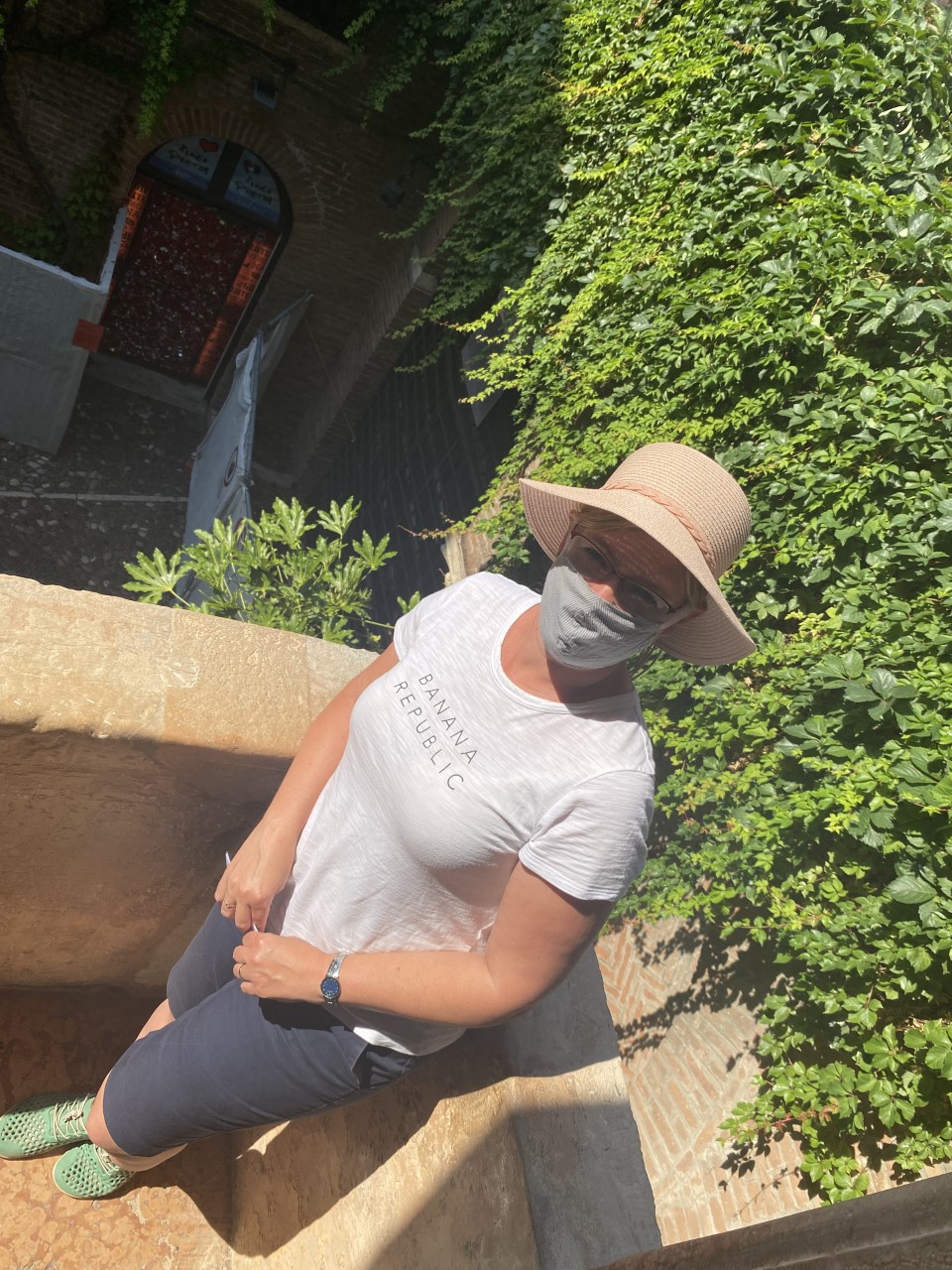 After 10 days in July, we returned to Prague. Although the Covid-19 cases started to mount, we were surprised that masks were still only obligatory on the underground. I hope Covid-19 knows the difference between the underground and other transport and will avoid notoriously packed Prague trams. I must admit that I felt safer in Italy than in my own country. Particularly the Italian approach of positive communication, together with simple rules and guidelines is worth adopting. It looks like Covid-19 will be with us for a while and it is up to us to adjust our behavior. Hopefully we will learn to contain it locally and the ban on travelling will never be as strict as in spring. To me and my family, travel is life and life is travel.
Article and Photos By Linda Štucbartová