On Strahov Monastery and the fate of Abbot Jarolímek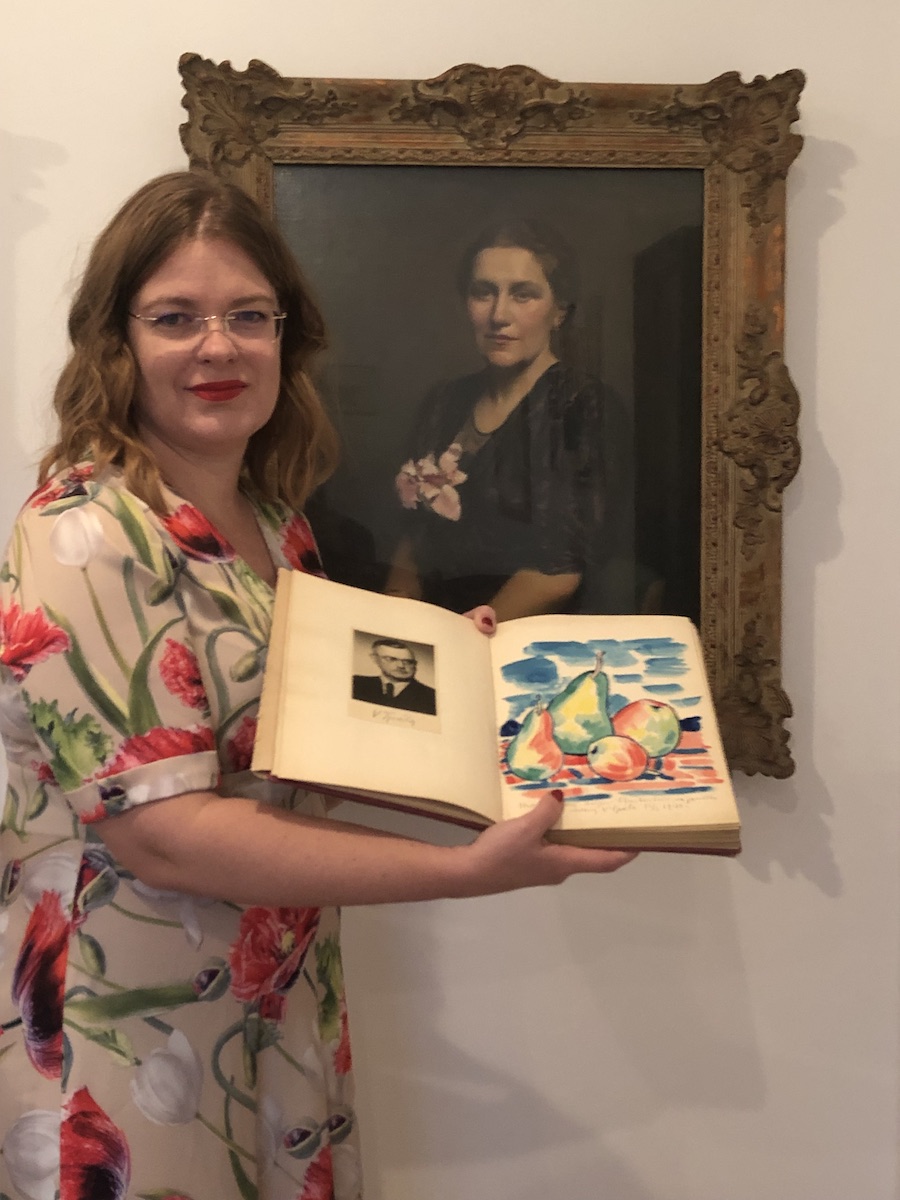 Our readers know me as the Chief Interviewer. The aim of our magazine, which comes out quarterly as the last print in English on the market due to the digitalization trend and new media, is to present current leaders to the wider public, both in the Czech Republic and abroad. Currently I am co-writing a book about Grandmothers with Judi Challiner.
You could read an interview with her in our last issue. Today, I present my part.
I realized that, like my grandmother Rose, when writing, I also include personal reflections and memories. I have widened my scope a bit. I include not only artists, but also doctors, entrepreneurs, scientists and to acknowledge our history, I launched a new series of interviews with members of the nobility. The nobility's fates were also profoundly affected by the communist regime and in many cases even distorted.
I was proud to interview Mr. Tomáš Halík, the recipient of the Templeton Prize, Mr. Zdeněk Lukeš, the Director of the National Museum, Mrs. Eva Zažímalová, the President of the Czech Academy of Science, Rudolf Jindrák, who happens to be a former colleague diplomat from the Ministry of Foreign Affairs and currently the Head of the Foreign Office of the President, as well as the younger generation represented by Kateřina Falk, a leading Czech physicist, Hana Němcová or Ondřej Mynář, representing the new generations of Czech world-wide entrepreneurs.
Love of Arts and Grandmother's Rose Memory Book
"We live in the age of rush, noise and hurry and often it is difficult to steal even the little while for nice memories".
PhMr. Růžena Štucbartová
When was the last time you browsed through a physical photo album? When was the last time you received a hand-written post-card? What kind of tangible souvenirs will we leave for our grandchildren?
In October 2018, I visited the Friends of Zion museum in Jerusalem which is known as a top museum using ground-breaking technology to experience the past. As much as I was touched by the stories, I was surprised by the lack of the material exhibits or objects from the past.
From this point of view, my grandmother's memory book seems, not only to me but also to most people who have seen it, unique. This is the piece I cherish the most from the inheritance, next to her ring (which she actually never wore as she was allergic to gold) and several paintings. I know that she also wrote several books of memoirs, unfortunately I did not manage to get them.
My grandmother started her memory book in 1945, the last dedication dates 1986. With the memory book, I found many newspaper clippings about the personalities. Some of them were customers at the pharmacy, some of them knew my grandmother personally, most of them were just impressed by the company of others and therefore wrote an admiration passage reflecting on the other public figures.
The memory book serves not only as a sort of "who's who" publication in the world of arts, for over 40 decades but also as a reminder of how much time and effort my grandmother devoted to this passion of hers. I am still amazed by how she managed her regular visits to theatre and opera together with her long working and commuting hours. Perhaps this was the reason she did not experience a burn out effect, while I regularly feel "depleted" throughout most of December and January, and for the second time in a row I spent the end of the year on antibiotics. Among the personalities, one can find Jan Masaryk, Czechoslovak Minister of Foreign Affairs, a son of Tomáš Garrigue Masaryk. The premature death of Jan Masaryk, believed to be a murder, rather than a suicide, shortly after the communist coup d'état in March 1948, was not fully explained until now. He was a frequent visitor to the pharmacy and using a quite familiar greeting, he wished great luck to the whole Štucbart family (Štucbartovcům).
I have already mentioned Alice Masaryková, a daughter of Tomáš Garrigue Masaryk and I will dedicate a special chapter to her.
The next "VIP" (to use the current language) is Hana Benešová, the wife of Eduard Beneš, who was the second Czechoslovak President, a successor of the much loved and admired Tomáš Garrigue Masaryk. Eduard Beneš is judged by historians as an unfortunate statesman, who witnessed his country and his reign challenged by both Nazis and then Communist regimes.
Further famous notables include: archbishop of Prague Josef Beran and Abbot Bohuslav Jarolímek, the last abbot serving at Strahov Monastery; Prof. Heyrovský, a Nobel Prize winner for the discovery of contact lenses; Jaroslav Seifert, a Nobel Prize winner for literature. Painters are represented by Jiří Trnka, the author of "Broučci", Max Švabinský, Václav Špála or Zdeněk Burian. The next category can be entitled the National Theatre artists, such as Eduard Haken, Růžena Nasková, Marie Podvalová.
The normalization period (after the Soviet occupation in 1968 until the Velvet Revolution in 1989) is represented by luminaries not associated with the communist regime, such as Miloš Kirchner, the "father of famous Spejbl and Hurvínek", actors such as Miloš Kopecký, painter Cyril Bouda, composer Petr Eben, who included a piece of music, or a writer Ladislav Fuks, violinist Josef Suk and many others.
The memory book contains not only dedications with autographs, but most personalities took the time to draw, write a poem or a truly personal dedication. It was interesting for me to read the dedication: "To dear PhMr. Růžena Štucbartová, the wife of the pharmacist". Being particularly engaged in women empowerment myself, I wonder why she acquiesced to such a title. Like she was not a pharmacist herself! It was her who was advising and serving the customers, while my grandfather was working on research or was busy running the business from behind the scenes. I admire how strong her sense of identity must have been inside that she did not need any further recognition from the outside. When I work with leaders, I call this sense of identity an "inner anchor", knowing who you are and what you want to achieve, based not on positions, functions or external recognition but based on your mission and purpose. Her purpose was clear: to be a pharmacist and to serve the people the best she could.
Looking at that dedication from the 21st century perspective, it might seem weird. However, there is one more aspect to it. My grandmother's motto was: Love will always prevail. I know how much she loved my grandfather, I am sure she did not mind.
Luckily, I live in an era, where people whom I interview do not disappear abroad or die due to political persecution, as was the case of Abbot Bohuslav Jarolímek, the last Abbot of the Strahov Monastery.
Grandma Rose wrote only a few personal accounts of her memories of some personalities. The story of Mr. Bohuslav Stanislav Jarolímek is the most tragic one. Mr. Jarolímek was a very influential figure, he was amongst the top three candidates to become an archbishop in Prague. Strahov Monastery was one of the pharmacy clients. My grandmother and grandfather went to meet the Abbot to introduce themselves as the new pharmacists. Given the fact that it was the year 1946, my grandmother was obviously fascinated by the splendor of the monastery surroundings, as she carefully detailed how "we were led through the beautiful rooms all the way to his private office. The abbot sat in a magenta chair, dressed in the luxurious white gown of the Premonstrate Order and he had a gold chain around the neck." After the initial introduction, my grandmother was asked to write a dedication and she wrote: Thanks to God for love and grace and thanks to Abbot Jarolímek for a warm welcome." A few weeks later, she came back with her memory book and she got "God bless the Štucbart's family." The last meeting with Mr. Jarolímek was after the "change of the circumstances" – a euphemism for the 1948 communist coup d'état, in 1949. Mr. Jarolímek protested against the misuse of his name and when he did not reach any remedy in the press, during a Sunday service he proclaimed: "On this holy place, I declare I did not sign anything. Mentioning my name in the press as a supporter of the Minister of Health Mr. Plojhar is a deliberate act of confusing believers. I am a faithful son of the Catholic church which I love and I am ready to sacrifice my life for."The mass then continued as normal. My grandmother wrote about his arrest, imprisonment and death. She made comments that she does not understand politics, she does not desire to incorporate it into her personal memories and she does not feel competent either to judge or sentence one's guilt or innocence.
According to official records, Mr. Jarolímek was quite aware of the danger of the communists to the Church, he read Lenin's and Stalin's works in Russian and therefore he tried to warn his brothers against any naïve illusions. After the coup d'état, he encouraged believers to fidelity and courage. The communists meanwhile used propaganda and mentioned Abbot Jarolímek as one of the supporters of the so-called Catholic action, publishing his signature in newspapers. In 1950, Mr. Jarolímek was diagnosed with ulcers, due to psychological distress. He was sent to a hospital, then to a sanatorium and later that year, he was arrested as the last victim of the big process with bishops. He was accused of treason, collaboration by being in touch with representatives of the Protectorate government, getting effective new school law (!), and critical attitude against the communist regime and its church policy. He was sentenced to 20 years in prison. He died in January 1951. The fact is that before the arrest his weight was 75 kilos, after he died he weighed only 50 kgs. He lived according to his motto: Fortiter et suaviter (Bravely and Nobly).
My grandmother's memory ends with the note that the original Monastery Strahov had been turned into the beautiful Museum of the Czech Literature. It is true, its main library hall has become one of the most frequently pictured and photographed libraries in the world, thanks to its baroque beauty. I wish visitors would remind themselves also about the fate of the Abbot Jarolímek.
I recently visited Strahov Monastery. There is no mention of Mr. Jarolímek and his fate. I hope this article is a slight remembrance this noble man deserves. Particularly in the light of the latest debate on putting taxes on the churches' restitutions, I believe that we should remind ourselves of the darkest times of the recent history.
As famous quote says, "those who cannot remember the past are condemned to repeat it."