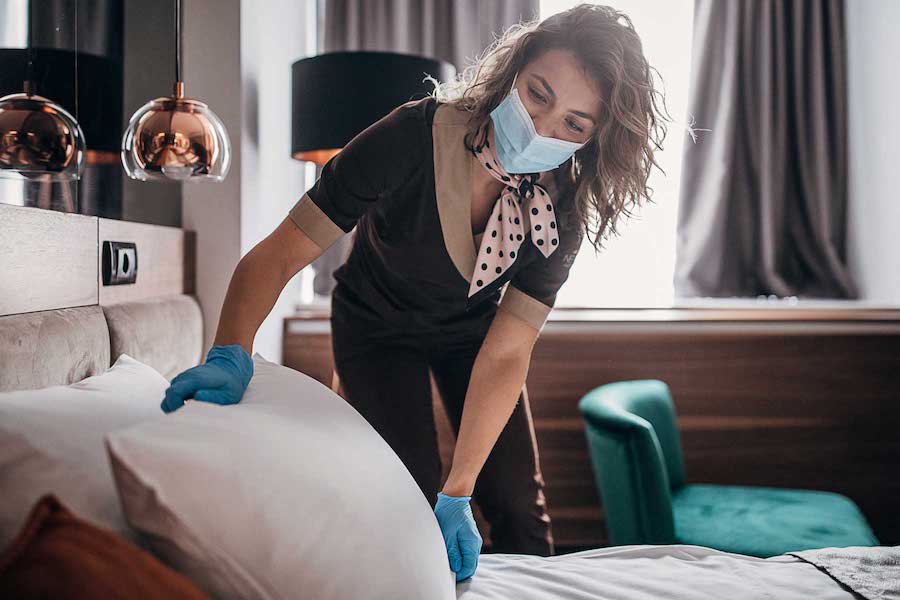 Experts weigh in and share their advice for safely staying in a hotel during the COVID-19 pandemic.
As we approach yet another month of the COVID-19 pandemic, you might be developing a bit of cabin fever. That coupled with businesses beginning to reopen might be tempting you to book a vacation. Unfortunately, the pandemic is far from over, and the Centers for Disease Control and Prevention (CDC) still suggests staying home for your own safety as well as for those you may encounter upon leaving the house. However, if you do decide to travel this summer and stay in a hotel, local laws permitting, you'll want to take as many safety precautions as possible.
Ultimately, staying in a hotel is a calculated risk, and you should weigh not only your own vulnerability, but also that of the people you anticipate interacting with. "This is all about minimizing risk. You can't drive that risk down to zero, but you want to do every little thing to minimize risk," says Dr. Thomas Russo, chief of the Division of Infectious Diseases at the University at Buffalo's Jacobs School of Medicine and Biomedical Sciences. "If you do five or six little things, that may be the difference between you getting infected and you not getting infected."
So, if you decide to book a hotel stay, here are 10 tips to maximize your safety during your trip.
1. Pick your destination wisely.
"An important factor is to understand regional transmission rates in your destination," says Dr. Natasha Bhuyan, the West Coast regional medical director of healthcare provider One Medical. Common sense prevails here — if you can, avoid destinations that are seeing spikes in coronavirus cases, lest you become the latest statistic. "If you're going to a hotel where the incidence and prevalence of infection is very, very low, that's obviously going to be safer because you're less likely to run into or interact with someone that's infected," says Dr. Russo. "But it's no guarantee. In a hotel, people are coming from different parts of the country and the world."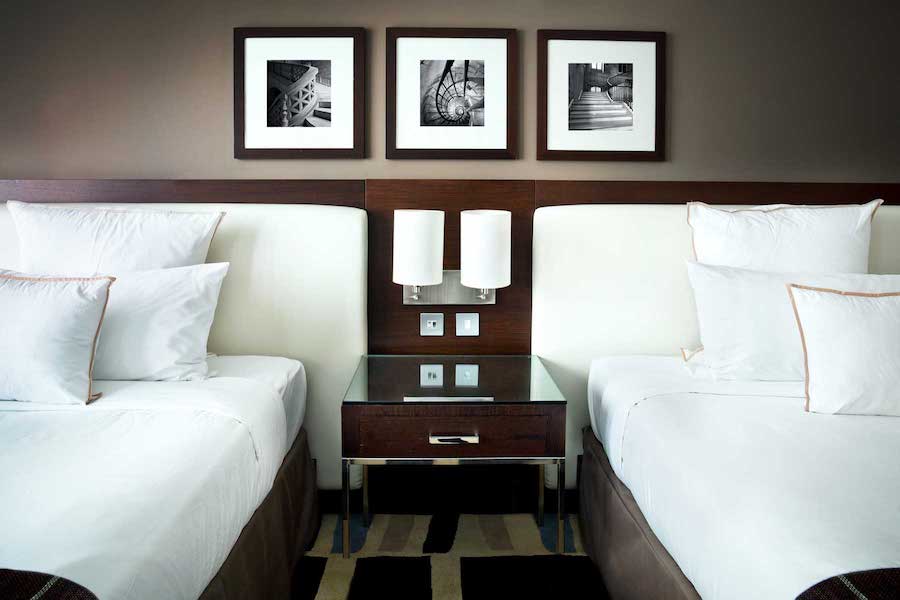 2. Before booking a stay, research the hotel's plan to protect guests and staff.
"The greatest risk of transmission comes from being in close contact with other people," says Dr. Brian Labus, an assistant professor at the University of Nevada, Las Vegas' School of Public Health. "The less contact you have to have with other people, the better off you will be."
While you can't control the actions of others, you can find out what a hotel is doing to encourage safety among guests and staff. Are masks required? Will the hotel provide masks for guests who don't have them? What kind of social distancing measures are in place? Are there signs posted to educate guests on their policies? Are alcohol-based hand sanitizers readily available throughout the hotel? How often are public areas being sanitized? Is there contactless check-in?
"Visit the hotel's website to check what steps they are taking to protect guests," says Dr. Jonas Nilsen, co-founder of U.K.-based travel clinic Practio. "If they have communicated what measures they are taking on their website, it shows that they are transparent, which is a good sign."
And if you don't find your answers online, pick up the phone and ask directly — a hotel should have answers to all these questions readily available.
3. Find out what the hotel's plans are for guests who fall ill during their stay.
"Worst case scenario, you're suddenly not feeling well. You're not in your hometown where you might know exactly what to do. Does the hotel have procedures for you to follow?" asks Dr. Russo. "Instead of getting you tickets for the latest show, the concierge needs to have the information for you to get your COVID test." You can ask the hotel if it has a resident physician, or if it has information on the nearest medical facilities.
See the rest here.