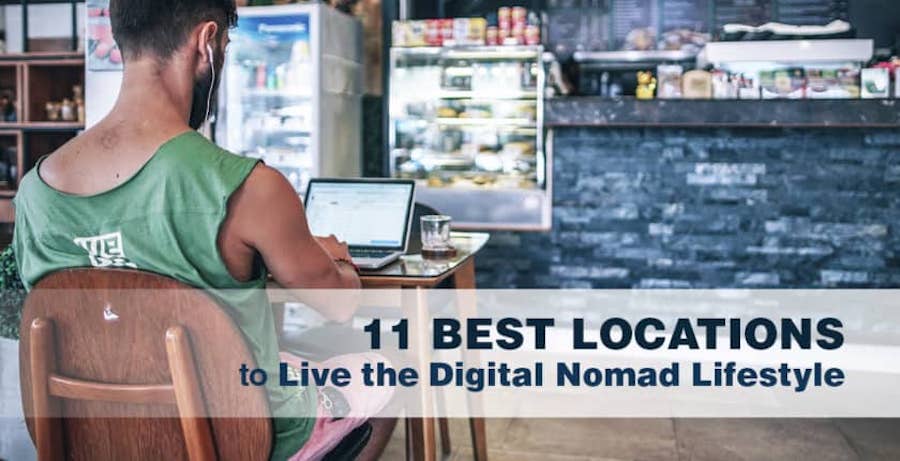 Although you've probably seen plenty of headlines predicting "1 billion digital nomads by 2035," it's difficult to know how many there actually are. This is at least partly because there's no international digital nomad census. What's more, many digital nomads choose not to describe themselves in that way, or are only nomadic for a few months of the year.
What is clear is that the number of digital nomads keeps growing. Every year, there are more remote working and entrepreneurial conferences, and a growing number of companies that are run entirely by online workforces. This is made possible by project management apps and other resources like Freelancer.com, which help individuals to find everything from one-off gigs to long-term clients. Companies are also relying on websites such as Fiverr to find quick work at competitive pricing.
If you're reading this from a crowded train or a stuffy office, it's not hard to see the appeal of digital nomadism. Freelancing platforms like Upwork allow employees to unlatch themselves from the 9 to 5 grind, earning the same hourly rate while working remotely from unspoiled beaches or foreign metropolitan hubs. Other digital nomads are driven by high costs of living in their home country, or just want a change. If you're a graphic designer in Winnipeg, you could be seduced into digital nomadism simply by the desire to sit bare-armed in the sunshine all year round.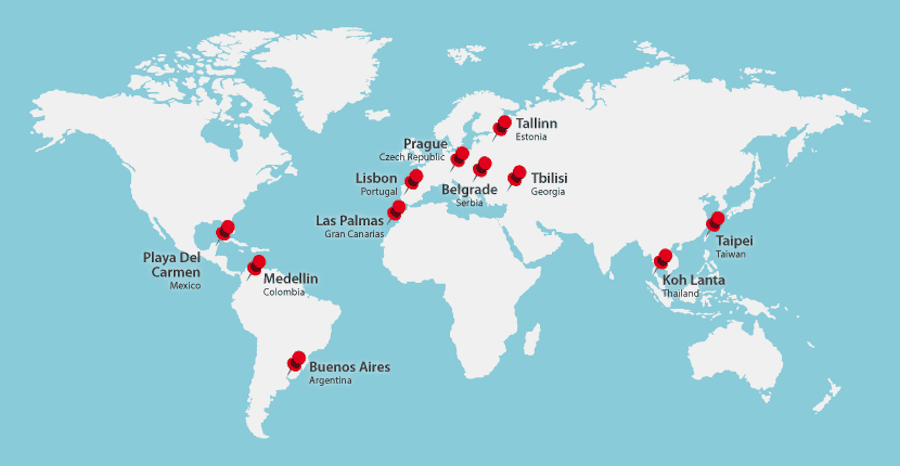 As with any location, the cost of living can vary quite a bit, depending on your personal interests and desired lifestyle. Some nomads choose to work less and live as cheaply as possible, where others may spend considerably more by partying at night, joining adventures during the day, and eating out for every meal.
We can't tell you the single best destination for every digital nomad. But to help you make your own decision, we've gathered extensive information about 11 excellent options around the world—plus four that you'll want to avoid.
#1: Prague, Czech Republic: Best Historic City for Digital Nomads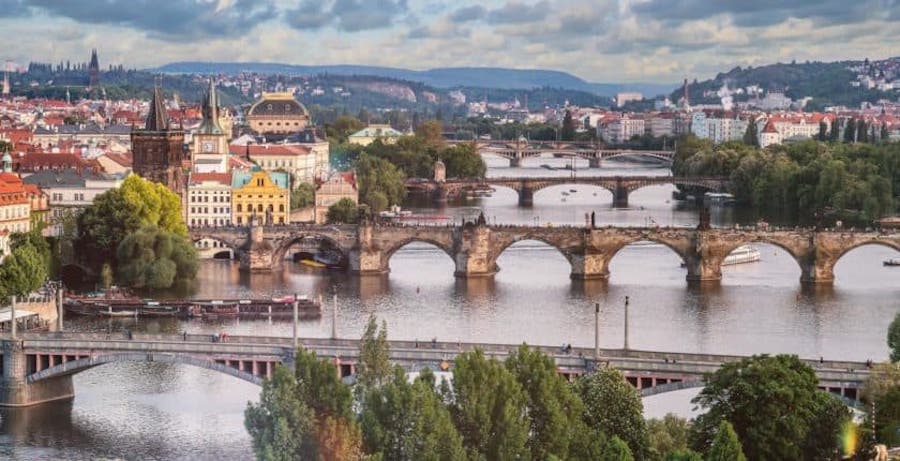 Prague has recently become one of the top digital nomad destinations, thanks to its excellent transport, culture, and international links. It's in the Schengen Area of the European Union, so European nomads won't need a visa to stay here. With relatively low living costs, plenty of nightlife, and beautiful architecture, Prague is a rising star in the digital nomad scene and a great choice for remote workers looking for culture and walkability.
Living Situation
Prague is well-equipped with a range of hostels, hotels, and Airbnb apartments. In the last year or two, the cost of living in Prague has risen somewhat, so the average cost of an Airbnb apartment for a month is around $1,700, although you can find gorgeous Airbnb rentals for around $1,000 if you avoid peak tourist season.
Because Prague is a popular vacation destination, hotel rooms can be rather expensive, and it will cost an average of $2,500 for a room for a month. But you can also find cheap dormitory-style rooms in hostels for under $1,000, if you don't mind sharing your space. The lowest-cost option is to live like a local in a private rental. You can find a one-bedroom studio apartment for around $770 Prague's city center, which then allows you to walk pretty much everywhere you'd need to go.
Transportation
Prague has excellent public transport, with trams, buses, and metro trains across the city, although if you stay in a central location you'll be able to walk to plenty of parks, tourist sites, and coworking spots. A single ticket for public transport in Prague costs around $1.10, which is very reasonable in this part of the world.
It's better to use public transport to get around than to hire a car or cab, since traffic can be dreadful, especially in the city center. If you do want to take a cab to a more distant destination, a five mile journey will cost around $11.20. Prague also has good air and international train links to the rest of Europe, making it easy to explore other parts of the region.
Weather
Prague never reaches extremes of heat or cold. Summers can be sweaty as the riverside city gets humid, but winters are chilly and grey without being bone-cracking cold.
WiFi Availability
You can find plenty of cafes and coworking sites with excellent WiFi service, scattered around both banks of the river that cuts through the city. In Prague, you're never far from beautiful architecture or refreshing green space to clear your mind, even in coworking hubs.
Food and Entertainment
Prague is a city of culture. Nomadlist ranks Prague highly as a city for fun entertainment and nightlife, and if you want to stick to free classical concerts in ancient churches, wandering around beautiful public parks and low-cost walking tours, you'll find you can entertain yourself in Prague without spending a lot. On the other hand, regular club nights and big-name concerts will set you back a lot more.
Prague's many restaurants, cafes, and bistros make it easy to eat well. While prices are not as low as you'd find in parts of Asia, they are quite reasonable as long as you avoid the over-priced tourist-trap places. You can get a good, low-cost restaurant meal for around $6.30, and beer and coffee are both well-priced, at about $1.65 for a local beer and $2.25 for your morning cappuccino.
Healthcare
Prague has good healthcare, major hospitals, and a number of specialty practitioners. If you're an E.U. citizen, you'll be entitled to free emergency healthcare, but nomads from the U.S. and other non-E.U. countries will have to pay cash upfront. The Czech government requires all visitors to have valid travel or health insurance.
Crime Rate
Prague has a reputation as a safe city to live and work in, with a high ranking for female safety. Like many big tourist destinations, there are many pickpockets and ATM scams, but assault or violent crimes are rare.
The Downside
• Prague can be overrun by tourists, especially during peak tourist season in July and August
• It's very important to double check exchange rates because Prague has many crooked currency exchange agents
• Summers can be very humid and winters may be chillier than you're used to
#2: Koh Lanta, Thailand: Best Island Paradise for Digital Nomads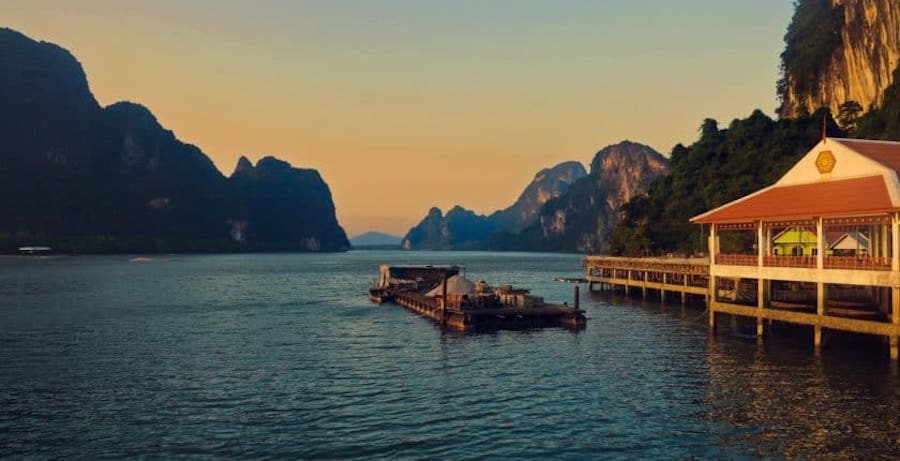 Thailand has been one of the top digital nomad destinations for a very long time, thanks to the amazing weather, thriving expat scene, and plenty of supportive coworking hubs. But many of Thailand's most popular islands are becoming overrun by tourists who make it crowded, noisy, more polluted, and push up the cost of living. The beautiful island of Koh Lanta has all the advantages of nomad life in Thailand, without the downsides of some of the more well-trodden destinations.
Living Situation
Koh Lanta offers hotels, hostels, and Airbnb options, all at reasonable prices. Koh Lanta's hotels are the best value for money, with plenty of rooms available for around $300 for a month's stay (and you can find lower offers if you hunt around). A private room through Airbnb can cost around $500, though an entire apartment can run over $1,200. If you have a local who can help you negotiate a short-term rental, you could pay even less for more space; a 1-bedroom studio rental costs around $300 a month.
Transportation
The best way to get around Koh Lanta is by renting a motorbike for a couple dollars a day, or by taking local taxi bikes called tuk-tuks. There isn't any public transportation.
Weather
If you love the tropical heat, you'll do just fine in Koh Lanta. For most of the year, the sun shines and the sky is blue, but June through September is Thailand's wet season. During this time, roads can become impassable due to the heavy rains.
WiFi Availability
Koh Lanta has average WiFi speeds of 16mbps, but there's not much free WiFi provision. A few coworking spaces are beginning to pop up, which offer different packages that can fit any remote worker's lifestyle and budget.
Food and Entertainment
You can eat well in Koh Lanta, especially if you stick to cheap, delicious, local Thai dishes. A meal in an inexpensive restaurant or street food stand will cost under $2, although you'll have to pay a lot more for an American-style meal. Compared to the food, coffee and beer are both pretty expensive, averaging about the same as the cost of a local meal, around $2 each.
Koh Lanta doesn't have a lot of nightlife or attractions, but it does provide miles of sandy beaches, scenic roads, and natural beauty spots which can cost nothing to enjoy.
Healthcare
Koh Lanta has a few medical centers and one hospital, which can deal with basic health issues, but for anything more serious you'll need to travel to Phuket or Bangkok.
Crime Rate
Koh Lanta is one of the safer beach areas in Thailand. There is little violence or crime. The most digital nomads should be concerned with is being charged higher-than-listed prices for things.
The Downside
• Koh Lanta is hot and AC is not always available, so this might not be the best option for those who have a difficult time concentrating in the heat
• You won't find many English speakers on the island, apart from your fellow digital nomads
• Free WiFi coverage can be scanty
Article written by Shira Stieglitz.
Read the rest here.