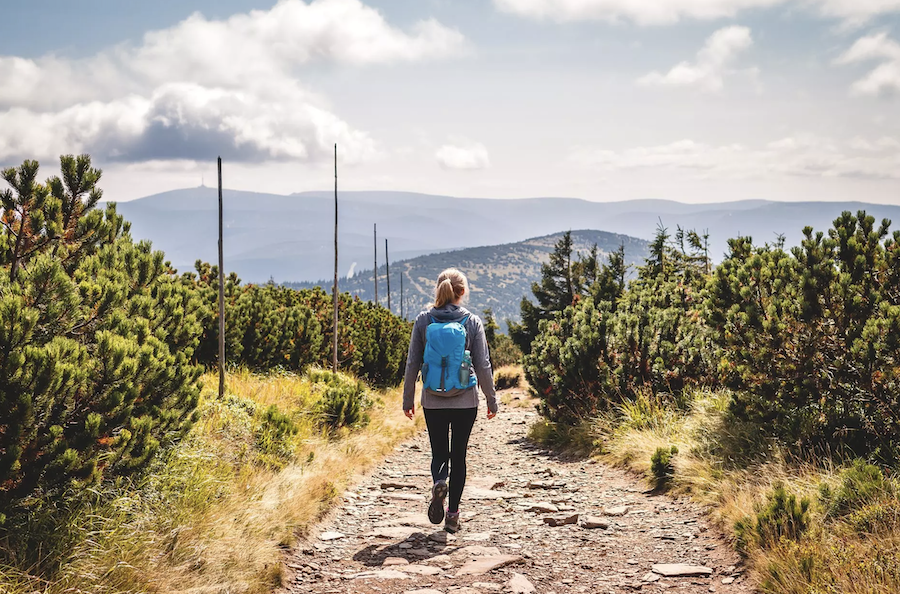 The biggest obstacle to sustainable travel for Czechs is the time requirement (58%), the insufficient infrastructure of the destination (57%), money (21%), personal comfort (15%), and customs in the locality (5%). This emerged from a survey conducted by NMS Market Research for the Czech Central Tourism Office – CzechTourism. The survey also showed that the majority of Czech residents mainly want to relax on vacation, and do not have time for sustainability solutions and thinking about the impact of travel (72%). On the other hand, most Czechs are tempted to travel to lesser-known places. In practice, this means a greater spread of tourists across the country, which prevents overcrowding in some locations.
58% of Czechs are currently interested in traveling to lesser-known destinations. 25% of them are already traveling that way, another 33% are planning to do so. At the moment, people do not really want to change their travel habits, it is happening gradually. In the last two years, among other things, they saved drinking water while traveling (59%) and in 61% of cases they want to continue doing so. But, for example, only 10% of respondents preferred more ecological accommodation, and 13% of travelers intend to do so in the future.
"The good news is that most people are already taking or planning trips and holidays to smaller or lesser-known destinations when it comes to sustainable travel. This applies to almost 60% of Czechs. Among other things, this is confirmed by the fact that it makes a lot of sense to give tips on undiscovered gems, we prepare a country-wide overview every year in cooperation with the regions," says František Reismüller, director of the Czech Tourism Office – CzechTourism, adding: "Currently, greener transport to destinations also has great potential. While 18% of Czechs dealt with it in the last two years, 23% of respondents plan to do so in the future. Among other things, one can thus expect the importance of trains to grow. After all, according to the Prosperity Index, we have the densest railway network in Europe. There are 121.25 km of tracks per 1,000 square kilometers, in the second Belgium it is approx. 118 km and in the third Germany approx. 107 km. It is also worth mentioning the second highest investment in transport, which rose to 3.9% of GDP, a relatively dense road network, and lower ticket prices for public transport.
According to the survey, which took place at the turn of August and September of this year and was attended by 1,008 people, a fifth of Czechs have already encountered the concept of sustainable travel. They most often envision ecological travel using mass, emission-free transport and a low carbon footprint.
"To travel sustainably means to be aware of the impact on the environment, the destination, and the local population. It is also about trying to reduce the negative impacts of travel and choosing options that support local residents. For example, giving preference to accommodation and gastronomic establishments that belong to local residents. The fact that the majority of respondents consider environmental protection to be the most important part of sustainable travel can therefore be taken as a positive finding from our survey," says Veronika Janečková, director of the product management, research, and B2B cooperation department of the Czech Tourism Office, and adds: "In also for the future is that, according to the survey, 35% of travelers are willing to pay extra for more sustainable travel, this especially applies to young people under 24 years of age. And people of all ages are willing to pay an average of 12.5% more for more sustainable travel. If we take the average spending of Czechs for this year's summer vacation, it means about CZK 1,000 more."
The survey also found that 68% of people do not have enough information about sustainable travel and 60% do not know where to find it, while 9 out of 10 travelers would welcome it. The primary source is booking portals, where 4 out of 10 people look for information about sustainability. Young people are more often inspired by social networks, older people rely more on travel agencies. Only 1 in 10 travelers encountered ecological certificates in accommodation facilities.
"One of the largest tourist portals in Europe, Kudy z nudy, can already help people who are interested in sustainable travel. This year we launched a special Ecological Travel section in it, where you can find, among other things, sustainable experiences, sustainable accommodation, sustainable gastronomy, restaurants and regional products, and sustainable events. And new information will appear in it in accordance with the results of the survey next year as well. So that sustainable or responsible travel becomes more aware of Czechs/residents and they know how to travel in the Czech Republic with a lower impact on the environment," says Tereza Kadlecová, product manager for sustainable tourism at the Czech Tourism Office – CzechTourism, adding: "For we have prepared something similar for foreign tourists on the multilingual Visit Czechia portal, the section is called Travel sustainably. In it, visitors will find tips on how to travel more responsibly, where to stay, eat, and shop in the Czech Republic, but also that the Czech Republic can be explored outside of the high season and thus achieve more authentic experiences."
The campaign of the Hradec Králové Hradec Tourism Office, which can be seen in the metro and currently on hkregio.cz, is also supposed to help increase awareness in the field of sustainable travel. Or the "Run away from the city" campaign from the workshop of the Central Bohemian Tourism Office. The entire survey on sustainable travel will be available on the website of the Institute of Tourism at www.tourdata.cz.