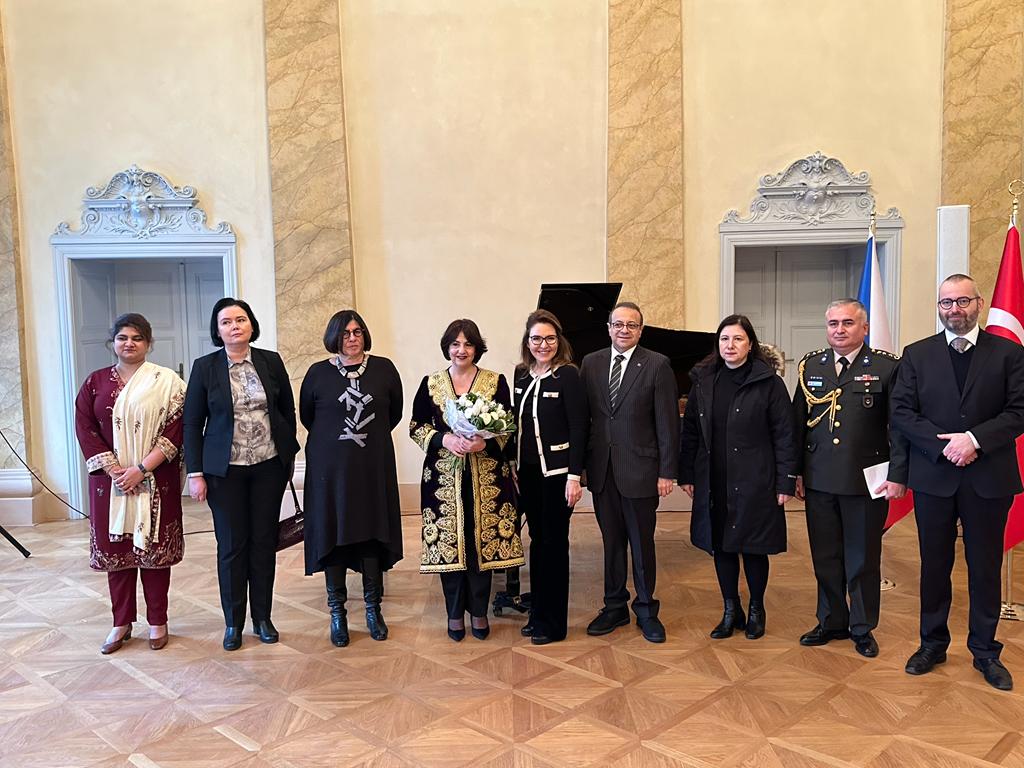 Speech by H.E. Mr. Egemen Bağış, Ambassador of the Republic of Türkiye to Prague
Today on this cold winter day, most of us came here with our comfortable cars in our warm and cozy clothing. And we will stay here for less than an hour. However some people who were forced to be here in 1940's were not as lucky. We are here to pay our respects to them.
Excellencies,
Director of Terezin Memorial, Mr. Jan Roubinek,
Historian Mr. Tomas Federovic,
Distinguished guests and the representatives of the diplomatic missions in Prague,
Together with you today, I have the honour to announce here, the placement of the memorial plaque by the Republic of Türkiye, in memory of the Turkish Citizens as well as all the other victims of the Holocaust who suffered in the Ghetto Terezin.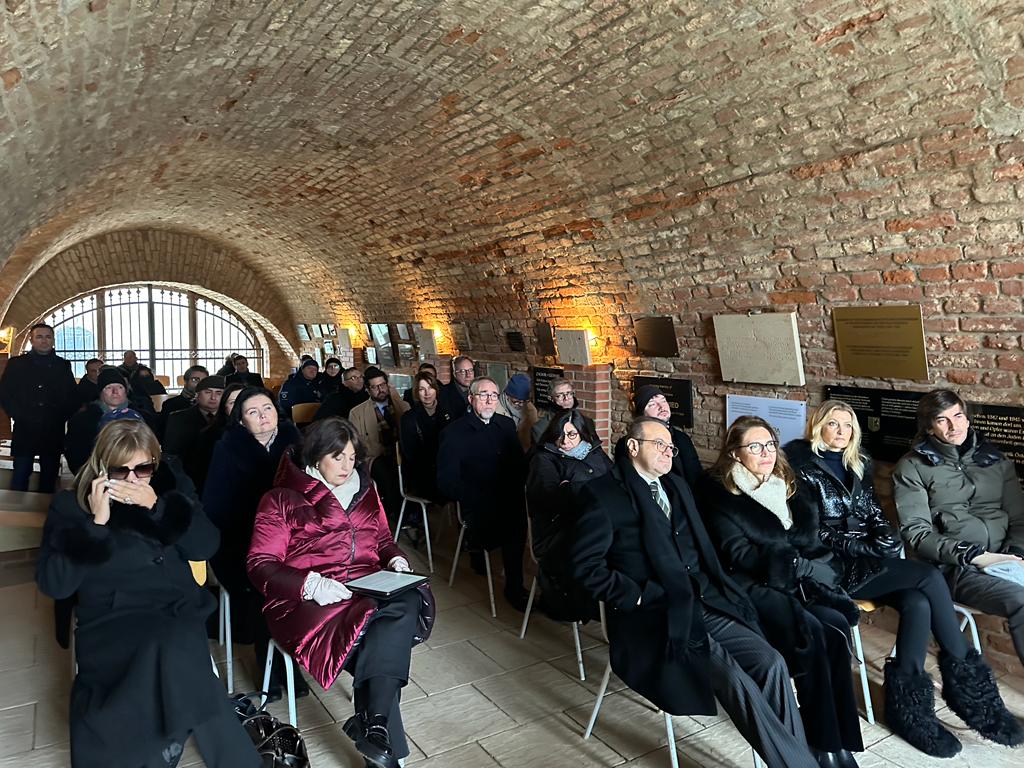 Although the Turkish territory remained outside the area where millions of Jews and others were brutally mass murdered during the Second World War, as a nation we have always been fully aware of the unique nature of the Holocaust. We condemn antisemitism in the strongest terms and continue to exert every effort to fight against it.
As some of you may already know, during the second World War, Turkish diplomats serving in Europe were the heroic pioneers of saving lives of the Jewish people who were suffering from the brutal regime and helped them secure their lives throughout Europe and Türkiye. I would like to mention here the names of Ambassadors; Mr. Selahattin Ülkümen, Mr. Necdet Kent and Mr.Behiç Erkin with respect and gratitute.
One of these heroes, Ambassador Ülkümen also lost his beloved pregnant wife after a subsequent air raid of the Turkish diplomatic mission. She was wounded and lived just long enough to deliver a healthy baby. In retaliation of then Consul General Ülkümen's support to Jews, Nazi planes bombed the Turkish consulate in Rhodes. Killed after the bombing were Ülkümen's wife Mihrinissa Ülkümen, leaving behind their newborn son Mehmet. The Germans quickly detained and deported Consul General Ülkümen to mainland Greece and confined him for the remainder of the war.
As Mr. Fedorović could much better inform us later, according to the information provided by the Ghetto Memorial, 9 people whose names are among the Terezin prisoners were or claimed to be Turkish nationals before being declared stateless by the occupying forces. Out of a total of 9 people, eight of them survived, and one woman unfortunately died.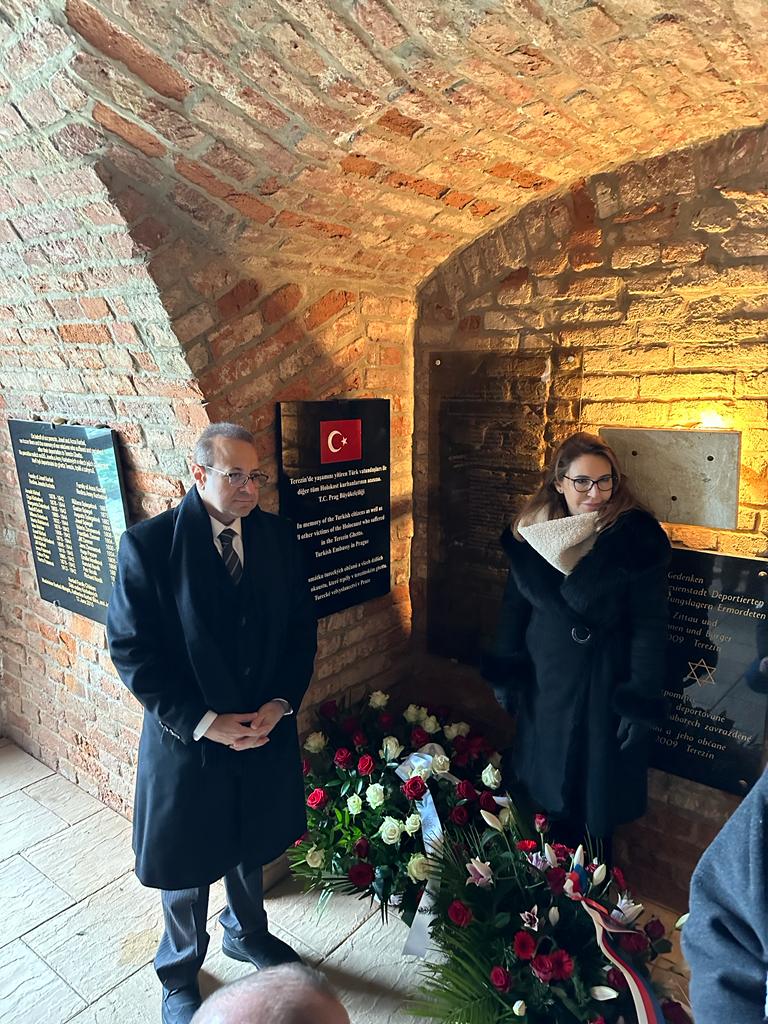 There was also another group that included individuals who were either born in Türkiye or had Turkish origin, but their nationality was unknown. In this group, there were 23 people, only 9 survived but 14 died. Among the 24 names, one name in particular stands out, he was recorded as having parents who came from Istanbul. And that name was Siegmund Freud…
Our lands have always been a safehaven for Jewish people. Our country embraced Jewish people as she embraced all other people who were in need of security and peace. Through the centuries Jewish citizens of our country lived in peace and I believe that, as a nation, we display an excellent example of peaceful coexistence in a country which is a mosaic of cultures and religions.
Our country and government are fully concerned about the distortion and/or denial of the Holocaust as a rising phenomenon. With this understanding Turkiye became co-sponsor of the resolution titled "Holocaust denial" adopted on January 20, 2022 at the UN General Assembly. Turkish Republic also has become one of the signatories of the "Terezin Declaration" in 2009 and an observer country to International Holocaust Remembrance Alliance (IHRA) since 2008. We continue to contribute to the valuable work of the Alliance by promoting Holocaust remembrance, education and combating antisemitism.
Türkiye, in addition to actively supporting IHRA's goals and work on the subject as an observer country, also takes part in the activities of other relevant international and regional organizations in this field. We should all be vigilant about new manifestations of contemporary forms of racism, antisemitism, xenophobia and anti-Islam. This arises from our common responsibility to make sure that such a tragedy never takes place ever again.
I would like to thank accomplished musician and writer Ms. Renan Koen who came all the way from Istanbul to represent the Jewish community of Turkiye. We will be listening to her piano recital during the second part of our ceremony.
I would also like to thank and extend our gratitude to Mr. Jan Roubinek, the Director of Terezin Memorial and his team for their support to the organization of the ceremony and to all our guests participating in this special ceremony which is very meaningful for us.
This event is another important step in Holocaust remembrance, reflecting and tackling injustices from the time of the Holocaust and combating antisemitism.