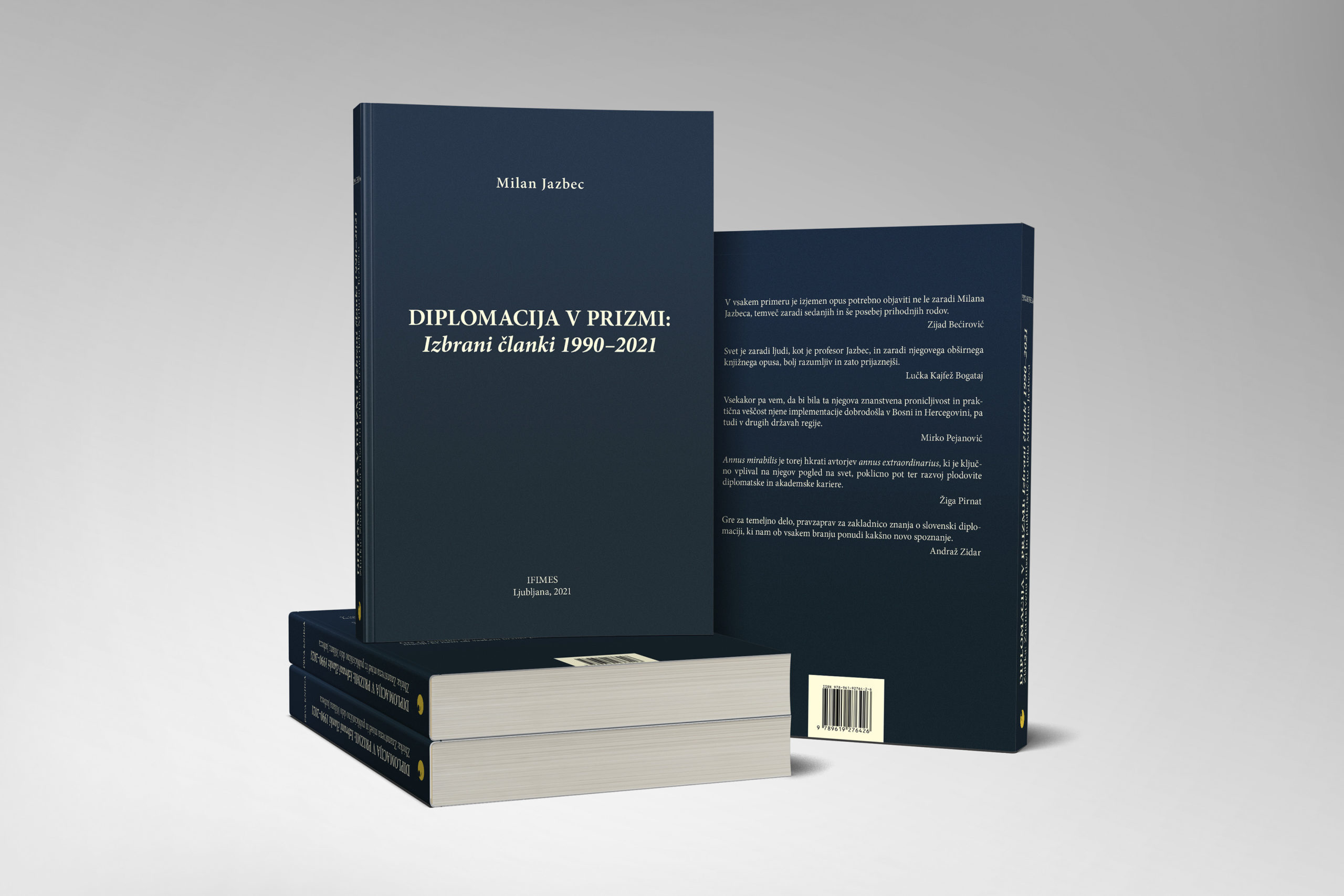 LJUBLJANA, 17 May 2022 – International Institute for Middle East and Balkan Studies (IFIMES[1]), Ljubljana, is pleased to announce that the book "Diplomacy in Focus: Selected Articles 1990 – 2021" has been published. The respected author Dr. Milan Jazbec, professor of diplomacy and ambassador, poet and writer, employed at the Ministry of Foreign Affairs of the Republic of Slovenia, presents in it a selection of his contributions from the previous three decades. This is the first book from his trilogy "Selected Scientific Works and other Contributions by Milan Jazbec". The second book with the title "Each Day Comes as New" brings a selection of the author's essays and forewords from the same period, while the third one "Security, Defence and Slovenia" offers his selected contributions from 2001-2021. Both books will be published in June, also by IFIMES.
In the very focus of scientific work of Dr. Jazbec is comprehensive research of diplomacy. Apart from its theorizing, he pays primary attention to the establishment, development and functioning of the Slovene diplomacy, which he is as a diplomat an active participant since its beginning. He is also paving the way for the initial research in the field of sociology of diplomacy and of the postmodern diplomacy as well as on diplomacy and literature. Diplomacy is also part of his fictional writing, where is he finishing his trilogy of novels on diplomacy with the title Lady in White; the first part Rainbow beyond the Soul and the second one In a Search of a Lost Soul have been translated in many languages. His work is an outstanding contribution to the further development of diplomatic studies in Slovenia and in the broader international frame. His special attention goes also for Slovene language as a language of diplomacy.
This trilogy of Professor and Ambassador Dr. Jazbec presents a comprehensive selection from his rich and broad scientific opus of more than seventy published books and more than 130 articles on diplomacy and related topics, all in fifteen languages. Dr. Jazbec was the Slovene Ambassador to North Macedonia (2016-2020) and to Turkey (2010-2015), accredited also to Azerbaijan, Iran, Iraq, Lebanon and Syria as well as State Secretary at the Slovene Ministry of Defense (2000-2004). He teaches diplomacy at the Nova University in Ljubljana, gave lectures among others at Columbia University, Diplomatic Academy of Vienna and faculties for political sciences in Sarajevo and Zagreb; he was visiting professor and various universities in North Macedonia and Turkey. He is member of the Slovene PEN Center and senior lecturer at Diplo Geneva.
View selected pages of the first book here
https://leeloop.ams3.digitaloceanspaces.com/ifimes/7305/anqkIaessYe3Mrz9y2msgt5Ag6v1Cp-metaSmF6YmVjIE1pbGFuIFBydmEga25qaWdhIHN0cmFuaS5wZGY%3D-.pdf
Ljubljana, 17 May 2022
---
[1] IFIMES – International Institute for Middle East and Balkan Studies, based in Ljubljana, Slovenia, has Special Consultative status at ECOSOC/UN, New York, since 2018.
Attachments: