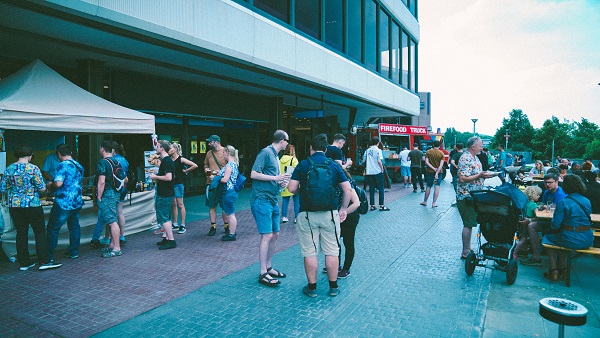 Czech microbreweries organized a charity beer festival Drink for Ukraine, which raised more than 670 thousand crowns for Ukraine.
Prague, 9 June 2022 – On Saturday 4 June 2022, more than 35 microbreweries from all over the Czech Republic met at the Drink for Ukraine charity beer festival at the Prague Congress Centre and donated their beer for free. More than 1,500 visitors attended the event, which ran from 11 a.m. to 11 p.m. The event succeeded in raising CZK 675,680, which was sent after tax to the account of the non-profit organization Člověk v tísni (People in Need) to help people affected by the invasion of Russian troops in Ukraine.
The craft microbreweries included such names as Chroust, Clock, Zichovec and Raven, but there were also larger breweries – Budějovický Budvar and Plzeňský Prazdroj. The event also featured an auction of rare bottles of beer and beer specialties, during which some pieces were auctioned for as much as CZK 15,000.
"The number of visitors and the atmosphere of the festival was incredible; the event was the best it could be. But I was most pleased with the number of visitors of Ukrainian nationality, it must have been a great feeling for them. The feeling that we stand for them. The Czech brewers once again showed that they know how to help," says Karolína Chroustovská, the festival organiser. "You only rent Kongresák a few times in your life, and this was a great opportunity, with good intentions. And thanks to the visitors and everyone else, we managed to raise a really respectable amount of money," adds festival co-organizer Ladislav Vrtiš from the Raven brewery.
Further information at: