On Monday 6 July the Gallery of the Central Bohemian Region will be exceptionally open as part of our commemoration of the 600th anniversary of Jan Hus being burned at the stake.
From Saturday 4 July to Monday 6 July, visitors to GASK – Gallery of the Central Bohemian Region will have the only chance this year to see the unique Kutná Hora Illumination.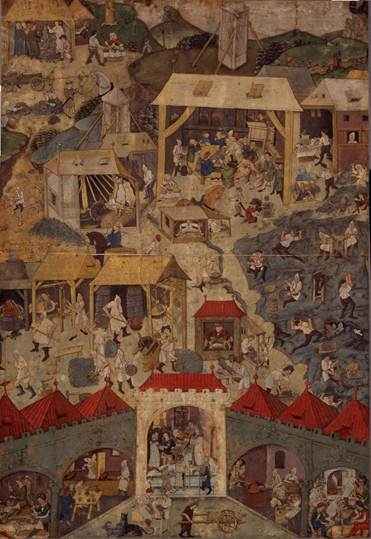 Due to the high demands for protecting this rare piece of history, it is exhibited for only a limited time and spends the rest of the year under specific climatic and lighting conditions in a display case made specially for these purposes.
The Central Bohemian Region acquired the Kutná Hora Illumination for 510,000 pounds in an auction at Sotheby's in London on 8 December 2009. Less than two weeks later, on 21 December 2009, it was transported from London to the Czech Republic. It was first presented to the public on 27 December 2013 at the refectory of the Jesuit College in Kutná Hora.
The rare late medieval painting on parchment is unique not only in its choice of subject and artistic quality, but also in its unusually large format. The Illumination depicts the mining, sale, and processing of silver ore in Kutná Hora in the late 15th century in a detailed and almost reportage-like manner.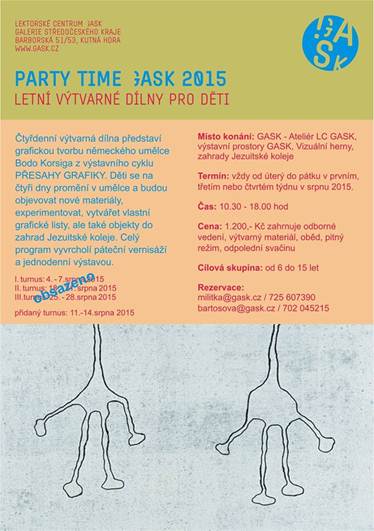 PARTY TIME GASK
Because of great interest on the part of parents and children, we have added one more PARTY TIME GASK workshop at the GASK Learning Centre. The last 10 free spaces are still available from 11 to 14 August 2015. The four-day art workshop presents the graphic art of Bodo Korsig. Children will get to be artists, too, as they discover new materials, experiment, and create their own works of graphic art and objects for the Jesuit College's gardens. The programme culminates in an opening reception and one-day exhibition on Friday. More information and an application are attached.